Weather & Climate – Marsabit NP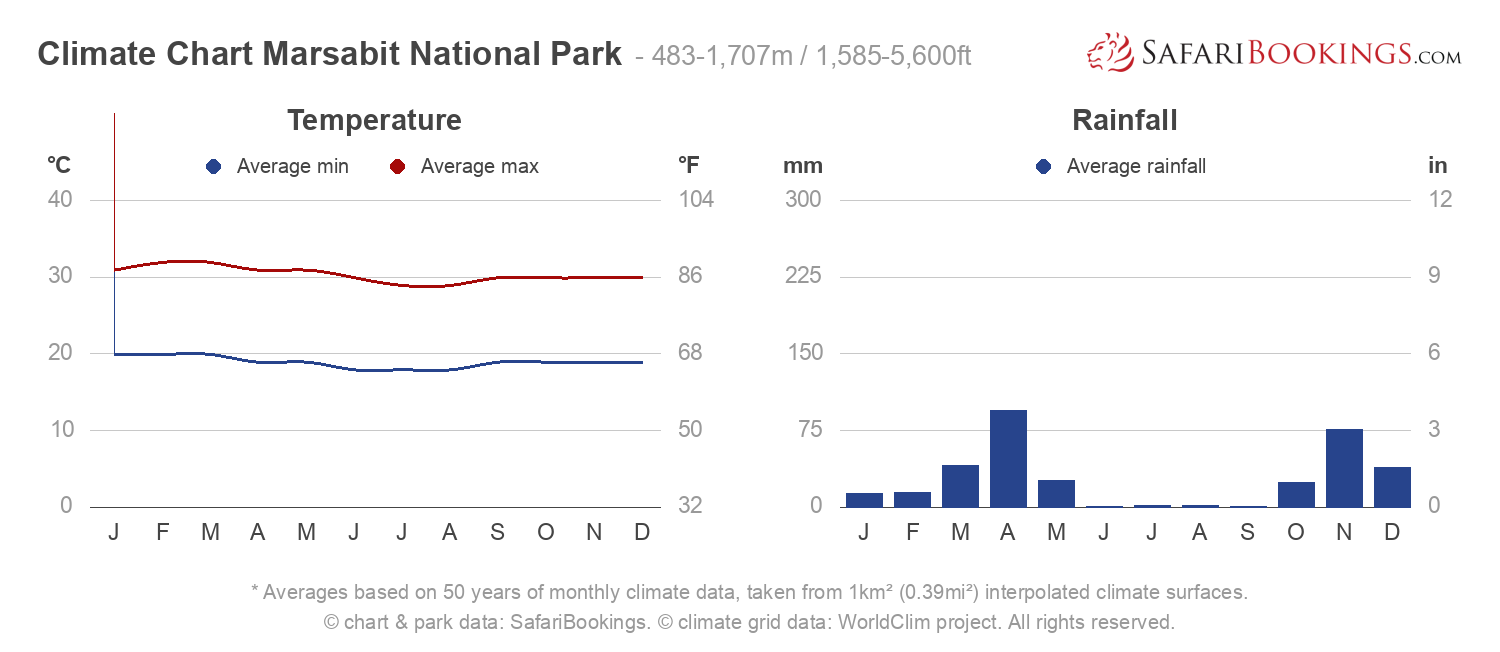 Climate Chart Marsabit National Park
– 483-1,513m / 1,585-4,964ft
* Averages based on 50 years of monthly climate data, taken from 1km² (0.39mi²) interpolated climate surfaces.
© chart & park data: SafariBookings. © climate grid data: WorldClim project. All rights reserved.
The climate in Marsabit is hot, although it cools down at night. The average daytime temperature is 31°C/88°F, while the average nighttime temperature is 16°C/61°F. The altitude in Marsabit varies widely from 483 to 1,513m (1,585 to 4,964ft). Temperatures drop by about 6.5°C for every 1,000m you climb (or 3.5°F per 1,000ft), so even within the park there are wide climatic variations. Rain mostly falls in the 'long' and 'short' rains which peak in April and November respectively.
Dry season
–

June to September
There is sunshine during the days, which tend to be hot. There is scarcity of rain, and conditions are very dry.
June & July – Hot conditions with plenty of sunshine. Afternoon temperatures average 30°C/86°F.
August & September – Before the rain breaks, temperatures during the day increase. In September, the average is about 30°C/86°F with higher peaks.
Wet season
–

October to May
A dry period is the norm during the months of January and February, which divides the two Wet seasons: the 'short rains' followed by the 'long rains'. Road conditions can deteriorate in April and May.
October, November & December – The 'short rains' typically begin in October. The most rainfall is received in November. Storms in the afternoon are common, but it rarely rains all day. Average temperatures in the daytime are around 31°C/88°F.
January & February – The exact timing of this dry period, which falls between the short and long rains, is unpredictable. Generally, the hottest month is February with afternoon temperatures averaging around 33°C/91°F, although expect higher peaks.
March, April & May – The long rains normally commence in the second half of March. Brief showers in the afternoon are typical, although it hardly ever rains all day. April receives the most rainfall. Afternoon temperatures are about 32°C/90°F.
Want to Visit Marsabit NP?
Marsabit National Park
Marsabit NP Photos
View Photos
(9)