Weather & Climate – Matobo NP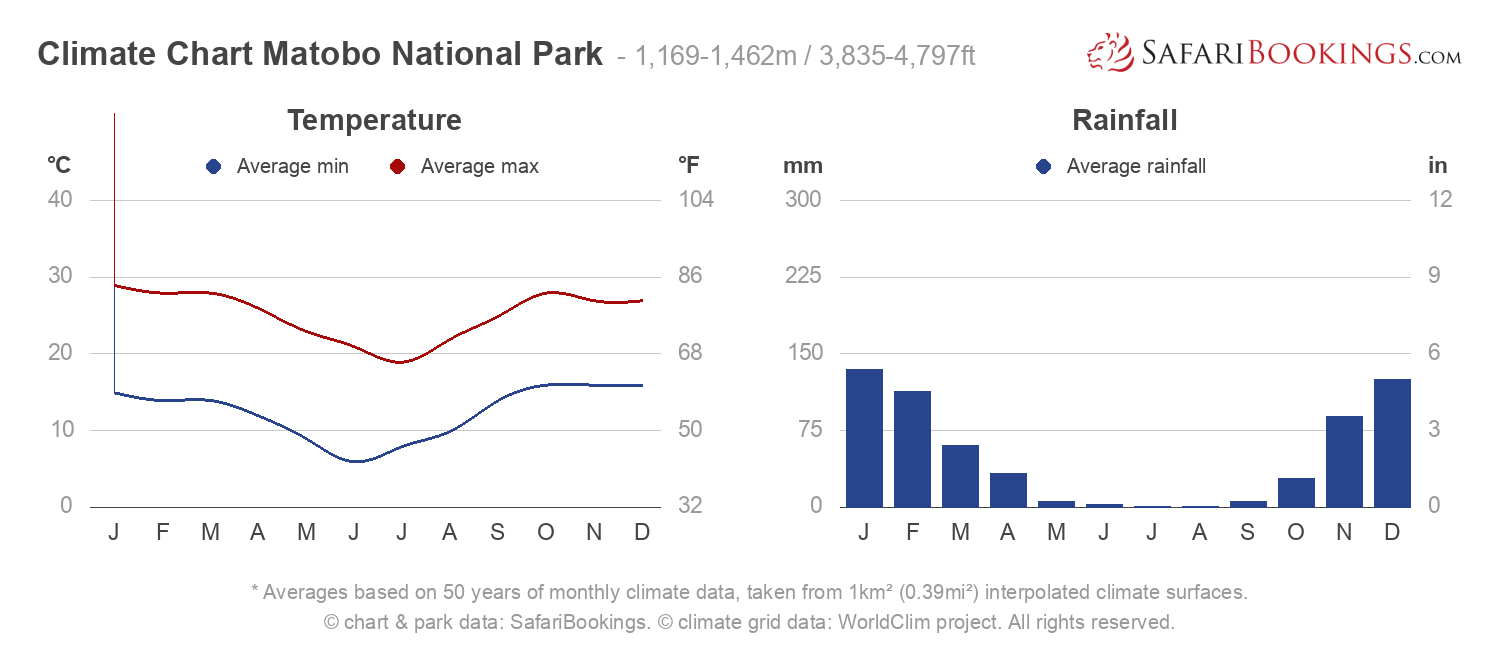 Climate Chart Matobo National Park
– 1,169-1,462m / 3,835-4,797ft
* Averages based on 50 years of monthly climate data, taken from 1km² (0.39mi²) interpolated climate surfaces.
© chart & park data: SafariBookings. © climate grid data: WorldClim project. All rights reserved.
Matobo's weather is temperate and fair. The warmest period is from September to March. May to August is colder during the day and gets very cold in the morning. The Dry season is made up of clear, sun-filled days from April to October. During the Wet season, which takes place from November to March, rain tends to come in heavy afternoon showers and is often followed by sunshine. Alternately, it can drizzle for days in succession.

The winter and summer seasons are experienced at opposite times than in Europe and North America, and correspond to the Dry and Wet seasons respectively.
Dry season
–

April to October – Winter
April – There is sporadic rain as the Wet season comes to an end and it starts to cool down. Early morning game drives in open vehicles are cold.
May, June, July & August – Although August begins to get warmer, these are primarily cold and dry months. Daytime temperatures are around 22°C/72°F, but it gets very cold at night and in the early morning, with average temperatures of around 5°C/41°F. Warm winter clothing is essential for early morning game drives.
September & October – With the exception of late October (the hottest month) and the arrival of the rainy season, these two months are dry. It gets warmer during the day, with temperatures reaching over 28°C/82°F.
Wet season
–

November to March – Summer
November – It rains steadily now, though not every day.
December, January & February – These are the wettest months, and it rains almost every day. Showers are mostly short, and they rarely last all day, with the sun coming out afterward. However, constant drizzle may be present for a few days at a time. Daytime temperatures average 27°C/81°F while night and early morning average 15°C/59°F.
March – The end of the Wet season will slow down the rains. Temperatures average between 27°C/81°F and 14°C/57°F during the daytime and nighttime respectively.
Want to Visit Matobo NP?
Matobo National Park
Matobo NP Photos
View Photos
(15)