Weather & Climate – Matusadona NP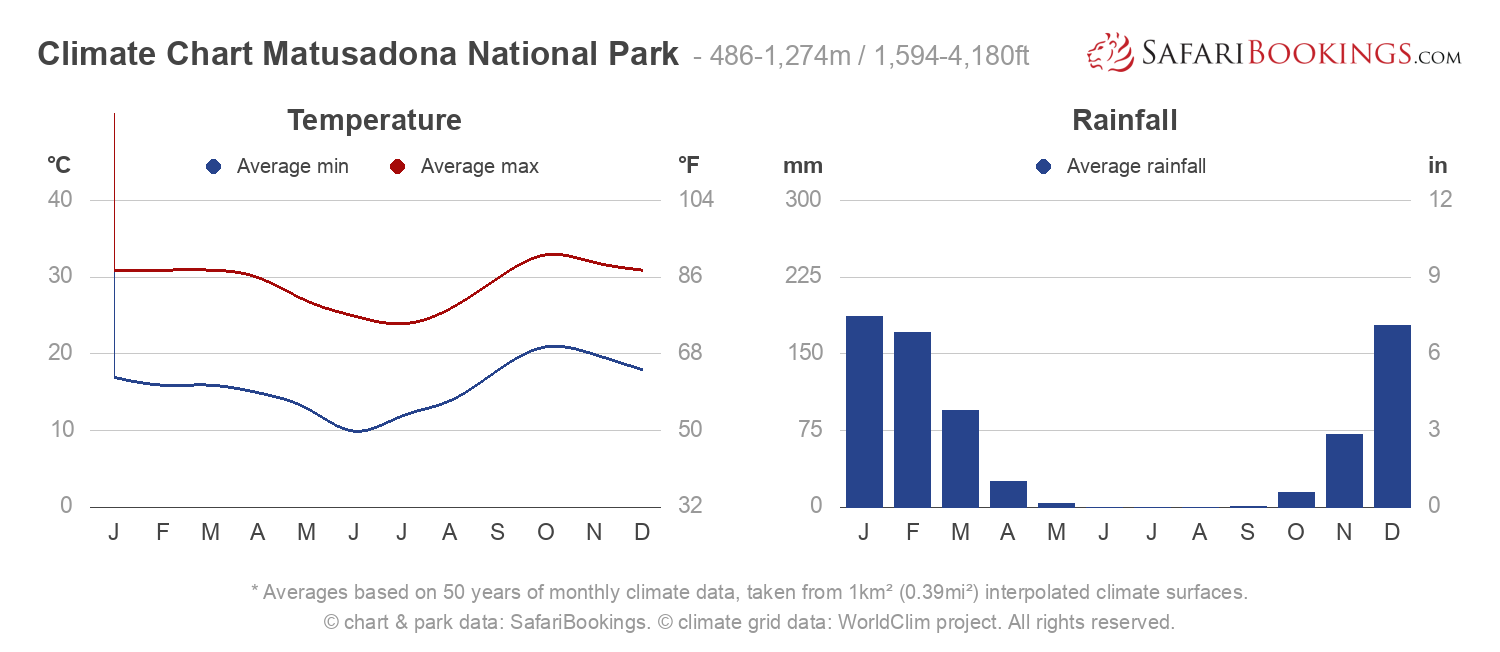 Climate Chart Matusadona National Park
– 486-1,274m / 1,594-4,180ft
* Averages based on 50 years of monthly climate data, taken from 1km² (0.39mi²) interpolated climate surfaces.
© chart & park data: SafariBookings. © climate grid data: WorldClim project. All rights reserved.
Matusadona has a warm to hot climate. September to April makes up the warmest weather, while colder weather is present from May to August. Variations in climate take place due to the changing altitudes (from 486 to 1,274m/1,594 to 4,180ft) inside the park. As altitude increases, temperatures fall by about 6.5°C for every 1,000m you climb (or 3.5°F per 1,000ft).

Sunshine often follows the afternoon rains that take place during the Wet season, from November to March, although a succession of drizzly days can also be typical. The opposite is true for the Dry season (April to October) when bright, sunlit skies are normal. Winter and summer are at opposite times of Europe and North America and correspond to the Wet and Dry seasons.
Dry season
–

April to October – Winter
April – It is cooling down now, especially at night. Rains gradually taper off to an end.
May, June, July & August – Intense dryness is typical of these months, which are also the coldest of the winter. August tends to warm up a little bit. Daytime temperatures hover around 28°C/82°F, but nights and early mornings are cooler at about 12°C/54°F. Early morning drives in open vehicles are cold, so bring enough warm clothing.
September & October – These months are mostly dry until the first isolated showers arrive, usually by late October. It gets very hot during the day with average temperatures of 34°C/90°F in October. Scorching peaks of over 40°C/104°F are common in the lower altitude regions.
Wet season
–

November to March – Summer
November – The rains are on the increase, although it might not happen daily. The high temperatures (32°C/89°F on average) and increased humidity could make the heat feel uncomfortably oppressive.
December, January & February – Rain comes in the form of drizzle for multiple days or afternoon storms followed by clear sky. These are the wettest months. Daytime temperatures average 29°C/84°F, while night and early morning average 19°C/66°F.
March – The rains lessen with the ending of the Wet season. Temperatures average between 30°C/86°F and 18°C/64°F.
Want to Visit Matusadona NP?
Matusadona National Park
Matusadona NP Photos
View Photos
(25)