Weather & Climate – Lake Mburo NP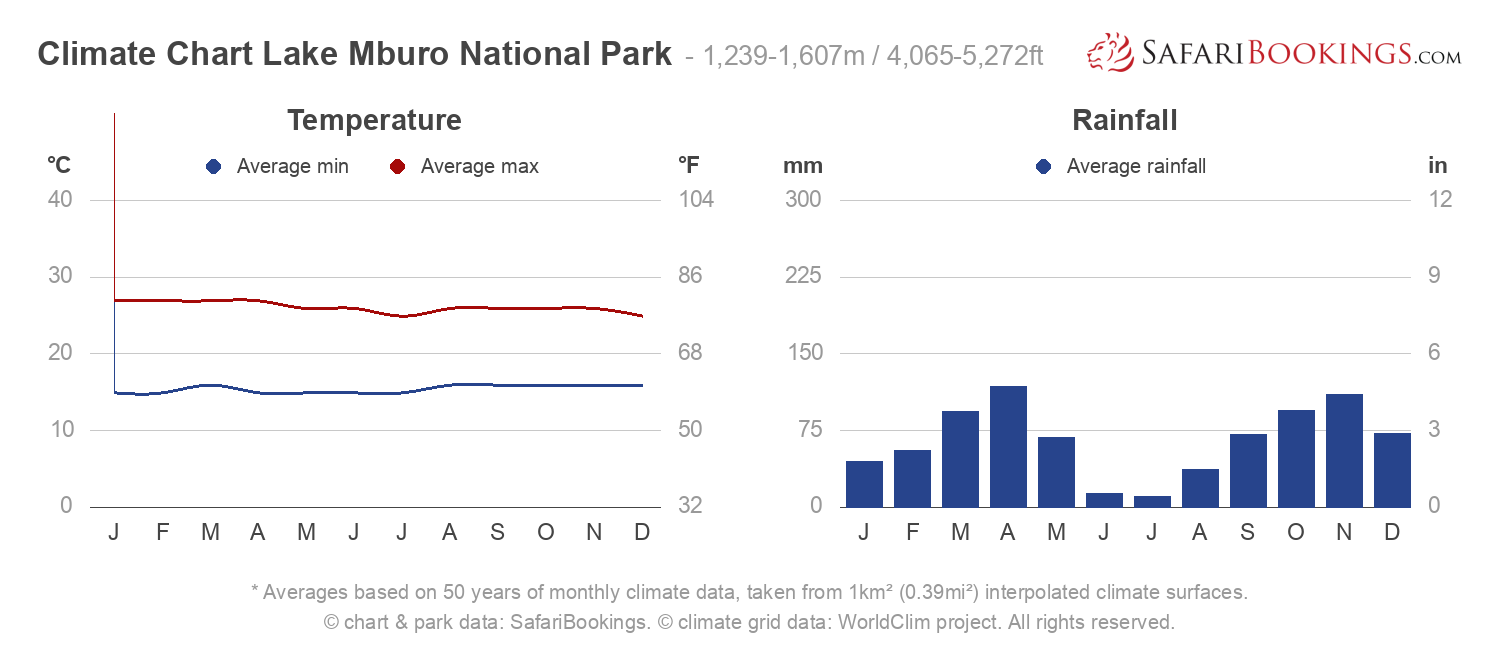 Climate Chart Lake Mburo National Park
– 1,239-1,607m / 4,065-5,272ft
* Averages based on 50 years of monthly climate data, taken from 1km² (0.39mi²) interpolated climate surfaces.
© chart & park data: SafariBookings. © climate grid data: WorldClim project. All rights reserved.
Lake Mburo experiences a mild climate, with regular temperatures due to its short distance from the equator. Daily temperatures are around 27°C/81°F, with nightly temperatures of 14°C/57°F on average. Rain occurs throughout the year – although June and July get the least amount of rain. December through February also tends to be a period of lesser rainfall. There are two recognizable Wet seasons, from March to May and from September to November. The total annual rainfall is over 800mm/31.5in.
Dry seasons
–

June to August and December to February
June, July & August – June and July are drier, but it can still rain occasionally. The transition between the Dry and Wet season usually occurs in August and rain will increase. Average temperatures are about 27°C/81°F in the afternoon and 13°C/55°F in the morning.
December, January & February – A period of more rain than June or July, but still less than the rest of the year. Daytime temperatures of about 27°C/81°F and morning temperatures of 14°C/57°F are normal.
Wet seasons
–

March to May and September to November
March, April & May – The wettest months of the year, with April getting the most rain. Daytime temperatures average around 26°C/79°F and morning temperatures are around 15°C/59°F.
September, October & November – This time of year is slightly less rainy when compared to March, April and May. The rain tends to reach a peak in November. Daytime temperatures are around 26°C/79°F.
Want to Visit Lake Mburo NP?
Lake Mburo National Park
Lake Mburo NP Photos
View Photos
(18)