​Weather & Climate – Namibia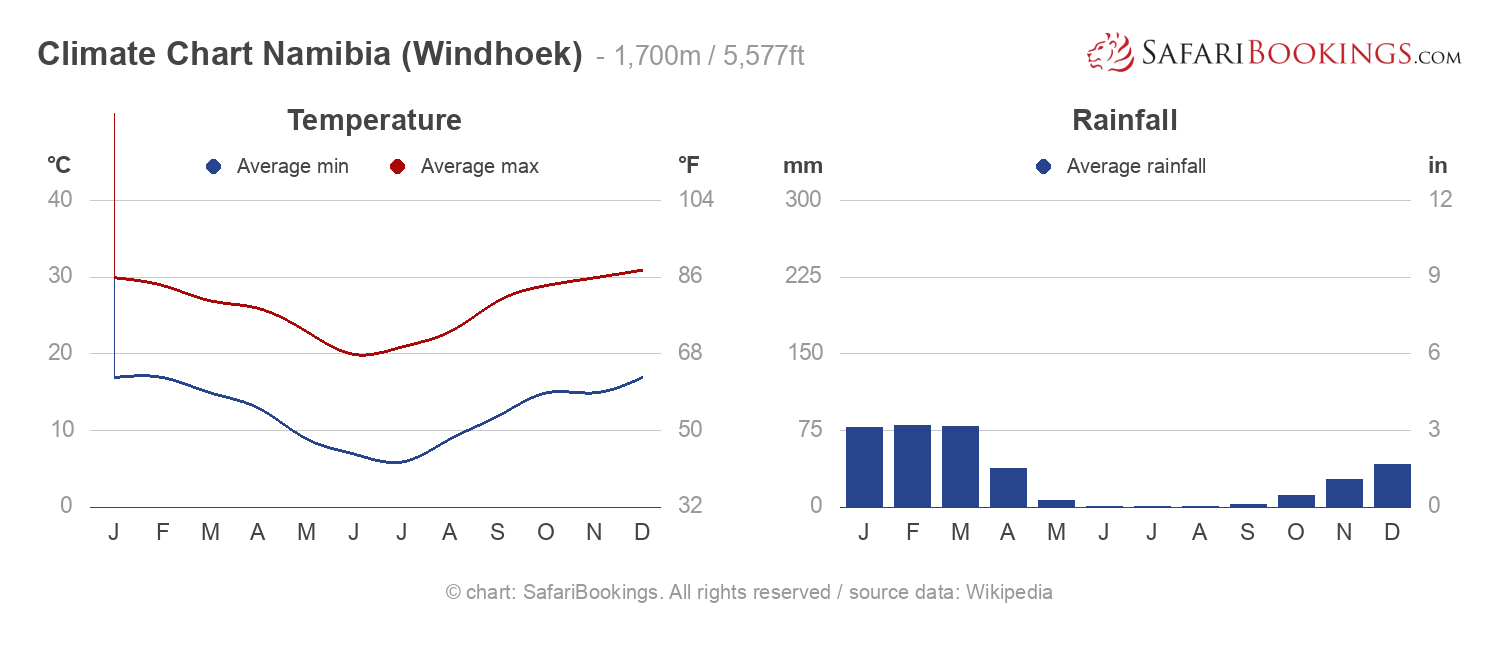 Climate Chart Windhoek
– 1,700m / 5,600ft
Mostly, Namibia has a subtropical desert climate characterized by great differences in day and nighttime temperatures, low rainfall and overall low humidity. Namibia experiences winter and summer at opposite times as Europe and North America and they correspond to the Dry and Wet seasons.
Windhoek's climate compared to Namibia's parks
Except for the temperature, the climate of Namibia's parks is similar to Windhoek. Windhoek is located on the semi-arid central plateau at 1,700m/5,577ft, and most parks are located around 1,000m/3,280ft and lower. Temperatures increase by about 6°C for every 1,000m you descend (or 3.5°F per 1,000ft). As a result, Namibia's parks are hotter, especially those located in the desert. Rainfall is higher in the far north, including Etosha and the Zambezi Region (Caprivi Strip). Further south the climate is hotter and drier.
Dry season

–

May to October – Winter
There is little to no rainfall during the entire winter and humidity is low. Wildlife will gather around waterholes and rivers when other water sources dry up.
May – It is the end of summer. The rains have stopped, but the scenery is still lovely and green. The nights aren't cold yet, and daytime temperatures are, on average, around 24-28°C/75-82°F.
June – The nights are getting cold and can drop below 10°C/50°F. In desert areas, it can be freezing. Daytime temperatures are still pleasant around 20-24°C/68-75°F.
July & August – The average maximum temperature is 21-25°C/70-77°F. The average minimum temperature is around 7°C/45°F but can fall to below freezing at night in the deserts and higher areas. Be sure to pack warm clothing for morning game drives.
September & October – September is a lovely month. It isn't too hot yet, but the chill in the mornings is becoming less. It is dry, and the skies are clear. During October, the green vegetation is fading, and the heat gradually builds up.
Wet season

–

November to April – Summer
November – The heat continues to rise, and by November, it is very hot, but the humidity is still low, keeping it quite pleasant. On average, the daytime temperature is above 30°C/86°F but can be a lot higher in the deserts. Clouds are starting to build up in the afternoons.
December – The first rains usually arrive and with them the temperature drops. The landscape changes after the first rains and everything comes to life.
January & February – This is midsummer. It tends to be hot and humid with maximum temperatures around 30-35°C/86-95°F with peaks of over 40°C/104°F in the desert. There may be torrential downpours in the afternoon but not every day. Mornings are usually clear.
March & April – Rainfall will decrease and stops around April. It cools down after the rains and the nights start to get cold again. Average daytime temperatures are around 25-30°C/77-86°F
Want to Visit Namibia?