Weather & Climate – North Luangwa NP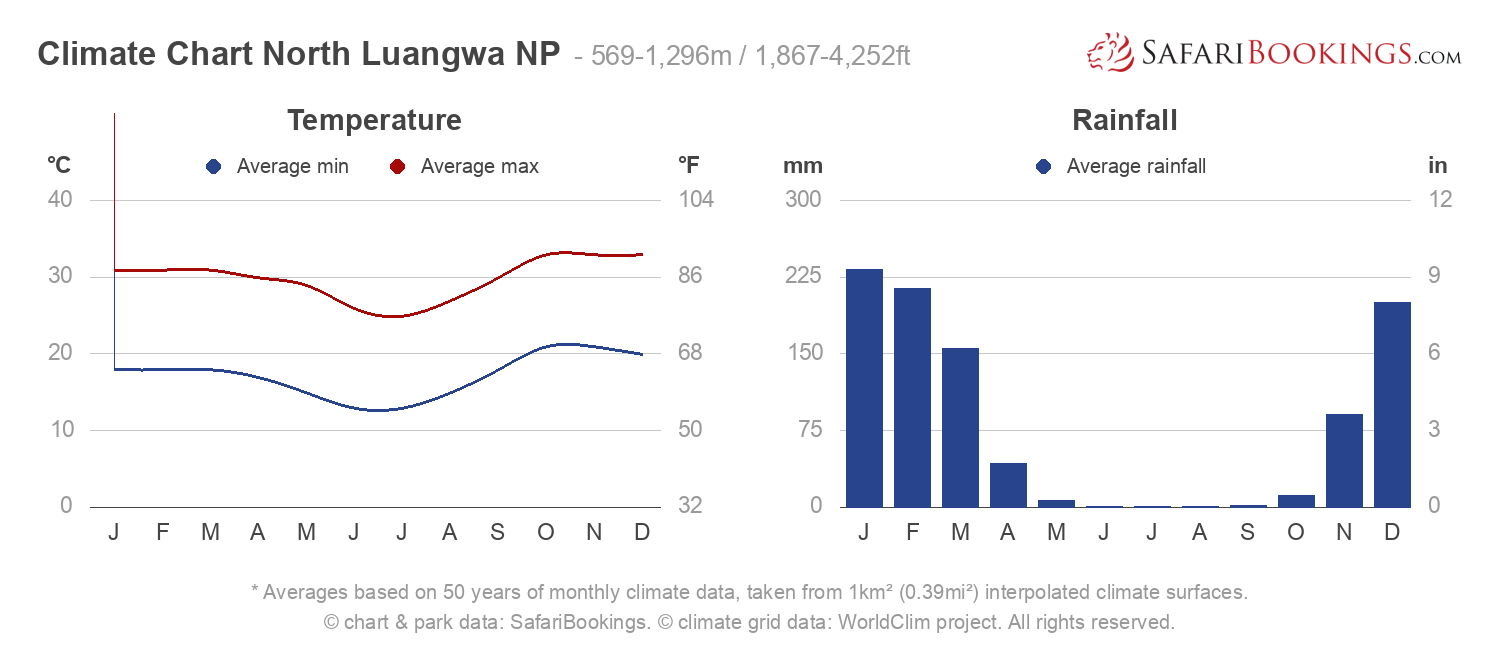 Climate Chart North Luangwa National Park
– 569-1,296m / 1,867-4,252ft
* Averages based on 50 years of monthly climate data, taken from 1km² (0.39mi²) interpolated climate surfaces.
© chart & park data: SafariBookings. © climate grid data: WorldClim project. All rights reserved.
North Luangwa has a Wet and Dry season and a hot climate with reasonably uniform temperatures throughout the year.

The changing altitude gives rise to variations in the climate (from 569 to 1,296m/1,867 to 4,252ft) inside the park. As altitude increases, temperatures fall by about 6.5°C for every 1,000m you climb (or 3.5°F per 1,000ft). The higher altitudes within the park are mostly on top of the escarpment, which is not usually visited by tourists.
Dry season
–

May to October
There is practically no rainfall at all in the Dry season. It is hot during the day, but cool at night. There are only a few operators working in North Luangwa and they set-up their semi-permanent camps after the rain. The season usually starts in June and closes in October.
May – There is still a lot of water around at the start of the Dry season. This is not a good time to visit the park as roads are still waterlogged. Most of the semi-permanent camps are still closed.
June & July – The rain has finished, and the bush is drying out. These are the coolest months. Temperatures during the day reach 27°C/81°F, with mild nights at around 12°C/54°F. Warm clothing for early mornings is essential.
August & September – September has an average temperature during the day of 32°C/90°F. There is no rain, and the bush looks parched. Mornings are getting warmer too.
October – Although the exact timing is unpredictable, the first rain usually falls this month. Temperatures keep increasing to an average of 34°C/93°F, although they can peak much higher with the heat unbearable in the middle of the day. Morning temperatures are around 19°C/66°F.
Wet season
–

November to April
During the Wet season, afternoon showers are common, and thunderstorms are often quite the spectacle. Operators in this region conduct safaris in the Dry season only. All the lodges in the wilderness area are closed during the Wet season. Access during the Wet season is very hard and not recommended.
November – If rain hasn't started in late October, it usually comes in November. The bush is very hot with average daytime temperatures about 32°C/90°F. Rain doesn't fall every day, and it mostly comes in afternoon thunderstorms.
December, January, February & March – Rain rarely lasts the whole day, although it falls on most days during the wettest months. Daytime temperatures average 29°C/84°F, while at nighttime the average is a balmy 19°C/66°F.
April – The landscape is lovely and green during April, and the rain has become less regular.
Want to Visit North Luangwa NP?
North Luangwa National Park
North Luangwa NP Photos
View Photos
(7)