Go Touch Down Travel & Tours
4.4/5 – 144 Reviews
Offices In:

United States

Canada

Size:

20-50 employees (Founded in

2010

)

Tour Types:

Small & medium group tours (Mid-range & luxury)

Destinations:

Price Range:

$300 to $800

pp

per person

per day

(USD, excl. int'l flights)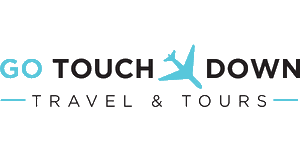 Go Touch Down Travel & Tours
Susan H.
–
US
Visited: August 2016
Reviewed: Feb 23, 2019
Email Susan H. | 35-50 years of age | Experience level: first safari
Personable, down to earth, warm, funny and accommodating.
The staff are just all-around terrific. They are very accommodating and so well liked. They make you feel like family. Always having your safety in mind and able to answer any questions that you may have. I've never been on a vacation with happier people than those at Go Touch Down. Your days are full and your evenings delightful!
I went on Safari and was very pleased from beginning until end. I did not want to leave! Definitely worth the trip and affordable as well.
Dave and Nancy
–
US
Visited: November 2017
Reviewed: Feb 21, 2019
Email Dave and Nancy | 65+ years of age | Experience level: first safari
Go Touch Down Tours went way beyond our expectations
We were on a tour with them for 19 days.....Cape Town and Johannesburg....every single day was packed full and everyday was excellent. Our guides were so up beat and informative to all the activity we were going to do that day and kelp the 6 of us laughing and in awl of our surroundings.... The meals.... unbelievable... the best restaurants everyday in Cape Town and in the preserve in Johannesburg we got to eat some meals you won't get anywhere else.... These people know exactly what they're doing and you won't regret booking with them.... we loved every moment... It was a trip of a lifetime


A'ida Aman
–
Visited: January 2019
Reviewed: Feb 21, 2019
Email A'ida Aman | 20-35 years of age | Experience level: 2-5 safaris
My First Halal Tour - 10/10 would recommend.
At first I was a bit spectacle because the itinerary sounded too good to be true. As a Muslim traveler our main priorities are always going to be "Where can I pray", "Are their meals Halal", "Do they have prayer facilities in the area" etc etc. All these questions are stated clearly in the itinerary however I still had doubts, so I got in touch with the Australian representative (also this was handy because it made the communication all the more authentic). All my concerns, questions and self-assurance were answered by the lovely Shelly Smith (mind you I only gave Shelly a 4 months notice before my trip but it was such a smooth process!)

Although I did not include a safari in my 8D7N Exclusive Halal Cape Town Tour I did manage to sneak in a Cheetah outreach program and a visit to the Ostrich Ranch at Van Schoorsdrif Rd. Both had been tailored and suggested by Shelly (Although it wasn't included in the itinerary Shelly was always very helpful and attentive to what I wanted to see)

My bestfriend and sister was also on tour with me. We were introduced to JP who was our guide throughout the whole 8 days, JP turned out to be more than a guide, he was our uncle. We admired his patience and his knowledge of the Cape Town culture. He went out of his way to locate halal eateries, mosques and prayer facilities it was honestly the best holiday experience one could ask for. Everyday was an adventure.

Overall I would recommend Go Touch Down Tours especially for Muslims who want a hassle free holiday. There was not a day where you did not feel safe. I wonder at times whether JP was actually our bodyguard!

Coming home felt like you've left a part of you behind. I've made memories that will last a lifetime.

Thank you Go Touch Down and a biggest thank you to our external tour guide that we've met along the way!

A'ida









Gail Klink
–
US
Visited: February 2016
Reviewed: Feb 21, 2019
Email Gail Klink | 65+ years of age | Experience level: first safari
It was magical, and more was deliveredd than promised.
It couldn't have been better. From cell phones for emergencies, attentive guides, unexpected extras, a magical safari, full menus to choose from, and unique accommodations, to professional help with add-ons like a Rovos Rail trip, extra days in Cape Town, and a trip to Vic Falls, it was perfect.
Jim Carmichael
–
CA
Visited: November 2018
Reviewed: Feb 21, 2019
Email Jim Carmichael | 50-65 years of age | Experience level: first safari
Every moment was carefully planned, at times to exhaustion, but very good
Very happy, especially with our time at Songimvelo

Judith Horn
–
US
Visited: April 2017
Reviewed: Feb 21, 2019
Email Judith Horn | 65+ years of age | Experience level: first safari
More than expected
This was a trip of a lifetime for me. My expectations went over and beyond. Cannot wait to go back and will not travel with anyone but Go Touchdown. They made my dream come true
Nancie La Pointe
–
US
Visited: December 2018
Reviewed: Feb 21, 2019
Email Nancie La Pointe | 65+ years of age | Experience level: first safari
Trip of a lifetime!
I booked my trip at a travel show not knowing what to expect since I booked my trip at the first table I stopped at. Traveling to Africa had always been on my mind since I was 10 years old. Now being retired, I figured it was out of my reach. After talking with Marie, I realized this was a trip I was willing to take a chance on as a single traveler. I only have positive things to say about my trip to South Africa. From the time I was met at the airport, to the time I was dropped off at the airport, I was treated with the utmost respect. I wasn't sure how I would fit in with my four other fellow travelers but my driver Bill and guide Richard made me feel welcomed every minute of the trip. The staff is very professional while having a casual sense of humor to keep things moving in a positive direction. My experience in the bush while at Humala Lodge surpassed anything I could have ever dreamed up in my mind. I would highly recommend traveling with Go Touchdown Tours and hope to travel with them to South Africa again in the future. I am forever grateful that I ended up traveling with a tour group that focused on making sure I was happy while I was traveling on this big adventure. I loved every minute of it!
Melanie
–
US
Visited: November 2017
Reviewed: Feb 21, 2019
Email Melanie | 35-50 years of age | Experience level: first safari
The most amazing experience of my life time and I have lived and traveled all over the world!
If you have ever wanted to visit South Africa and go on safari Go Touch Down Travels is the way to go. It is first class all the way. My group did a week in Cape Town and a week Safari. Having a small group of only 6 is key. I wouldn't want to do it any other way. Cape Town was amazing. We saw and did everything and more. We also ate at the best restaurants breakfast lunch and dinner. The accommodations were above my expectations. We had excellent communication before the trip. During the trip I couldn't believe the care and attention each of us was given. We were a demanding group and our guides exceeded our expectations as well.
The safari week was even better. Their reserve is special as are the accommodations. A magical place. The places we visited outside of the reserve were world wonders. Everyday I had tears in my eyes with the beauty. The value is excellent. My family and friends who have done similar tours with other companies paid much more, had huge groups, the accommodations didn't compare and the places they ate were not nearly as high end as Go Touch Down. Especially if you have a family or a group this is the company to use. Thank you Go Touch Down for the trip of a lifetime.
Edward
–
US
Visited: August 2018
Reviewed: Sep 9, 2018
Email Edward | 65+ years of age | Experience level: first safari
Overwhelmingly positive
We chanced upon Go Touchdown Tours at a South African art display in Sarasota, FL and entered to win a South African safari vacation. We did not win a trip, but we did receive discount coupons that, with trip prepayment, made the trip (for two adults and a teenage grandson) affordable. We were very pleased with the attention to detail, generally rapid response to questions, accommodations included, staff friendliness, dedicated driver while in SA (James), and overall value. Meals were "order anything off the menu" with no restrictions so we ate well and got to try local cuisine. We enjoyed Dunkeld Estate but especially liked our time at Humala River Lodge and the intimate game experience in the Songimvelo Reserve. In hindsight, we would have preferred another day at Humala rather than the trek to and disappointing quick day at Kruger, where we had a fairly "grumpy" Jeep driver who kept to the main road and did not give us much opportunity to see wildlife hiding off in the less exposed side areas. We saw the most wildlife at the Pilanesberg National Park, but enjoyed the most "in the bush" experience at Humala. Definitely worthwhile trip!
Carolyn
–
CA
Visited: April 2017
Reviewed: May 4, 2017
Email Carolyn | 65+ years of age | Experience level: first safari
Once you started the tour it was Very Good. You just need to get past the office.
My husband and I were travelling for 2 1/2 months before we arrived in Cape Town. Before we left we got in touch and asked if there was any other information that was needed. We were told they had everything and an itinerary would be sent to us 60 days prior to arrival. We had to ask for this 3 days before arrival. During those 2 1/2 months on the road we were asked 3 and 4 times for the same information and sometimes by the same person. When I complained I was told that several people had to touch the file and sometimes things got lost. Information requested were flight arrivals and departures, emergency numbers etc. We then received a charge for $250 and were told this had to be paid before final arrangements could be made. After many emails we found out that a flight had been charged to our account that was not ours. Each email we sent we asked for confirmation and most of the time did not receive it. After many emails about flights the office still did not send the correct information to the guide that was waiting for us. We spent another hour at the airport waiting for this to be sorted out. It was very frustrating and we were concerned about the complete trip.
Then the guides took over. They were wonderful. The accomodations were good and the guides were knowledgeable, courteous and bent over backwards to help you out. The meals were fantastic and actually too much. We decided not to go for dinner one evening because we were not hungry. I think it would be best for us (not everyone) if you just had 2 big meals a day and a snack. We spent many hours in restaurants. The restaurants were wonderful but sitting and waiting 2 hours for lunch was not for us. You could pick anything off the menu so everyone was satisfied. The tours were great and the adventures were over the top.
Disclaimer
All corporate and/or tour info is provided by Go Touch Down Travel & Tours, not SafariBookings
The tours offered by Go Touch Down Travel & Tours are subject to their terms & conditions