Go Touch Down Travel & Tours
4.8/5 – 106 Reviews
Offices In:

United States

Canada

Size:

20-50 employees (Founded in

2010

)

Tour Types:

Small & medium group tours (Mid-range & luxury)

Destinations:

Price Range:

$300 to $800

pp

per person

per day

(USD, excl. int'l flights)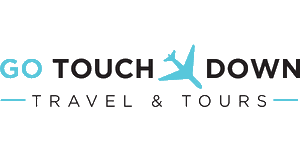 Request a Quote ›
Your request will be sent directly to the operator
If preferred, you can contact the operator directly
Grace Baylor
–
US
Visited: August 2022
Reviewed: Aug 24, 2022
Email Grace Baylor | 50-65 years of age | Experience level: first safari
Our tour operator was very knowledgeable, answered all questions and left nothing unturned.
This was a trip of a lifetime! We had such a remarkable time each day, each adventure, each meal, each safari, each sight seeing tour we took.
We were busy from the rising of day, until dusk most days. Oh, the shopping was an adventure all of its own:) It was breath taking.. We are planning to return.
Doris Gragg
–
US
Visited: August 2022
Reviewed: Aug 22, 2022
Email Doris Gragg | 65+ years of age | Experience level: first safari
Go Touchdown Travel & Tours is Committed to Customer Satisfaction
From the moment our group touched down in Johannasburg, South AFrica, we were treated like we were the most important people on the planet. Respectful, friendly employees made us feel like we were part of a family. Every request was answered with 'yes, we can make that work', with no additional expenses. Our group added on a hot air balloon ride, (which we paid for, but transports were free), shopping trips into town, and an excursion boat ride down Blyde River Canyon. Go Touch Down took care of all the planning, and all we had to do was show up, and enjoy every second of our experience. Safaris were amazing, with knowledgeable and patient guides.
Our tour guide (James) was the most amazing person we met on our vacation. He was always willing to explain any questions we had. He fed us knowledge throughout our time with him. He was always happy, and willing to help us in any way. We still consider him a member of our family!
Mark G.
–
CA
Visited: April 2022
Reviewed: Jul 28, 2022
Email Mark G. | 50-65 years of age | Experience level: first safari
Friendly & knowledgeable staff, a diversity of activities to enjoy & an overall awesome experience.
My sister Kim and I thoroughly enjoyed our 10 day Signature Tour (Safari & Cape Town) of South Africa with Go Touch Down Tours in April & May, 2022. All of our tour guides - Bill on the Safari portion, Lindo at Humala River Lodge and J.P. in Cape Town were friendly, informative, knowledgeable and went above and beyond to help us enjoy each activity. All of the other staff at each of the resorts where we stayed were also awesome, as were the accommodations and all the meals we enjoyed, especially the bries! Also, the small size and cohesiveness of our tour group made the trip that much more enjoyable.
The Safari experiences at both Humala - Songimvelo Game Reserve & Pilanesberg National Park were amazing and Cape Town and surroundings were a beautiful area to explore, and we have some awesome photos and memories to last a lifetime. Great value for the money and I would highly recommend Go Touch Down to anyone, young or old, wanting to enjoy an awesome, complete Africa Tour experience.
Vic B.
–
US
Visited: May 2022
Reviewed: Jul 25, 2022
Email Vic B. | 50-65 years of age | Experience level: first safari
Go Touch Down far exceeded our expectations. An amazing experience!
Go Touch Down delivered everything they promised and more. Our planners listened well, responded to our needs, made specific recommendations for us, and remained patient through our seemingly endless barrage of questions.

Our South Africa tour guides were friendly, knowledgeable, and always there to help. Given that we were out in a true wilderness, the facilities, meals, and staff were top notch. We couldn't have been more pleased.

Then, Go Touch Down really went the extra mile. We had added a Victoria Falls extension to the end of our safari tour. Upon arriving at JNB for our flight to Vic Falls, we find out that British Airways shut down their regional carrier literally hours before our flight, leaving us stranded at the Johannesburg airport (no fault of Go Touch Down). Rather than leaving us to fend for ourselves, James, our tour guide, stayed until our situation was resolved. He connected us with Anisa, a Go Touch Down representative in South Africa, who went to work for us and, within an hour, we were on a plane to one of their properties near Kruger National Park. While disappointed that we missed Victoria Falls, the option they provided turned out to be a highlight of our entire vacation.

Based on our experience, I wouldn't hesitate to recommend Go Touch Down. in fact, whenever we get an another opportunity to visit Victoria Falls, you can be sure we'll be calling Go Touch Down.
Cathy Corbett
–
US
Visited: February 2022
Reviewed: Jul 21, 2022
Email Cathy Corbett | 50-65 years of age | Experience level: first safari
A trip of a lifetime; life altering!
This trip was worth every penny and then some. The country and its people were amazing. Johannesburg and Cape Town did not disappoint, those game drives at Songimvelo Game Reserve (loved) and Pilanesberg National Park were simply amazing. Adored our guide, Lindo (sp) at Humala River Lodge and the staff was phenomenal. For me the Elephant Sanctuary Hartbeespoort Dam was breathtaking and educational and not long enough for me. I wanted more time with Timbo. But the capper was staying at Belle Maroc just outside of Cape Town. Best decision we made was to stay outside the city limits. The views of the city at night and Table Mountain were stunning and you are right on the beach. The staff and food were wonderful. So, accommodating; we wanted for nothing. When in Cape Town skip the bus tours and aquarium (small). Ask your guide/driver to drop you off at the aquarium for about 4-5 hrs and go shop The Watershed (amazing local artists and wears), walk down to the African Trading Post and shop COOL tourist stuff, walk around the marina and then eat & drink at Mozambik V & A Waterfront and watch the party boats coming and going. This portion saved my sanity after going non-stop the day before. I could go on and on, but there isn't enough space here for that. The entire experience with GoTouchDown was amazing. We plan to be back in 2024.
Christine
–
US
Visited: May 2022
Reviewed: Jul 15, 2022
Email Christine | 65+ years of age | Experience level: first safari
The Best!
The GoTouchdown tour was fabulous! The tour guides were always on time and full of information about everything from the animals to the terrain to the history and people of the region and culture of the area. And they were incredibly friendly, nice and unbelievably helpful getting you whatever you needed.

The Seasons hotel was ok but the Hamala and Dunkeld accommodations were fabulous! Dunkeld Estates was a total surprise - it was like Scotland in the middle of Africa with stone buildings and beautiful horses and trees - and with incredible accommodations, definitely 5-star.

The Safari guides were so knowledgeable both at Hamala and Pilanesburg that they made the experience even better. I had tears of joy seeing the giraffes, zebras, hippos, and elephants so close. The park were the lions, cheetahs, etc were was just ok but I was happy to see the big cats, and they had fabulous gift stores. I must say the Hamala Safari ride is not for people with back or neck problems but I thoroughly enjoyed the bumpy ride. Visiting the local terrain and parks showed me how vast and mountainous and diverse South Africa was.

I loved the Safari week so much that I thought the 2nd week which was in Cape Town would be a letdown but I could not have been more wrong! Our fantastic guide, JP, picked us up every morning at 7:30 or 8:00 from the Stillness Manor and we were on the go all day long seeing everything from the Most Southern tip of Africa, botanical gardens, penguins, beautiful villages like Hermanes, a cable car ride with incredible views, a bird zoo where squirrel monkeys crawled all over you ( I could have stayed there for hours), various shopping venues that had primitive local art to others with upscale African designers, and a tour of the history of diamond mining ending with an opportunity to purchase some beautiful gems.

And the restaurants! Lots of incredible food and beautiful places. My favorite was Gold where everyone got their face painted, played native drums, was entertained with various vignettes of native singing and dancing, all while dining on 14 courses (tapas size) of native foods! This place is not to be missed! There was also the restaurant at the edge of the rocky shore in Hermanes which was gorgeous. And there were lots more all included in the tour price.

The Township Tour explained how apartheid affected the people, showed how some of the poorest people still live, and showed the continuing struggle in neighborhoods today. It ended with lunch in a lovely lady's home. It was truly an education that enhanced my understanding of South Africa and should not be missed.

I honestly didn't want to leave. By the way, I was traveling alone and had a wonderful time meeting new people and felt safe and secure the whole trip.
GW
–
US
Visited: July 2022
Reviewed: Jul 15, 2022
Email GW | 35-50 years of age | Experience level: 2-5 safaris
Excellent Time and Wonderful Tour But a Rocky Start
The vacation was wonderful and the staff in South Africa were helpful. However the staff in the United States was not helpful when I was on the ground in South Africa. They only communicated with one of the travelers (my friend) and did not send me my itinerary until I touched down. I reached out through email while on the long flight to send me my itinerary so that I knew who was meeting me at the airport. This caused problems with meeting the gotouchdown guide on the ground. They also didn't keep my contact information for communication so that the guide could call me in an emergency. I was only given the contact information of the South African contact from my friend who they did keep in contact with. Nonetheless when I was able to get in contact with the SA staff they were responsive and apologetic. However, I ended up spending money on a cab that wasn't needed. After the initial hick-up the trip went smoothly. The resorts were great and the experience on the safaris was life-changing. I would do it again as the resorts and value for the money was excellent. However, I would only work with the South African contacts as they were the best.
LaVette
–
US
Visited: June 2022
Reviewed: Jul 14, 2022
Email LaVette | 50-65 years of age | Experience level: first safari
Always felt safe and secure no question was dismissed and the operator was personable and caring
I would travel with the agency again I wish they had trips to wards west Africa. Everyone was easy to work with they were very helpful with the accommodations and everything went through without a hitch
SR
–
US
Visited: June 2022
Reviewed: Jul 7, 2022
Email SR | 65+ years of age | Experience level: first safari
Great itinerary at a reasonable price.
Accommodations were great, most owned by the tour company. We spent a week around Cape Town, then a week on safari in the north part of South Africa and extended to go to Zimbabwe to visit Victoria Falls and to Botswana to visit Chobe National Park. We saw amazing animals, scenery and history but it was the people we met that made our trip so wonderful.
Lynne E.
–
US
Visited: June 2022
Reviewed: Jun 24, 2022
Email Lynne E. | 65+ years of age | Experience level: first safari
Both our tour operators were committed to making every wish happen.
I signed up for this tour several years ago and for various reasons, the actual departure date had to be rescheduled several times, so I was feeling a little apprehensive about the tour now that I was older and the initial excitement had begun to turn to a little anxiety about going someplace so very foreign to any travel I had ever done before--I need not have worried. Go Touch Down has their tours down to a science, and the people they employ and/or work with are excellent in every way. From the tour guides who stayed with us for every part of the Cape Town week and the Safari week to the staff at the Go Touch Down properties where we stayed, I felt cared for and sincerely welcomed. The itinerary was packed in Cape Town and yet we never felt rushed at any venue; the pace was a little more relaxed on the safari week as we had some down time between the game drives. The accommodations were first rate and comfortable--a special shout out to Shark Bay and Humala River Lodge, which became personal favorites. The food, whether at the hotels/game reserves or at local restaurants was beautifully plated, delicious and bountiful with ample opportunities to sample South African cuisine. We saw amazing things! The variety of experiences was mind-boggling. The ancient history from visiting fossil parks and first people educational centers to the more recent history of apartheid struggles was interspersed with delicious samplings of wine and cheeses at old world wineries. And, of course, the animal encounters were spectacular, whether it was privately owned game reserves, different animal sanctuaries (where we actually interacted with lion cubs, elephants, panthers, caracals, monkeys), national parks, or visits to island or coastal habitats. The scenery was diverse and gorgeous--breathtaking more days than not. But I have to come back to the people, the staff, the hosts, the bartenders; everyone was so nice, so friendly, so genuinely happy to see us and I have to say this is probably the best tour I have ever taken. The trip as a whole was the most expensive I have ever taken and I wondered whether I would think I had gotten value for my investment. The answer is a definite YES. In fact, given the quality of lodging, excursions, food, and experiences, I believe Go Touch Down was a bargain. Since my return I have promoted them to friends and family and I plan to use them when I take my grandsons in a few years.
Disclaimer
All corporate and/or tour info is provided by Go Touch Down Travel & Tours, not SafariBookings
The tours offered by Go Touch Down Travel & Tours are subject to their terms & conditions