Speke Uganda Holidays
5.0/5 – 169 Reviews
Offices In:

Germany

United States

Size:

10-20 employees (Founded in

2008

)

Member Of:

ATTA

,

APTA

&

AUTO

Tour Types:

Customizable private tours and fixed group tours

Destinations:

Price Range:

$140 to $500

pp

per person

per day

(USD, excl. int'l flights)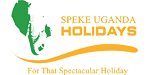 Request a Quote


for a custom tour
Your request will be sent directly to the operator
If preferred, you can contact the operator directly
Travis L
–
US
Visited: June 2022
Reviewed: Jul 9, 2022
Email Travis L | 20-35 years of age | Experience level: 2-5 safaris
Incredible tour operator - 5 stars!
Took an 11 day tour of Uganda with Speke Uganda Holidays in June 2022. I cannot say enough how great it was. The company was incredibly responsive throughout the whole planning process (which stretched 3 years due to COVID) going above and beyond to make our tour absolutely incredible. We had several issues with flights being cancelled and changed, Speke was very accommodative making sure we got the most of our time in Uganda. Our driver/guide Tony was very good and provided everything we needed at any notice. The lodges were very nice and exceeded our expectations. This is one of the larger tour companies in Uganda, you can rest assured when booking that this is an experienced operator.
Claire & Thomas
–
DE
Visited: September 2021
Reviewed: Feb 15, 2022
Email Claire & Thomas | 50-65 years of age | Experience level: over 5 safaris
Perfect organized tour and perfect guide (David Mukwaya)!
We made our long-awaited trip to Uganda in September 2021 and would like to thank the whole team for your organisation and the wonderful experience we had.

Our main goals were of course tracking mountain gorillas and chimpanzees, we additionally experienced and saw a lot of other game and birds on our round trip. Our guide David Mukwaya from Speke Uganda Holidays proved to be very smart from the very first moment and he was able to fulfil all our desires. He knows the country in detail and we had much fun together!

Our trip began with a visit of the Mawamba Swamps and a sighting of the shoebill, which we had never seen before! We had looked at any square metre in the Bangweulu Swamps in Zambia but no Shoebill was there and here it took just some minutes. What a surprise! We continued via Mburo National Park to Lake Mutanda, where we were accommodated in the lodge of the same name. The next morning we drove to our first gorilla tracking in the Bwindi Impenetrable Forest National Park. This experience was unique, we visited the Mucunguzi group in the Rushaga sector and could not get enough of the gentle giants and their joking kids!

Then we went to the Buhoma sector on the other side of Bwindi NP, where we had our second tracking, quite different because first of all we were a bigger group and the weather was rainy. After a steep climb we came across the silverback of the Mubare group and about five other animals that were temporarily hiding from the rain under bushes, but showed themselves again after the shower. We were very close and it was fantastic! Obviously we were of interest for them as they were for us.

Thanks to David, we visited the Bwindi community Camp and the Bwindi Ride for a Woman project in Buhoma. Very impressive how the local population is involved in nature conservation with relatively simple means.
David then took us to the Ishasha sector of Queen Elisabeth NP, where we saw tree-climbing lions! And also a leopard! And then on a hill David unpacked chairs and we had a wonderful sundowner!

Next stop was Mazike Valley Lodge, where we were the only guests. The bridge over the Kazinga Channel was closed and there was only a ferry to get across. Here David's knowledge of the country and his improvisation skills solved the problem once again: we had planned to cross to the other side for a late afternoon game drive, but when we arrived at the ferry it had just left and there seemed to be a problem on the other side because it did not leave again. He suggested an alternative, a great viewpoint on our side over the Kyambura Gorge, where we enjoyed our sundowner all alone again.

The next day we took the ferry across the river, a wonderful game drive including a boat trip with lots of antelopes, elephants, water buffalos and bird species. Simply great! We continued to Kibale Forest NP, where the highlight was the chimpanzee tracking. But again "little things" like seeing a rare Shining Blue Kingfisher near the lodge or the Giant Turacos in the Bigodi Swamp! We continued to Murchison Falls NP, where David changed the programme briefly and we were able to do a wonderful walk around the falls in the late afternoon, very close to the breathtaking water masses! The next morning we saw many elephants, many birds, including many bee-eaters, antelopes and a leopard on the game drive, and in the afternoon we again admired the fantastic birdlife and nature on a boat trip to the falls. Slowly we headed back towards Entebbe, we visited the Ziwa Rhino Sanctuary, where we were again lucky enough to see nine rhinos.
On the last day, we visited the botanical garden in Entebbe with David, which is very well designed and we liked it very much.

All in all, our trip was a perfect experience, the lodges we stayed in were all great, everything worked out to our complete satisfaction and we will never forget this trip! And David grew close to our hearts over the course of the 2 weeks and gave us so many insights into this wonderful country through his extensive knowledge of the country and its people, nature and wildlife.
A very big thank you for all that! We hope to meet you again!





Naomi
–
US
Visited: January 2022
Reviewed: Feb 14, 2022
Email Naomi | 50-65 years of age | Experience level: 2-5 safaris
Great care when I needed it
I didn't know anything about Speke Holidays when I ended up traveling with them. I booked my tour through Timbuktu Travel, and Speke was their local partner, to whom they assigned me for the actual guide and details of the trip. But I want to review Speke itself because I think it's important to know what a company does when things don't go well, in addition to when they do.

For the first few days, I had a wonderful time on my tour with Speke. My guide was named Innocent, and we got along great and he took such good care of me that I had to make him promise to stop buying me things unless he'd let me pay for them! Otherwise I kept finding that when I mentioned that I liked fresh fruit, a trio of pineapples found their way into the van at an open-air market before I even had the chance to try and buy my own.

Then I got sick three days into my tour, from swallowing a few drops of bad water in the shower. Nobody's fault but my own. I didn't want to miss the things that mattered most to me on the tour, so I soldiered on... unable to eat most things available to me, and spending most of the driving time asleep in my seat from a side effect of the anti-nausea medicine I was taking.

Innocent couldn't have taken better care of me if I had been his own mother. I don't know what he said to the staff at Kibale Forest, but where most travelers were assigned in groups of six, I got not only a hired porter but my own private ranger assigned to me so that we could go at a pace I could handle. She found us chimpanzees almost right away, so I got to see them without having to walk far. Innocent was waiting for us when I staggered out of the forest and took me back in hand.

He found me a small-town medical clinic, but they didn't give me the one thing I really needed -- antibiotics. I don't know whether that was a mistaken choice on the doctor's part, or just that the clinic didn't have them available. I soldiered on, determined to see the gorillas at Bwindi no matter what it took.

It took a whole gang of porters and a thing that looked like a cross between a stretcher and a sedan chair, but I was carried up the mountain and back down again. The way to was terrifying and the way down was excruciatingly painful, but the gorillas were worth every moment of it all, and the guys Innocent hired to take care of me kept me safe every step of the way.

By the time we got back to the lodge after the trip into Bwindi, I was crying in pain and I hadn't been able to eat anything significant in six days. I had finally done the one thing I was determined not to miss. I decided that it was time to stop gutting it out, and get back to good medical care as swiftly as possible. So I asked Innocent the next morning what was the quickest way to get me back to Kampala.

Well, I found out!! I spoke to Tony, the head of Speke, on the phone briefly; then he arranged to have a plane held on the tarmac for me while Innocent got me and my things scooped up and raced me to the airstrip. He sent me off with a minimum of baggage, and followed by road with the rest of my things. I was in a Kampala hospital only six hours after I asked for help getting there, and settled in an Entebbe hotel that same evening, after a starter dose of antibiotics and a lot of IV fluids, already feeling much better.

From there, I recovered pretty quickly. Innocent and I even managed to do a few gentle activities in Entebbe during my last day or two in Uganda, like the behind the scenes tour at the zoo which allowed me to pet a friendly shoebill stork and throw fruit to the chimpanzees on their island.

But what's most important to me is the help that Speke got me when I needed it most -- both ensuring that even through my illness I could still see the chimpanzees and gorillas I came for, and then getting me back to medical care swiftly and effectively once I was willing to go get it.

Innocent and Tony did more than give me a good vacation. They handled a major medical crisis and kept me safe. I'm truly grateful, and I can't recommend them highly enough.

Fred
–
DE
Visited: November 2021
Reviewed: Jan 1, 2022
Email Fred | 50-65 years of age | Experience level: over 5 safaris
thanks to Speke Uganda Holidays we had a spectacular and absolutely great trip to Uganda
right from the beginning it was a wonderful trip.
we had an exceptional good driver (Vincent) who was also an excellent guide and a really good guy with a lot of humor and a german speaking guide (Wahab) who was always very friendly and had always a good solution for our very rare problems.
The accommodations were outstanding either about their locations and also about their luxury. No wish was left open.
all was very very well organized and everything went out perfect.
Thanks to Speke Uganda Holidays it was a phantasmic an unforgettable trip.

Thorsten Schaefer and family
–
DE
Visited: October 2021
Reviewed: Dec 30, 2021
Email Thorsten Schaefer and family | 50-65 years of age | Experience level: over 5 safaris
Very professional, super good organised,very fast in communication, great tour operatator
I would like to start my review with the first contact I had with the booking office from Speke Uganda Holidays.

Actually, we had planned to make a family trip (5 people) to Madagascar but due to the COVID situation we had to change our travel plans.
Just 3 weeks before departure I contacted Speke Uganda Holidays and asked them for a tour proposal and within 24 hours I received a first suggestion for an itinerary and it was almost perfect, just some small changes and we were happy.

Payments towards Uganda went fine, I was always informed about the status of my payments by the finance department at Speke Uganda Holidays and the team from the booking office answered all our questions very fast and professional.

We got picked by our guide Mr. Jotham Kasamba and we immediately had this connection beween him and the group. We had a very good and clean Safari Land Cruiser which included a fridge and offered enough space for us and our luggage. The itinerary was very well planned, all accommadation were well chosen and we enjoyed grreat food after long drives.

Our Guide, Mr. Jotham Kasamba was very care taking, reliable, in time. Mr. Kasamba is an excellent driver, has a great knowledge in the field and about the wildlife but also about the history of his country. He did very good briefings and was open minded to our input, feedback and wishes. He made our trip special and he managed to make us feel comfortable from the start.

All in all, we were very impressed about the professionalism of Speke Uganda Holidays. At the beginning of the tour we received a tour book which included a drinking bottle to reduce plastic and also the owner, Mr. Mulinde, called us to welcome us in Uganda.
At the end of the trip we received another call from Mr.Mulinde, he wanted to hear if all went well and if we had any extra wishes.
All in all we can only speak positive about the tour, it was perfect!

We enjoyed the tour very much and we will recommend Speke Uganda Holidays to our family and friends. We have actually fallen in love with Uganda and we will definately come back. We have seen lots of cuntries in Africa and we have done lots of Safaris but htis country and the Tour Operator are very much on top.

Thanks to ther team at Speke Uganda Holidays!
Virginia
–
ES
Visited: December 2021
Reviewed: Dec 15, 2021
Email Virginia | 20-35 years of age | Experience level: 2-5 safaris
Great tour operator in Uganda!
Our trip to Uganda with Speke Holidays was absolutely perfect. The tour included an extensive itinerary (as per our request), but was planned in a way that every day was very balanced and not too exhausting. We counted on the support of Speke representatives since our arrival at the airport until our departure. Our guide Vincent was simply the best! He demonstrated great knowledge of the animals, terrain and the country's context, as well as impressive driving skills. He tried for us to have the best experience in every activity and while on route, and he totally succeeded! A huge thanks to the Speke team and especially to Vincent!
Christine Dwyer
–
US
Visited: October 2021
Reviewed: Dec 10, 2021
Email Christine Dwyer | 50-65 years of age | Experience level: first safari
I felt like one of his family members and he really cared about me enjoying my trip
Uganda is such a beautiful country, and the people are the kindest
Speke Uganda Holidays took care of everything for me
I traveled alone and they made me feel very comfortable, I had not a care the world. I was in good hands
They suggested the Entebbe Botanical Gardens and the place was amazing, I learned a lot about Uganda
The mountain Gorilla experience in Bwindi was one of the best days of my life!!
Then on my last day there I had some time before my flight and they arranged for me to go by boat to the chimpanzee island
Another great day
I loved every minute, and I will never forget
I can't wait to go back!!
Marina (Pumba)
–
DE
Visited: October 2021
Reviewed: Nov 5, 2021
Email Marina (Pumba) | 50-65 years of age | Experience level: 2-5 safaris
Because of this well organised amazing tour I let a piece of my heart in Uganda
My first vacations abroad since the beginning of the pandemic
I travelled in a small group (4 persons) and with a very friendly guide. I loved to hear his stories about his country, the cultur and the animals. Africano was always with us and could answer all questions and made the trip unforgetable and very special.
We tried different fruits and Ugandan food and learned a lot about the people, their life and so on.
The game drives with Africano were amazing and we could see a lot of animals. The luck and the weather were on our side :-)
I am very glad that I could visit your country! Africano from SPEKE Uganda Holidays made it special for me !
I would recommend the tour to my friends and I am sure, I will visit your country again to stay closer to the people and to be with them in their village, to visit a school or a Kindergarden and to dance together in the starry night.
I let a piece of my heart in Uganda!
Thank you for this amazing time.
Rene
–
DE
Visited: November 2020
Reviewed: Nov 4, 2021
Email Rene | 35-50 years of age | Experience level: first safari
Unbelievable Country, great Lodges and Parks, EXCELLENT SERVICE BY SPEKE!!!!!!!!!!
The Organisation was almost perfect. Perhaps, you can get Uganda a bit Cheaper. But not with this Service. From the beginning of Planing, all questions before arrival are answered immediately, the Guide during Tour and all excursions were perfect.
Jasmin
–
DE
Visited: September 2021
Reviewed: Oct 6, 2021
Email Jasmin | 35-50 years of age | Experience level: 2-5 safaris
Friendly, reliable and representing Uganda
Very reliable tour operator. We felt safe all the time with our guide, who has explained us a lot of background information. Uganda was a great experience for us! Visiting the Gorillas at Bwindi was a highlight, relaxing at Mutanda lake and enjoying Mburo Nationalpark simply a must-do! Thanks for many impressive moments and all the friendly people around us!
Disclaimer
All corporate and/or tour info is provided by Speke Uganda Holidays, not SafariBookings