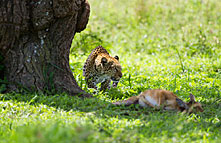 Mama Savana Safaris
4.9/5 – 150 Reviews
Located In:

Size:

5-10 employees (Founded in

2009

)

Tour Types:

Custom mid-range & luxury tours that can start every day

Destinations:

Price Range:

$100 to $800

pp

per person

per day

(USD, excl. int'l flights)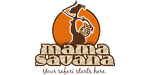 Rating Breakdown
Mohammed
–
AE
Visited: March 2023
Reviewed: Mar 19, 2023
Email Mohammed | 20-35 years of age | Experience level: first safari
Safe, reliable and trustworthy. Overall, had a wonderful safari experience.
We have just finished our 6 nights / 7-day Tanzanian safari with Mama Savana. Our first point of contact was with Alex, the owner of Mama Savana who was extremely efficient in responding to our initial queries and very accommodating to the changes we wanted. We arrived at JRO Airport and was welcomed by Issa (a young lad with a brilliant smile); our transfer driver who took us straight to Arusha Planet Lodge; a lush green resort. Alex was also there to welcome us, and he briefed us on the safari itinerary, which was extremely thoughtful. From day 2 onwards, we were entrusted with Hassan, who we spent most of the time with visiting Tarangire, Serengeti and Ngorongoro. Hassan is very passionate about his job, having extremely sharp eyes and good communication skills when it comes to spotting wildlife and explaining about them. We saw all the of the big5 including the elusive leopard and the shy Black rhino. He ensured our safety at all times and nowhere was it compromised at all. Overall, I would definitely recommend Mama Savana for their professionalism and service.
KD
–
CA
Visited: February 2023
Reviewed: Feb 19, 2023
Email KD | 20-35 years of age | Experience level: first safari
Excellent and considerate
We planned our trip with Mama Savana: 6 nights/ 7 days- that started in Nairobi, crossed the border into Tanzania, into the Sergenti, and back to Nairobi, stopping at many national parks on the way.

Communication- Alex was prompt in responding, considerate of what we wanted out of our trip and our budget. We used WhatsApp for quick responses and Alex was always available for our questions before we picked them, during the planning, and during the trip.

Service/ tour quality- our tour guide's name was Goodluck who was excellent. He was extremely knowledgeable about the flora and fauna and happy to discuss everything from history to politics to local culture and traditions. Goodluck knew where to find the animals and when, and was able to navigate the terrain carefully. What stood out to us is his care for the animals- for example, he worked with the park rangers in one part to ask drivers to ask them to not get too close while the rangers drove a a rhino towards water.

Other- the Land Cruiser was in good condition. Lodges that were selected were good to excellent in quality (reviewed separately).


Lonnie
–
US
Visited: January 2023
Reviewed: Feb 6, 2023
Email Lonnie | 20-35 years of age | Experience level: first safari
Accommodating, knowledgeable, communicative
My husband and I are extremely pleased that we went with Mama Savana as our tour guide for our 5 night luxury safari trip. It was our honeymoon and Alex, our organizer, made sure to arrange special accommodations with each of our hotels. Our package included pick up/drop off at the airport, all meals, water for the safari trip. Our tour guide, Mustapher, was phenomenal. We were really impressed with his English and his knowledge of animals, local geography/culture, plants, history, everything. He made sure our trip was as comfortable as possible and was very accommodating. He worked hard to make sure we got to see every animal on our "list" and we were super stoked to get to see a rhino before we left!
Tom
–
Visited: January 2023
Reviewed: Jan 30, 2023
Email Tom | 20-35 years of age | Experience level: first safari
An all round brilliant experience to never forget, absolutely flawless.
I cannot say enough good things about this tour operator, from the very beginning to the very end, everything was absolutely flawless and a brilliant experience. I would not go elsewhere.

The start:
The team excelled from the beginning, with Alex's communication being absolutely excellent, offering opinions on different services, entering the country and advice from transfers. He made things incredibly easy to organise from abroad and really set the standard high. I would also like to thank Alex and the team for arranging Isaac (our transfer driver) to complete multiple transfers on arrival. Isaac was absolutely brilliant, friendly, kind and enthusiastic. We were in a party of three, arriving across two flights. Unfortunately, one of our flights were delayed. Thanks to the team, Isaac collected two of the party from the airport and drove into town (a three hour round trip). He then returned to the airport, at 2am, to complete another round trip. This saw one of the party arrive to the hotel at 3.30am. Even at this time in the morning, Isaac was absolutely brilliant, the three of us can not say enough good things about him during the short time we shared together, thank you Isaac, we hope one day you'll have your own tour car, you'll make a great guide!

This set a great outlook for the trip, without the second transfer in the early morning, it would have been a difficult feat to make the 90 minute drive to town at 2am. This highlighted the customer focus of the team, not being out for a cash grab. Once again, thanks to Alex and Isaac for arranging this.

The tour:
We had an absolutely amazing tour guide (Arhoom) who once again, we can not say enough about, he was terrific. His knowledge on all of the areas history and landscapes was terrific. His knowledge on the animals, their habits and behaviours was critical in knowing the right time to be at the right place, to see the right thing. Thanks to him, we had an absolute brilliant experience, we were able to see far more than we had anticipated. Arhoom's quality as a guide was clear, he was more than often the first guide to find anything, with other guides taking his lead to have other visitors share our experiences. Thankyou very much my friend, the experience you gave us will not be forgotten.

The accommodation:
Wow. The accommodation we stayed at was all absolutely amazing. Every hotel had the most magnificent of landscapes with the most wonderful staff. From the wait staff to the room staff, everyone was incredibly kind and offered incredible service. We were incredibly happy with the food and service provided, we would have loved to stay longer at all of the places we stayed.

All in all, a 10 out of 10 experience, I would (and will) recommend this tour company to anyone looking for a similar experience. Thankyou Mama Savana!!
Kshetrajna
–
US
Visited: December 2022
Reviewed: Jan 15, 2023
Email Kshetrajna | 20-35 years of age | Experience level: first safari
Very professional and great to work with. Delivered trip of a lifetime.
We had a wonderful trip to Tanzania and it is all thanks to Alex and Mama Savannah. Alex came highly recommended from a friend who had travelled with Mama Savannah before and he did not disappoint. He was very forthcoming and worked with us to tailor an itinerary for us. All through the process he was very patient with all the questions we had. He suggested the best places and camps to stay in considering the time of year and where the herds would be at the time we were visiting. We spent 9 days in various camps across Serengeti, Ngorongoro, Tarangire and Lake Manyara and every camp was spectacular. We got to see so many animals and nothing we read before the trip could have prepared for the amazing experience we had. Our guide Allen was extremely knowledgeable and friendly (not to mention funny) and we spotted all of the big 5 thanks to him. One of our friends who was travelling with us also had a birthday during the trip and Alex and his team helped us organize a very special dinner and cake for him. It was one of the most special birthday celebrations that all of us really really appreciated. Alex and his team are a pleasure to work with and I look forward to going back as soon as I can ! Thanks Mama Savannah!!
Bruno
–
BR
Visited: December 2022
Reviewed: Jan 12, 2023
Email Bruno | 20-35 years of age | Experience level: 2-5 safaris
Very considerate, kind, respectful and willing to give us an amazing experience
We had the best experience ever with Mama Savana. Everything went beyond our expectations and all the times they were thoughtful to make it for us an unforgettable honeymoon. Alex was always helpful and our guide, Hassan, was very kind and wouldn't save efforts to help us seeing all the animals and we were able to see all the big 5! He was also a very good driver, since it was raining a lot and he always knew what he was doing. This is a very important point, since when in a Safari you can be exposed to a lot of problems related with the car/the road, which are normal, but thankfully didn't happen to us.

Furthermore, in another experience with a different guide, he said the clients who were coming from Mamasavana were always in a good mood, and we couldn't agree more. We were really happy about all the experience we had. They even changed our itinerary last minute because they thought it would be more profitable for us, and we sure saw they were right!

Since it's a very expensive experience and also very intense, it's good to be with someone you can trust. We can say we enjoyed every minute of it with Mamasavana and it will be always in our memories! Highly recommended!
Luca Pignatti
–
MY
Visited: November 2022
Reviewed: Jan 2, 2023
Email Luca Pignatti | 35-50 years of age | Experience level: first safari
Well organized and flexible
Due to covid we had to postpone our trip several times for 2 years. Despite this, at mama savana they accommodated all our needs and organized our private safari greatly. The Safari was fantastic, the accommodations of good level, our guide expert and friendly. We realized one of our dreams, in a perfect way. Highly recommend.
Jorge Ottoni
–
BR
Visited: October 2022
Reviewed: Nov 3, 2022
Email Jorge Ottoni | 20-35 years of age | Experience level: 2-5 safaris
Great service, trustfull and experienced driver.
Mustapher was a great driver and Alex really helpfull in the booking process. I would definitly reccomend Mama Savana safari tours. Great value for a reasonable price.
Mr. Redha Mohammed
–
KW
Visited: August 2022
Reviewed: Nov 3, 2022
Email Mr. Redha Mohammed | 35-50 years of age | Experience level: 2-5 safaris
Professional, attention to details, seeking and providing every needs of there customers.
Excellent safari tour operator. I asked them to arrange 3 nights in the Serengeti for me and my 12 year old son. The price was very competitive and the service was excellent. The tour operator (Eli) always attentive and seeking every needs and answering all questions we had. In the Serengeti, (Eli) made sure that we see and experience the wilderness in every aspect. We saw the cheetah's, lions , lion cubs, elephants, leopards, hypos, and hyenas. Me and my son had great time, and not had single negative aspect from all the safari arrangements. Actually i plan to explore more Tanzanian wilderness with Mama Savana Safari in my next trip .
Soufiane Driss
–
US
Visited: August 2022
Reviewed: Oct 30, 2022
Email Soufiane Driss | 35-50 years of age | Experience level: first safari
Great tour operators, everything went smoothly!
I did extensive research on many different Safari companies and I felt that I got the best price and value from Mama Savana. Everything was well planned, Alex was easy to communicate with via email and answered all my questions beforehand, and the Safari itself was just an amazing experience. Highly recommend!
Disclaimer
All corporate and/or tour info is provided by Mama Savana Safaris, not SafariBookings
The tours offered by Mama Savana Safaris are subject to their terms & conditions