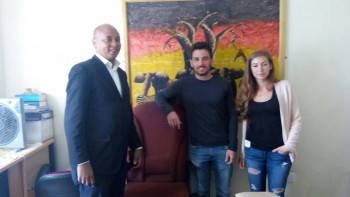 Meru Slopes Tours & Safaris
5.0/5 – 240 Reviews
Office In:

Size:

20-50 employees (Founded in

2013

)

Tour Types:

Small & medium group tours (Budget & mid-range)

Destinations:

Price Range:

$50 to $480

pp

per person

per day

(USD, excl. int'l flights)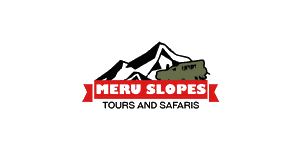 Request a Quote ›
Your request will be sent directly to the operator
If preferred, you can contact the operator directly
Abdalrhman Salm
–
Visited: January 2023
Reviewed: Feb 10, 2023
Email Abdalrhman Salm | 20-35 years of age | Experience level: first safari
Excellent service
it was an amazing Safari experience with Meru slopes from start to end . I and my wife went on 7 day private Safari. We enjoyed every second of it .Jacob " our guide" was the best . He is funny , nice and knowledgeable. Food was good too .they made sure we get proper cooked meals every day . Accomodation as well was good . We spent two nights in luxury tents one of them was in Serengeti . I highly recommend meru slopes and Jacob for anyone wants to do Safari in Tanzania
Dorothy
–
Visited: January 2023
Reviewed: Feb 10, 2023
Email Dorothy | 50-65 years of age | Experience level: first safari
Amazing safari experience
From pick up at Kilimanjaro airport to Arusha, Tarangire, Lake Mayanara, Serengeti, Ngorongoro Crater and back via the hot springs to Kilimanjaro, what a trip! The guide Edi was exceptional and always seemed to know where to find the most exciting things to see each day...from lions or leopards in trees to a cheetah that just had its kill lined up ready to start his breakfast....lions eating enmasse, baby wildebeest running beside mum, zebra being stalked by jackals.....from sunrise to sunset he had it all covered! Elephants surrounding us and being told off by mum with her huge flapping ears as she protected her baby.....and the nerdy teenage elephant stomping his foot and throwing a large branch towards us. The smell from the hippopotamus will not be forgotten....or the sound of the buffalo snorting and munching on the other side of the tent in Simba camp. The rhino being photobombed by wildebeest was the icing on the cake. Giraffes popping their heads up to the highest trees and baboons being laid back in the morning sun. So many animals and birds, a real sight to behold. Every member of staff made us welcome and Geoffrey was so helpful. On our last day he organised a driver to take us to springs on the way to the airport and the water was so clear and cosy...a real treat to finish our time in Tanzania. Thank you all for making this such a great holiday
Inge
–
BE
Visited: January 2023
Reviewed: Jan 29, 2023
Email Inge | 50-65 years of age | Experience level: first safari
Best safari at best price!
Our private 6-day safari with driver-guide JACOB and cook RACHIDI was absolutely fantastic. Meru Slopes was not only the cheapest I could find for our program, they were also the most flexible for all our personal preferences. We had an optional walking safari + a bicycle tour (Lake Manyata) included.

Guide Jacob is a very efficient and patient organizer. He spotted so many animals : tree-climbing lions, elephants, giraffes, cheetahs, leopards, buffaloes, hippo's and many many wildebeests, zebras etc.

Jacob even organised a surprise birthday song-dance for my birthday and our sweet Rachidi baked a beautiful birthday cake :-)
Strongly recommended!!
Inge & Matt (Belgium)
Jan Holmberg
–
SE
Visited: January 2023
Reviewed: Jan 23, 2023
Email Jan Holmberg | 65+ years of age | Experience level: first safari
5 day budget safari.
I was lookiing for a safari tour and found meruslopes tours and safaris by coincidense. It was the right choice.I had a fantastic experience and our guide Salehe was very good driver and guide. Our chef Salim made excellent food. I can strongly recommend meruslopes tours and safaris.
John
–
US
Visited: November 2022
Reviewed: Jan 9, 2023
Email John | 35-50 years of age | Experience level: first safari
Amazing Meru Slopes Serengeti safari - 5 Days Camping Tarangire, Serengeti & Ngorongoro crater
I had a great safari experience with Meru Slopes. They are a local company with very knowledgeable drivers. They were very accommodating to my travel dates. Pickup at the airport was smooth. Safari experience was unparalleled. I did a joining group tour and I was so fortunate to get a great group. Robert was our driver. I honestly think he was the best driver in all of the Serengeti, no joke. He really understands the jeep (Land cruiser) and how to maneuver the terrain. He was super nice and had a keen eye in spotting the animals. Our cook, Dula, was fun and laid back, very helpful and such a great chef. My transport to and from the airport was provided by Nuru. He also does safari drives. He was very nice and and was able to answer all my questions regarding the animals and how the tour would go. I was able to meet the owner of the company, Geofrey, on my last day. He was very kind and really cares about the experience his clients have. Email dialogue with him when setting up the safari was straight forward and timely. He was able to answer all of my questions. The tents are in good conditio and completely waterproof. Sleeping bags and sleeping pads are also provided. All in all, it was an amazing experience. Robert is awesome.
Aldo Arcanian D.
–
US
Visited: December 2022
Reviewed: Dec 28, 2022
Email Aldo Arcanian D. | 35-50 years of age | Experience level: first safari
An Amazing Experience
We had been wanting to do this trip for years and the Meru Slopes Tour was very reasonably priced. The service was excellent: they picked us up from the airport and since we were on a limited time-frame they took us straight to the park to start our safari the same day. The entire staff was very accommodating and made it a very enjoyable experience.

Our driver, Robert, was great at giving explanations about where we were and what we were about to see and drawing our attention to things we might have missed. Our cook, Salim, did a great job serving excellent dishes even at the remote campsite in the Serengeti. They also took us to buy souvenirs at places we wouldn't get ripped off and even to visit a Maasai village. Overall it was a very well organized tour and we loved the all-inclusive aspect as it meant we didn't have to worry about currency exchanges.

Despite the low cost of this tour, it was a great 5 day experience and one we'd be eager to repeat.
Harley
–
US
Visited: December 2022
Reviewed: Dec 26, 2022
Email Harley | 20-35 years of age | Experience level: first safari
Five star tour company!
We just returned from a 5-day budget camping safari in the Serengeti, Ngorogoro Crater, Tarangire, and Lake Myanara with Meru Slopes. The experience exceeded expectations! We couldn't recommend it enough. Working with Geoffrey ahead of time to book the trip and arrange payments, transportation, and lodging was seamless. When we arrived at the Arusha airport, a driver was there to pick us up and take us to the Meru Tourist Inn for the night before we began our safari. While by no means a luxury accommodation, it was perfectly adequate for a night or two, with hot water in the shower, a decent bed, and a working tv, plus having an unobstructed view of Mount Meru from the room was a bonus. Note that the hotel is located in the heart of Arusha city center so it is fairly loud with city noise (honking cars, people yelling, religious chanting, goats) all night, but it didn't bother us (especially after 2 days of travel from the U.S. to get to Tanzania).

The safari experience itself was amazing. Our guide and driver, Salehe, was the best! He was friendly, personable, attentive, and incredibly knowledgeable. He knew all the right places to take us to see the Big 5, and so much more, and has an amazing eye for spotting wildlife. Even when our car had some mechanical issues, he handled the situation calmly and with ease and ensured we did not miss out on anything while it was being repaired. Both his driving and his ability to navigate the parks was top notch. I am very grateful we were paired with Salehe for our trip!

Our chef, Buga, was exceptional! Every meal was unique and delicious. We noticed other safari groups had boxed breakfasts or lunches, but our meals with Meru Slopes were always prepared fresh and served hot, even when we were having meals out on the game drives. Buga is an incredibly talented chef, and served us some of the best food we had while traveling in Africa. In fact, we loved some of his dishes so much that we asked him for his recipes at the end of the 5 days so that we could remake them when we returned home (though I'm sure they won't compare to his)! On top of being an incredible chef, he was also always smiling, attentive, and funny.

At the end of our safari, we were returned to the Meru Tourist Inn for another night, and the following morning, Geoffrey was kind enough to have the driver take us to our next hotel in Arusha rather than the the airport, as we were staying one additional night in the city.

Overall, we HIGHLY recommend Meru Slopes Tours & Safaris, and especially recommend Salehe and Buga as guide and chef!
Declan
–
US
Visited: November 2022
Reviewed: Dec 20, 2022
Email Declan | 50-65 years of age | Experience level: over 5 safaris
Great company, great value, great trip...
Meru Slopes were fantastic from start to finish. I booked the 5 day budget safari with them and had my expectations exceeded at every step. Communications with Geofrey before arrival were easy and comprehensive, airport pickup and accommodation before and after the safari were exactly as promised and the trip itself was superb. Our driver and guide, Jacob, was very professional, entertaining and extremely eagle eyed, identifying wildlife before we could even pick them up with binoculars. I don't think he missed anything during our game drives and he made sure we got every last minute possible out of them whether starting at dawn or ending at sunset. Our "stomach engineer" Moshi was also excellent, making sure we always had plenty of quality food (including vegetarian options if preferred). Based on my experience, I strongly recommend Meru Slopes and I hope to be back with them for future trips.

Ning
–
Visited: October 2022
Reviewed: Nov 10, 2022
Email Ning | 35-50 years of age | Experience level: 2-5 safaris
An unforgettable experience with Meru Slopes. Would highly recommend to everyone!
We are a family with a 10yo girl. After careful comparison, we decided to book a 4 days/3 nights safari tour with Meru Slopes including Tarangire, Serengeti and Ngorongoro parks.
The company arranged hotels for us before and after the safari in Arusha which was really helpful. We got picked up from Kilimanjaro airport when we arrived and sent to the hotel directly. The driver even agreed to take us for a tour in Arusha because we wanted to buy some souvenirs. We didn't need to worry about transportation etc at all in Arusha.
Our Safari guide/driver Douglas was very experienced after working as a safari guide for 15 years. He could answer all our questions about animals and got the amazing ability in spotting and recognising animals. Once in Serengeti, he spotted a cheetah from an unbelievably far distance. He stopped the car for us to take photos whenever we asked him, without any complaints. He knew the best place to stop to have a good angle for pictures. We had lunch in the picnic areas in the parks every day and the food prepared was always delicious. He asked us at the start of the tour what we would like to see the most and then would particular look for those animals for us. In the last day of our tour, the car broke down but Douglas and the company immediately arranged a private car to send us back to Arusha and then next day to the airport.
Thanks a million to everyone in Meru Slopes for giving us an unforgettable experience.
Jacqueline Godder
–
DE
Visited: September 2022
Reviewed: Oct 31, 2022
Email Jacqueline Godder | 20-35 years of age | Experience level: first safari
Asante for this great safari experience!
Booking our 8-day safari tour with Meru Slopes was the best decision! Why? For the following reasons: excellently organised; best safari guide/driver (Benson) who ensured we saw the most animals on our tour; best chef (Dula) who ensured we would become "strong as lions" with traditional food; flexibility within the trip - we decided to shorten the safari and go hiking for a day (with William, who is also a super guide!) which was immediately re-organised!

Conclusion, I can only recommend Meru Slopes, not only for the above, but also for the people!

Asante for the great experience!
Disclaimer
All corporate and/or tour info is provided by Meru Slopes Tours & Safaris, not SafariBookings