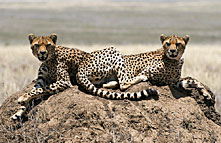 Siafu Tanzania Safaris
5.0/5 – 73 Reviews
Located In:

Denmark

Size:

10-20 employees (Founded in

2014

)

Member Of:

TATO

&

TTB

Tour Types:

Custom mid-range & luxury tours that can start every day

Destinations:

Price Range:

$130 to $400

pp

per person

per day

(USD, excl. int'l flights)
maria
–
EG
Visited: January 2018
Reviewed: Mar 22, 2018
Email maria | 20-35 years of age | Experience level: first safari
Great wildlife safari.
Our wildlife safari with Siafu Tanzania Safaris was very good. Guide had quality and value. It was a dream come true because of our guide were the best ever. Our unique itinerary was not just good but great. We focused on the astounding nature and wildlife encounters and were introduced to the joy of nature. The guide had great knowledge and experience, which was inspiring, educational and environmentally conscious. Great job and thanks for the kindness and memories. I would like to recommend to other safari travelers.

Siim
–
EE
Visited: July 2017
Reviewed: Mar 21, 2018
Email Siim | 20-35 years of age | Experience level: first safari
A really fun, enjoyable and relaxing experience.
We had an amazing time in Tanzania over our 10-day stay. We spent most of our time out and about in 2 different Safari parks. Our guides Emmanuel and Douglas were very knowledgable and helpful. Always willing to adress our concerns or satisfy our whims. It really was sort of like build your own adventure. A couple of specific encounters come to mind. Like when we asked to try true local cuisine we were shown to this nice and cozy, out-of-the way place which you would probably never find by yourself. They were willing to make extra time for us to do stuff that wasn't originally planned. Like taking us to a snake centre because one of us really wanted to see snakes. During the safaris themselves they showed excellent knowledge of the wild-life. For example the habits of the animals, where to find them, local folk tales and legends, all sorts of bits and pieces and even if we managed to stump them with a question they had books on hand to find the answers for us. Maybe most importantly of all they were extremely friendly and approachable. They made us feel welcome and that we never had to hold back.

All in all we had the time of our lives and left feeling like we had found a home away from home.
David Chang
–
TW
Visited: February 2017
Reviewed: Mar 19, 2018
Email David Chang | 20-35 years of age | Experience level: first safari
It's the best experience in trip I had been. Other people say we are lucky to meet Emma for anything
Everything is nice. When other people face some trouble (they are not Emma's customer) ,Emma always ask us to help them, and they admire us meet a good tour guide.We celebrated 30 years old birthday in camp. We are the first car drive to under the tree to see leopard so clearly. The goat BBQ is so good that not in our original schedule. Emma not only give us good experience but also take care our safe. If you want to safari, this company is your best choice.
Oliver
–
EE
Visited: December 2017
Reviewed: Mar 14, 2018
Email Oliver | 20-35 years of age | Experience level: first safari
Magnificent trip to Mt Meru, Mt Kilimanjaro and safari
Our trip main goal was to have wonderful time climbing Kilimanjaro which all went beyond expectations. Both organizers Emmanuel and Ene, as well as the porters and guides on the mountain, were all very friendly and helpful. We climbed both Mt Meru and Mt Kilimanjaro with our guides who are true professionals summiting our whole group of 4 to Kilimanjaro. To give you a hint of an excellent service - the summit to the mountains were calculated so perfectly that we arrived just a few minutes before sunrise after which the guides surprised us with warm tea and juice. The price was also very good - nothing you can find from the most common sites on the internet.
We recommend highly to climb both Meru and Kilimanjaro as well take the safari for the weekend with Siafu Tanzania Safaris.
Annely and Peter
–
SE
Visited: September 2017
Reviewed: Mar 14, 2018
Email Annely and Peter | 35-50 years of age
You made our trip fantastic!
It was well organized and without the support from our team we would never have reached the top.
It was one of the most beautiful trips we ever have made.
Thank you Eve! We love you and Kili
Tanel
–
EE
Visited: December 2017
Reviewed: Mar 14, 2018
Email Tanel | 35-50 years of age | Experience level: first safari
Flexible service for all your needs in Tansanya - Mt Meru, Mt Kilimanjaro, Safari etc.
We had a 4 person group and we took full package of services. Co-owner Emmanuel meet us at the airport in the middle of the night and took us to the hotel ( we came with two different flights and Emmanuel drove 2 times to aurport that night). Flight company lost our luggage and Emmanuel organized our luggage to us as soon as it came to the airport. We took i guess full package of services, first fi went mountain hiking to mt Meru for three days, our guides and other team (cooks, porters) we excelent, very fiendly and helpful, very nice guys. After couple of days resting we went to 7 day hiking to mt Kilimanjaro via Machame route. there we had one other guide, who wasn`t in mt Meru, he was very experienced and knew everything we wanted to know and both giudes did everything and mre to took us to th summit. Weather in the summit day was very extreme, but we made it 100%. After mt Kilimanjaro hiking we went to 3 day safari, our group grew up to 8 people with our friends, who came later. Company owner Ene Lepp personally came to safari help us. It was wery proffessionally organized. Between hiking and safaris company`s assistance organized everything what we needed and what came to our heads, they took us places, where other tourists are not going very often and showed us real life. One of our hiking guides took us even to the party and stayed with us whole night and helped us to get to the hotel. In the end company organized everybody personally to her plane, some went home, some went further to Sansibar. So if you want vero good and professional service, personal approach, flexibility, You need to contact with them.
Santhosh
–
US
Visited: February 2018
Reviewed: Mar 12, 2018
Email Santhosh | 20-35 years of age | Experience level: first safari
Great safari experience
We took a 5 day private safari with Siafu and it was a great experience overall. Emmanuel who I believe is the owner took care of us very well. The safari was planned well and catered to our needs. Although we had to rush with the days we had, Emmanuel was able to accommodate all our needs. If you want to reserve safari where-in you want service, at home feeling, flexibility/deviation from plan, above and beyond then Siafu will serve your needs. Emmanuel has got the experience and patience to give a more enjoyable safari for all.

We booked the safari via a tour operator from Kenya and we were told that Siafu/Emmanuel will be taking care of our Safari on the ground and that we were with very good hands of Emmanuel. Reached Mt Kilimanjaro airport around 8:30 and Emmanuel along with tour operator were in the airport for welcoming us. After brief introduction we started driving to Arusha for our night stay at African Tulip hotel. To our surprise we were upgraded to a suite as we mentioned it was our honeymoon. Emmanuel explained the plan for next day and with that we headed to our suite for sleep as were really tired after flying for more than 16 hours from New York.

Next morning Emmanuel was waiting to pickup at the hotel lobby at the said time. We then left to exchange some currency and buy some snacks and drinks for the safari. On the way we got water and coolers along with a to-go box of lunch all ordered ahead by Emmanuel. We then headed straight to Serengeti but on the way we stopped at Ngorongoro crater view point, multiple gates for payments, pit stops etc. And we took some good photos and Emmanuel accommodated all our requests for wildlife viewing even though it was not in the plan. Although we reached Serengeti late and it was time to check-in to the hotel we requested for a very brief game drive - Emmanuel with a smile accepted our request and we saw Cheetah, Hippos and other herbivores during this drive. Then we rushed to Kubu Kubu Luxury Tented Camp and we were amazed how they have built this camp in the middle of nowhere with all the luxury. View was amazing from individual villa based camp, open top bathroom and a big pool overlooking Serengeti plains. We relaxed after a shower and dinner was served with western style food and it was great.

Technically first day of Safari in Serengeti we left Kubu Kubu and went on for game drive after packing boxed lunch. Endless plains as they say for Serengeti was magnanimous, majestic and breathtaking. More than wildlife viewing it was the nature that attracted me and got me addicted. We saw most animals this day in Serengeti and this includes cheetah, leapord, giraffe, elephants, deer, zebra, hippos, wildebeest and lots of birds. Emmanuel went above and beyond to find cheetah's in less taken roads and rocks. We took some amazing photos and videos. Towards the end we didn't want to leave Serengeti as the plains were just amazing in all directions. Temperature was scorching but the cooler quenched us with cold drinks. Emmanuel took time to explain about nature, animals and he shared his experiences which made us realize that he is a very responsible person towards nature and wildlife and his thoughts about preserving them for future generations. After bidding good bye to Serengeti we then headed to Ndutu area for the night stay. It was time to check in to Lake Masek tented camp, another establishment of Tanganyka wilderness camps. Similar to Kubu Kubu this had some views of the lake, good food and accommodation. We met the owner of Tanganyka camps here, an energetic guy explaining about the camps. Dinner and off to sleep. They have staff accommodation for guides in most of these camps.

Second day was drive to Ngorongoro crater from Ndutu area. On the way Emmanuel stopped by a Maasai village and he suggested that they prepare good barbecue goat - So we decided to try along with tour of Maasai village. The meat was chewy and not to our expectation but later learnt that most people there eat meat this way. Then we proceeded to the crater. Emmanuel skillfully took the descent into the crater and drove until around 3pm for some animal sightings. This place was filled with millions of animals. He then spotted Rhinos very far and we had to use our Binoculars for viewing and with that all big five were done officially although we want to just live there and explore more :). Wrapping up crater game drive we then proceeded to Kitela Lodge for that night's stay. This place has got a small organic plantation, pool and good restaurant. Another good dinner/food and good sleep here.

Final day of game drive was in Tarangire and we drove to this park from Kitela lodge. Tarangire is more for local/day trips from Arusha. It was flooded with lots of vehicles and it was also very dry because of the time of the year we visited. But we saw many elephants and took some good pics here. As it was dry and not as good as Serengeti or other places we decided to wrap up the drive early and head to Maramboi camp to relax and unwind in the pool. Soon after we reached we had to witness a sandstorm but after this it was snacks, pool time and dinner with some amazing views of the wild.

Last drive of Safari was to drive back to Arusha for our flight to Zanzibar. We took it light and drove slowly to reach Arusha airport. We asked Emmanuel to take us to a local restaurant for authentic Tanzanian food. He took us to a small restaurant by the airport and treated us to Fish gravy and Ugali. The food was good to try :) After all this it was time to bid goodbye to mainland. Emmanuel helped us with the luggage until security counter before saying goodbye. We then boarded flight to Zanzibar with all the memories.

Overall the safari experience was safe, authentic with good service at the hands of Emmauel. And we would definitely recommend Siafu/Emmanuel for any of your Safari bookings. The only thing we wished was to have informed that Serengeti is far more better than Tanrangire so that we would have stayed in Serengeti more than exploring all but again that we don't think is anyone's fault.
Sirje
–
EE
Visited: February 2018
Reviewed: Mar 12, 2018
Email Sirje | 35-50 years of age | Experience level: first safari
Good planning, good service, efficient and kindly.
We had the group of 15 people, we've spent 12 days in Tanzania, Safari and Bagamoyo beach holiday. Trip was great and very well organised by Ene Lepp and Emmanuel Bildad. Start from there, everything went well. Our tour guides, they are so knowledgeable, and experienced, answered all the questions we had, and we really enjoyed our time spent with them. Many thanks to Ene and Emmanuel for making our holiday unforgettable. I'd definitely recommend Siafu Tanzania Safaris to everyone looking to visit Tanzania

Aivar
–
EE
Visited: December 2017
Reviewed: Mar 12, 2018
Email Aivar | 35-50 years of age | Experience level: first safari
Custom made, full service safaries.
You can order a safary tour from more than 1000 operators probably, but if you need full service and flexibility then Siafu Tanzania Safaris is definatly the tour operator to consider. We were a group of 5 people visiting Tanzania in December. Emmanuel met us in the airport in the middle of the night and took us to a hotel in Arusha. Next day a tour was organized in Arusha, they helped us to find the best money change places, helped us to organize local sim-cards, took us to local Maasai market, showed us international and local diners and etc. Next 3 days in different Safari parks were unforgettable, Emmanuel as a local Maasai knows all the best places and sceneries in parks and takes you also to hidden roads outside the parks to see the world that you cannot see from the road. After and unforgettable visit to local Maasai village on the last day we were taken to airport to continue our trip to Zanzibar. The tours are really custom made upon what you need, transfers, different types of hotels you can choose, safaris in different parks from Tanzania up to Serengeti. Highly recommended!

Jamie
–
TW
Visited: February 2017
Reviewed: Mar 3, 2018
Email Jamie | 20-35 years of age | Experience level: first safari
It's a safe and unforgettable adventure!
I was their client of the safari trip last February. I had a wonderful trip. They are experienced and handle the trip very well. We are safe and have an unforgettable experience through their guide.
Disclaimer
All corporate and/or tour info is provided by Siafu Tanzania Safaris, not SafariBookings