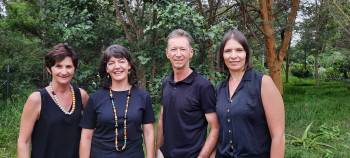 Off2Africa Travel
5.0/5 – 92 Reviews
Office In:

Size:

5-10 employees (Founded in

2001

)

Member Of:

ATTA

,

ZTA

,

SATSA

& ZTOA

Tour Types:

Custom mid-range & luxury tours that can start every day

Destinations:

Price Range:

$400 to $1,500

pp

per person

per day

(USD, excl. int'l flights)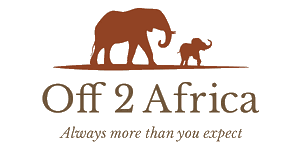 Request a Quote


for a custom tour
Your request will be sent directly to the operator
If preferred, you can contact the operator directly
AJ
–
US
Visited: July 2023
Reviewed: Aug 7, 2023
Email AJ | 35-50 years of age | Experience level: first safari
Chloe Cottrell is very efficient and incredibly organized.
We reached out to Off2Africa and two other tour operators to put together a custom itinerary to Botswana and Namibia a month before our travel. Chloe Cottrell from Off2Africa was the first to respond and had a fantastic itinerary customized for us based on our input of what we needed. Additionally, her quote was 30% cheaper than other operators for the same luxury experience.

In Botswana, she arranged a phenomenal safari experience with Desert and Delta involving stays at Savuti, Xugana, Moremi, and Chobe with each stay planned to perfection in terms of activities, experience, food, number of days etc. We were expecting Bostwana to be a great destination, but Chloe's planning still far exceeded our expectations of the experience. She made sure our transfers were smooth and we literally didn't need to do anything from our end other than to pack and show up on time. Despite doing a safari for 9-10 days, we didn't feel like the trip was repetitive or redundant as each camp had something entirely different to offer.

In Namibia, she arranged a fantastic trip with Wilderness Safaris which included Sossusvlei and a safari in private game reserve in South Etosha. She made sure we only needed to do air transfers to maximize our time in Namibia since we only had 5-6 days to spend in this country. Our first connecting flight was delayed (commercial flight which was not in Chloe's or safari operators' control) which made us miss our first night in Namibia and Chloe efficiently connected with Wilderness Safaris on the delay and pick up. Her communication and management resulted in us not needing to do anything from our end and prevented a lot of stress.

Overall, Chloe made our trip extremely memorable and we will definitely reach out to her to plan our next vacation in Africa! I cannot recommend her enough!!
Patrick
–
US
Visited: July 2023
Reviewed: Jul 19, 2023
Email Patrick | 50-65 years of age | Experience level: first safari
Fantastic Safari - Thanks to Chloe and Off2Africa
I found Off2Africa through Safari Bookings, as they had a suggested trip that fit my needs and budget for our trip to Victoria Falls and Botswana (Chobe and Okavango Delta). I was a bit skeptical at first since I normally don't make such a large purchase through a company that I wasn't familiar with, but the good reviews on Safari Bookings for Off2Africa made me feel more at ease. I worked with Chloe Cottrell, who was fabulous, well informed, and also put me at ease that Off2Africa was a legitimate company. She customized the initial trip to address our additional needs and timing, and suggested lodgings that were fantastic and fit our budget.

We just completed our trip, and I couldn't have been happier. All the locations, transfers, food, etc. were great. I felt that I was pampered by the food, game drives, etc. that made it easy for us to simply sit back and enjoy the ride. Only bad thing is that I think I gained a few pounds from all the good food provided.

Finally, I believe Off2Africa prices were great. I also received a quote from a US agent specializing in Africa, and they mentioned they couldn't provide a quote on the same itinerary/locations without paying much more. In fact, I believe that Off2Africa sometimes may be the middle man for some US agents, so I would suggest cutting out the extra layer and going direct to Off2Africa.


Tom and Lynn
–
US
Visited: June 2023
Reviewed: Jul 16, 2023
Email Tom and Lynn | 50-65 years of age | Experience level: first safari
Incredible Zambia Safari - 3 Camps Along The River
I'd like to start by saying that our 2-week safari trip to Zambia was absolutely incredible! We started about 9 months ago on SafariBookings.com researching different areas of Africa for our trip. We also spoke to people who had done a safari to the Serengeti area. We wanted to do a variety of safaris (including day, night, jeep, boat and walking). We wanted to be in small "camps" where there were only a handful of cabins/huts and the jeeps were limited to 6-people maximum (this is more expensive, but we saw packed jeeps – and we were glad we went this way). We are in our late 50's and wanted "comforts" like running water in our cabins and all-inclusive meal/drink packages (in our younger days we might have opted for more "real camping" styles). We narrowed to Zambia as it sounded like it had lots of wildlife and less crowds and the walking safaris were a big part of what they offered. (On those safaris, we learned how much training they go through to become a walking guide…its extensive in everything from plants, insects, animals, astrology, and safety). All this, we did on our own research. Then, we contacted 3 tour companies (top rated ones, as suggested by SafariBookings.com). Within 3 days we heard back from each and knew quickly that Chloe at Off2Africa was the one for us…she was great. We morphed the trip a few times with her help/suggestions – each time she kept the options within the budget we gave her. At one point I asked about adding Gorilla trekking in Uganda to the trip and she found options – and help us understand the travel time between camps would eat up too much time…so save that for another trip. All through the planning, booking, paying stages (months ago) she was great at keeping us informed and asking us different options. She kept tabs on us during the trip, too (she sent us a note saying she heard we had a great safari one day). We really liked the process of SafariBookings.com and especially liked working with Chloe at Off2Africa. Our highest recommendation possible. She really helped make it special. The great people we met at each camp (details below) all commented on what a great itinerary we had put together to get a combination of many different aspects of Zambia.

Here are the details of our stay: We chose camps along the river – we love the water. We started in South Luangwa at Kafunta River Lodge. Kolo and Betty at Kafunta were GREAT. They told us Kafunta means "crazy" in local language (there are 72 dialects) and we had a great time there. It was our first safari and we saw everything you could hope to see in the first day (no Rhinos on this area of Zambia – but everything else (a herd of water buffalo, including wild dogs hunting, lion eating, leopard in tree and then coming down and walking right past jeep, elephants and zebras galore, a small watering hole area where a giraffe, hippo, elephants and zebras were all around each other). We were visited by elephants, hippos and baboons IN THE CAMP during our stay, as well. We listened to a huge bull elephant eating branches off the tree 10 feet from out porch in the middle of the first night there…welcome to Zambia! We really bonded with our guide, Cannan and everyone at Kafunta. On day 2, we saw a lion eating a zebra, the lioness so stuffed she couldn't get comfortable, another male lion waiting his turn in the setting sun, then lionesses and small cubs eating on it the next morning and a vulture feeding frenzy I won't soon forget on the final scraps. Next was Baines River Camp. Fly in a 6-seater plane to a small landing strip (royal "airport") in the "buffer zone" between Lower Zambezi National Park and people – where elephants were walking on the side of the air strip and the "check-in" person had a desk under a tree (not kidding – so cool). We had a larger plane on the return – about 16 seats. Baines was more luxurious (beautiful views and spaces to sit an relax along the river). The sunset cruises we SOOOO relaxing (it is across the river from Manna Pools National Park and we floated along that shore as seven giraffes walked in and out of view). I tried my hand at Tiger fishing and caught one – it's really a lot like a sunset cruise – just relaxing and drifting while holding a pole (and a beer/wine). At Baines, we again were greeted "close-up" in camp by elephants (twice they kept us from getting to our cabin for a time), hippos and a family of warthogs grazing along our cabin and baboons that threw our patio cushions and pillows all over the grounds while we were at lunch. We boated to the national park for our jeep safaris, but you could also see a lot of animals doing a drive through the surrounding "buffer area" as an option. Baines was a great place to slow down. Finally, we went to Chundukwa River Lodge near Victoria Falls. Lots to do around the falls. The camp was great. One morning, our alarm scared a hippo back into the water (we just heard it splash and then call out – as it was still dark out). We did a day trip to Chobe National Park (in Botswana) – a must-do. We did a walking safari to track the white rhinos (we saw the new, 1-week old baby rhino!) and we did the jet-boat ride to The Elephant Café (we did lunch). Great food, and the elephant up-close experience is really special. Even the jet boat ride was a new way to experience the river. We spent time in town, saw the falls from both sides (worth the extra money to see them from Zimbabwe side). It was a busy section of our trip – but each evening we sat with Auggie and Linda by the fire and talked about our day and relaxed.

We went in late June/early July – no bugs (our biggest surprise). We still put bug repellant cream on each day, but really bugs were non-existent (a good sized praying mantis walk in one day, but that doesn't count). It was a "cool" 50 at night (blankets provided in the jeeps for the morning drives). They only have screens on the windows – so you hear everything all night (exactly how we like it) and its cozy to sleep under nice blankets. It got to low 80's during day – very comfortable once we took layers off. The animals treat the jeeps like they are part of the landscape – so they got really close as they passed by sometimes. So cool to sit and watch the different animals go about their routines. (like a family of baboons with a very tiny baby, two impala males mock-fighting, baby elephants and zebras nursing, the different stages of a zebra kill, an elephant getting "nipped' by a crocodile and running out of the water, just to name a few). Wow, wow, wow…can't begin to say how much we enjoyed this trip.

Elinor
–
Visited: June 2023
Reviewed: Jul 13, 2023
Email Elinor | 35-50 years of age | Experience level: 2-5 safaris
Totally professional and easy to work with
Chloe at Off2Africa was professional from start to finish. She recommended an amazing itinerary which we thoroughly enjoyed. All the accommodation was excellent, the staff in each place provided top notch service and we had the best time. Communication was timely and swift and the price was exactly as expected. Would definitely recommend this company to anyone looking to book a safari in Southern Africa.
Adriana
–
Visited: June 2023
Reviewed: Jul 6, 2023
Email Adriana | 20-35 years of age | Experience level: first safari
Perfect experience!
Chloe organised everything for us and we had an amazing experience! All the places we stayed were beautiful and would really recommend them. Everything went to plan and was a really stress free experience!
Eileen
–
AE
Visited: June 2023
Reviewed: Jul 5, 2023
Email Eileen | 50-65 years of age | Experience level: over 5 safaris
Responsive, professional, and creative approach to a fantastic safari experience
After having been told by other operators that our preferred route and timings to Victoria Falls and Botswana were unrealistic, Off2Africa and specifically Chloe were a breath of fresh air.

We found the company and agent to be responsive, professional and proactive in identifying a fantastic itinerary and ideal camps to meet our interests and budget. It was also a thoughtful touch to find two locally made sarongs in our room at the Victoria Falls Hotel as a welcome gift from Chloe.

Our priorities included Botswana safari camps with differing locales, ideally with no children under 18, and at a reasonable price point, and Chloe delivered. She also shared extensive pre-travel info and responded quickly at all of our questions. We would not hesitate to book another trip with Off2Africa.
Deb
–
Visited: June 2023
Reviewed: Jun 30, 2023
Email Deb | 35-50 years of age | Experience level: first safari
Super organised, everything ran like clockwork
We did the 7-Day 4-Star Okavango Delta, Chobe NP & Victoria Falls tour. The accommodation was great and I think Kala camp in the Okavango was my favourite (which I was a bit worried about as it was supposed to be a different camp but it was fully booked). They were so accommodating and we even had the place to ourselves on the first night. Muchenje was amazing too, they were so friendly and that's where we saw the most animals. Victoria Falls was amazing too although a bit less personal. I was wondering if there would actually be much difference in each place and whether we should have even done the Okavango, but I'm so glad we did - 3 totally different experiences. I only wish we extended it to 3 nights in each camp as we were on the go the whole time.

The itinerary was really comprehensive too. The other tour we did to Kruger from a different tour company didn't seem as organised and I had to contact them a few times to get extra information on pick-ups etc whereas with this one I knew exactly what was happening.
Kelly
–
Visited: May 2023
Reviewed: Jun 20, 2023
Email Kelly | 35-50 years of age | Experience level: first safari
Exceptional!!
Off2Africa were amazing! Sian took down all of our requirements and built a stunning itinerary meeting our every need. The result? Our trip to Southern Africa has probably been the best holiday we have ever had!! Every lodge, every guide, every member of their teams, all of the internal transfers and flights were impeccable. All went off without a hitch, felt completely seamless and was utterly wonderful. The communication with Sian before, during and after our trip was second to none!

We cannot wait to return and will likely be in touch when we do!
Judith
–
US
Visited: June 2023
Reviewed: Jun 14, 2023
Email Judith | 50-65 years of age | Experience level: first safari
So helpful and professional!!
We decided to go to Botswana to celebrate our 25th wedding anniversary. We were hesitant to use an online agent, but our fears were quickly eliminated! Chloe put together the most perfect trip for us! She listened to what we wanted, unlike travel agents we interacted with in the states, and made those dreams come true! We had multiple transfers between camps, and they all went off seamlessly. The trip itself was beyond our expectations. Botswana is the most magical place! If you're thinking about going, do it!!
Barbara
–
US
Visited: June 2023
Reviewed: Jun 13, 2023
Email Barbara | 65+ years of age | Experience level: first safari
Chloe Cottrell did an outstanding job arranging the trip of a lifetime for us.
From start to finish, everything went off without a hitch. Chloe booked us at high-end accommodations, but at very reasonable prices compared to other providers. She arranged all of the transfers and flights so that this was an entirely seamless trip for us. Everything happened exactly when it was supposed to, and all of the accommodations, guides, and game drives were excellent. It was truly a trip of a lifetime for our family!
Disclaimer
All corporate and/or tour info is provided by Off2Africa Travel, not SafariBookings
The tours offered by Off2Africa Travel are subject to their terms & conditions