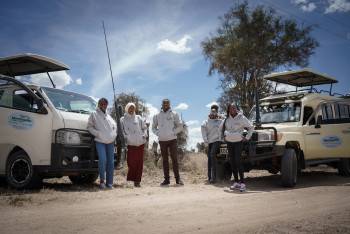 Morning Star Tours & Travel
4.9/5 – 121 Reviews
Office In:

Size:

20-50 employees (Founded in

2018

)

Tour Types:

Custom mid-range & luxury tours that can start every day

Destinations:

Price Range:

$134 to $806

pp

per person

per day

(USD, excl. int'l flights)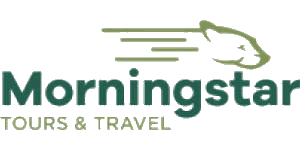 Request a Quote


for a custom tour
Your request will be sent directly to the operator
If preferred, you can contact the operator directly
Rating Breakdown
Anja
–
CH
Visited: February 2023
Reviewed: Mar 24, 2023
Email Anja | 35-50 years of age | Experience level: first safari
The review below is the personal opinion of Anja and not that of SafariBookings.
WORST COMPANY EVER! STAY SAVE AND DON'T BOOK WITH THEM!
WORST COMPANY EVER! STAY SAVE AND DON'T BOOK WITH THEM!
It already started badly with no binoculars in the car, so everybody else could watch a leopard hunting close and l just saw some points moving far away, which is definitely not what l have paid for… but it came worse and we couldn't enter in parcs which we were supposed to and even if l paid for everything l had to pay again at the entrance fee after 1 hour of waiting in the bursting sun because my driver spent all the money... worst was, that he said he would not bring me to the hotel, till MORNINGSTAR pays him more.. so over all a nightmare which they don't take any responsibility. never ever book with MORNING STARS SAFARI! You won't be safe and it can get very dangerous!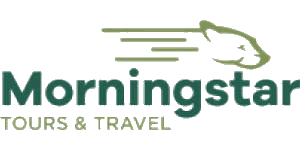 Reply
from

Morning Star Tours & Travel

Posted on Mar 28, 2023

As evidenced by the other ratings, outstanding customer service is a core value of our operations. We thought to shed some more light on this review as follows:

The client had booked a 3-Day (2 night) safari staying one night in Amboseli at Kibo Safari Camp and one night in Tsavo East at Man Eaters Lodge. After the booking confirmation and payment, the client requested we drop her off at Severin Safari Camp in Tsavo West, where she had booked an extra night. To access Severin Safari Camp, a non-resident has to pay the park entry fee of $ 52, the resident driver $ 5, and the van entry fee of $10. The extra park fee was not costed for, but out of goodwill, we asked her to pay and agreed to reimburse Anja $52 (sent via mobile money in KES). We did not charge extra for transport as we should have.

In Amboseli NP, the client requested a pair of binoculars (not a standard safari inclusive), but we arranged to have them if a client requests the safari). We set for binoculars for her via another team that was touring Amboseli simultaneously.

A park entry ticket is valid for a maximum of 24 hours - the client arrived in Amboseli from Tsavo at 9.30 am, so they went on a morning game drive, then went to the hotel for lunch and check-in, followed by an afternoon game drive. The following morning- the park wardens made a special allowance and were allowed one last game drive even after the 24-hour window for the ticket.

That said, Joshua, the driver guide for this assignment, did not conduct himself in the best way since he called back at the office irately, which may have scared off Anja. We have since struck Joshua off our list of service providers.

We appreciate Anja's business but are dissatisfied with her representation of the events surrounding her safari. We delivered as per the package, and it would have been unfair for our business to refund her $800 as she had wanted post-safari.

Our company remains committed to excellent customer service and will continuously undertake to improve our customer experience.




Güli and Sarah
–
DE
Visited: November 2022
Reviewed: Nov 10, 2022
Email Güli and Sarah | 20-35 years of age | Experience level: first safari
Trust and individuality are the key values
We are very happy to have planned our private safari tour with morning stars. Right from the first contact, advice was provided quickly and adapted to our wishes. A detailed schedule and a detailed overview of the costs was provided before the start of the trip. We were picked up at our hotel as promised. Our tour guide Alex led us through the animal world with a great enthusiasm. In his company, we always felt safe and had a very entertaining Safari. Thank you for everything!
Joy
–
Visited: October 2022
Reviewed: Nov 3, 2022
Are very organized and very punctual
They made my planning so simple because they took care of everything including my transport,transfers and my stay at the hotel.They also went an extra mile an organized places for me to visit while on my vacation.They also have the best staff with good communication skills and they will always check up on you just incase of anything
Tarun Jani
–
IN
Visited: May 2022
Reviewed: Jun 2, 2022
Email Tarun Jani | 35-50 years of age | Experience level: 2-5 safaris
Extremely Professional and Superb Service
Extremely Professional and Superb Service..by Morningstar Tours & Travels. Right from Booking, Pick up and Drop till Nairobi Airport.

Mr. Robert was very helpfull and even gave information regarding Current Covid Rules..in Kenya. We were family of 4 including 2 teens... They were punctual. Our Trip was very Smooth. Our Driver Cum Guide Mr. Dominic was fantastic. He was well aware of the Safari Game Drive.... Infact he was very keen and showed us all BIG FIVE in Masai Mara.

Our 4x4 Vehicle was comfortable Clean and equipped with Binoculars.

Thankyou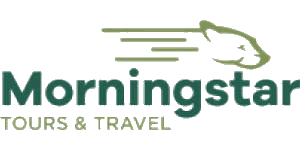 Reply
from

Morning Star Tours & Travel

Posted on Jun 26, 2022

It was a pleasure working with yoy on your trip. You made it all easy for us by providing all the info we needed to execute properly.
Karibu #MagicalKenya tena na tena
Sarah
–
US
Visited: October 2023
Reviewed: Nov 21, 2023
Email Sarah | 35-50 years of age | Experience level: first safari
Seamless booking process, absolutely wonderful tour and incredible guide! Book now!
Every single part of our safari, from my initial inquiry to the completion of our trip was absolutely wonderful. Dennis made the whole process of scheduling our safari seamless. I sent an inquiry with what I was looking for and within 24 hours I received back a detailed itinerary with cost breakdown. I imagine we could have added, subtracted or changed things, but what Dennis came up with was everything we were hoping to experience and more, so we booked the initial itinerary he sent. Payment was done through an online system and was quite simple as well. Dennis was always very attentive to any questions that I had and kept us updated throughout the process.

I can't say enough positive things about the safari experience itself. Our guide, James, made sure that we had an amazing time from the moment he picked us up from the hotel. We were celebrating a birthday on day 2 of our safari, and James went above and beyond to make it a special day from sunup to sundown. We did the balloon safari in the morning, and everyone worked together to help keep it a secret from the birthday boy right up until the moment we arrived to take off. That evening, they had arranged a special birthday celebration at the lodge. The entirety of the trip, but especially that day, is something we will certainly never forget. Throughout our safari, James made sure that we saw everything we were hoping to see and more. We were fortunate not only to see the Big 5, the small 5 and the ugly 5, but we got to witness mating lions as well as lions and hyenas enjoying a fresh hunt. He shared so much knowledge about the animals and their habitat and his passion and excitement for it was contagious.

The lodges we stayed at were excellent, and the staff at all of them were extremely kind, helpful and welcoming. We particularly enjoyed the Lake Naivasha Sopa Lodge where we encountered many animals just outside our door.

I can't say enough positive things about Morningstar Safaris. If you are contemplating a safari, do it, you won't regret it. I highly recommend booking through Morningstar, they not only met but far exceeded any and all of our expectations. James is truly an amazing safari guide and Morningstar is lucky to have him. He made sure that when we left him for the evening, we always did it with smiles on our faces. We have been home for 2 weeks, and still talk about the trip almost daily. Pull the trigger, book the trip and get ready for an adventure of a lifetime.

Dennis and James, thank you so much for this experience.

Sarah & Nelly

Cheryl Lakkis
–
CA
Visited: September 2023
Reviewed: Oct 30, 2023
Email Cheryl Lakkis | 50-65 years of age | Experience level: first safari
Thanks to Dennis, Musau and the Morningstar team, this was a "dream come true!"
Morningstar is a company who really know how to create a perfect adventure.
Dennis put together an itinerary that was packed full of great adventures(The Rift Valley, Maasai Mara, a balloon ride in the Mara, Naivasha, Nakuru, Amboseli and then off to Diani Sea Resort for a week of fun and sun)and kept all of my interests in account. He didn't skip a single thing.
I travelled solo from Canada and had a lot that I wanted to see.
My first night I stayed at the Sarova Pan-African hotel where they had me booked in a new area of the hotel that was for women only. My room was very beautiful and I could tell they went above and beyond to create a space specifically for women. Such a nice start to my solo adventure.
Day 1 of my safari I was picked up by my tour guide Musau(Willy) to start our drive to Maasai Mara. Such a patient gentleman, a very skilled driver,...and always on time(unlike me
Debbie
–
US
Visited: October 2023
Reviewed: Oct 23, 2023
Email Debbie | 35-50 years of age | Experience level: over 5 safaris
Comprehensive Tour Operator with Great Drivers
My husband and I along with a good friend and her husband had an eleven day safari and beach trip throughout Kenya. I went in knowing where I wanted to go mostly, and worked with Dennis at the front office. He was able to put together an itinerary that took into account what I had asked for, but also expanded it to address what my friends and husband would want to experience, considering this was their first time in Kenya and on safari. He put together a packed itinerary that hit so many things (Nairobi, Samburu, Aberdares, Naivasha, Mara and the Coast). We were always on the move with our driver, Alex. Alex was great - some amazing driving skills and good eyes. Also very sociable so always connecting with the other drivers to find the good spots and sharing perspective on life in Kenya.

The accommodations were great, the land cruiser was relatively comfortable and well stocked with water.

During the planning, Dennis was very accessible and communicative. He was willing to make small changes to the plans as I had some particular notions of what I wanted to do and where I wanted to go. Having Whats App downloaded allowed me to connect with the front office while we were traveling around Kenya, which was helpful when we were at the coast.

We greatly enjoyed working with Morningstar! The only issue I would mention is that if you have questions or concerns, speak up clearly and early. It's not a bad idea to review the itinerary with your driver/Morningstar upon arrival to make sure your understanding of what is included and what isn't is still the same and has been confirmed with the driver and the accommodations. Especially if you are going off the regular tourist track (out of the major parks).
There were a few communications transparency concerns where I think the office had everything under control, but plans had changed and we had not been updated. There were some miscommunications at the end between Morningstar and the accommodation, that seemed to have been based upon expectations and not confirmed commitments from the accommodations.

When I spoke up or contacted the office or mentioned something to Alex, a fix was often figured out (or at least they attempted to figure it out) but you need to speak up early if you have questions or concerns and don't make assumptions that just because something is stated on your itinerary, everyone involved is aware of what the initial travel itinerary was and is and has the same understanding of what's included and what isn't.

The experience we had for the money we paid was a great option and Alex was there and ready for us on time every day. He had a great energy and was flexible with our irregular requests (finding a pharmacy in Nanyuki, going to my old house in Nairobi, visiting Sarit Center/Westgate in Westlands.


Allison H
–
US
Visited: September 2023
Reviewed: Oct 11, 2023
Email Allison H | 35-50 years of age | Experience level: first safari
We loved James!
Morningstar did so much for us including getting us scooped up from the Nairobi Airport and getting us set off to Mombasa after our 3+ days of safari. James guided myself and family (husband and kids ages 12, 11, and 7) through Amboseli, Tsavo West, and Tsavo East. We had the most wonderful time exploring these parks with him and he was extremely knowledgeable on the animals and their habitats. He asked my children the most engaging questions while touring the parks and was quick to understand when we needed to find a quick bathroom stop for my 7 year old. We would love to explore more parks in the future with Morningstar and would love to have James as our guide again.
Valentine Luo
–
CN
Visited: August 2023
Reviewed: Sep 11, 2023
Email Valentine Luo | 20-35 years of age | Experience level: first safari
Amazing view and Reliable service
Dennis is we two's tour consultant. From the very beginning, he showed professionalism and reliability in arranging our travel plans, easing our worries about our 1st time African visit adventure. His dedication and responsiveness were truly remarkable. Despite the time zone differences, he always responded promptly, even during late hours, making it feel like his service were available 7x24(surely not..). His genuine concern for our experience was evident as he checked in with us daily and swiftly handled any issues that arose during our journey. His expertise and efficiency left a lasting impression on us thought the trip. We felt confident in his guidance and support, which allowed us to fully immerse ourselves in the wonders of Kenya without any unnecessary concerns.
Alex took us for the whole amazing Safari. We are truly and sincerely oBliged to him for taking us on those long and adventurous treks to witness the stunning wildlife of Kenya. His passion ,and knowledge of the animals' habit and characteristics added a new dimension to the safari, making the safari even more fascinating and meaningful. During the 1st day's afternoon tour, the cheetah passed by our car super nearly. With Alex's excellent driving and patient guidance, we have saw all big fives even six and the whole lion family (10 lions) and taken many amazing photos! His dedication and expertise as a guide made our journey really unforgettable.

Our travel plan:
Masai Mara National Reserve -> Lake Nakuru National Park -> Lake Naivasha -> Amboseli National Park

Special Recommend:
Night game drive (Exciting adventures)
Lake Nakuru National park (we saw the whole lion family nearly and the whole rhino here)
Crescent Island Game Park (Walk to the Giraffe, Zebra and Wildebeest and take nice pics with them)
OI Tukai Lodge (Nice Lunch with wildlife view outside restaurant's window)
Sarova Lion Hill Game Lodge & Amboseli Serena Safari Lodge
Vernon
–
US
Visited: September 2023
Reviewed: Sep 3, 2023
Email Vernon | 35-50 years of age | Experience level: first safari
Life changing
Morningstar is the best! Martin was our guide. He was on time and with us every step of the way. Joe was very responsive when arranging everything before hand. Highly recommend!!
Disclaimer
All corporate and/or tour info is provided by Morning Star Tours & Travel, not SafariBookings
The tours offered by Morning Star Tours & Travel are subject to their terms & conditions