Weather & Climate – Shamwari GR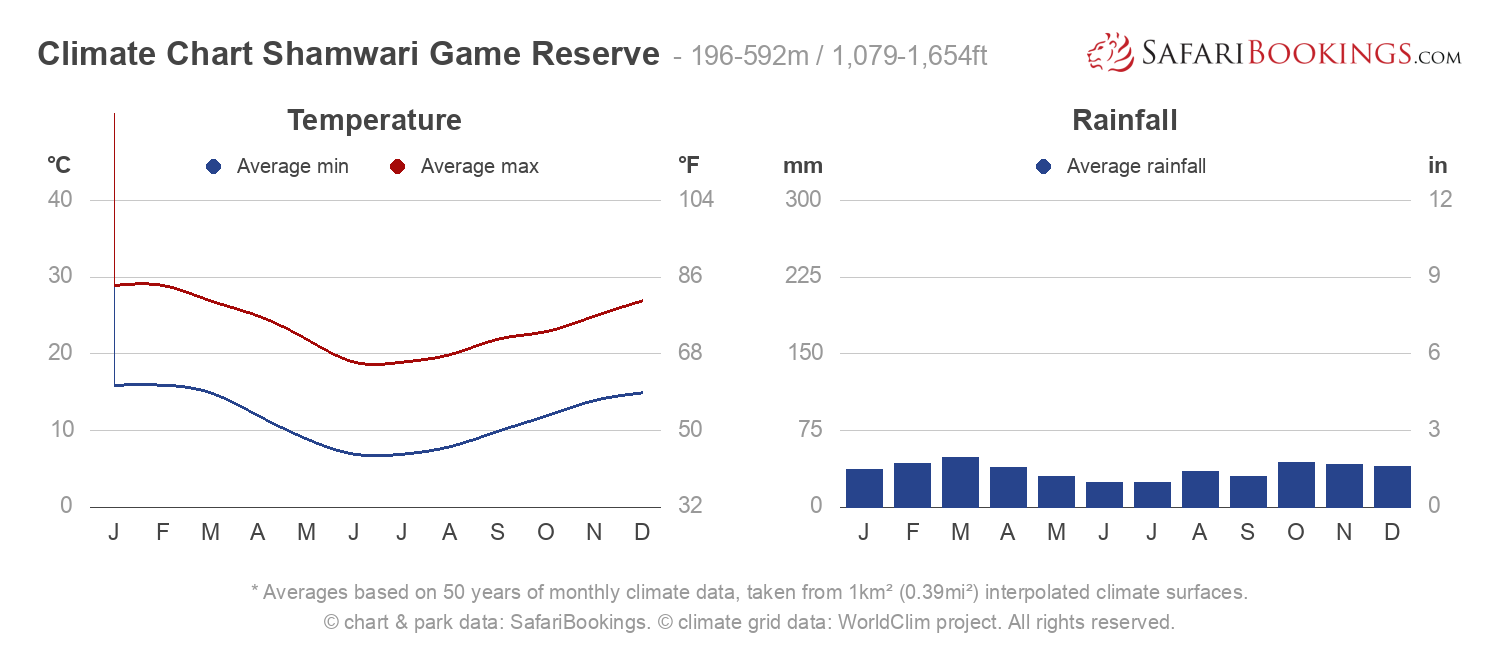 Climate Chart Shamwari Game Reserve
– 196-592m / 1,079-1,654ft
* Averages based on 50 years of monthly climate data, taken from 1km² (0.39mi²) interpolated climate surfaces.
© chart & park data: SafariBookings. © climate grid data: WorldClim project. All rights reserved.
Shamwari has a classification of semi-arid to arid and receives an average annual rainfall of less than 450mm/17.7in. Here, the winter and summer seasons occur opposite to their Europe and North American counterparts. Rain is fairly evenly distributed all year long. However, it peaks at two times during the year: February-March and October-November. During the mid-winter, temperatures can reach the freezing point.
Winter
–

May to September
The winter months consist of cold nights and mornings. Winter clothes are essential, especially for game drives in open vehicles at night and in the morning. There is less rain than in the summer, and the skies are generally clear.
May – Winter is beginning. Temperatures cool to 8°C/46°F in the morning with an average temperature of 22°C/72°F in the afternoon.
June & July – These months are the coldest. Morning temperatures average 6°C/43°F, but it isn't unusual to reach the freezing point at night. Afternoons range around 20°C/68°F.
August & September – It gradually warms to a typical afternoon temperature of 23°C/73°F. Mornings are less cold, with temperatures around 8°C/46°F.
Summer
–

October to April
Summer is characterized by comfortable temperatures and slightly more rainfall. Some days might be cloudy with drizzle, but it is sunny for the most part.
October & November – Warmer weather with average morning temperatures of around 12°C/54°F and 25°C/77°F in the afternoon. Rain peaks in October. In general, it doesn't rain every day, but day-long drizzle isn't uncommon.
December, January & February – These months are the warmest of the year. Afternoon temperatures reach 29°C/84°F. Mornings are comfortable, with an average of 16°C/61°F. There is less rain in December and January, but it increases in February.
March & April – The wettest month is March, although it still doesn't rain a lot and rarely for days on end. The weather begins to cool with an average afternoon temperature of 27°C/81°F and 14°C/57°F in the morning.
Want to Visit Shamwari GR?
Shamwari Game Reserve
Shamwari GR Photos
View Photos
(20)