Are you wondering which are the best places to see rhinos in Africa? These prehistoric creatures once roamed over most of the continent, but poaching has taken its toll in recent decades. Today, rhinoceros are extinct in many parts of Africa, and the survivors need special protection as they are poached for their horns (which are worth a lot of money in some Asian countries).
Here are some ideas for where to see this second-bulkiest member of the Big Five.
Kruger National Park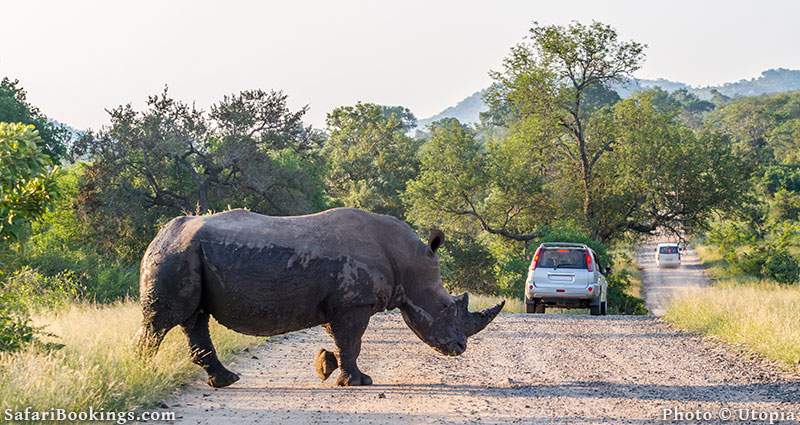 South Africa's flagship national park, Kruger, has by far the largest population of rhinos in Africa. Southern Kruger is particularly renowned for white rhino sightings. You'll need more luck to spot the smaller black rhino, a browser that tends to lurk unobtrusively in dense thickets.
Mkhaya Game Reserve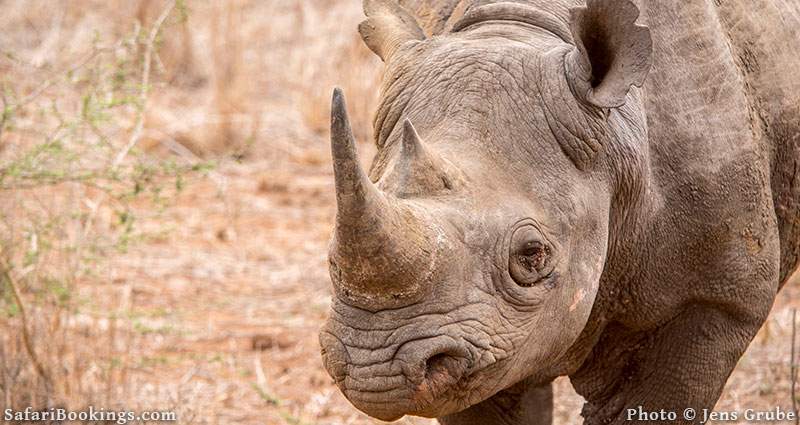 Mkhaya, in Eswatini (Swaziland), is all about intimate encounters with protected species. With the expert guidance of your ranger, you'll be able to approach both black and white rhino on foot. Both species are impressive. The white rhino is Africa's second largest terrestrial mammal, but homing in on a black rhino – slightly smaller but more aggressive – is even more exciting.
Ngorongoro Crater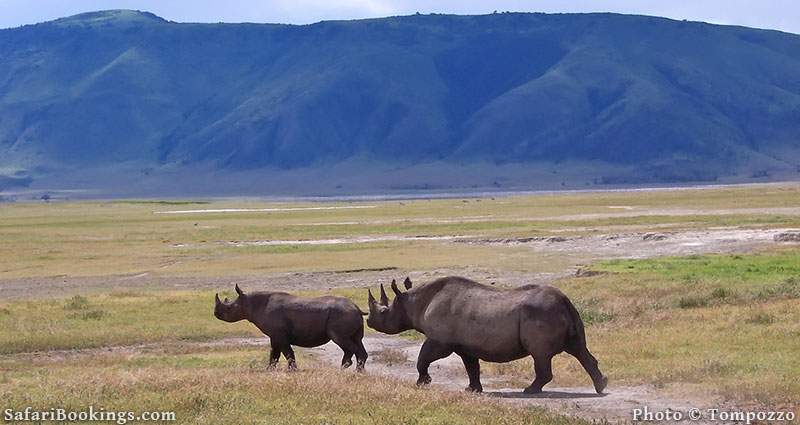 Ngorongoro is the most reliable place in Tanzania to see rhinos. A healthy and unusually relaxed black rhino population spends much of the day in open grassland and is easily spotted there. If you miss the rhinos on the plains, try your luck in the late afternoon at the picturesque Lerai Forest, where they usually retreat before nightfall.
Ziwa Rhino Sanctuary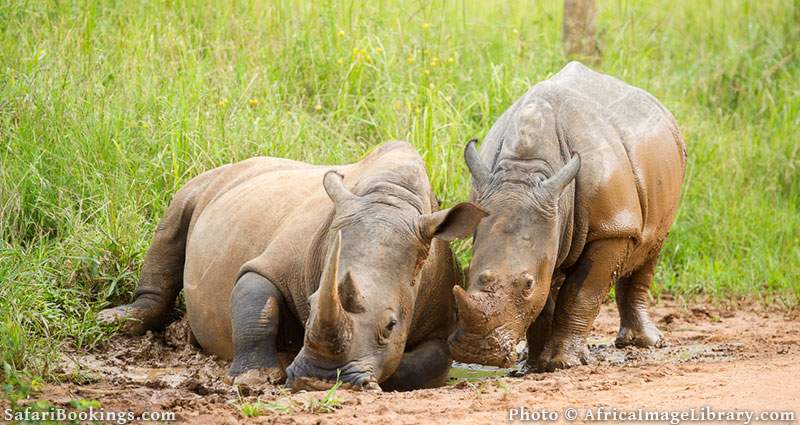 Ziwa Rhino Sanctuary is home to Uganda's only rhinos. Here you get the opportunity to track white rhinos on foot. Your experienced guide will keep you safe while you approach these magnificent beasts downwind. Don't forget to take photos (or to breathe – you'll get to appreciate what a 2-ton animal really looks like) while your adrenaline is pumping.
125 Ziwa Rhino Sanctuary Tours
Ol Pejeta Conservancy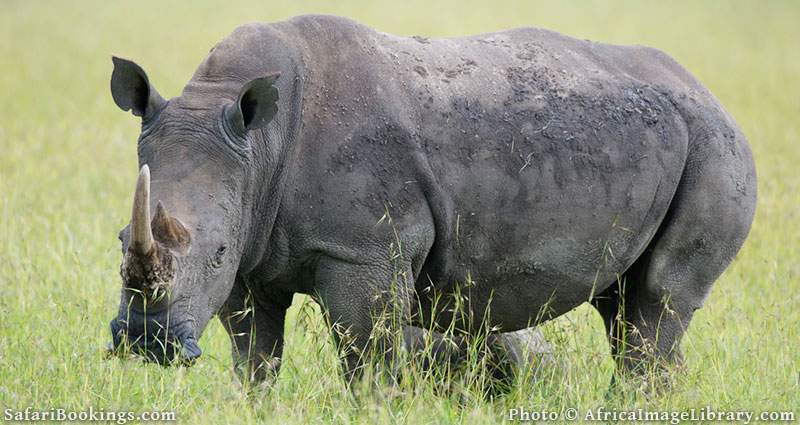 Ol Pejeta, on Laikipia Plateau below Mount Kenya, is a great place to see both southern white rhino (introduced from South Africa) and the endangered black rhino. It is also home to the last remaining northern white rhinos in Africa, a pair of cows kept safe in a large enclosure. The survival of this near-extinct subspecies, which once roamed freely in East and Central Africa, will depend on the success of current trials in vitro fertilisation techniques and stem cell technology.
Lake Nakuru National Park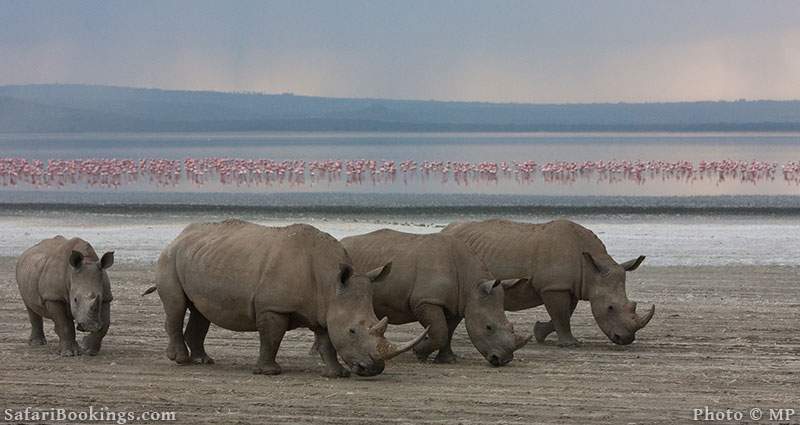 Lake Nakuru, towered over by the escarpment and hemmed in by yellow fever trees, is a scenic highlight of Kenya's Rift Valley. It's a gorgeous setting for seeing white rhinos, and your chances are pretty good, even on a one-night stay. For atmospheric pictures, head out early to find them grazing on the lakeshore in rising mist. Black rhinos live here too, but sightings are hit-and-miss.
Hluhluwe-Imfolozi Game Reserve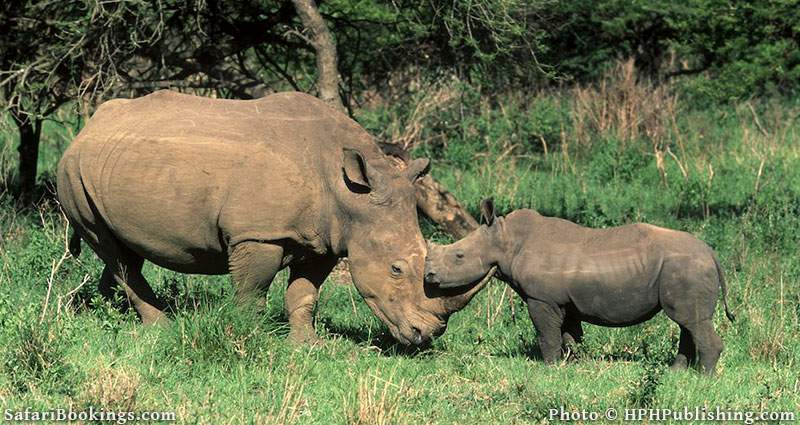 Hluhluwe-Imfolozi is the oldest game reserve of South Africa. It was established in the 1890s as a sanctuary for what was then the country's last remaining population of southern white rhino. It is where rhino conservation began and where this incredible creature was narrowly saved from extinction. Today, both black and white rhino are common, although the former is easy to miss in the dense vegetation.
Kwandwe Game Reserve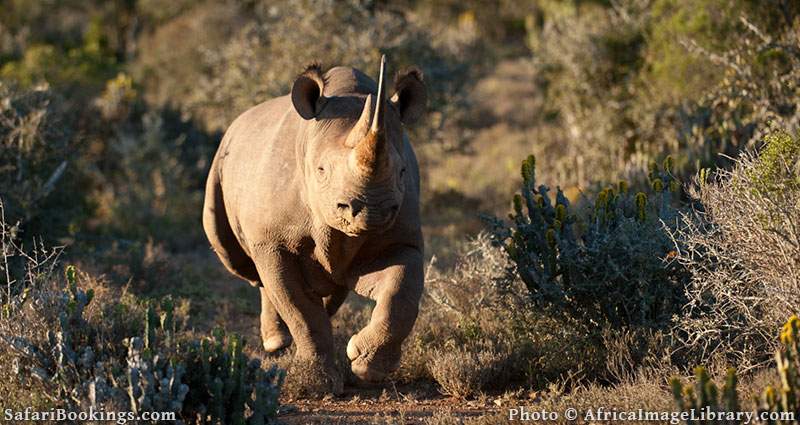 Kwandwe is an exclusive private game reserve in South Africa's Eastern Cape and has only 26 rooms in a vast wilderness area. It offers superb wildlife viewing of all the Big Five. The relatively open terrain and rolling hills allow for regular sightings of white rhino as well as the more elusive black rhino. While you'll certainly get some good photo opportunities for the former, black rhinos are less cooperative – they usually run, either to flee or to charge.
Etosha National Park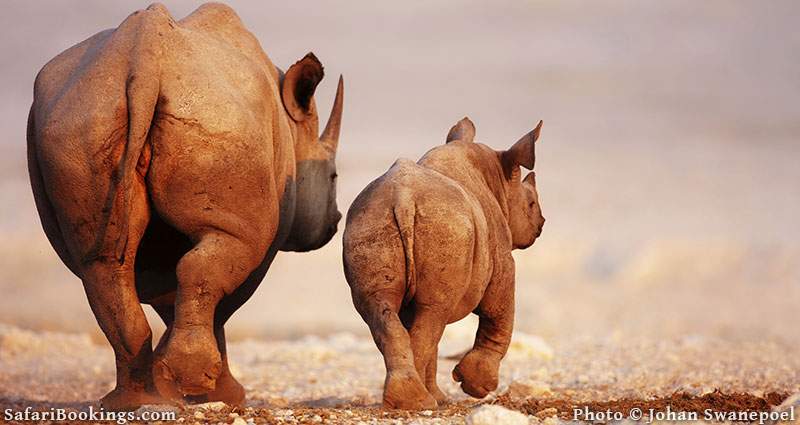 Though it is usually encountered in thick vegetation, the black rhino also thrives in the open desert environs of Namibia's Etosha Pan. Sightings of this rare prehistoric animal are common here. Etosha is known for its incredible wildlife viewing at waterholes in the Dry season. Try the flood-lit Okaukuejo waterhole at night; with patience you might see a solitary black rhino come to drink.
Pongala Game Reserve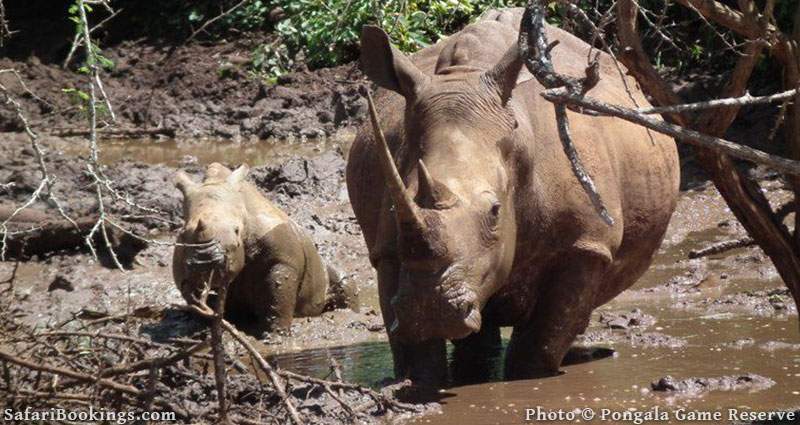 Deep in the heart of South Africa's Zululand, on the shore of Pongolapoort Dam, lies little-known Pongola Game Reserve. You won't get bored here as activities include game drives, boat cruises and – most exciting of all – a very authentic rhino tracking experience. The rhinos roam around a vast tract of bush so you might be out tracking for up to three hours. But when you get up close to a rhino on foot, you'll know it was worth it. Afternoons are best spent on the lake: the birdlife is fantastic, the crocs are enormous, and you should spot plenty more rhinos before enjoying a sundowner drink on the water.