It takes at least five days to climb Mount Kilimanjaro. However, a minimum of six days, and ideally seven or eight, offers a far better chance of reaching the top. For those with longer to spare, there are several more gradual and scenic ascent routes that can be done over 10 or more days.
Kilimanjaro is an extraordinary natural icon. The world's tallest freestanding mountain, it is volcanic in origin and towers almost 5km/3mi above the hot dusty plains of northeast Tanzania. The jagged glacial peaks, which frame the gaping Kibo Crater, support a year-round cover of snow. This is despite lying only 400km/249mi south of the equator.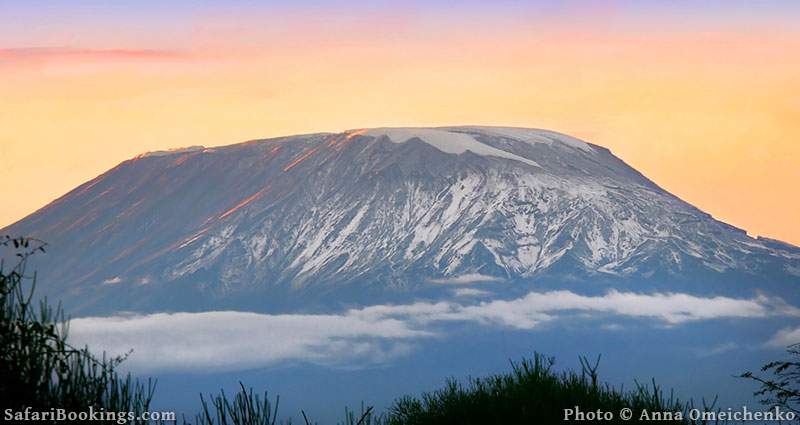 Mount Kilimanjaro tops the bucket list of many keen hikers and peak-baggers, those attempting to reach a collection of summits. Not only is its 5,895m/19,340ft Uhuru Peak the highest point in Africa, but it can be summited without specialised mountaineering experience or equipment.
For all that, this majestic mountain is not to be underestimated. It requires a fair degree of fitness and determination to climb Kilimanjaro. And hikers should be alert to the health risks associated with the unusually rapid gain in altitude.
All climbs of Kilimanjaro must be arranged with a registered Tanzanian operator, who will provide guides and porters, as well as camping gear, meals and water. The duration of a Kilimanjaro climb is almost invariably agreed in advance and will depend upon several factors. These include the route you opt to take, as well as your budget, your level of fitness, and how much time you allow for acclimatisation.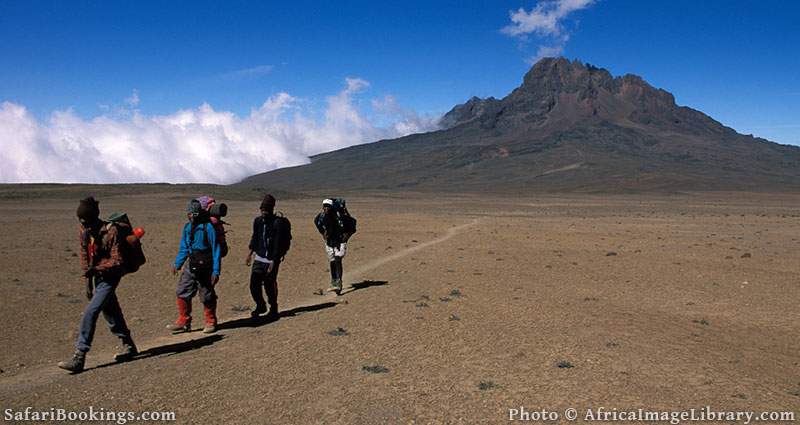 The world record for a Kilimanjaro climb, set in 2014, belongs to the Swiss mountain runner Karl Egloff, who completed the full ascent and descent in under seven hours. At the other end of the timing scale, relaxed mountain goats could think about dedicating two weeks to circumnavigating the upper slopes of Kilimanjaro before they actually summit. But these are extremes. Most commercial hikes take between five and seven days.
Recommended Duration and Success Rate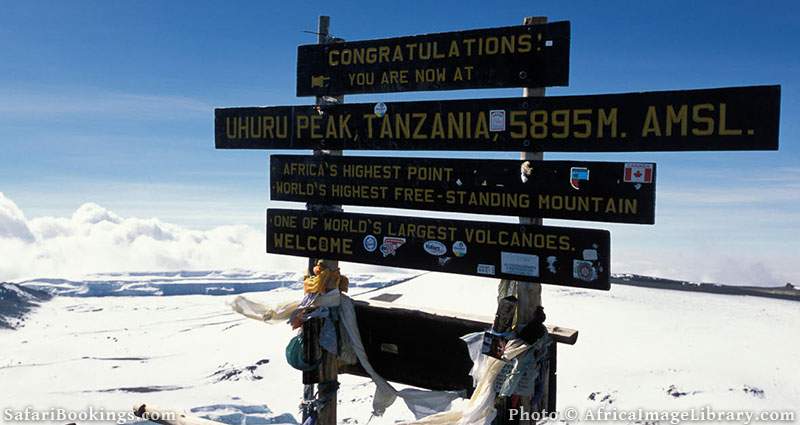 The longer you allocate to a Kilimanjaro expedition, the greater the odds of summiting. Data accumulated by Kilimanjaro National Park indicates that fewer than 30 percent of those who attempt a five-day climb reach the top. For six- and seven-day climbs, the success rate increases to around 45 and 65 percent respectively. By contrast, more than 85 percent of those who allocate eight days or longer reach the summit.
Allowing seven days or longer for a Kilimanjaro has several advantages. It is safer than a shorter climb, with a reduced risk of altitude-related illness and fatigue-related accidents. A longer climb also allows you to opt for one of the quieter and more scenic alternatives to the oversubscribed Marangu Route. It gives you greater opportunity to appreciate the landscapes and vegetation, ranging from leafy montane rainforest to Afro-alpine moorland studded with giant lobelias and heathers. And it provides a better chance of encountering monkeys, chameleons, birds and other wildlife.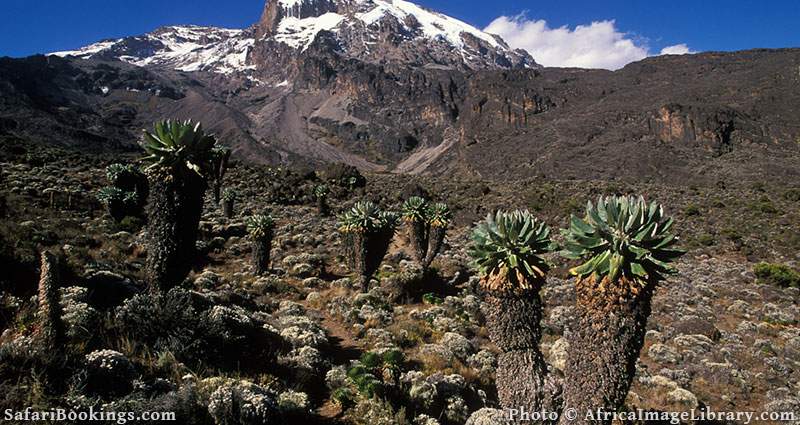 There are two major downsides to a longer climb. The first is that every extra day on the mountain attracts additional park fees and increases the overall cost of the expedition. The second is that it allows less time for exploring other iconic Tanzania attractions such as Serengeti National Park, Ngorongoro Crater and Zanzibar. Despite this, given that the climb is a once-in-a-lifetime experience, we strongly recommend allocating at least six or better seven days to Kilimanjaro.
Kilimanjaro Route Choice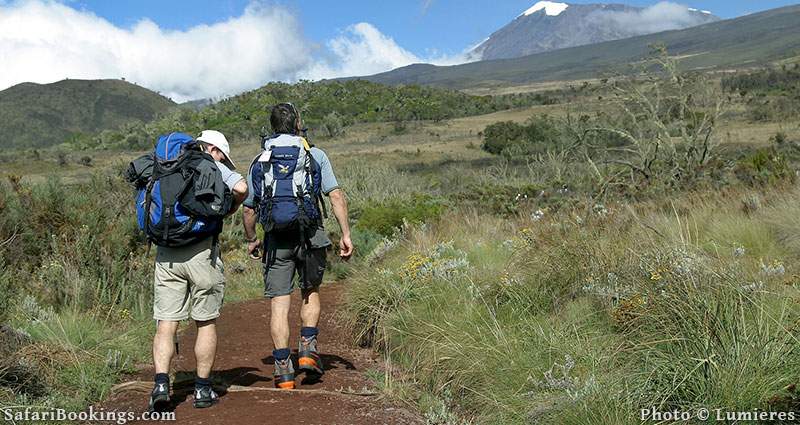 How long it takes to climb Kilimanjaro depends largely on which route you use. There are six main routes, and all have their pros and cons. Most hikers use the Marangu Route, since it is quicker, cheaper and in many ways more convenient than any alternative, Unfortunately, the Marangu Route also suffers from overcrowding. Of the other routes, Machame is a popular compromise for cost-conscious travellers wanting to avoid the crowds. More scenic, gradual and quieter options suited to solitude-seeking outdoor lovers with deep pockets are the Shira, Lemosho, Rongai and Northern Circuit routes.
There are also two other routes: Umbwe and Mweka. These fast but steep routes are recommenced only to very experienced mountain hikers who don't require much acclimatisation. However, the Mweka Route is often used as a quick descent route by people who ascended via Machame, Shira or Lemosho.
Marangu Route (Minimum 5 days; Recommended 6 days)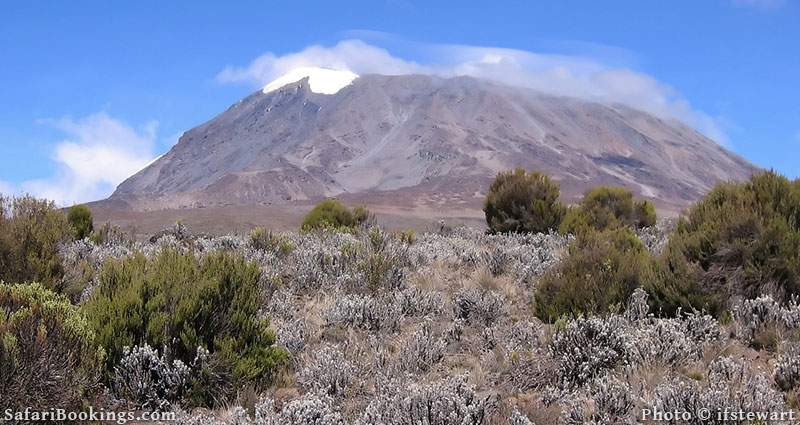 Marangu is the most popular route up Kilimanjaro, and it attracts more climbers than the other five options combined. It starts at Marangu Gate, near the well-equipped town of the same name. The five-day, four-night hike includes overnight stays at Mandara Hut (2,700m/8,858ft), Horombo Hut (3,720m/12,205ft) and Kibo Hut (4,703m/15,430ft) on the ascent. It returns to Horombo Hut on the descent. A six-day variation adds a second night at Horombo on the ascent. This longer version reduces the risk of altitude-related issues and increases the chance of summiting successfully. It also allows you a full day to explore the otherworldly vegetation of the Afro-alpine zone.
Marangu has several advantages over the alternatives. For budget-conscious climbers, it is significantly the cheapest option, partly because it can be completed in five days. It is also the least tough route, with the best rescue service, and the only one where you can sleep in proper huts with bathing facilities throughout. Several of the huts even sell bottled drinks, hence the nickname 'Coca Cola Route'.
On the negative side, many hikers feel that Marangu has become a victim of its own popularity. It tends be overcrowded, especially over the peak hiking seasons of August, September, late December and early January. In addition, unsightly litter can be a problem, and the tourist traffic means you are unlikely to see much wildlife.
Machame Route (Minimum 6 days; Recommended 7 days)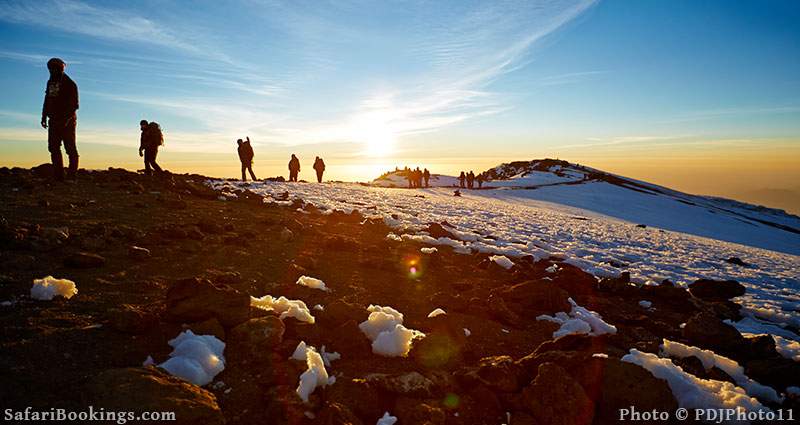 The second most popular route up Kilimanjaro includes a few tough sections, but offers a gentler ascent than Marangu and is more scenic. Altitude-wise, it allows for more acclimatisation, especially if you choose the seven-day, six-night option. The ascent involves nights at Machame Hut (2,890m/9,482ft), Shira Hut (3,840m/12,598ft), Barranco Camp (3,950m/12,959ft) and Barafu Hut (4,600m/15,092ft). Despite the misleading names, there are no longer functional huts on this route; you need to camp.
Shira Route (Minimum 6 days; Recommended 8–10 days)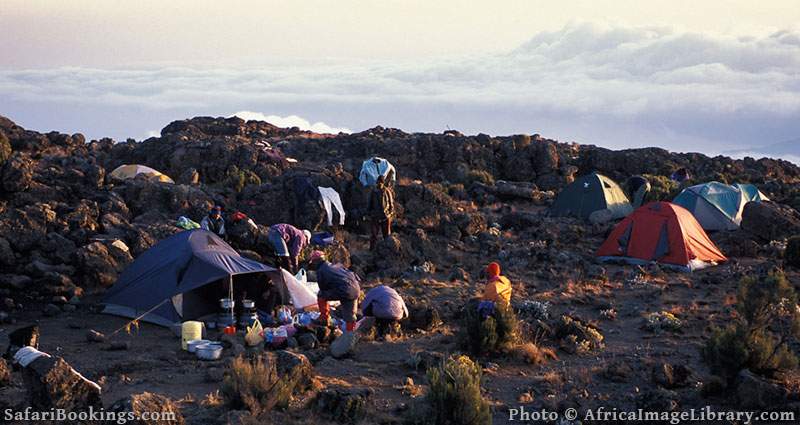 This lovely but little used route up the western flank of Kilimanjaro starts at Shira Gate (3,590m/11,778ft) and connects with the Machame Route prior to summiting. It involves a gradual multi-day ascent through a little-visited tract of Afro-alpine moorland known for its striking volcanic rock formations. There is also the possibility of seeing eland, buffalo and other large mammals. Altitude-wise, the Shira Route starts out above the 3,500m/11,483ft contour, which gives you plenty of time to acclimatise before summiting. It can be done over six days, but an additional day or two is advised.
Lemosho Route (Minimum 6 days; Recommended 8–10 days)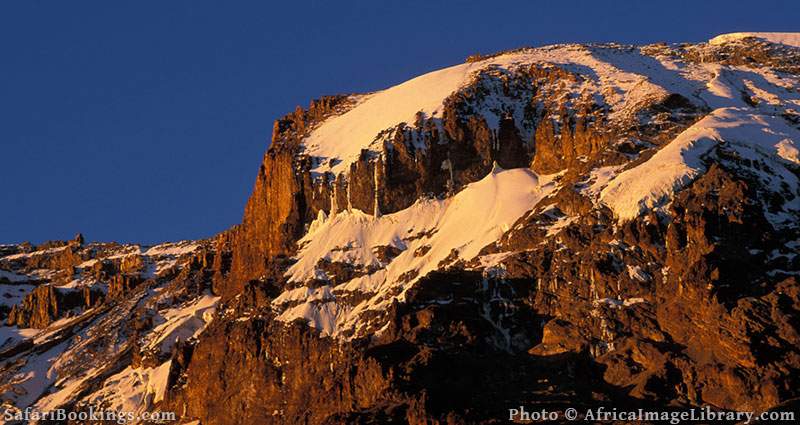 One of the most beautiful routes up Kilimanjaro, Lemosho, like Shira, starts on the western slopes, but at a far lower altitude. This means you're less likely to experience altitude-related issues on the first day. It also has the advantage that you spend the first day in the forest zone, which lies below the start point of the Shira Route. The Lemosho Route converges with the Shira Route on the second day.
Northern Circuit (Minimum 9 days; Recommended 10–11 days)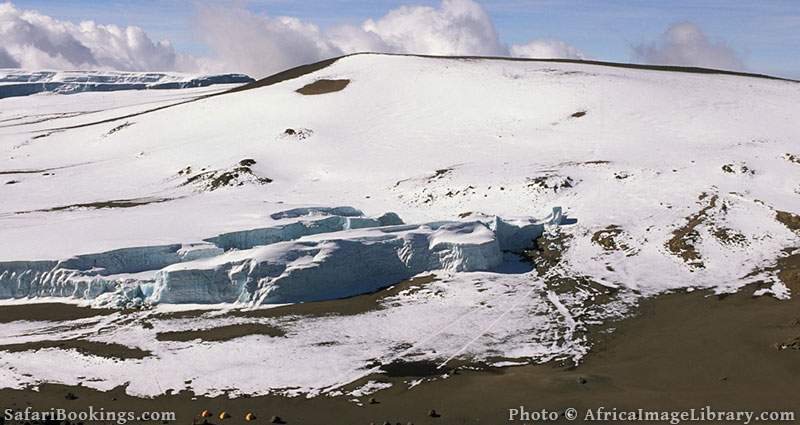 The most remote route up Kilimanjaro starts at Lemosho, then loops north around the peaks before summiting from the east. It is the longest route, requiring at least nine days. However, there is the option of extending the itinerary by a day or two to overnight within Kibo Crater, a highly recommended experience. A full week is allowed before you tackle Uhuru Peak. This gradual ascent means this route has the highest success rate, but is the most expensive option.
Rongai Route (Minimum 6 days; Recommended 7 days)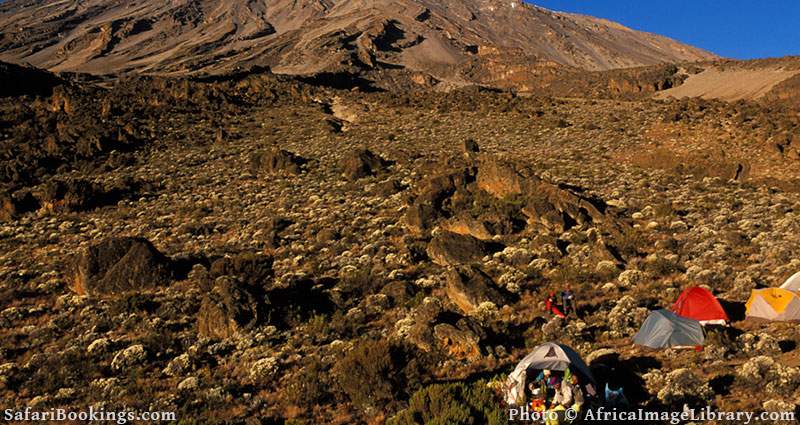 Rongai is the only ascent route of Kilimanjaro from the northern side. It comes into its own during the rainy season, as it receives far less precipitation than any of the southern routes. It is also a good choice at other times, offering a reasonably gradual ascent, and an above average chance of encountering large wildlife. It is very uncrowded too, at least until it converges with the Marangu Route at Kibo Hut the day before summiting. The seven-day variation comes with a far higher success rate than the six-day base route.
Factors affecting how long it takes to climb Kilimanjaro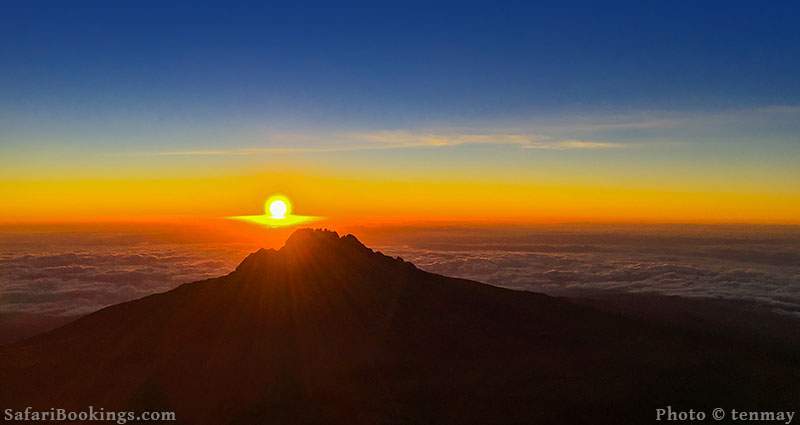 The number of days allocated to virtually all Kilimanjaro climbs is fixed in advance. So, when it comes to duration, there are seldom any surprises, other than that ill or injured climbers may need to cut things short to return to base. However, a number of factors will affect how likely you are to summit successfully, and it is worth thinking these through in advance.
Altitude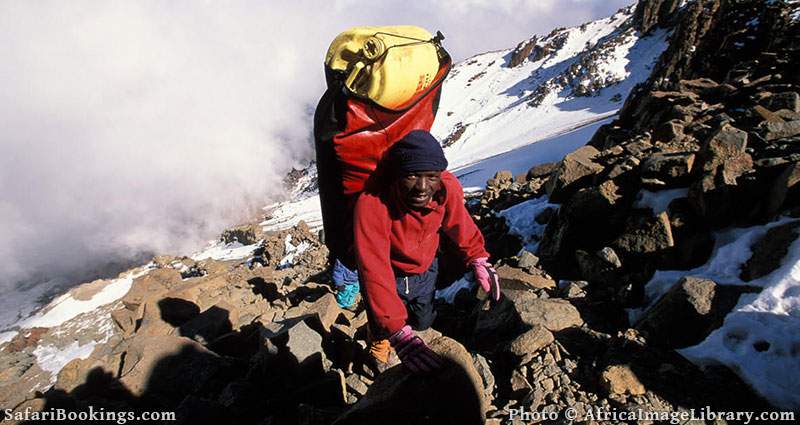 The biggest obstacle to summiting Kilimanjaro successfully is the rapid gain in altitude from base to the peak. Almost all climbers experience some effects of altitude. These include headaches, breathlessness and insomnia, as well as more unusual and potentially fatal conditions such pulmonary or cerebral oedemas.
The best way to minimise the more serious effects of altitude is acclimatisation. This means allocating as many days as possible to the ascent. People who climb over eight days are three times as likely to summit successfully as those who do the minimum five days.
It also helps to spend a few days at a mid-altitude location prior to the ascent, such as Ngorongoro Crater, Arusha National Park or Marangu. Once on the mountain, hike at a slow, steady pace rather pushing to reach camp early.
Seasons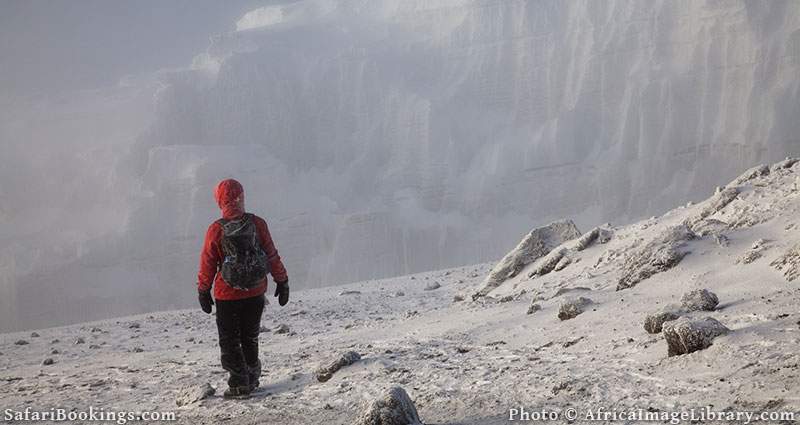 Weather conditions on Kilimanjaro vary considerably with the seasons. Sub-zero nocturnal temperatures and high winds are likely at all times of year, but it is far preferable to climb in dry conditions. For this reason, January to March or July to October are far better for hiking than the rainy seasons of April to June and November to December.  Should other factors force you to schedule a climb in the rainy season, try the Rongai Route, the only one that sticks to the dryer northern slopes.
Fitness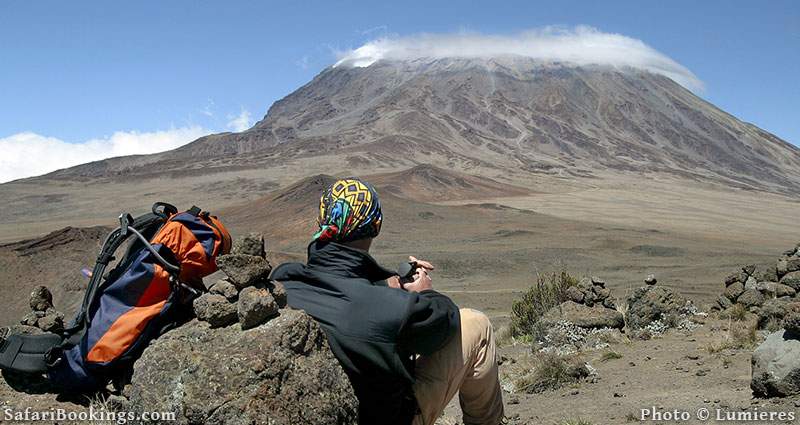 A reasonable level of fitness is required to climb Kilimanjaro successfully. If you are an inexperienced hiker, it is worth undertaking a training schedule, building to a point where you're comfortable hiking for around five hours in hilly terrain. Ideally, use the training hikes to break in the boots and get used to the day pack you will take on the mountain. Running and cycling will help increase your aerobic fitness too.
Other preparations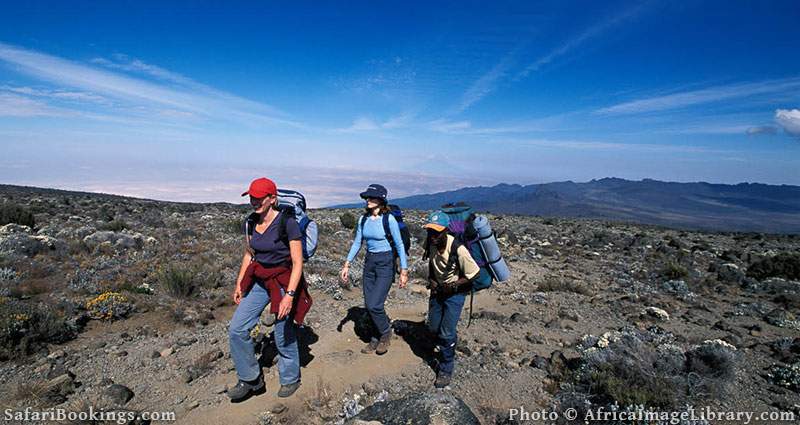 Kilimanjaro is cold at night, and it can be very wet too, with a fierce tropical sun by day at higher altitudes. The following items are necessary or highly desirable for a successful trek:
A windproof and waterproof jacket and trousers
Plenty of warm clothing to layer
Waterproof gloves
One pair of thick hiking socks and thin inner socks per day
A wide hat and UV sunglasses
A pair of broken-in 100 percent waterproof hiking boots and lighter shoes for the evenings
Adjustable trekking poles
A four-season sleeping bag and high-quality ground mat (if not supplied by the operator)
A waterproof bladder or water bottles with a total 2L/68oz capacity
A medical kit containing pain killers, anti-inflammatories, plasters for foot blisters, sunblock, chap-stick and medication to reduce the risk of altitude-related problems
A generous stash of energy-rich snacks such as dried fruit, nuts, chocolate and energy bars