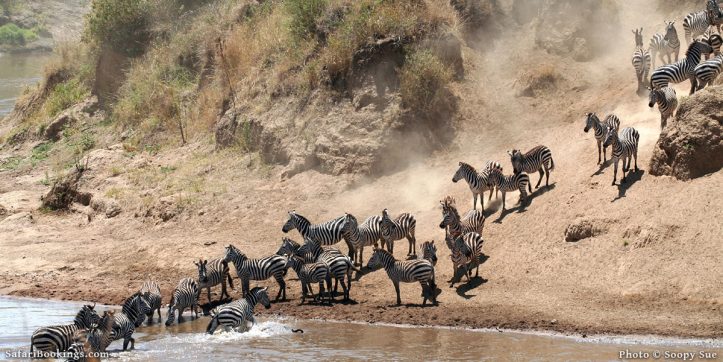 Top 10 Best Masai Mara Safari Lodges & Camps

By
Roxanne Reid
Roxanne Reid is an award-winning freelance writer and editor. She has published two books about African travel. Her Africa Addict blog focuses on African travel, people, safari, wildlife, culture and villages.
The Masai Mara National Reserve, with its signature tree-dotted plains, is a classic safari destination in southwestern Kenya. It is home to 95 mammal species. So, expect a year-round wealth of wildlife, from big cats to elephant, rhino and buffalo, giraffe, topi and more. The Mara is also famously home to the annual great migration of wildebeest and zebra between July and November. See them kick up dust as they move in search of grazing with predators on their trail. Experience the drama of river crossings that pit them against hungry crocodiles.
With this abundance of wildlife, it's no surprise that the reserve and its surrounding private conservancies offer many Masai Mara safari lodges. You can stay in one of these lodges to get close to the action. Here are 10 of the best (in alphabetical order).
1. Amani Mara Camp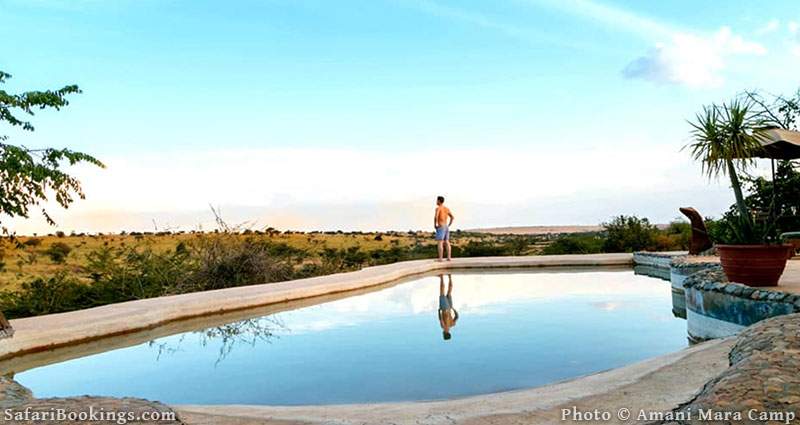 Amani Mara Camp in Olare Orok just northeast of the reserve has an African feel with stone-and-canvas rooms and earthy hues. Your private deck is the ideal place to soak up the expansive view and keep an eye out for animals on the plains. Cool off in the heat of the day at the camp's swimming pool or watch hippo and crocodile in the river. Enjoy a bush breakfast or lunch made with fresh produce from the camp's organic gardens.
Wherever you go in the Mara there's a profusion of wildlife on the rolling plains. Your game drives will be filled with thrills and action. Go on a night drive to spot nocturnal species such as leopard, lion, spotted hyena, porcupine and civet. Explore on foot, safe in the hands of a Maasai guide who will teach you about the Mara environment. Visit a Maasai manyatta (village) to see how the local community lives in harmony with animals. Treat yourself to an early morning hot-air balloon ride for a bird's-eye view of the Mara's savannah and wildlife.
2. Angama Mara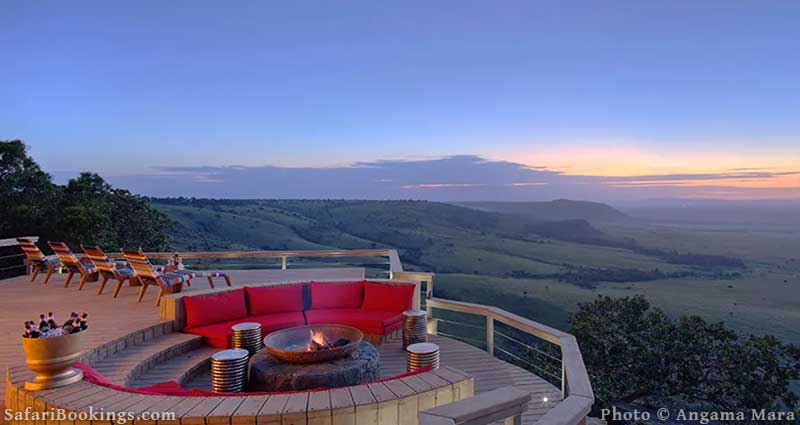 Surely one of the most beautiful of the Masai Mara safari lodges must be Angama Mara. The name is inspired by the Swahili word for 'suspended in the air', given that it hangs high above the plains of the Mara Triangle. The glass-fronted luxury tents look out over landscapes speckled with animals and spiny Balanites aegyptiaca trees.
Go on a game drive to make the most of the Mara's exciting wildlife experiences. Don't miss floating in a hot-air balloon over the winding Mara River at daybreak to watch wildlife far below. Head out on a bush walk with a Maasai guide or visit a Maasai village to learn about their fascinating culture. Enjoy a massage on your deck and dinner under a canopy of stars. Have a dreamy picnic on the hill where scenes from the Out of Africa (1985) movie were shot.
3. Emboo River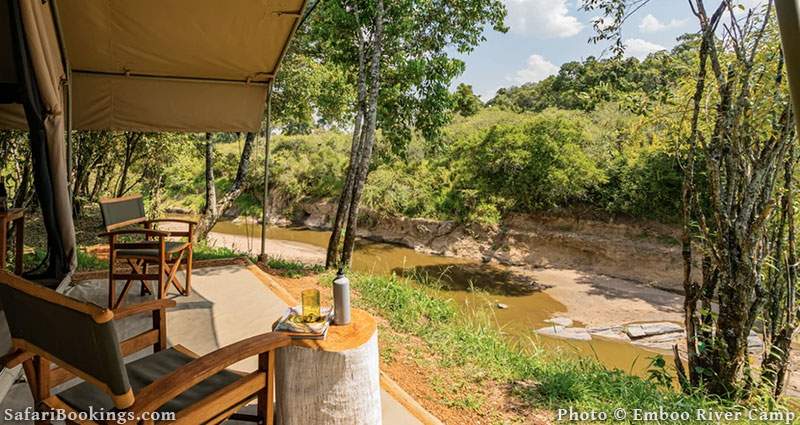 If glamping and eco-friendliness are important to you when you book your Masai Mara safari camps, you'll love Emboo River. Your tent at this luxury sustainable camp has a view of the Talek River and a rain shower in the bathroom. There's a natural pool that uses local wetland plants to filter the water (no chemicals). Become part of nature on your private terrace as you watch hippo laze in the river or elephant come to drink. When the great migration of wildebeest and zebra marches through the Mara, you may see a crossing at the river right next to camp.
Go on a game drive in a silent electric vehicle (solar charged) so you can listen to the wind and the wildlife. Go bush walking with a Maasai guide to learn about birds and insects. Feel Maasai history and traditions come alive on a visit to a local village. See the Mara wake up from a hot-air balloon suspended in the dawn light. Toast the silhouettes of giraffe at sunset. Share anecdotes from your day around the campfire before dinner or just soak up the silence and the stars.
4. Kichwa Tembo Tented Camp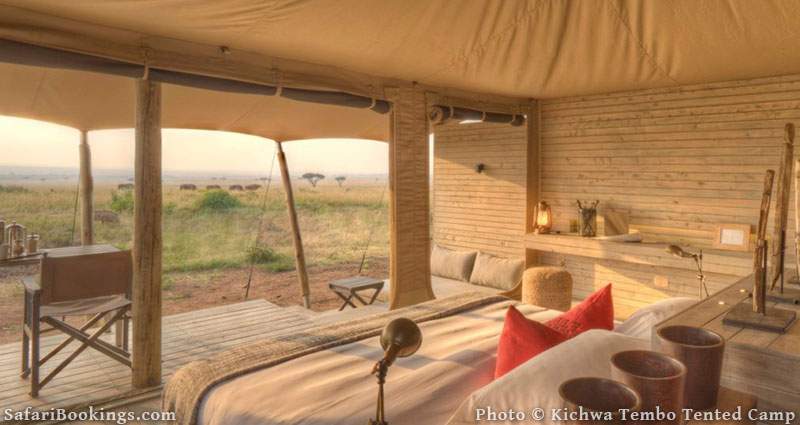 In a private concession bordering the Masai Mara you'll find the elegant Kitchwa Tembo Tented Camp. Laid out in a patch of forest along the Sabaringo River on the edge of the Oloololo escarpment, it has sweeping views of the plains. Relax and unwind in spaces infused with romance and contemporary African style. Let the large windows invite the outside in.
Watch as warthog feed outside your luxury tent. Take a dip in the rim-flow pool with its wide views of the Mara. Enjoy a soothing massage. Float in a hot-air balloon above the horseshoe bends of the Mara River. Watch a river crossing during the great migration. Fuel your wildlife passion with game drives and guided nature walks. For a change of pace, interact with the local Maasai through talks and dancing.
Kichwa Tembo Tented Camp Tours
5. Mahali Mzuri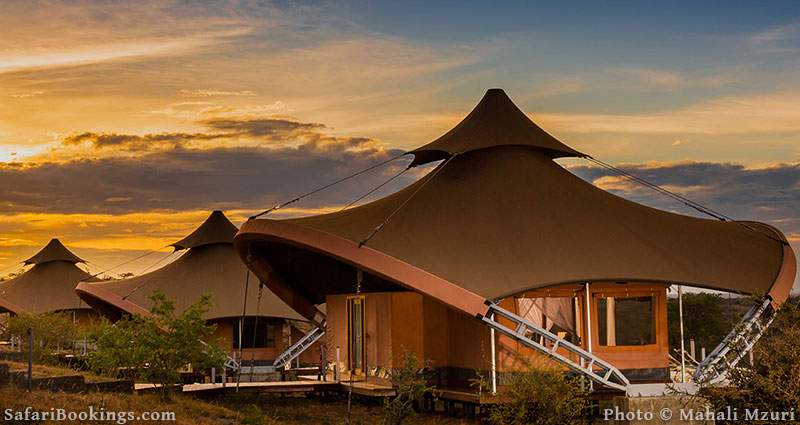 Another one of the spectacular Masai Mara safari lodges is Sir Richard Branson's luxury Mahali Mzuri in the private Olare Motorogi Conservancy of the Greater Mara. The name means 'beautiful place' and it's everything you'd expect. The tents have an unusual custom design, each with an expansive view from a private deck. Add a romantic freestanding bath (also with a view), candlelight dinner for two under the stars, rim-flow swimming pool and champagne picnics. All the hallmarks of that special Branson touch are here.
The lodge's position gives you front-row seats to spectacular wildlife sightings year-round. This includes during the great migration from July to November, depending on climatic conditions. Drink in the dramatic scenery and experience the thrill of watching elephant, lion, leopard, giraffe and plains wildlife. It's hard to beat the buzz of a game drive but make time to visit a Maasai village to learn about their pastoralist culture.
6. Mara Engai Wilderness Lodge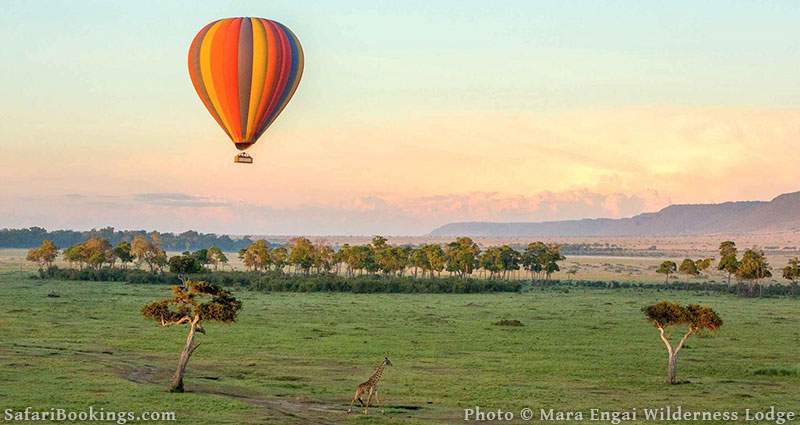 Tucked into ravine forest on an escarpment of volcanic rock, Mara Engai Lodge looks out over Mara grasslands teeming with wildlife. Your luxury tent is spacious and comfy, with an elevated private viewing deck and waterfall shower. Dine under the African sky on fresh produce from the organic gardens. Enjoy a bush breakfast or lunch on a rock at the Mara Engai Vantage Point with a view of the migrations route spread below.
Hop into a 6×6 Pinzgauer vehicle for a chance to see the Big Five and other animals. Or venture out on a guided walk to learn about the small things and experience the sounds and smells of the bush. Go up in a hot-air balloon for the adventure of a lifetime where you can see wildlife dotted below you. For an adrenaline rush, ride through the bush on a quad bike to relish the views and perhaps pass giraffe, zebra or elephant. Visit a Maasai settlement to learn about a way of life that has changed little in hundreds of years.
7. Mara Ngenche Safari Camp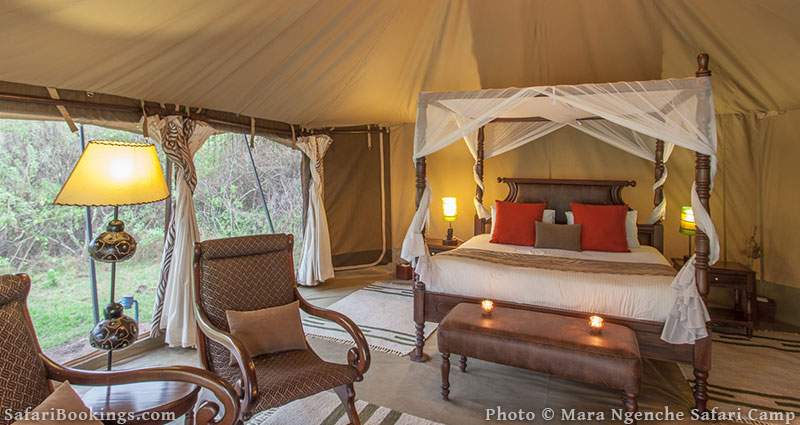 If you're looking for Masai Mara safari camps that are intimate, you'll love Mara Ngenche Safari Camp. Secreted away in a riverine forest in the heart of the reserve, it has grand views over the confluence of the Mara and Talek rivers. It looks out over a hippo pool and other animals are never far away. Marrying African decor with old-fashioned allure, each luxury tent enjoys a view over the river and its own private plunge pool. Soak in the large bathtub or cool off with an outdoor shower.
Every day brings something different. Unwind with a bush breakfast or dinner, a picnic lunch or sundowners (drink of your choice while watching the sunset) on the spectacular Mara plains. Relax on your deck with a pair of binoculars or a book. Rev up again with a cultural visit and entertainment by local Maasai warriors. The game drive is king of the activities, an electrifying experience of wildlife impossible to forget.
Mara Ngenche Safari Camp Tours
8. Mara West Camp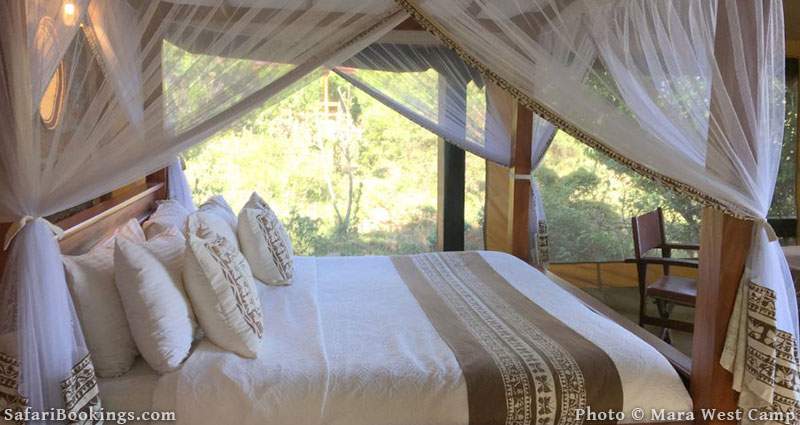 Mara West Camp on the remote western border of the reserve has panoramic views over the Mara plains. Tucked into a wooded thicket on the edge of the Oloololo Escarpment, it offers luxurious chalets and tents that are a perfect retreat in between your wildlife adventures. Wake to the dawn chorus of birds, see gazelles and zebras visit the camp, and hear the calls of bush babies at night.
Go on high-octane game drives to see the Big Five, Thompson's gazelle, zebra and Maasai giraffe. Change into lower gear on a guided bush walk on the edge of the reserve to experience wildlife, plants and birds on foot. Visit a Maasai village to see the day-to-day lifestyle of the local people and watch them dance in their colourful traditional shuka cloth.
9. Sand River Masai Mara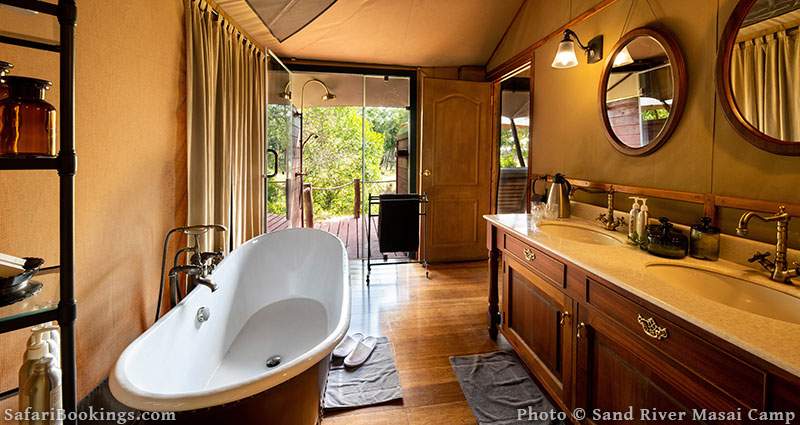 Tucked away on the banks of the Sand River in the national reserve is Sand River Masai Mara camp. Recalling the romance of tented camps in the 1920s, it conjures images of a movie set depicting the glory days of safari. Think safari chairs around the campfire and dinner by the light of paraffin lamps. A cooling dip in the pool as you sip a cocktail. Think giant four-poster beds with flowing fabric. Freestanding bathtubs allow you a relaxing soak, or you can take an outdoor shower to feel part of the nature that surrounds you. Enjoy breakfast on your private deck overlooking rocks and forest along the river as an elephant or gazelle passes by.
The camp is well placed for sightings of the Big Five, cheetah and other animals year-round. It's also on the great migration route so if you visit at the right time you may be lucky enough to watch wildebeest and zebra cross the Sand River. Other experiences not to miss include bush meals and sundowners. A hot-air balloon safari and a cultural visit to a local Maasai village are also not to be missed.
10. Zebra Plains Mara Camp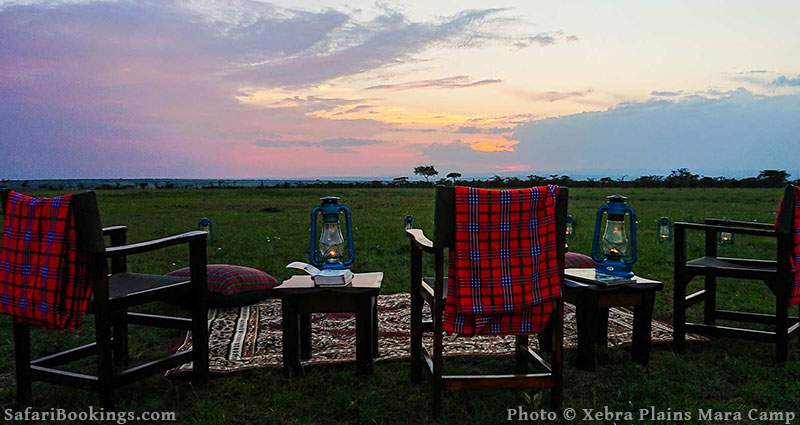 Below the Oldonyo Loip Ridge, the boutique Zebra Plains Mara Camp looks out over the open plains of the Mara. This is one of the best wildlife-viewing areas, close to crossing points of the great migration at the Mara and Talek rivers. There's a wealth of big cats, and you'll see plenty of giraffe, topi, gazelle and elephant on your game drives.
Burn some energy on a walking safari with a Maasai guide. See big cat tracks in the sand and get close to zebra, giraffe and other plains wildlife. Taste and smell plants and listen to the birds. Go hot-air ballooning to see the Mara's wildlife from above. Visit a Maasai village to learn about their culture, hear their songs and watch them dance and jump. End the day with sundowners in the bush as temperatures drop. Spend your evening around the campfire listening to the roars of the resident pride of lion or gazing at a sky sprinkled with stars.

By
Roxanne Reid
Roxanne Reid is an award-winning freelance writer and editor. She has published two books about African travel. Her Africa Addict blog focuses on African travel, people, safari, wildlife, culture and villages.