Sabi Sands Game Reserve shares a 50km unfenced border with Kruger National Park. This Big 5 private reserve is actually made up of a mosaic of smaller reserves, each with its own luxury lodges. All these accommodations offer similar packages inclusive of gourmet meals and activities. Twice-daily, your expert guide will take you close to all the safari favourites in a sturdy open-topped vehicle. All of the Big 5 are easily seen, but Sabi Sands is mostly known for its incredible leopard sightings.
There are no bad or even mediocre camps in Sabi Sands. The standard is very high throughout and you won't be disappointed, wherever you stay. However, if you're looking for some pointers, here are some of the most popular and top-rated Sabi Sands lodges
&Beyond Kirkman's Camp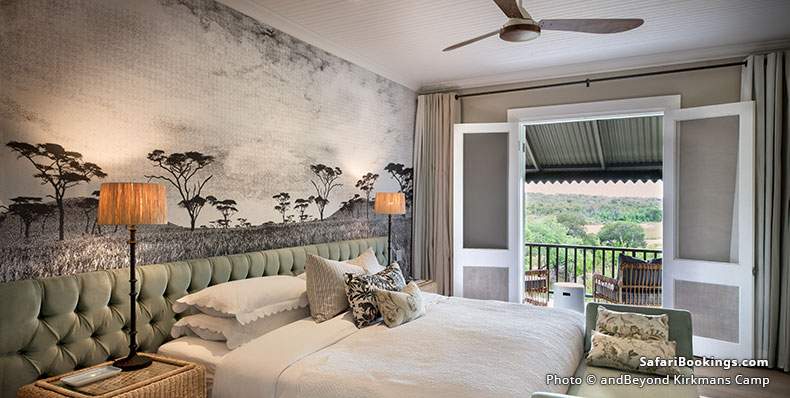 &Beyond Kirkman's Camp Room
Kirkman's Camp, from the prestigious &Beyond group, is without a doubt one of the best Sabi Sands lodges. The historic lodge, an original homestead from the 1920s, exudes the warm hospitality and charm of a bygone era. Each of the 12 cottages offers magnificent views over the Sand River, the lifeline of the reserve. The innovative WILDchild programme, designed especially for children, makes this lodge a very attractive option for families.
Tours that include &Beyond Kirkman's Camp
Dulini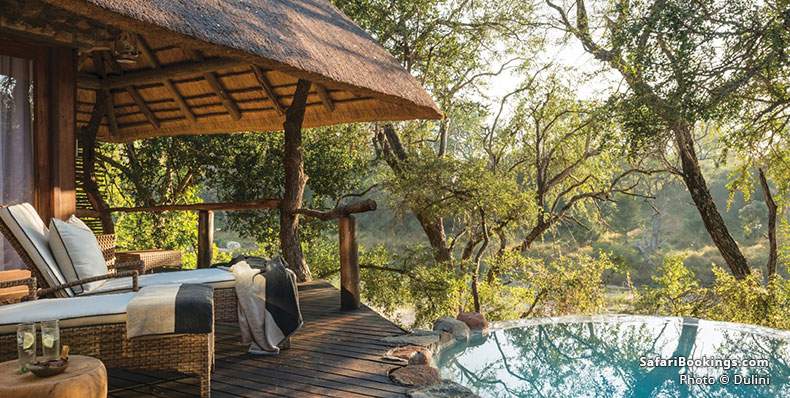 Dulini Suite with private plunge pool
Another special place to stay in Sabi Sands is Dulini. The lodge is located in the shade of ancient trees on the bank of a dry riverbed, a natural passage for wildlife. Six elegant suites, each with private plunge pools, seamlessly blend into the environment. An impressive wine cellar, a fully equipped gym and a lavish wellness centre are just some of the facilities available at this haven of laidback luxury.
Lion Sands River Lodge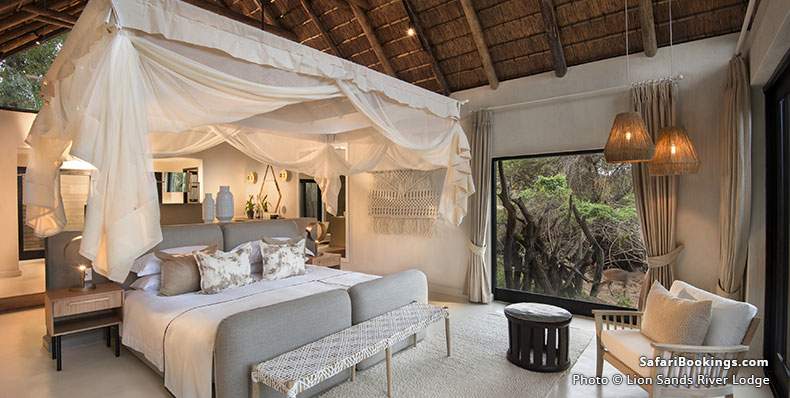 Lion Sands River Lodge has a prime location on the bank of the Sabie River, which separates Sabi Sands from the world-renowned Kruger National Park. The lodge embraces modern sophistication while perfectly fitting into a raw bush environment. There are several tiers of accommodations, but top of the pick are the river suites where the open design creates a seamless flow between inside and out.
Tours that include Lion Sands River Lodge
Elephant Plains Game Lodge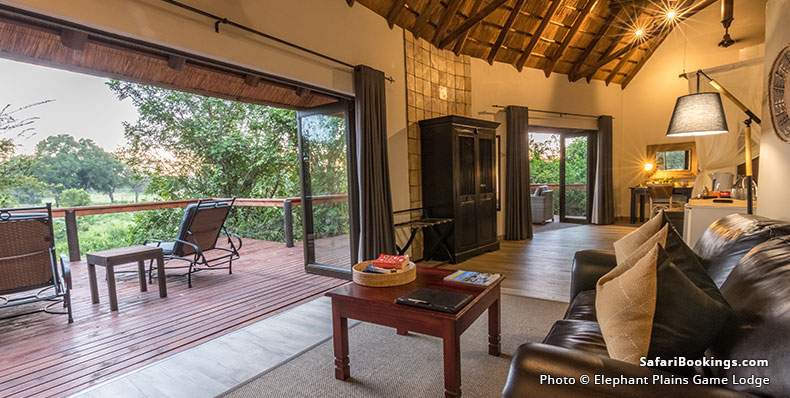 Elephant Plains Game Lodge Buffalo Suite
The owner-run Elephant Plains Game Lodge offers an unpretentious homely stay to a maximum of 24 guests. This is one of the more affordable options in Sabi Sands. The action-packed game drives are similar to what you get when staying in any of the other top Sabi Sands lodges, but the accommodation, although luxurious, is more down to earth. Dinner is usually served around an open fire in the boma (traditional building), the perfect place to share your day's highlights with other visitors.
Tours that include Elephant Plains Game Lodge
Singita Ebony Lodge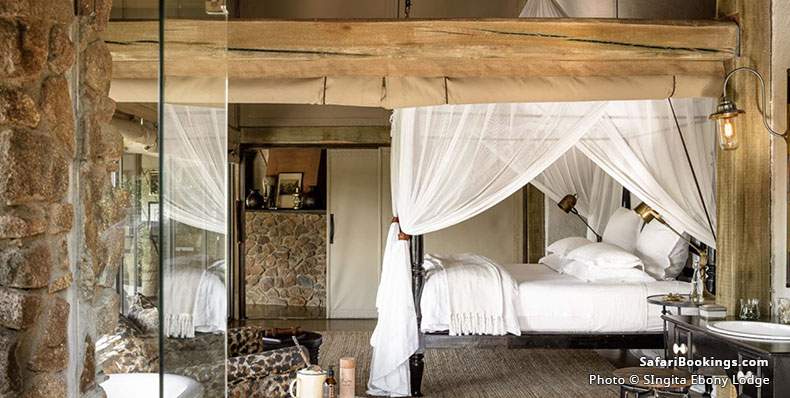 SIngita Ebony Lodge Room
Ebony Lodge is located in the largest private property in Sabi Sands. The guiding is superb and always tailored to your preferences. However opulent the lodge, in Singita, the emphasis always remains on the bush experience. Guests are accommodated in 12 private suites featuring some details reminiscent of the adventurous camps of early explorers. Also worth mentioning are the private plunge pools – the perfect place to cool down in the heat of the day.
Tours that include Singita Ebony Lodge
Varty Camp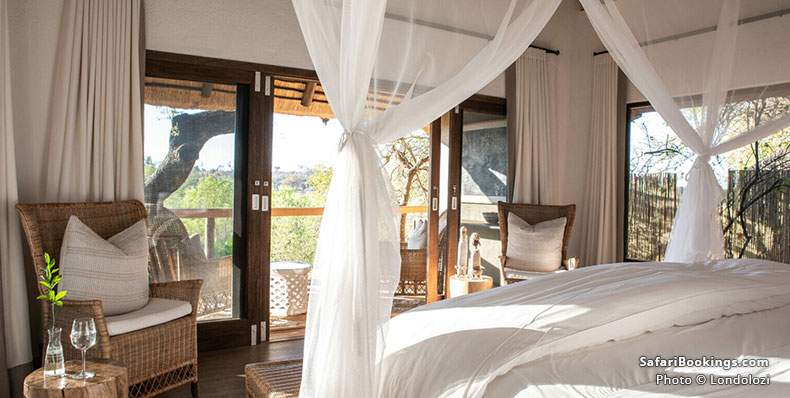 Londolozi Varty Camp Room
The brochure reads: "The campfire has burned at Varty Camp for almost 100 years". It's very true, Varty Camp is the heart and soul of Londolozi, one of the pioneering private game reserves in South Africa. The modern family-run lodge has been completely rebuilt on the same spot that the original camp occupied. Although one of the top luxury lodges of Sabi Sands, there is nothing stuffy about Varty Camp. Expect to come as a visitor and leave as a friend. Children are very welcome too.
Sabi Sabi Selati Camp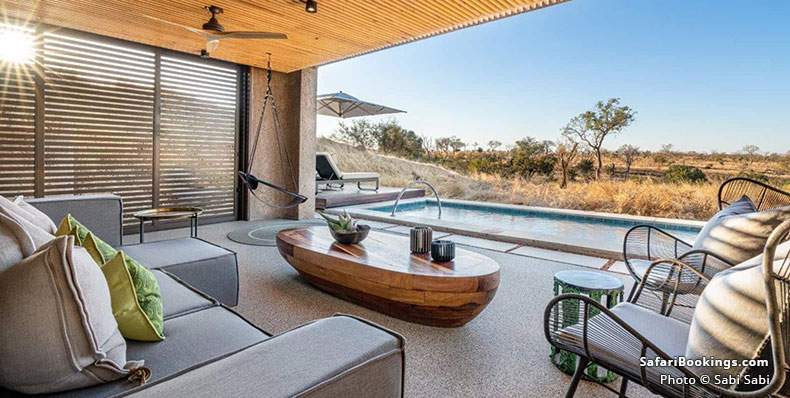 Sabi Sabi Selati Camp Room
Overlooking a dry riverbed functioning as a wildlife passage, Sabi Sabi Selati Camp offers a very exclusive experience. Guests are accommodated in seven luxurious suites each featuring a romantic indoor bathroom as well as an alfresco shower. The vintage décor is themed around the turn of the century safari scene. Care is taken to make every dinner a special occasion. World-class cuisine is served around a fire in the boma, on a deck overlooking the riverbed or in the cosy farmhouse kitchen.
Tours that include Sabi Sabi Selati Camp
Notten's Bush Camp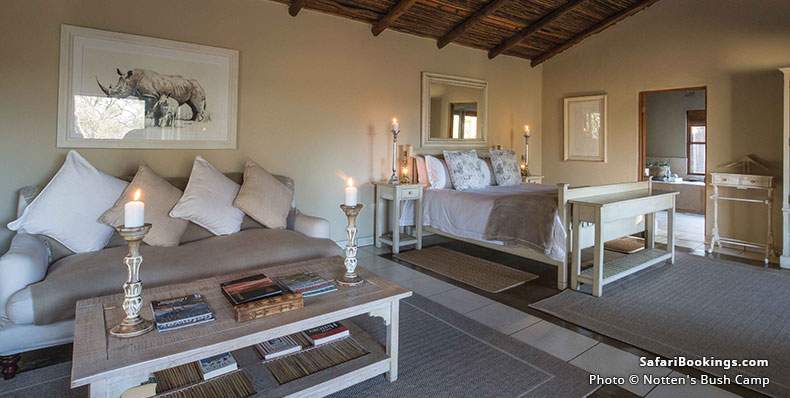 Notten's Bush Camp Room
Notten's Bush Camp is a value-for-money, family-run lodge offering a very authentic bush experience. Guests are accommodated in nine large airconditioned suites with private decks. The large summer house and swimming pool are the main social areas and hearty meals are served around a communal table by the campfire. Light is provided by paraffin lamps and candles only – a romantic touch and the perfect spot for stargazing.
Tours that include Notten's Bush Camp
Ulusaba Safari Lodge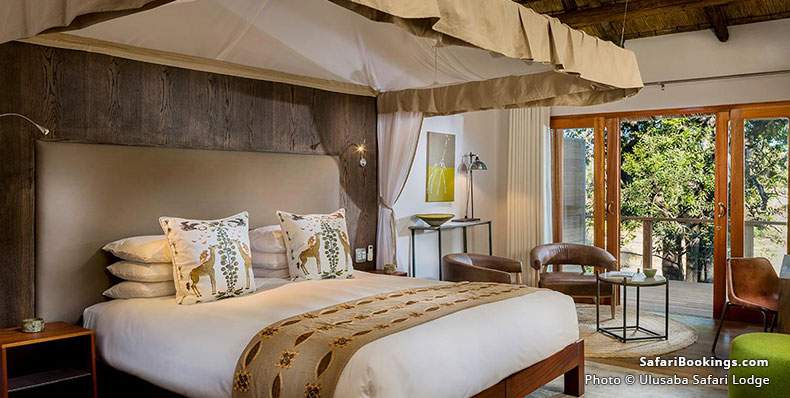 Ulusaba Safari Lodge Safari Room
Located in Sir Richard Branson's private game reserve in a hilly area of Sabi Sands, Ulusaba Safari Lodge features ten units along the bank of a dry riverbed. Several swing bridges connect the tree-house style rooms. A great feature of this lodge is the stilted viewing deck overlooking a dam; a perfect place to hang out in the heat of the day when elephants regularly come to bath.
Tours that include Ulusaba Safari Lodge
Dulini Leadwood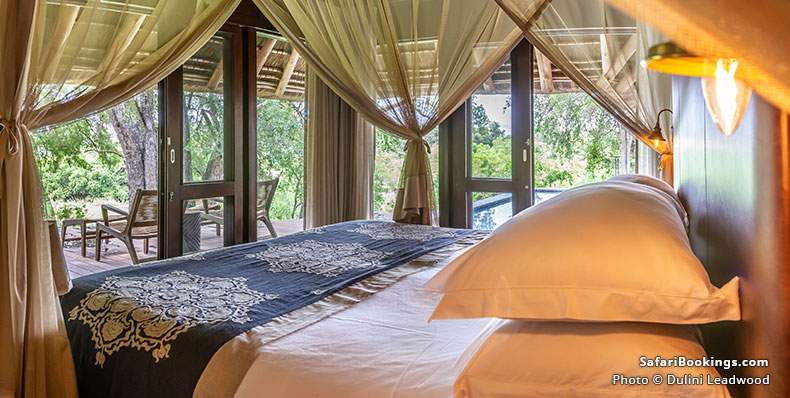 Dulini Leadwood Camp Room
Of all the Sabi Sands camps, Dulini Leadwood is the lodge of choice for those seeking a safari experience with total exclusivity and lavish luxury. Four stylish suites are tucked away along the confluence of two rivers. This idyllic hideaway is perfect for honeymoon couples as well as families or small groups booking wanting to book the whole lodge.