The giraffe is the skyscraper of the animal kingdom. Arguably the most extraordinary of Africa's wildlife icons, it is the world's tallest terrestrial animal. It stands up to 6 meters high, thanks to an elongated neck that comprises just seven footlong vertebrae. Needless to say, no African safari would be complete without a sighting of these magnificently gangly creatures.
If you're wondering where to see giraffes in Africa, the good news is that they're common and conspicuous in most safari destinations. But a few places do stand out as perhaps the best places to see giraffes in Africa, and here are some suggestions that I have found particularly rewarding over the years.
Meru National Park - Kenya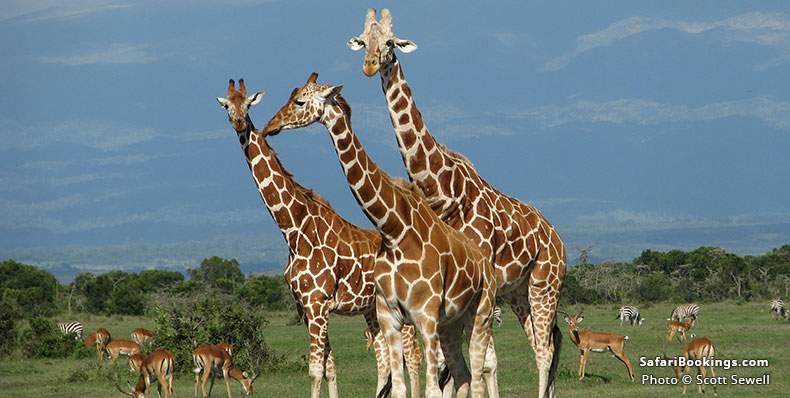 flickr.com/photos/scottsewell/2496132739
The reticulated giraffe is the most striking and beautiful of nine recognized subspecies. Listed as Endangered, it has a distinctive coat pattern of dark orange polygonal spots outlined by clean white lines. Reticulated giraffes once ranged widely across northeast Africa, but are now effectively endemic to northern Kenya. My favorite place to see them is Meru National Park, where small herds stride photogenically between the tall palm trees that line the streams.
Selous Game Reserve/Nyerere National Park - Tanzania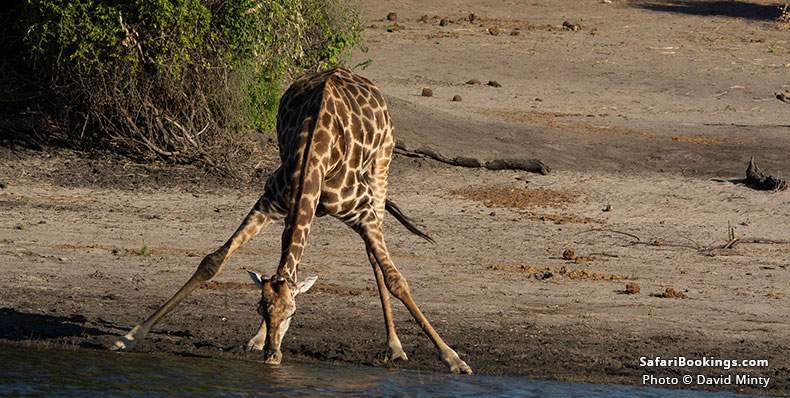 flickr.com/photos/its_all_about_the_light/29247713317
Curiously, while giraffes are absent from southern Selous, they are so common in the reserve's northern tourist circuit that it's been nicknamed 'Giraffic Park'. Boat trips on the Rufiji - a magnificent tropical waterway alive with hippos, crocs and birds - offer a great opportunity to witness giraffes drinking. This improbable feat of natural engineering requires the animal to splay its legs wide apart before gingerly lowering its long neck until its head touches water.
Lake Naivasha - Kenya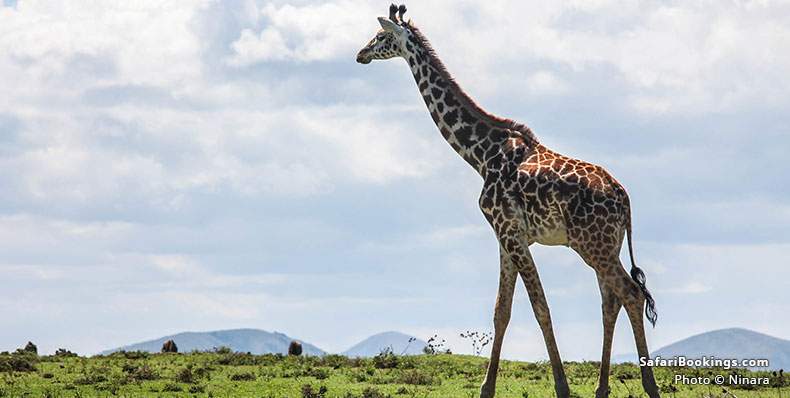 flickr.com/photos/ninara/11802258003
It isn't all that long ago that giraffes ranged widely across unprotected parts of East Africa. Today, sadly, they are almost entirely confined to national parks and game reserves. A notable exception is Kenya's Naivasha, a gorgeous Rift Valley lake where giraffes are frequently encountered browsing in the fringing fever trees. Naivasha's giraffes are super-relaxed and can often be approached on foot – a neck-craning angle that allows you to fully appreciate their height.
Hwange National Park - Zimbabwe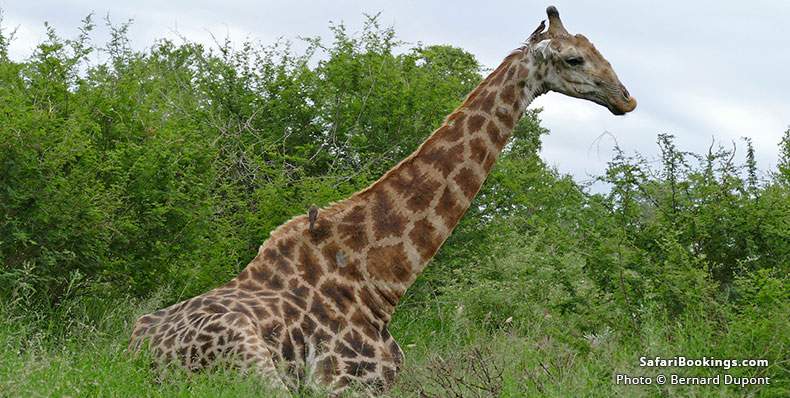 flickr.com/photos/berniedup/16142990084
Although giraffes are no more common in Hwange than in many other major African reserves, Zimbabwe's largest national park is notable for two behavioral quirks. It is the only place I know where giraffes regularly lie down in the middle of the day and where they routinely stoop down to nibble on grass. Logistically, I'd recommend this excellent Big Five reserve as a convenient add-on to the ever-popular Victoria Falls, only two hours' drive northwest.
Murchison Falls National Park - Uganda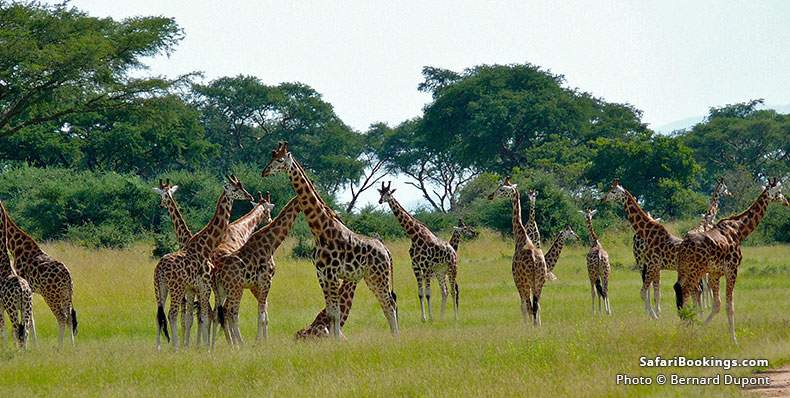 flickr.com/photos/berniedup/6937034360
Uganda's Murchison Falls is home to around 1,250 Rothschild's giraffes, more than half the global population of this localized subspecies. The giraffe herds here are perhaps the largest I've seen, often numbering 30-plus individuals, a memorable sight as they march through the borassus grassland in the north of the park. I've also often seen giraffes from the boat trips that follow the Nile River to the base of the spectacular waterfall for which the park is named.
Amboseli National Park - Kenya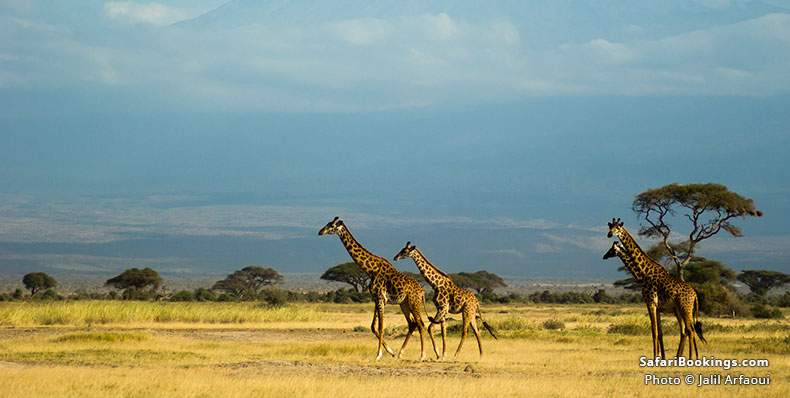 flickr.com/photos/jalilarf/10636013874
Dominated by ashy plains and perennial marshes, Amboseli supports many large stands of umbrella thorn, a flat-topped acacia that's catnip to a hungry giraffe. The park's most distinctive feature is snowcapped Kilimanjaro, which towers 5km above the plains, and makes for a stunning photographic backdrop when the giraffes and acacias line up correctly.
Luangwa Valley - Zambia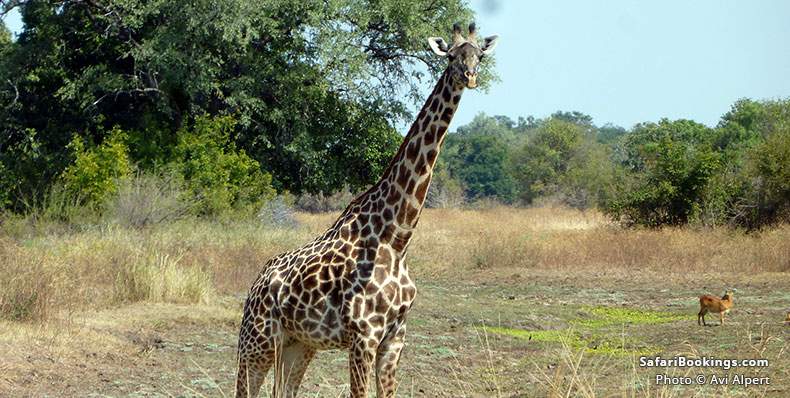 flickr.com/photos/avi_alpert/16195603673
This alluring southern extension of the Great Rift Valley is best known for its guided walking safaris and for the visibility of its leopards. It is also home to the world's last 500 Thornicroft's giraffe, an endangered subspecies unknown in captivity or in any other part of Africa.
AFEW Giraffe Center - Kenya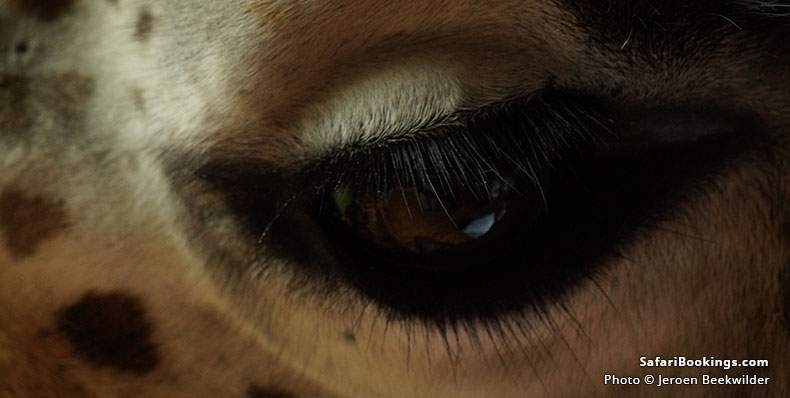 Flirtatious eyebrows of a giraffe at the Giraffe Center
Situated in the leafy northern suburbs of Nairobi, the capital city of Kenya, this family-friendly breeding center has played an important role in the conservation of Rothschild's giraffe. An elevated platform allows day visitors to go eyeball-to-eyeball with the world's tallest animal, and to check out those long flirtatious eyebrows at close quarters. Breakfast at an attached boutique hotel called Giraffe Manor is frequently interrupted by an inquisitive giraffe poking its head through the window.
Tours that include AFEW Center
Kruger National Park - South Africa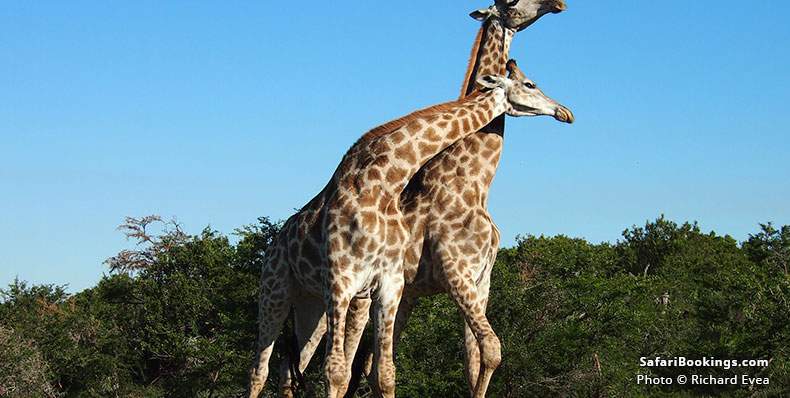 flickr.com/photos/42027960@N04/32992508600
Renowned as a superb Big Five destination, South Africa's largest national park is also one of the best places to see giraffes in Africa. It is geared to self-drivers, who have the opportunity to explore at their own pace and to enjoy viewing the park's habituated giraffes in action. Fascinating behavior that might be seen includes necking, a form of ritualized fighting that involves two males battering each other's necks repeatedly to establish dominance.
Arusha National Park - Tanzania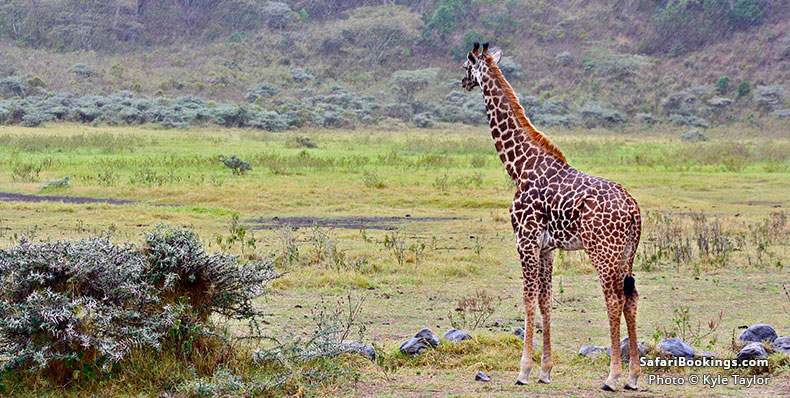 flickr.com/photos/kyletaylor/5776515148
Tanzania's northern safari circuit, centered on the world-famous Serengeti and Ngorongoro, is one of Africa's finest wildlife destinations. For giraffe viewing, the circuit's highlight is the underrated Arusha National Park, where guided walks provide a humbling opportunity to see these lofty creatures on foot. A bonus is the magnificent backdrop provided by Mount Meru (and if you're lucky, more distant Kilimanjaro). Arusha National Park is 45 minutes' drive from either of the northern circuit's two main airports; why not start or end your Tanzanian safari with a night there?