Weather & Climate – Etosha NP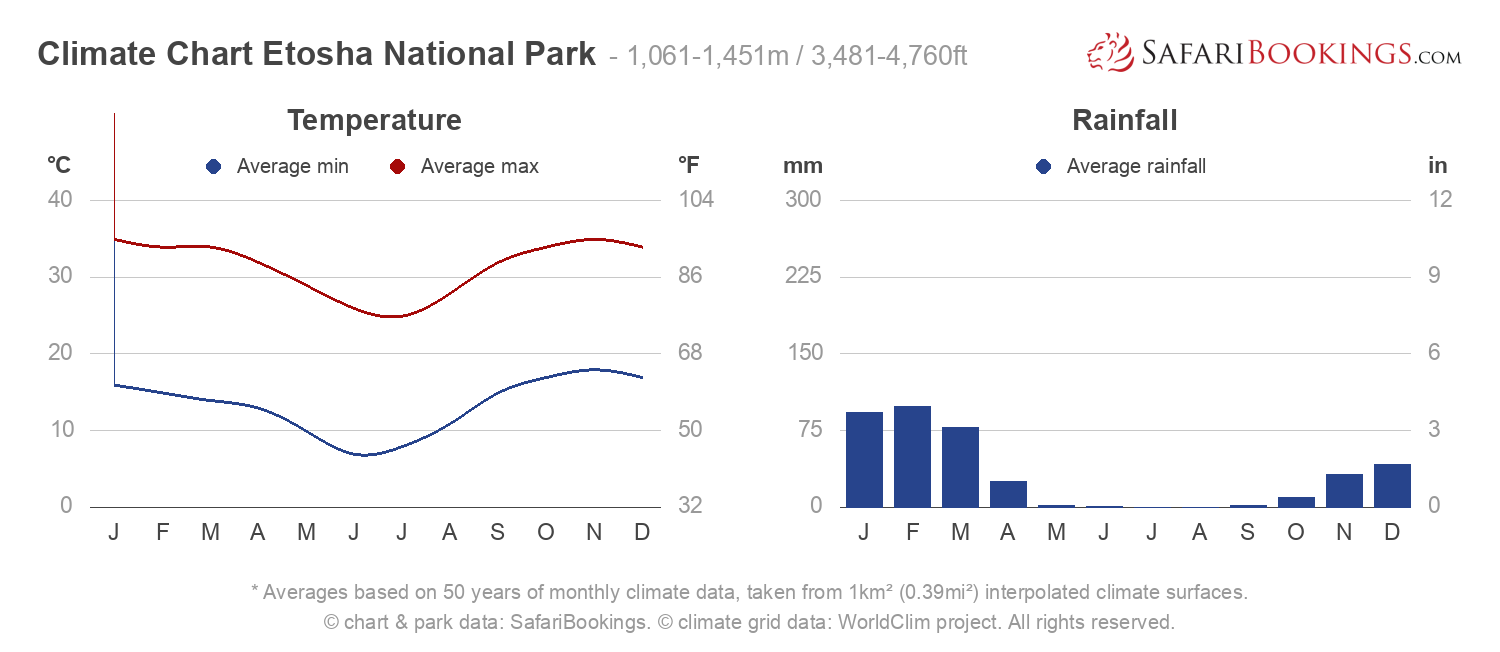 Climate Chart Etosha National Park
– 1,067-1,347m / 3,501-4,419ft
* Averages based on 50 years of monthly climate data, taken from 1km² (0.39mi²) interpolated climate surfaces.
© chart & park data: SafariBookings. © climate grid data: WorldClim project. All rights reserved.
Etosha has a hot and relatively dry climate. Like most semi-desert climates there is a large variation in temperature between night and day. Rain usually falls in the form of heavy thunderstorms. There is a Wet season, which coincides with the summer months of November to April. During the dry winter months, from May to October, rainfall is a rarity.
Winter
–

May to October – Winter
Rainfall is almost completely unheard of during the coolest months of the year. Conditions become drier as the winter season progresses. Water sources for wildlife become fewer and vegetation thins out.
May, June, July & August – It's dry and sunny this time of year. Afternoon temperatures are pleasant, with an average high of 27°C/80°F. Cold morning temperatures of 10°C/50°F means coming prepared with warm winter clothing. This is the coolest time of year.
September & October – Temperatures rise rapidly during the day to an average of around 33°C/91°F. Morning temperatures are normally warmer too, averaging 15°C/60°F. Rains usually begin in late October or early November.
Wet season
–

November to April – Summer
The Wet season falls during the hot summer months, yet rainfall is scant and usually occurs in the afternoon – it's rarely a daily occurrence. Days are typically hot. The bitter cold temperatures of the winter months are gone and averages of 17°C/63°F at night are common.
November & December – The rains usually start in November with the occasional thundershower. When the first rain falls, it comes as a relief after a long dry winter. These are the hottest months and afternoon temperatures are around 33°C/91°F.
January, February & March – Although it remains mostly sunny, these are the wettest months with frequent afternoon showers. The rain cools everything down to an average temperature of around 30°C/86°F.
April – April sees a dramatic decrease in rain. The temperature hovers around 30°C/86°F during the day as the Wet season comes to a close.
Want to Visit Etosha NP?
Etosha National Park
Etosha NP Photos
View Photos
(25)