Weather & Climate – Mapungubwe NP
Mapungubwe's climate is semi-arid with an annual rainfall ranging from 350-400mm / 11.8-15.7in. Rainfall is highly variable but falls entirely during the summer months from October to April. There are, on average, ten rainy days per year and extended periods of less than average rainfall occur. In summer peak temperatures rise to 45°C/113°F and winters are mild.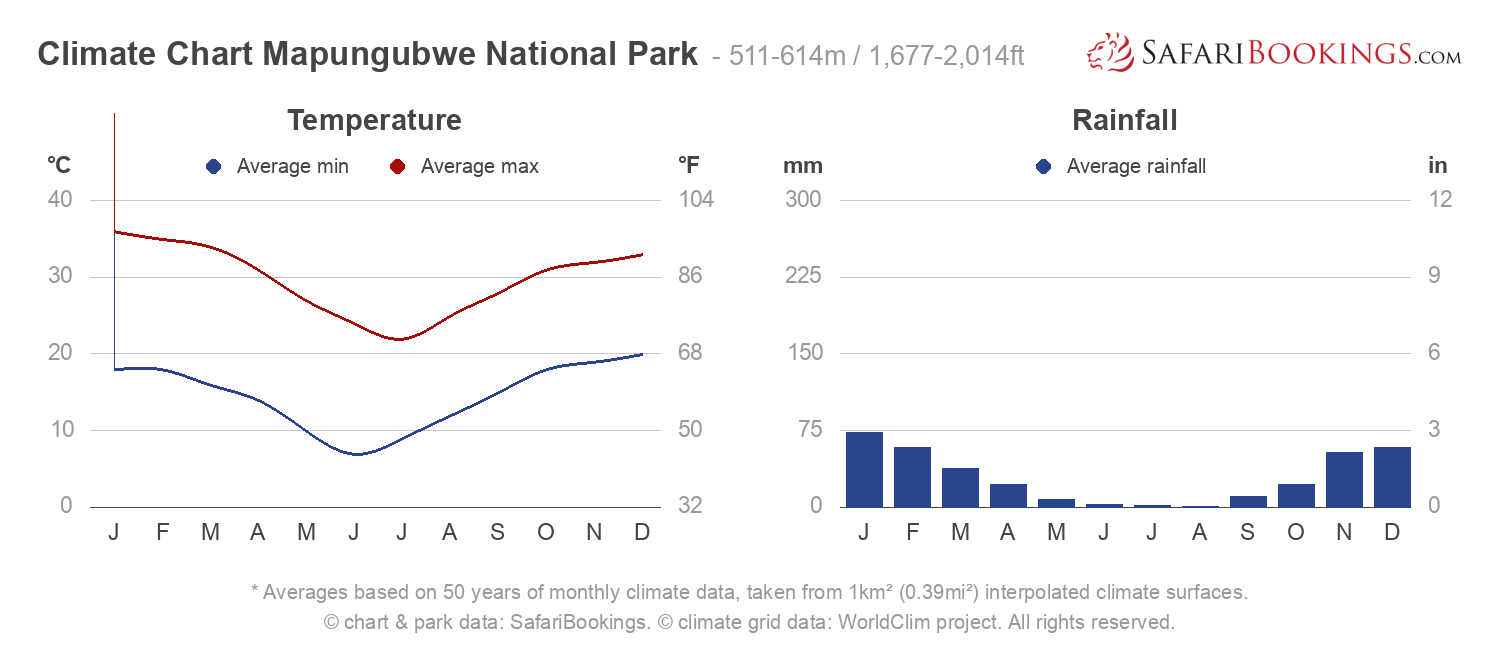 Climate Chart Mapungubwe National Park
– 300-780M / 984-2,558Ft
* Averages based on 50 years of monthly climate data, taken from 1km² (0.39mi²) interpolated climate surfaces.
© chart & park data: SafariBookings. © climate grid data: WorldClim project. All rights reserved.
Winter
–

May to September
Winter is a time of very little, if any, rain or humidity and the heat index is fairly mild and, therefore, much less oppressive than during the summer months. It is sunny throughout winter with virtually no clouds; an all-around pleasant time of year.
May – A cooling trend develops as summer comes to an end. Average temperatures are mild, at about 13°C/55°F in the morning and 28°C/82° during the day.
June, July & August – Chilly mornings are typical during the coldest months of the year and the nighttime temperature routinely drops to about 10°C/52°F, from the average daily high of 26°C/79°F.
September – September, and its slowly climbing temperatures, signal the coming of the spring season. Approximate daily temperatures are around 29°C/84°F, up from a lower morning average of about 15°C/59°F.
Summer
–

October to April
The heat of the summer can be overwhelming and stifling and it is compounded by the fact that rain is rare and somewhat sporadic. When it does rain, it is a very welcome break and does a great deal to settle the dust which permeates the air.
October & November – The first rains will come as a relief after months of dry heat. Temperatures are between 19°C/66°F in the morning and 32°C/90°F in the afternoon.
December, January & February – This is an extremely hot time of year. The average temperature in the afternoon is 32°C/90°F, but peak temperatures may rise to 45°C/113°F or higher. Early morning is the nicest time of the day with temperatures of 21°C/70°F.
March & April – It cools down and temperatures are a bit milder at 30°C/86°F in the afternoon. Mornings are still pleasant at 17°C/63°F. The last rain of the season can be expected, but it is mostly dry.
Want to Visit Mapungubwe NP?
Mapungubwe National Park
Mapungubwe NP Photos
View Photos
(25)