Popular Routes
– Mozambique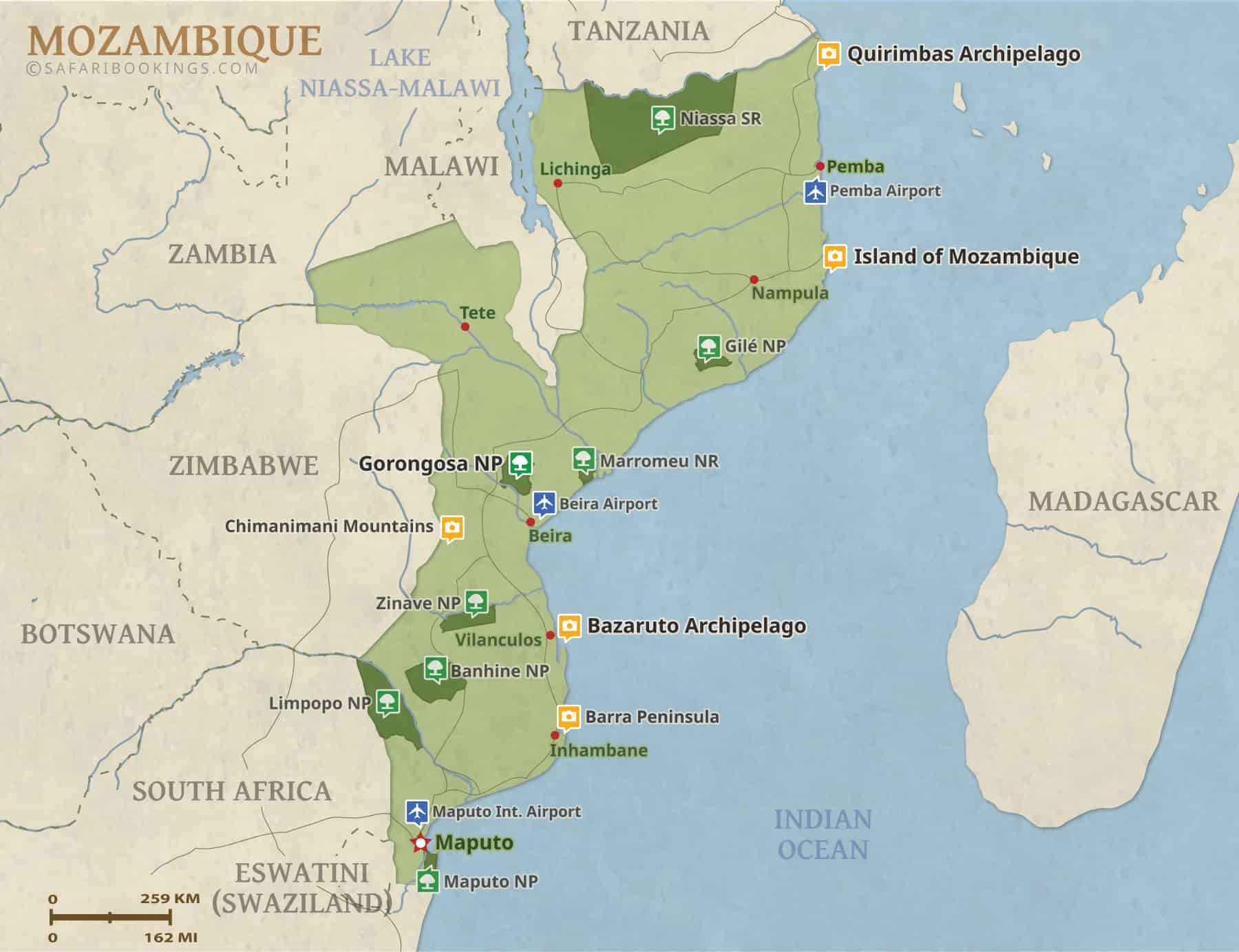 Popular Routes Where Wildlife Viewing Is a Major Part of the Tour
Mozambique is not much of a package-holiday destination at present. Due to a lack of infrastructure and limited facilities, very few people do a tour of the country. It has three distinct parts: southern, central and northern Mozambique. Southern Mozambique has historically been a popular 4WD road-trip destination for many South Africans. And even now, this area is well set-up for the self-sufficient, self-drive tourist. Not much is going on in Central Mozambique (aside from Gorongosa National Park), but this vast area creates a barrier between the south and the north. Because of this, Northern Mozambique, which is mostly remote and undeveloped, feels almost like a different country.

So, at the moment, there are two types of tourism going on in Mozambique: self-drive in the south; and fly-in beach holidays to Bazaruto and the Quirimbas archipelagos. Bazaruto can also be visited as a day trip from Vilankulo and Inhassoro, which makes it accessible to the self-drive visitor as well as fly-in package tourists.
Greater Limpopo Transfrontier Park & the Coast
(1.5 to 2 weeks)
This self-drive itinerary can be an add-on to a South African holiday. Once you cross the border, you'll get a different flavor and way of life. After spending a few days in the world-famous Kruger National Park, you can cross from Letaba rest camp into Limpopo National Park in Mozambique. Border formalities between the two parks are straightforward.

Destinations:
Limpopo National Park

(2 to 4 days)

has lower wildlife densities than Kruger National Park, but there are several exciting 4WD and overnight hiking trails, and the place feels wilder and less developed.
Bilene

(1 to 3 days)

is a small coastal resort town. You can chill here for a few days or use it as a stopover.
Maputo

(2 to 3 days)

is steeped in history and a great place to party.
Maputo Special Reserve

(2 to 5 days)

is a great place to combine bush and beach. Snorkeling, diving and ocean safaris are all on offer, and you'll have a good chance to see elephants on a game drive too.
Ponta do Ouro

(3 to 5 days)

is another stunning coastal destination. Getting here is part of the fun as it requires deflating your tires and testing your 4WD driving skills in the sand. Just one short hop to the border and you'll get to South Africa's Maputoland Coast.

Popular add-ons:
Vilankulo for ocean activities in the well-known Bazaruto archipelago
Inhaca Island for game fishing, surfing and deserted beaches
Maputo to Beira
(1 to 2.5 weeks)
After arriving in Maputo at Maputo International Airport (MPM), head north in your rental car to Inhambane.

Destinations:
Maputo

(1 to 2 days)

is steeped in history and worth exploring for a day before heading north.
Tofo Beach

(2 to 5 days)

in Inhambane is a great place to see whale sharks.
Vilankulo

(3 to 5 days)

is a lovely place to chill out on the beach for a few days and a base to day-trip to the famous reefs of Bazaruto National Park.
Beira

(1 to 2 days)

is a big African city with everything to like or dislike about it. If this is your thing, you can soak up the atmosphere of this old port for a couple of days before flying home via Johannesburg.

This same itinerary could be done with a rental car from Johannesburg. In this case you drive to Maputo, follow the same route and leave Mozambique via Chimoio. You can skip Beira or make a small detour to include it.

Popular add-ons:
Inhaca Island for game fishing, surfing and deserted beaches
Maputo Special Reserve for ocean safaris and a chance to see elephants
Gorongosa National Park for a classic safari experience
Want to Visit Mozambique?