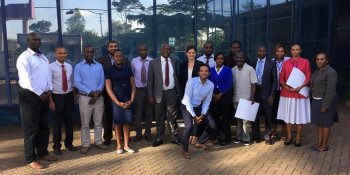 Karibu Safaris In Kenya
4.8/5 – 960 Reviews
Located In:

Size:

10-20 employees (Founded in

1986

)

Member Of:

KATO

, Tourism Regulatory Authority & Eco Toursm Kenya

Tour Types:

Small & medium group tours (Mid-range & luxury)

Destinations:

Price Range:

$80 to $280

pp

per person

per day

(USD, excl. int'l flights)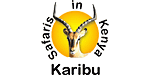 Rating Breakdown
Anthony
–
ES
Visited: August 2022
Reviewed: Aug 20, 2022
Email Anthony | 20-35 years of age | Experience level: first safari
Amazing
The whole trip was amazing. We really had a very good time with our guide, Castro. He was always the first to be in the right place to see the animals during safaris. And he has very good driving skills!
Stan
–
NL
Visited: July 2022
Reviewed: Jul 27, 2022
Email Stan | 20-35 years of age | Experience level: first safari
Great and Affordable Safari Tour Operator!
What a great company! I walked into the office to see what they had on offer - the next morning I was on my way joining a 5-day budget Safari to Masai Mara, Nakuru, Naivasha, and Hells Gate led by our amazing guide Dan Castro. His talent and experience really showed as he made sure the whole trip went smoothly - and more importantly that we spotted a wide-range of different animals (incl. The Big Five and the wildebeest migration). Dan really went out of his way to make sure we had a front-row seat to the spectacle of Kenyan safari. To give an example: we had a rare sighting of a leopard, saw two lions successfully hunt a zebra and spotted a lion high up in a tree. I feel very lucky and privileged to have seen such sights.

Dan's ability to drive in difficult circumstance also really stood out during the trip as the park provide some challenging terrain. I personally also very much appreciated the music he would play (Dan has excellent taste) during long hauls between different national parks.

Karibu safaris was also really flexible when I wanted to make a change to my booking. I initially booked a 6-day safari, but asked to switch to 5-days during the safari in order to stay with the group (as the others were staying for only 5-days). Dan contacted the office in Nairobi and ensured this was no problem.

Do make sure to bring enough extra cash during the safari, because there are some hidden costs, such as bike rentals, Masai village entry and of course lots and lots of tipping.

Neal
–
BE
Visited: July 2022
Reviewed: Jul 25, 2022
Email Neal | 20-35 years of age | Experience level: first safari
Great deal price/quality
Hi,

-Reliability: they delivered as specified in the tour description.
-Paiment: We didn't bring al the cash on the plane for the payment. Because we thought we could get it from an Atm when we landed in Kenia. This was not the case, but they were flexible and let us pay by transfering the total amount
Car: old van type with roof that opens. Broke down 2 times. Definitely a car that has already done alot of safari's.
-Animals: We saw alot of animals including the "big five
-Stay: Manjaru tented camp:Very nice, intimate place that limited the number of people.
Nguli: Awsome viewing points, with animal drinking pools. The rooms and hotel were a bit old fashioned.
Salt lick:Luxery lodge.
Voi lodge:Awsome viewing points, with animal drinking pools. The rooms and hotel were a bit old fashioned

-Conclusion: Great deal of you compare it to others and price/quality whise.
Linda
–
DE
Visited: July 2022
Reviewed: Jul 23, 2022
Email Linda | 20-35 years of age | Experience level: 2-5 safaris
I can really recommend it!
I can truly recommend doing a safari with Karibu.
The persons are very friendly and you will have a nice time in the Masai Mara. The Campside at Masai Mara truly was amazing. The food was very nice and you will get to see the Masai and can talk to them, ask questions etc. They made a little campfire for us in the evening, which was very nice. Nevertheless, you should be somehow flexible. We only had warm water, energy and light for a few hours a day.
Thr safaris where truly amazing, even if you spent a lot of your time in thr car. Please note that the tour from Nairobi to MM takes about 6 hours (with having lunch).
Chris
–
Visited: June 2022
Reviewed: Jul 15, 2022
Email Chris | 35-50 years of age | Experience level: over 5 safaris
Great budget package
Had an amazing time in Kenya with Karibu safari, there was a lot of time spent on the road to get to the various locations but it was all worth it!
During our 7 days Castro was our guide and exceeded our expectations! Castro is an excellent driver and where other tours got stuck in the mud(literally) we would just fly on through! Castro was able to get us closer to the lions and cheetahs than I ever thought possible! (And I've been on alot of game drives)
All in all great value for money and would definitely recommend Karibu!
Fred
–
Visited: July 2022
Reviewed: Jul 9, 2022
Email Fred | 35-50 years of age | Experience level: 2-5 safaris
Brilliant!
Aroni (Arouni / Rooney) went above and beyond! He was very knowledgeable about important sites along the route. He was always punctual and courteous and drove well.

The tour was such good value and we saw so many animals even though we only did a one night safari. Accommodation excellent!
May
–
AE
Visited: April 2022
Reviewed: May 18, 2022
Email May | 20-35 years of age | Experience level: first safari
Collins Alrooney was an amazing tour guide! He was Kind, informative, helpful and hardworking!
The communication between Karibu and their customers was not great.
This was made up by our tour guide. Collins Alrooney helped our once trip to Kenya become a trip of a lifetime! He was a very experienced driver who had no problem going close to animals in the van.
He had vast knowledge of all animals and wildlife. He was kind and helpful, giving us tips and advice throughout our stay!

I recommend Collins Alrooney very much, thanks again! :)
Ruben Turk
–
NL
Visited: April 2022
Reviewed: May 10, 2022
Email Ruben Turk | 35-50 years of age | Experience level: over 5 safaris
5 days Amboseli National Park
Directly contacted Karibu Safaris in Kenya for a 5 day safari in Amboseli park. Robert responded quickly on my emails. We agreed on 4x4 and driver for a competitive rate. Payment can be made in EUR/USD/KES. Flexible pickup and dropoff places. Little information was sent before the actual pickup. So a little bit nervous if the driver would be there, but he was on time. The car was reliable, clean and maintained. We had a pleasant time with Raymond. He drives safely. He can be a little quiet, we usually started the conversation. All in all a good experience and good value for money.
Jens-Christian
–
DK
Visited: April 2022
Reviewed: May 2, 2022
Email Jens-Christian | 50-65 years of age | Experience level: first safari
Many National parks in few days, but a lot of transport time on the road. Remember snacks and water.
Bought a 6 day safari trip. Nice service to be picked up at our hotel before meeting up with the rest of the group. We were 5 in all. Even that we started early morning 0630 AM, we took almost a hole day to get to Maasai Mara park, due to heavy trafik and bad roads. 1 stop for lunch, and rest of the day driving. We had a short game drive just before sunset, and back to camp for dinner. Nice camp with good tents and service. Day 2: all day game drive where we saw all big 5, and a cheetah and a lot of other animals. Our guide, Stanley, could tell a lot about them all. Our car broke down. The starter didn't work, so we had to park down hill or relay om a push from others guides. Your are not allowed to leave the car outside camp areas in the park! Day 3, early morning game drive before going to Nakuru park. Half way 3 from the group went to Nairobi, and we,2, went on with Stanley as our private driver for the last 3 days. Day 3, was a long day on the road, with an ekstra stop at Lake Naivasha for a boat trip among Hippos and eagles. Arrived late at hotel for dinner and a sleep. Sadly somebody had a party, so not that much sleep that night. Next morning Stanley took us to Lake Nakuru, where we were lucky to see a black Rhino, and 3 wide Rhino up close. Then off to Lake Amboseli via Nairobi. Arrived late, because the last 30 km of road was under construction. Very nice camp with really good tents, good look to the mountain. Nice owner and staff. Lucky to be at the foot og Mount Kilimanjaro in full moon and with the biggest snow cap in years. Next day good fotos of Kilimanjaro and a hole day of game drive. A lot of animals, including the famous Amboseli elephants with tusks over 2 meters! Stanley was very good to spot animals and tell about the park. Last day, started early, and lucky because we found a mother Cheetah with 4 cups right close to the road. The cups ran under the car more times and the mother were calm about it. Then off for Nairobi, and home by plane.
In all a good trip, but you only get 1 bottle of water a day, so bring your own and some snacks for the road. Lunch isn't the best. Sadly we had to go the hole trip in a car with an defekt starter engine, and had to push it to start too. That is why the last star is missing.
Stanley is a good driver and guide, and know his way around all the parks we visited.
Nathalie
–
Visited: April 2022
Reviewed: Apr 13, 2022
Email Nathalie | 35-50 years of age | Experience level: first safari
Our Guide Eric made our Tour Amazing
We did the Masai Mara & lake Nakuru tour, it was very nice. Our Guide manage to show us many animals in the parks and explain many things about them.
Food was good
The only negative points are the hotels witch are really budget ones, and not the one wrote on the tour explanation

Disclaimer
All corporate and/or tour info is provided by Karibu Safaris In Kenya, not SafariBookings