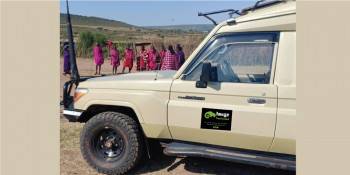 Image Travel
4.8/5 – 183 Reviews
Located In:

Size:

5-10 employees (Founded in

2011

)

Tour Types:

Customizable private tours and fixed group tours

Destinations:

Price Range:

$280 to $350

pp

per person

per day

(USD, excl. int'l flights)

Mimi
–
US
Visited: December 2021
Reviewed: Jan 3, 2022
Email Mimi | 20-35 years of age | Experience level: first safari
One of the best trips ever! Our first safari and everything went very smoothly
This was hands-down one of the best travel experiences I have ever had. I went with my husband to Masai Mara for 4 days/3 nights. Mwanje was very easy to work with and everything went very smoothly. He was very quick to respond to messages and even helped us arrange Covid tests before the return trip to the US.

We flew into Masai Mara via Safari Link. I was a bit nervous with the small plane (Cessna Dash 8) but it was smooth and quick, only about 30 minutes. The camp that we chose was andBeyond Kichwa Tembo, and it was spectacular. We saw the Big 5 and cheetahs up close. Kichwa Tembo is located in the Mara Triangle, which has a ton of vegetation and is very wildlife dense. You have the best chance of seeing black rhinos in the triangle (we saw 3), and nonstop elephants, zebras, giraffes, impalas. The Greater Mara, on the other side of the river, is much larger than the Triangle and is where the majority of camps are located, but there is more sparse wildlife. However, you have to go to the greater Mara side to see cheetahs. We had an amazing game driver at andBeyond, Ekai, who could spot animals from a mile away with no binoculars. He was very attentive to our requests and he knew that we wanted to see cheetahs so he got up super early to drive us to the greater Mara side to a spot where it is known that a group of cheetahs hang out. Masai Mara is very tough to drive through (it's a lot of off-roading, the "roads" are basically just light tire tracks from previous vehicles), and Ekai was an excellent driver. The skill of these guides is really something that is built up over years of experience of driving around. These plains are vast and endless, they extend as far as the eye can see, and many areas are undriveable because there are massive holes in the ground, or water, or trees. Yet our guide never got lost, he knew the most efficient way to get to places, he knew where different animals lived, and could even tell the difference between specific animals like lions based on their markings. His knowledge of plants and animals was extensive (I fact-checked afterwards a couple of times to be sure!). Every animal that we asked to see (even different birds), we saw! Not to mention -- a lot of these guides' families live far away and they stay in Masai Mara for weeks at a time or more without seeing them.

The other staff at andBeyond were also great. They assign you a waiter (our was Joel, he was wonderful), and a housekeeper (Simon, also wonderful) to help you through your whole stay. Joel arranged a special candlelit dinner and surprise cake for our wedding anniversary. The property is beautiful, the tents are absolutely amazing (they have everything in them from bug spray to bed warmers which they bring you at night), and there's tons of little things that they do to make it a luxury and fun experience -- one of my favorites was there's a little wooden cubby accessible from both outside and inside the tent where Simon would place coffee and hot chocolate in the morning. Also the food was excellent. I'm a pescatarian and had no trouble with the menu at all, there were a lot of options. There were a few babies/small children at the camp and I could see the staff went out of their way to help those families stay comfortable. andBeyond also offers a bunch of other activities. We did a visit to the local Masai village (highly, highly recommend), and also a walking tour. Our guide was Moses, who is of Masai heritage, and so he showed us all the different plants that grow in the area and what they are used for medicinally. A zebra walked right by us on the tour.

I have seen many reviews where people recommend Bataleur, andBeyond's sister camp, over Kichwa Tembo. I have no idea why, considering they are five minutes apart from each other and you would see the same animals. I've stayed at many top hotels around the world and I think Kichwa Tembo is up there with the best of them, and the aesthetic is more modern and appealing to millennials and Gen-Z. Bataleur and the other camps are decorated in more of a traditional colonial style, and although they are described as "nicer", it's not my aesthetic. Kichwa Tembo doesn't have bathtubs, only showers, which was perfectly fine for me, as I never take baths and it's really not a good use of water in a place like Masai Mara. I think also because it's been slower since Covid, there weren't very many people at Kichwa Tembo or generally in Masai Mara. 3 out of the 4 days, we had the whole car to ourselves. Oftentimes looking at the animals, we were the only ones out there --- unless it was a rare animal like a rhino. All the drivers have radios and tell each other the locations of rare animals they see so that others who are searching can also come over. On the Triangle side, when there are multiple cars they stay at a respectful distance and there is a 5 car limit rule that everyone follows. Only 5 cars can be up front and if there are more they have to hang back until one of the cars leaves.

I felt very safe in terms of Covid the whole time. All the staff and other guests wore masks and you are outdoors the whole time. There were hardly any mosquitoes at all (apparently the elevation is too high). Overall, the experience was just excellent! Can't recommend enough.

Salah
–
SA
Visited: September 2021
Reviewed: Dec 30, 2021
Email Salah | 35-50 years of age | Experience level: first safari
Image Travel responded to my emails faster than expected.
Travel Image answered all of my questions, made "provisional" reservation for the accommodation, and finalized the invoice with a discounted rate within 2 days only. Then, the operator asked me to pay the invoice to confirm the accommodation reservations. Of course, I payed the invoice to close the deal. However, after 3 days, the operator informed me that I need to upgrade the accommodation for 1 night due to tent unavailability! Of course, I payed $550 for that upgrade because I had no other option.

In overall, the trip was so good except the extra payment that I payed for the upgrade.
Josephine Horwitz
–
KY
Visited: December 2021
Reviewed: Dec 27, 2021
Email Josephine Horwitz | 20-35 years of age | Experience level: over 5 safaris
Very reliable tour operator!
We had a great vacation to Kenya and Uganda which was arranged by Mwanje at Image Travel. We were reluctant as we didn't know the company at all, and usually go with Abercrombie and Kent, but Image Travel was amazing and offered similar services to A&K at a much better rate. Mwanje communicated with me via WhatsApp before and during the trip. He arranged all the covid testing for us and a great itinerary: 2 nights at Tortilis Camp in Amboseli, 4 nights at &Beyond's Bateleur Kichwa Tembo camp in Masi Mara, and then 3 nights at Gorilla Sanctuary Camp in Bwindi Uganda. The time spent in each location was perfect. Bateleur was my favorite place in the universe - it was beyond luxury and the amount of animals to see in Masi Mara is incredible. I could have stayed at Bateleur forever. It was cool to see 2 different areas and camps in Kenya to compare. Also, you should definitely do two days of gorilla trekking in Uganda as each day was very unique. The only tough part of the entire trip was dealing with the Covid testing to leave Entebbe, Uganda- the airport was a madhouse - but granted it was Christmas Eve so that's understandable. We loved Image Travel and will travel with them again if we go back to the area!
Erin
–
Visited: December 2021
Reviewed: Dec 23, 2021
Experienced and Super Informed Operator
What an incredible safari experienced! The journey was energetic, exciting and full of visual and emotional reward from start to finish. Collins (our guide) was so accomodating and knew everything about the animals, regions, plants etc. He was kind and excitable which infected us all! With his expertise we were able to see the entire Big 5 on our 5 day journey. I can easily say this has been my best safari experience. Accomodations were what you can expect on a budget trip. Sometimes showers are cold. Sometimes toilets don't work. But none of that bothered me too much. I came for the animals, and I was not disappointed.

I do however deduct 1 star because while the guide's driving in the park was great, we had a driving incident (small accident involving a motorbike) on the 4th day between Masai Mara and Lake Nakuru. While this was not entirely the guide's fault, I do feel like his driving was a bit too wild on other sections too and one had to have a strong stomach to deal with it. I felt relieved when we got out of the car. In the end, safety must always come first.

Other than that, I definitely recommend Collins and Karibu Safari's in Kenya!
Lynda
–
Visited: March 2019
Reviewed: Nov 23, 2021
Email Lynda | 50-65 years of age | Experience level: first safari
Dedicated to the service he provides
My husband gave Stanley Safaris a budget and a trip of a lifetime was planned. It was a surprise trip for my 50th birthday.
From the moment we left Cape Town to when we touched down at the Livingstone airport, picked up by our friendly guide and arrived at the beautiful Thorn tree Lodge, we were treated like VIPS. So to wrap up, Stanley Safaris taylor made our trip to suit our budget as well as give us an amazing experience.
Natalie
–
Visited: September 2021
Reviewed: Oct 10, 2021
Email Natalie | 35-50 years of age | Experience level: over 5 safaris
Exceptional, goes the extra mile, so attentive and most efficient!!
Discover Africa is the only way to go!!!
If you want the perfect trip then use Discover Africa
David
–
CH
Visited: September 2021
Reviewed: Oct 5, 2021
Email David | 20-35 years of age | Experience level: first safari
Perfect Safari
The safari organizer Mawanje from Image Travel Limited organized a wonderful safari for us at a good price. He is very reliable and accommodating. We can only recommend him and his company.
Hannelie
–
Visited: August 2021
Reviewed: Sep 5, 2021
Email Hannelie | 50-65 years of age | Experience level: over 5 safaris
Pleasure to deal with
Great special attracted our attention. The communication has been really good and our queries were answered very quickly and to our satisfaction. We had to postpone due to covid regulations, and the change was done quickly and easily and without any issues. The weekend was even better than we expected. Will absolutely use them again.
Karel
–
NL
Visited: August 2021
Reviewed: Sep 4, 2021
Email Karel | 20-35 years of age | Experience level: first safari
Safari to the fullest
Image provided us with a solid and comprehensive package so we could just relax and enjoy safari. Professional approach and good care assure wonderful experience. Guide James has a great sense for spotting animals (even without binocular ;) ) and finding the right spots for watching river crossing. He listened to our wishes and did his best to tailor everything to our needs. Image is friendly and reliable provider - if coming back to Kenya for safari we would definitely choose Image again :)
Yi
–
NL
Visited: August 2021
Reviewed: Sep 4, 2021
Email Yi | 20-35 years of age | Experience level: first safari
Unforgettable safari in Kenya
Image provided us a comprehensive safari package which was flexibility tailored based on our travel plan. James is a very dedicated and reliable guide. We saw big five, great migration and 2 times of river crossing during our trip with him. He is also very flexible, caring and friendly e.g. always in a good mood with energy, drive safely, listening to our wishes, helped us solve the broken camera issue. and took into consideration when we had stomach problem ;) . We will definitely travel again with Image if we go back to Kenya or even to Tanzania.
Disclaimer
All corporate and/or tour info is provided by Image Travel , not SafariBookings
The tours offered by Image Travel are subject to their terms & conditions