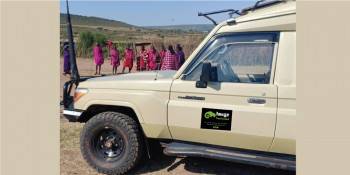 Image Travel
4.8/5 – 183 Reviews
Located In:

Size:

5-10 employees (Founded in

2011

)

Tour Types:

Customizable private tours and fixed group tours

Destinations:

Price Range:

$280 to $350

pp

per person

per day

(USD, excl. int'l flights)

Rating Breakdown
Altea
–
IT
Visited: November 2023
Reviewed: Nov 24, 2023
Email Altea | 20-35 years of age | Experience level: first safari
Well prepared and available
Me and my husband had 6 day Safari with Image Travel.
Excellent and amazing experience!!

Everything was perfectly organise. Food and lodge in beautiful location, people working in very kind and available.
We really appreciate our guide Anthony!! He shows us great hospitality and thanks to his knowledge about animals and bird we learnt many things in each game. He was completely open to our request and available every time we needed.

He well represent Image travel
Thank you Anthony and Image Travel
Inna
–
BG
Visited: August 2023
Reviewed: Oct 27, 2023
Email Inna | 20-35 years of age | Experience level: first safari
Great experience!
Our safari was perfectly organized, from start to finish!
Amy
–
Visited: August 2023
Reviewed: Oct 26, 2023
Email Amy | 35-50 years of age | Experience level: first safari
Fantastic!!
We really had a fabulous holiday, booked through Image Travel, with the help of Mwanje.

The lodges that we stayed in were amazing and transfers from each location went smoothly.
Thank you Image Travel, it was such a great and special holiday, one that me and my mother will never forget.
Harold
–
US
Visited: October 2023
Reviewed: Oct 23, 2023
Email Harold | 65+ years of age | Experience level: first safari
My tour guide showed me great hospitality and had excellent knowledge about the animals and birds.
I returned home from my 8 Day Safari with Image Travel.
It was an Excellent and Unique experience!

I believe the key to the success and enjoyment of this safari rests in a large part with Jason, my guide and driver.
He showed me great hospitality. His knowledge of the animals and birds added a lot of information to each sighting. Additionally, he shared a lot of information with me regarding Kenyan culture and some history. Jason knows about the agriculture of Kenya which gave us the opportunity while driving to both observe and discuss some of the farming practices. At the end of each day, Jason and I would go over the plan and times for the next day's events. He was always open to my suggestions as we made our schedule.

I greatly appreciate the information that Jason provided and would like to note that he is a very safe driver. Most importantly, I thank him for his hospitality as I mentioned above. He represents Image Travel in a professional manner.

I do not have Jason's email address so I ask that you forward my comments to him.

Lodging: Check-in at each location was very efficient and fast. The reception people knew my name as I stepped up to the reception desk. Clearly there was some good coordination ahead to let them know that I was arriving at that time.
All locations had excellent lodging. The beds were comfortable, hot showers, clean rooms and every location provided me with and impressive view.

Meals: The meals at each location were buffet style. There was a large selection of ethnic dishes and the food was prepared well. In addition to the main dishes, there were an abundant choices of vegetable dishes along with several dessert selections.

Animal and Birds: I took several hundred pictures during the safari. Now I can enjoy them and share them with friends. Jason helped to spot the animals and would stop at any time that I wanted to take pictures. We would stay at a sighting until I told him that I was ready to move. I had the opportunity to see adult animals with their young ones in some cases. We also saw the aftermath of kills the lions made during the night hours. It was amazing to see the other animals and birds patiently wait at a distance until the lion(s) finished eating and then they attacked the remains.

In summary, I recommend Image Travel and would encourage the private safari inorder to get the best experience.
Jason, I thank you for 8 enjoyable joys.


Liliana
–
RO
Visited: August 2023
Reviewed: Oct 5, 2023
Email Liliana | 35-50 years of age | Experience level: first safari
Good experience
We had a interesting and beautiful safari experience. The second guide - Anthony - was very communicative and helpful, he made all efforts to ensure that we see everting that can be seen in a safari. The accommodations were great.
Robert
–
US
Visited: September 2023
Reviewed: Oct 5, 2023
Email Robert | 65+ years of age | Experience level: first safari
The Decent Company who can Serve you the best
We have a group of two seniors from the US. When we were planning our trip to Kenya, we were in the US, which has about 10 hours time difference. Every time when we asked questions, Mwenje or other employees from Image Travel Ltd. always answered our questions promptly and straightforward. Everything is upfront and transparent, no hidden fee or gimmicks. Anthony who is our guide and driver arranged by the Image Travel has done an excellent job for guiding us for our whole trip. We are so impressed by the arrangement of the company for the trip including lodging, foods, and game drives. Almost everything went very smoothly and flawlessly. We absolutely recommend Image Travel to our family members and friends when they plan their trips to Kenya.
Yihua
–
US
Visited: September 2023
Reviewed: Oct 4, 2023
A good trip to explore safari at Kenya
We had an wonderful and unforgettable trip in Kenya from September 28 to October 5, 2023. We are very pleased to had Anthony as our tour guide and driver during our 8 days trip. Anthony assured us that we will see all big fives by the end of this trip.
We started from Amboseli national park where we have seen many African elephants right at the front of us as first one out of big five. We then visited Lake Nakuru where we captured many rhinos and buffalos around swamps. So we saw big threes out five.
On the day five, we had the most important day of the safari journey. Anthony drove us to the Masai Mara National Reserve, we saw the rest two big animals both Lions and leopards. We had seen totally 8 lions: lions brothers and one lion couple. We even saw baby giraffe bone freshly eaten by the lion. We also saw a leopard eating a gazelle as well.
We are very appreciate Anthony who helped us to see all big fives. Antony used his knowledge and experience to go out of his way to meet our needs. He made everyone happy! We enjoyed our safari adventure with Antony!
Daniela S
–
Visited: March 2023
Reviewed: Oct 4, 2023
Email Daniela S | 35-50 years of age | Experience level: first safari
Unforgettable Safari
I found Image Travel on SafariBooking and couldn't recommend it more. An experienced local travel agent planning the Safari around your needs. Mwanje replied in a timely manner and answered my multiple questions ahead of booking the trip. We received all the information and on our arrival the guide Jasan picked us up in Nairobi and the trip began.

We spent one night in Lake Nakuru and three nights in Masai Mara. Thanks to the experienced guide Jasan the trip was unforgettable and we managed to see all the big five. We also learnt a lot about wildlife, animals and African culture.

On our return to Nairobi, Mwanje came personally to greet us.

Cannot recommend it more, you will love every minute of it!
Nuria S
–
Visited: April 2023
Reviewed: Sep 22, 2023
Email Nuria S | 20-35 years of age | Experience level: first safari
The Most Magical Experience of Our Lives!
What a magical experience! This was the most magical trip of my life. We are SO HAPPY we booked the Safari with Image Travel Limited, our guide for the 4 days was just extraordinary always going the extra mile and after hours to give us the absolute best experience. The hotel is a 10/10 out of a movie, and the food is exquisite. We couldn't believe it for the price we paid! Just phenomenal. Seriously, book with them, you will NOT regret it!
Zirui
–
US
Visited: September 2023
Reviewed: Sep 6, 2023
Email Zirui | 20-35 years of age | Experience level: first safari
Wonderful tour - highly recommend!
My wife and I booked a 6-day private safari and had a great experience with Image Travel. Our tour guide John made our trip very enjoyable, and we highly recommend him!

We visited Amboseli (2 nights), Nakuru (1 night), and Masai Mara (2 nights). This felt like the perfect length. Each park has its own highlights. Our favorites were the many elephants (including baby ones) in Amboseli, the rhinos in Nakuru, and then seeing lions, cheetahs, and leopards up-close in Masai Mara. We also did a 1 hour optional boat ride in Naivasha, which was unique and relaxing.

John was an incredible tour guide and made sure we saw all the animals. He spotted several animals other tour guides didn't see and enabled us to get up close to lions and leopards. John was familiar with all the parks and found the best driving routes and viewing angles. We were able to see elephants, giraffes, lions, cheetahs, leopards, hippos, crocodiles, and many more.

Picking good lodging is very important, as you eat all meals at the resort. We stayed at higher-end places such as Serena and Sarova and were thankful we did so. Rooms were clean, service was friendly, and having on-site animals was fun as well. Some of the walls are a bit thin, but we thought that was okay.

Pickup/dropped from/to the Nairobi airport was prompt and easy. We traveled in a minibus. Some roads in Kenya were fairly bumpy, but that's to be expected - we took non-drowsy Dramamine to avoid motion sickness and didn't have any issues. John was a great driver and safely maneuvered us through traffic jams and detours. It can get stuffy in the car, and we used our hand/neck fans quite a bit. John was friendly and knowledgeable, teaching us about Kenya, animals, and even his music.

Our only regret was not packing binoculars, as a few times animals were a bit further away and we couldn't get the best view. Overall we had a wonderful trip and will be recommending Image Travel and John to anyone going on a Kenya safari.
Disclaimer
All corporate and/or tour info is provided by Image Travel , not SafariBookings
The tours offered by Image Travel are subject to their terms & conditions