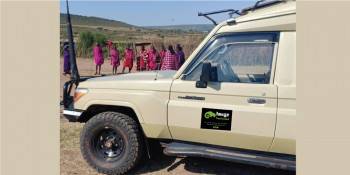 Image Travel
4.8/5 – 175 Reviews
Located In:

Size:

5-10 employees (Founded in

2011

)

Tour Types:

Customizable private tours and fixed group tours

Destinations:

Price Range:

$280 to $350

pp

per person

per day

(USD, excl. int'l flights)

Rating Breakdown
Gill
–
Visited: July 2023
Reviewed: Aug 12, 2023
Caring and helpful
We had a very good driver/guide, but could have been off his cellphone more! The Kenya roads leave a lot of be desired, especially the dirt roads, but John did very well especially being in the Toyota people van, which was not really suitable for the roads in the Mara, the Land Cruiser would probably have been more suitable. The accommodation was very comfortable with good food and service and what we paid for. All in all the tour was well structured and very enjoyable.
Vijaykumar
–
AE
Visited: June 2023
Reviewed: Jul 10, 2023
Email Vijaykumar | 35-50 years of age | Experience level: 2-5 safaris
A nice trip to remember
We were disappointed in Masai Mara Game drives. In itinerary, it mentioned half day and next Full day game drive. On the day we arrived to Masia mara the game drive we started late. It supposed to start at 4.00 PM but we started at 4.30 PM and ended on time 6.30 PM. We didn't see much of the Animals. We were hoping on the next full day we may see more animal. But due to Balloon safari our Game drive started again late at 10 AM. He shown one pride of lions and a cheetah. Then we had bush lunch. There after we didn't had any chance to see any wild life, He took the vehicle slowly in a bush where he spent almost 3 hours and he was telling us someone in the morning saw a lion kill here. But in that place apart from us nobody were there. Then slowly from that place he took us back to lodge. Then only we realized he bullied us. And next day we have been taken back to Nairobi without any early morning game drive.

Before taking the trip I have seen good review for the same guide from different nationality. I was very happy to get the same guide at start of Tour. May be since we are Indians we have been taken in to grant. The approach for other tourist may be different.

The only nice thing about the trip were the accommodation where we stayed.
The Sarova Mara accommodations were great.

The Image Travel Limited management (Mr. Mwanje) was extraordinarily helpful from beginning to end. He was always responsive.
Bjornar & Guro
–
NO
Visited: March 2023
Reviewed: Mar 31, 2023
Email Bjornar & Guro | 20-35 years of age | Experience level: first safari
Amazing experience with amazing guide
Overall an amazing experience. Our guide, David, made the whole trip. He was extremely nice, knowledgeable, proactive, service minded, and always walked the last mile to make our trip as memorable as possible.

The only improvement potential we had was that we would like to have a little more information received beforehand. Two days before departure we still hadn't heard from the company around pick-up time and -place.
Salah
–
SA
Visited: September 2021
Reviewed: Dec 30, 2021
Email Salah | 35-50 years of age | Experience level: first safari
Image Travel responded to my emails faster than expected.
Travel Image answered all of my questions, made "provisional" reservation for the accommodation, and finalized the invoice with a discounted rate within 2 days only. Then, the operator asked me to pay the invoice to confirm the accommodation reservations. Of course, I payed the invoice to close the deal. However, after 3 days, the operator informed me that I need to upgrade the accommodation for 1 night due to tent unavailability! Of course, I payed $550 for that upgrade because I had no other option.

In overall, the trip was so good except the extra payment that I payed for the upgrade.
Erin
–
Visited: December 2021
Reviewed: Dec 23, 2021
Experienced and Super Informed Operator
What an incredible safari experienced! The journey was energetic, exciting and full of visual and emotional reward from start to finish. Collins (our guide) was so accomodating and knew everything about the animals, regions, plants etc. He was kind and excitable which infected us all! With his expertise we were able to see the entire Big 5 on our 5 day journey. I can easily say this has been my best safari experience. Accomodations were what you can expect on a budget trip. Sometimes showers are cold. Sometimes toilets don't work. But none of that bothered me too much. I came for the animals, and I was not disappointed.

I do however deduct 1 star because while the guide's driving in the park was great, we had a driving incident (small accident involving a motorbike) on the 4th day between Masai Mara and Lake Nakuru. While this was not entirely the guide's fault, I do feel like his driving was a bit too wild on other sections too and one had to have a strong stomach to deal with it. I felt relieved when we got out of the car. In the end, safety must always come first.

Other than that, I definitely recommend Collins and Karibu Safari's in Kenya!
Lynda
–
Visited: March 2019
Reviewed: Nov 23, 2021
Email Lynda | 50-65 years of age | Experience level: first safari
Dedicated to the service he provides
My husband gave Stanley Safaris a budget and a trip of a lifetime was planned. It was a surprise trip for my 50th birthday.
From the moment we left Cape Town to when we touched down at the Livingstone airport, picked up by our friendly guide and arrived at the beautiful Thorn tree Lodge, we were treated like VIPS. So to wrap up, Stanley Safaris taylor made our trip to suit our budget as well as give us an amazing experience.
Joan
–
Visited: August 2018
Reviewed: Aug 30, 2018
3 day Amboseli trip was a dream I have had and it did not disappoint.
The trip was put together at short notice. Dennis our guide was a bit dis-organised at first but his enthusiasm, especially for photography, quickly overcame that. Joshua, his driver and team mate, was someone I would travel anywhere with. He was understanding of our requests regarding the on-going buzz of the radio, stopping to watch birds, and generally a most considerate man. How he negotiated the Nairobi traffic remains a mystery! Amboseli was an amazing experience. Wide open spaces. Great game viewing. Large elephant herds as promised. View of Mt Kilimanjaro would have been excellent except for the overcast weather. Will definitely go again.
Mike
–
Visited: September 2015
Reviewed: Sep 27, 2015
Email Mike | 50-65 years of age | Experience level: 2-5 safaris
Trouble free, great accomodation, driver OK
Good communication by operator and efficient good value for money safari. First class accommodation at three national parks but recommend looking for lodge within Masai Mara. Guide was a great driver but nowhere near as communicative on game drives as my other experiences on safari.
WA
–
US
Visited: December 2014
Reviewed: Feb 9, 2015
Experience level: first safari
Great safari, exactly as described, knowledgeable guide -- Mwanje very responsive and professional!
Our Tanzania safari experience was everything we had hoped it would be -- with many thanks to Mwanje and Image Travel. We booked well in advance after reviewing proposals from several safari companies. Image Travel offered competitive or better rates and Mwanje was extremely responsive, getting back to us quickly with information, written proposals/contracts, and receipts for deposits/payments. Though Nairobi airport security prevented it, Mwanje even tried to meet us in person during our connection from Kenya to Tanzania -- but he was there to refund us about $500 in cash for an overpayment due us after we changed our itinerary (cash was transferred from Mwanje to an airport employee to us). We appreciated the professionalism and the integrity.

As for our safari itself, we had an amazing 4-day adventure split between the Serengeti and the Ngorogoro Crater. The Serengeti was by far the more exciting park. The view from the rim of the Ngorogoro Crater is spectacular, but the animal experience in the Serengeti was superior, at least for us. Our driver for the entire safari -- Joseph -- was helpful, friendly, interested in our needs, spoke English well enough, and was very knowledgeable about the animals and the Masai culture (he is Masai and enjoyed telling us all about traditional culture and life in that part of Tanzania). Our Serengeti tent camp was clean, situated in a beautiful spot, and very well staffed by incredibly hospitable people -- stewards to pour you hot water for showers in the morning, carry your bags or hold an umbrella, cooks to prepare delicious and huge breakfasts, box lunches and dinners, etc. Our lodge at the Ngorogoro Crater was exceptional -- great accommodations, welcoming staff, wonderful entertainment, delicious food. And finally, all the animals "cooperated" -- we saw everything except leopards.

Transfers from and back to the Kilimanjaro airport were covered in our safari price and were done by Joseph himself (who had to come out twice for our "arrival" due to Kenya Airways delays).

Mwanje, we are totally thankful for your expert and reliable help with our trip. We are happy to highly recommend Image Travel to anyone planning an African safari! Cheers!

Cons:
1. Our Toyota Land Cruiser safari vehicle was decent, comfortable enough. But it was older and not all features were functioning (eg, seat belts, one of two battery chargers).
2. In the Ngorogoro Crater, the eagles can swoop down uninvited and attempt to grab your chicken lunch right out of your hand -- exciting yes, but dangerous too, and it would have been nice to have been properly forewarned.
3. Nothing to do with Image Travel, but we give low marks to Kenya Airways -- the planes and in-flight service were fine. But we had several flights cancelled or severely delayed during our trip planning process and/or mid-trip, costing us valuable safari time -- without apology or compensation.
Björn
–
RU
Visited: July 2014
Reviewed: Jul 31, 2014
20-35 years of age | Experience level: first safari
Worthwhile Experience
Firstly, it depends on what type of African Safari enthusiast you are. If it's something like this - it has been your lifelong ambition to travel to this part of the world, to see the types of animals that you'll see in their natural habitat - you'll have the time of your life. If you're a more curious or casual observer of the Safari experience, there will be times where you'll find it monotonous and repetitive. As for Image Travel, they were excellent, no question. Tour guides George in Kenya and Mwita in Tanzania were professional, approachable and diligent in their interactions and clearly performed at their maximum to ensure the best possible experience for my partner and I. Re-read the opening sentences if you want an honest appraisal of whether this tour is for you or not, but if you fall into the former category, you'll have no complaints. If you fall into the latter category, you'll have complaints, but not of the service you were afforded.
Disclaimer
All corporate and/or tour info is provided by Image Travel , not SafariBookings
The tours offered by Image Travel are subject to their terms & conditions