Weather & Climate – Selous GR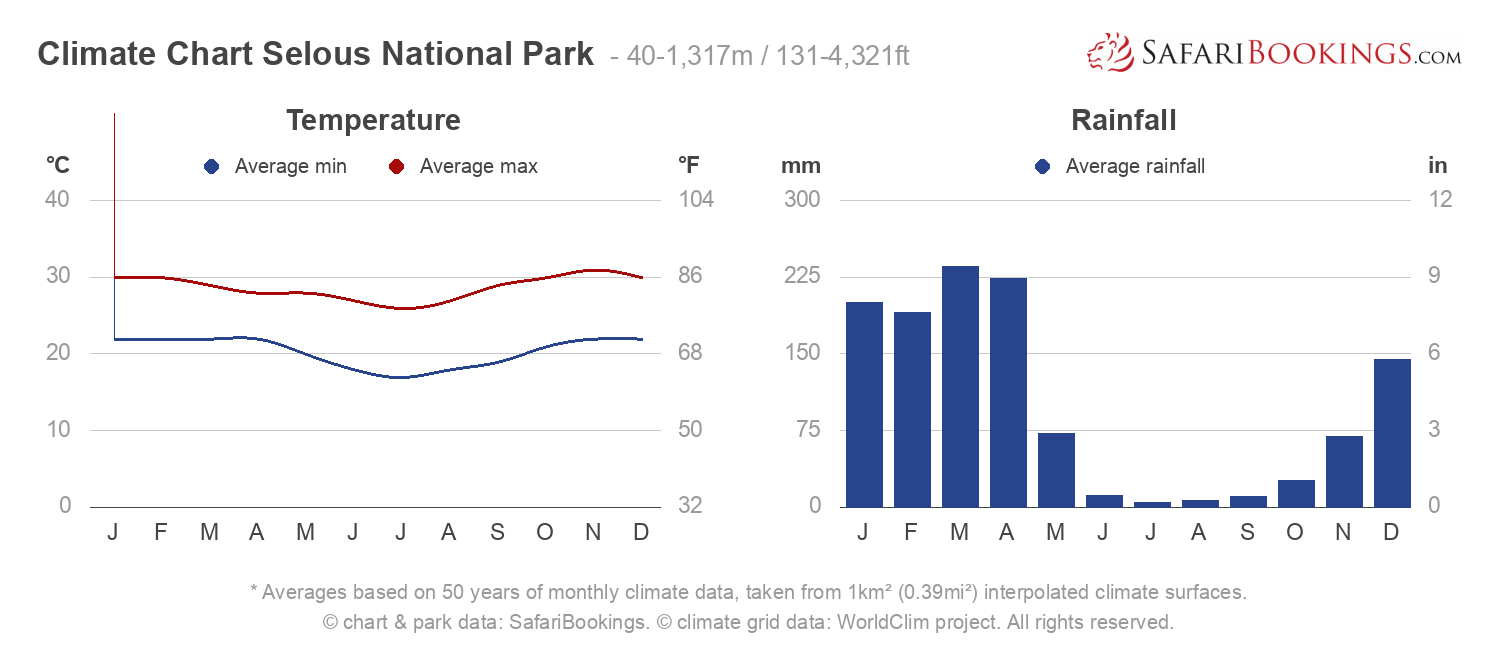 Climate Chart Selous National Park
– 40-1,317m / 131-4,321ft
* Averages based on 50 years of monthly climate data, taken from 1km² (0.39mi²) interpolated climate surfaces.
© chart & park data: SafariBookings. © climate grid data: WorldClim project. All rights reserved.
The climate of Selous can be described as warm to hot and humid. Being so close to the equator, temperatures are relatively consistent throughout the year. Nights are warm, unlike the northern parks, where they are cold. The period of October through March consists of the warmer months, while June to August are cool. Although the area accessible to tourists has a mostly low altitude, there is a wide range in elevation throughout the park (from 40 to 1,317m or 131 to 4,321ft). Temperatures drop by about 6.5°C for every 1,000m you climb (or 3.5°F per 1,000ft).

Selous has a continual Wet season, which occurs from November to May, with no dry spell in between. This differs from coastal parks and those in the north. You can expect afternoon thunderstorms on most days, but they rarely continue all day long.
Dry season
–

June to October
June, July, August, September & October – Most days are full of sunshine and have a clear sky. Afternoon temperatures are usually around 28°C/82°F. Night temperatures drop to about 19°C/66°F.
Wet season
–

November to May
In the Wet season, high temperatures are common, along with great humidity. Afternoons are usually around 29°C/84°F and nights drop to 22°C/72°F.
November & December – November is the beginning of the Wet season, although the exact start is hard to predict. Rainfall tends to be occasional and short (mostly in the afternoon) and probably won't hinder your safari. Daytime temperatures are usually close to 31°C/88°F; evening and morning are around 22°C/72°F.
January & February – It is further along in the rainy season, and there will be several days with short intervals of rain, usually in the afternoons. Daytime temperatures range close to 30°C/86°F, while night and early mornings average 22°C/72°F.
March, April & May – March and April are the rainiest months. Most days are wet, although it hardly ever rains for the entire day. The average maximum temp is usually 28°C/82°F and the minimum 21°C/69°F.
Want to Visit Selous GR?
Selous Game Reserve
Selous GR Photos
View Photos
(25)