​Weather & Climate – Zambia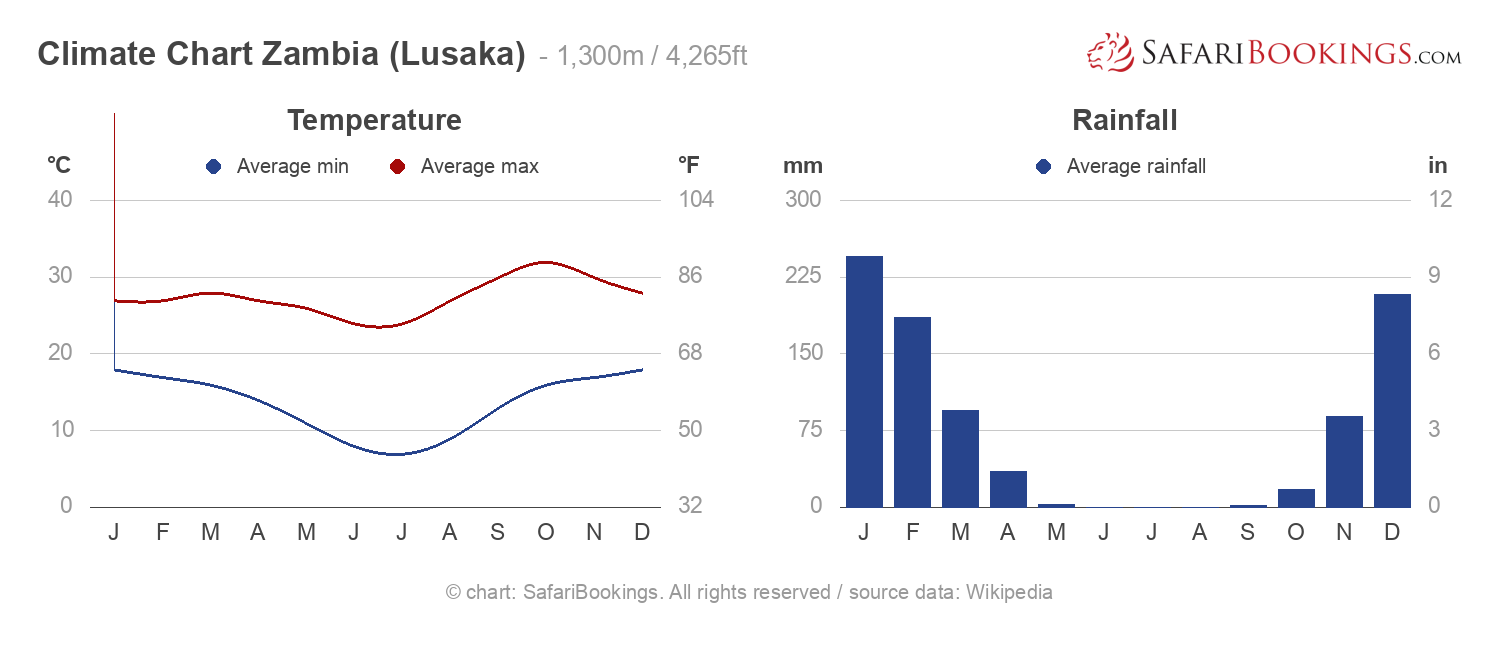 Climate Chart Lusaka
– 1,300m / 4,265ft
The Dry season in Zambia is a lovely time to visit – it's divided into a cooler period (May to August) and a hotter one (September and October). Zambia is right in the tropics and gets lots of rain in the Wet season (November to April). At that time many camps in Kafue, Lower Zambezi and the more remote parks shut down. The Mfuwe section of South Luangwa can be visited at any time of year.
Lusaka's Climate Compared with Zambia's parks
The climate of the capital, Lusaka, is the same as that of the higher areas of central and southern Zambia, including Kafue NP. The climate of the lower-lying South Luangwa NP and Lower Zambezi NP is considerably hotter: temperatures rise by about 6°C for every 1,000m you descend (or 3.5°F per 1,000ft).
Dry season

–

May to October – Winter
In winter, there's hardly any rain and low humidity. Thirsty animals crowd around the waterholes and rivers to drink.
May – The end of summer, when temperatures are pretty cool: typically 12°C/52°F in the morning and 25°C/77°F in the afternoon. Nighttime temperatures also start to drop and the rains are almost gone.
June, July & August – The average morning temperature is a chilly 10°C/50°F, so bring warm clothing for early game drives. Afternoons are more pleasant, with temperatures around 23°C/73°F, although lower-altitude parks like South Luangwa and Lower Zambezi will be hotter.
September & October – The heat slowly builds and the first rains bring relief from very dry conditions. Daytime temperatures are around 31°C/88°F in October, which is the hottest month. In the lower-lying parks, temperatures often peak at over 40°C/104°F.
Wet season

–

November to April – Summer
Due to high rainfall and bad roads, the Wet season months from December to March are not ideal for visiting Zambia.
November – An unpredictable month, but usually with some afternoon rain. Temperatures average between 18°C/64°F in the morning and 29°C/84°F in the afternoon.
December, January, February & March – The wettest months, with heavy downpours in the afternoon. Afternoon temperatures are around 26°C/78°F and the humidity is high.
April - The rains slow down and so does the humidity.
Want to Visit Zambia?