Exploring Namibia means combining wildlife, wild landscapes, and a fascinating human story.
Join us as we take you through our favorite places to visit in Namibia.
1. Etosha National Park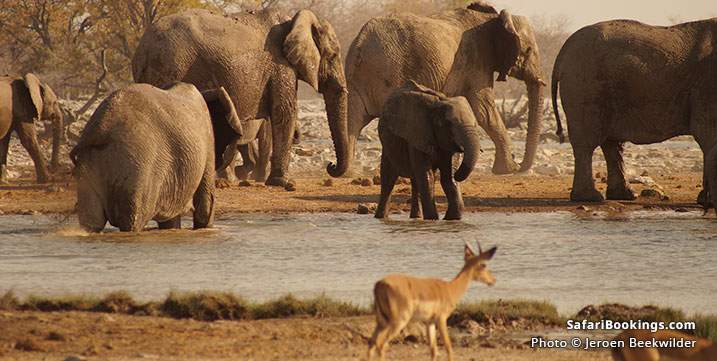 Waterhole at Etosha National Park
Few places in Africa can match the experience of seeing wildlife at Etosha National Park. It's an extraordinary world of vast, hallucinatory salt pans, life-giving waterholes, and big wildlife herds. By day, elephants – bathed in the Etosha dust – and lions dominate proceedings, while by night black rhinos come to drink at the waterholes that sit alongside many of the campsites and lodges. Tick off as many of the park's 340 bird species as you can, get stuck in a traffic jam of springboks, and dream of unicorns as you contemplate a gemsbok silhouetted against the setting sun.
141 Tours that include Etosha NP
2. Sossusvlei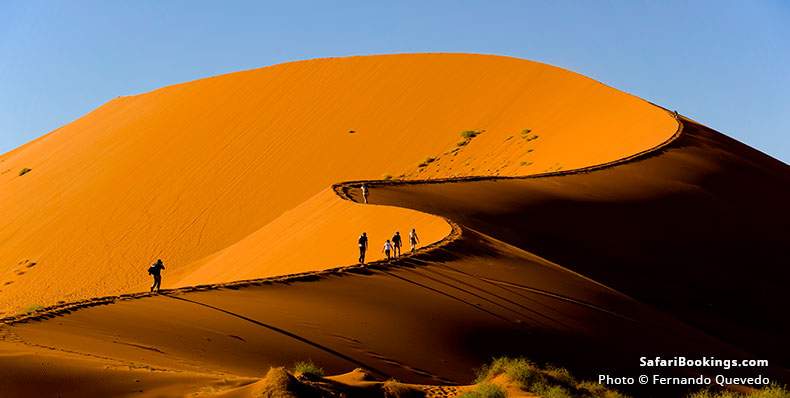 Tourists climbing a dune
The sand dunes of Sossusvlei always rank near the top on any list of travelers' favorite places to visit in Namibia. Sculpted by the wind to form the most beautiful shapes, the dunes here are simply superb, especially when seen in the warm golds and oranges around sunrise and sunset. Views from the sand dune summits – of Dune 45 (so named because it's a 45km drive from Sesriem), for example – give an astonishing sense of scale as near-perfect ridgelines unfurl to the horizon. Elsewhere, it's impossible not to be moved by the elemental colors and by the petrified trees dwarfed by dunes hundreds of meters high in Deadvlei.
112 Tours that include Sossusvlei
3 Fish River Canyon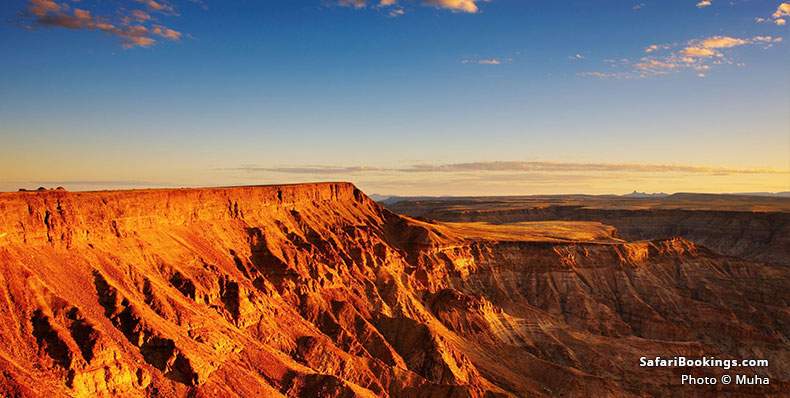 Fish River Canyon glowing in late light
Not for nothing is Fish River Canyon sometimes called Africa's Grand Canyon. Hiking trails explore high along the ridges and deep into the valleys in this place of towering rock formations in Namibia's southern interior. The natural drama of Fish River Canyon is all the more confronting because flat plains and plateaus surround it for hundreds of miles in every direction. To reach the best bits, and to get a sense of Fish River Canyon's scale and variety, you really need to hike for a few days. Your rewards include hot springs, panoramic viewpoints, and an enduring sense of silence.
26 Tours that include Fish River Canyon
4. Rock Art at Twyfelfontein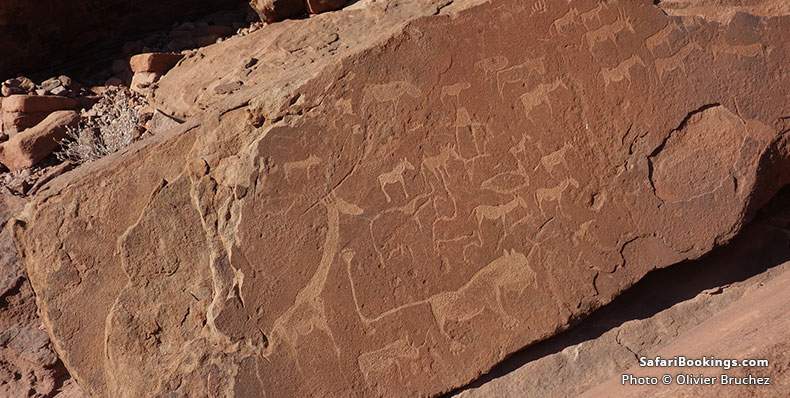 flickr.com/photos/bruchez/31614821955
Unesco World Heritage-listed Twyfelfontein (whose name, somewhat enigmatically, means 'Doubtful Spring') is an exceptional place to see millennia-old rock art. The rock engravings here, some dating back 6000 years to the Stone Age, depict a wide range of animals and tell a remarkable story of a climate and a landscape that has changed in significant ways. As is clear from the engravings, the land around Twyfelfontein was once fertile, well-watered terrain that supported abundant wildlife. It's a contrast with the arid conditions that prevail today.
25 Tours that include Twyfelfontein
5. Skeleton Coast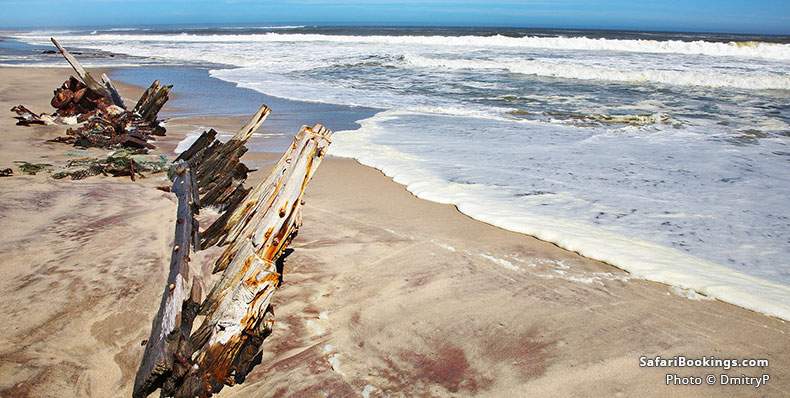 Ship remains at Skeleton Coast
Namibia's Atlantic shore is one of the most beautiful coastlines on the planet, not to mention one of the best places to visit in Namibia. It's a largely uninhabited coast, where sand sheets and seas of sand dunes meet the sea. In places, the unstoppable westward movement of the sands over hundreds of years has reclaimed land that was once ocean, with some shipwrecks now kilometers inland. Apart from the shipwrecks and desert-meets-sea scenery, often-dry river valleys such as Hoanib, provide refuge for desert-adapted wildlife.
12 Tours that include Skeleton Coast NP
6. Damaraland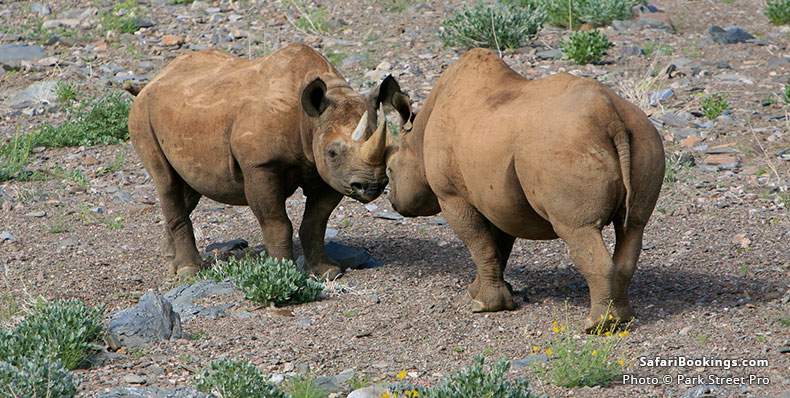 flickr.com/photos/parkstreetpro/5058581797
Rugged, rocky mountains define Damaraland, which is wonderfully remote and yet accessible from well-worn travel routes through north-central Namibia. The wildlife is some of the country's most surprising: while you're here, you might see critically endangered black rhinos, desert elephants, and even lions that range between here and the Skeleton Coast.
66 Tours that include Damaraland
7. Kaokoveld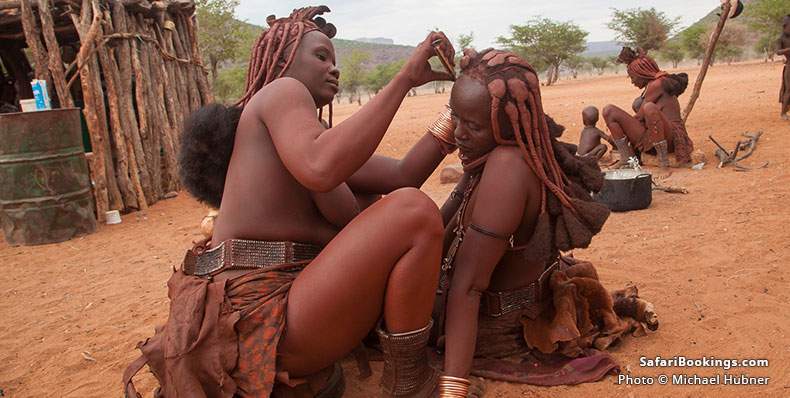 flickr.com/photos/119399589@N03/13980964651
Like Damaraland but with an even stronger sense of being a land apart, Kaokoveld has one of the lowest population densities anywhere in Africa, and a palpable sense of isolation. This is the heartland of the Himba people and encounters with these remarkable survivors is reason enough to visit. The chance to see desert elephants, too, is a major attraction of venturing into this quiet and austerely beautiful place.
8. Get Active at Swakopmund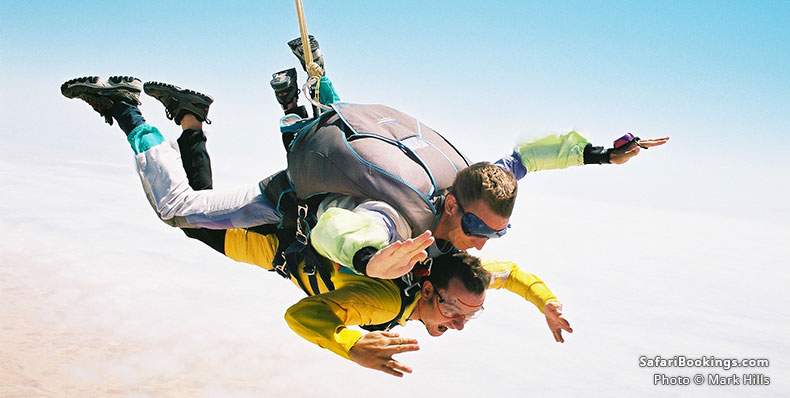 flickr.com/photos/hillsieboy/185645759
When it comes to places to visit in Namibia, Swakopmund has more to offer than just about any other city. Such is the diversity of the surrounding countryside that in Swakopmund you could go sandboarding down a sand dune or take a tour looking for desert wildlife, and then swim or surf the Atlantic, all in one day. Other possible activities include birdwatching, hiking, skydiving, scenic flights, and more.
9. Erindi Private Game Reserve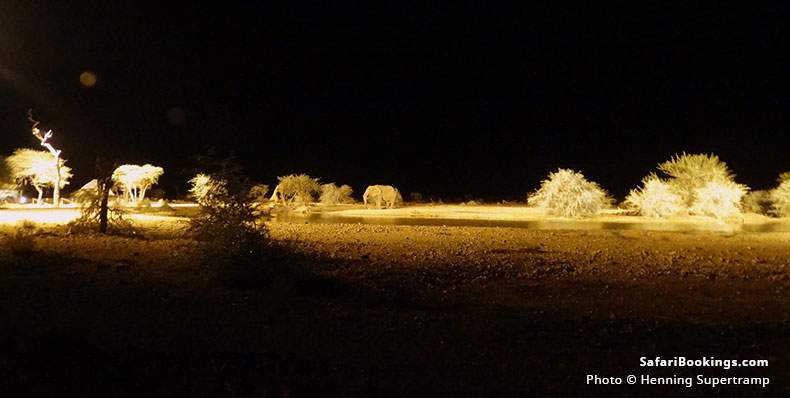 flickr.com/photos/hennings_zauberfotos/32478442255
So prolific is the wildlife at Erindi Private Game Reserve that this is where film crews from around the world come to film some of Namibia's best wildlife action. Night drives are a highlight, and there's a good chance you'll see all three big cats, black rhinos, and African wild dogs, while giraffes and elephants are almost guaranteed. Given its compact size, it's one of the country's best tourist attractions.
8 Tours that include Erindi Private Game Reserve
10. Khaudum National Park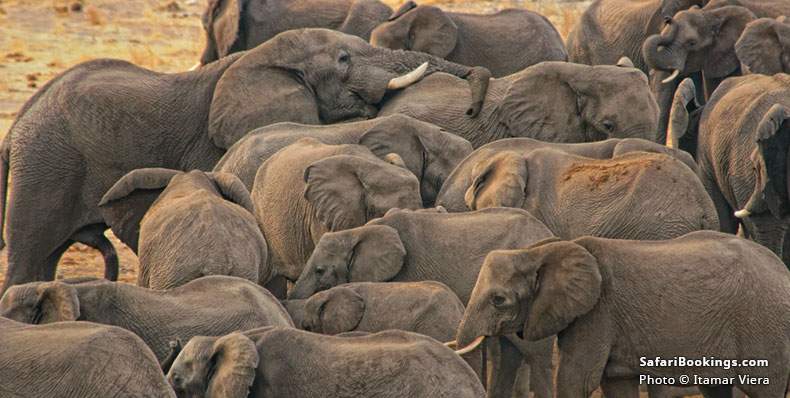 flickr.com/photos/itamar-vieira/5255017861
In Namibia's remote north-east, Khaudum National Park is an off-road wilderness destination for the adventurous traveler. Wildlife attractions are many, but the major drawcards are African wild dogs, lions, roan antelopes, elephants, zebras, giraffes, wildebeest, kudus, and gemsboks. The birding here is also excellent, with 320 different species recorded. But more than anything, here on the Kalahari Desert's north-western fringe, it could be the silence and the sense of leaving the modern world behind that will stay most strongly with you long after you leave.
11. Cape Cross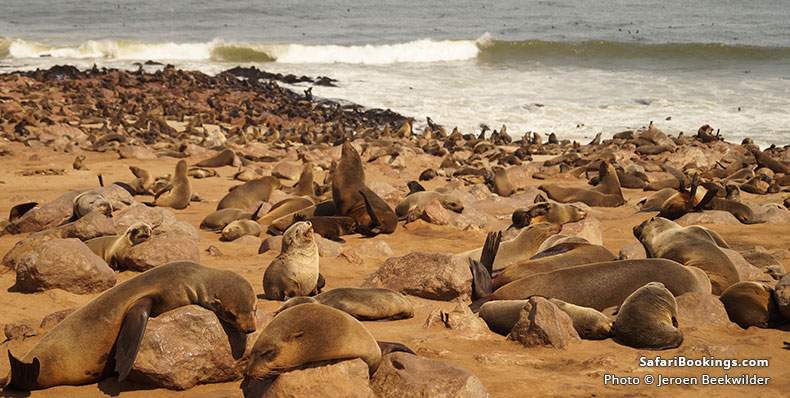 Cape fur seals at Cape Cross
History meets wildlife in stunning juxtaposition at Cape Cross. It was here, in 1485, that a Portuguese explorer called Diego Cão became the first European to land in Namibia. A cross (a replica of the original planted by Cão) marks this historical moment and it's one of numerous points of interest here. Nearby, more than 100,000 Cape fur seals crowd together on a shelf overlooking the sea. They're an amazing sight and one of Namibia's best wildlife encounters.
6 Tours that include Cape Cross
12. Caprivi Strip (Zambezi Region)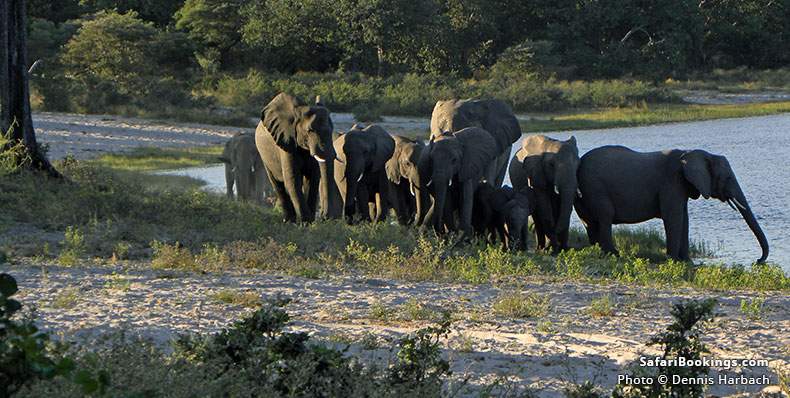 Herd of elephants at Bwabwata
When it comes to deciding where to go in Namibia, few travelers consider the Caprivi Strip, which is a pity considering what it has to offer. The region's proximity to the Okavango Delta just across the border in Botswana make it a fantastic birding destination, while populations of lions, elephants, and other charismatic species are recovering in the region's national parks. The best of these parks are Bwabwata and Nkasa Rupara.
14 Tours that include Caprivi Strip (Zambezi Region)
13. Lüderitz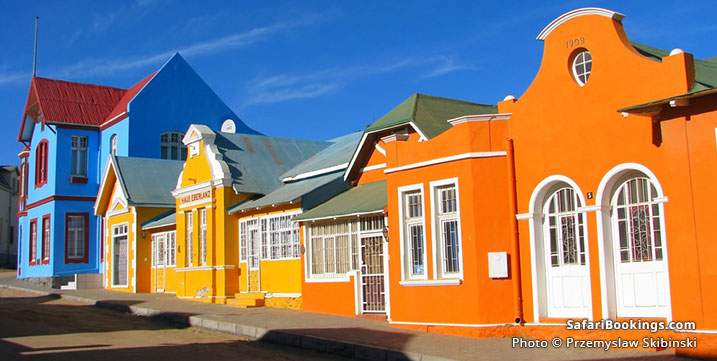 Multicoloured houses in Nachtigal Strasse
Everyone who visits Lüderitz does something of a double take. That's because architecturally, the town looks like a 19th-century Bavarian village grafted onto a remote stretch of the southern African coast. The Art Nouveau buildings and museum are the main points of interest around town and recall the German colonial era, while Atlantic waves crash against the shore. Sperrgebiet National Park, one of Namibia's biggest sand dune areas, rises away to the north and east.
14. Waterberg Plateau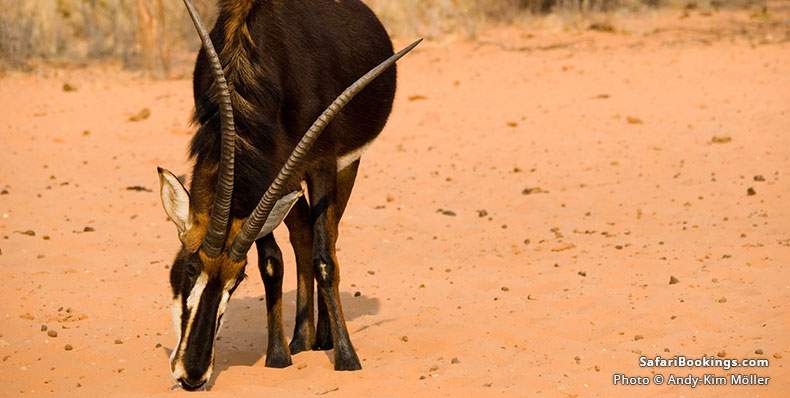 Female sable antelope at Waterberg Plateau
Although not one of the better-known places to visit in Namibia, hiking the sandstone Waterberg Plateau is a fine way to spend a few days. There is wildlife here, including roan and sable antelopes, as well as black and white rhinos. But it's the combination of stirring views, pretty valleys, and hiking trails with very few other walkers that you'll really love about being here.