Namibia has some of the most beautiful landscapes in Africa or perhaps even the world. It's hard to explain what makes its vistas so inspiring and mesmerizing, but many would say that the country's biggest asset is its wide-open spaces.
Your senses will come alive when you travel along endlessly empty roads between scenic highlights such as the enormous red dunes at Sossusvlei and geological wonders such as the ancient Fish River Canyon. Etosha offers incredible wildlife viewing, but small numbers of desert-adapted animals wander around Namibia's vast wilderness areas far beyond the borders of any specific parks.
Here are some pointers on things to do in Namibia:
1. Climbing Dune 45 in Sossusvlei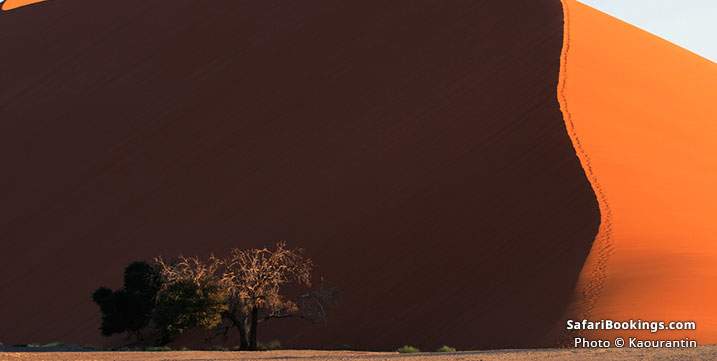 Deep in the heart of the Namib desert are huge red dunes. At over 300m high, some of these are the tallest sand dunes in the world. The most photographed dunes are those surrounding famous pans, such as Sossusvlei and Dead vlei. For climbing, however, dune 45 (45km along the road towards Sossusvlei) has the most ideal conditions. Walking along the crest and reaching the top of this sand formation is no easy feat, but more than worth the effort.
2. Gazing over the Fish River Canyon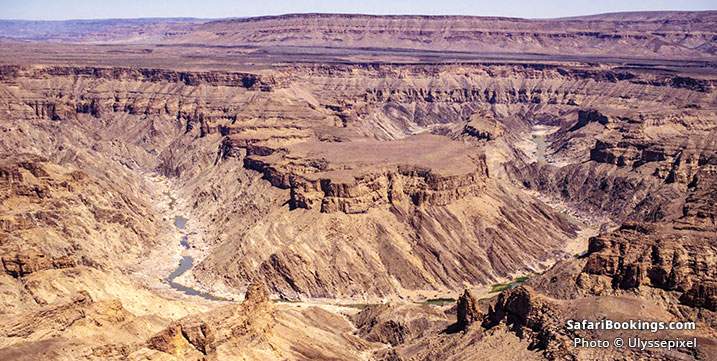 The Fish River Canyon is one of the best places to visit in Namibia. As one of the largest canyons in the world, it is always impressive, but early or late in the day the combination of soft light and playful shadows reveals its true beauty. You'll get a great photo from the main viewpoint, but avid hikers will get a better sense of the canyon's proportion when tackling the 90km multi-day hike.
3. Wildlife viewing at Etosha National Park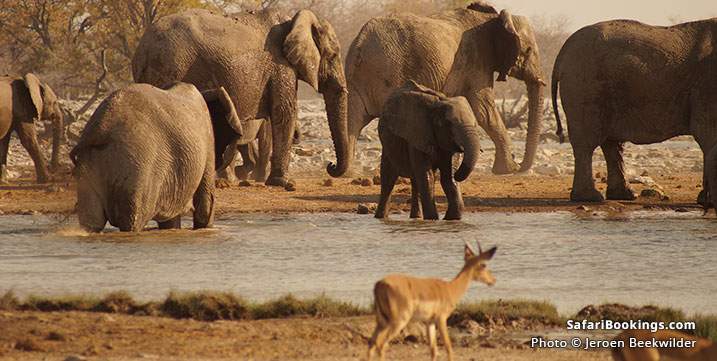 Etosha is at its best in the Dry season, when wildlife congregates around the waterholes. As water is very scarce in this arid area, it isn't unusual to see lots of different animals drinking together. There's no need to drive around looking for action; settle in for the day and watch the comings and goings of big herds of elephants, zebras, gemsbok, springbok and even the occasional predator.
4. Visiting one of the world's largest seal colonies at Cape Cross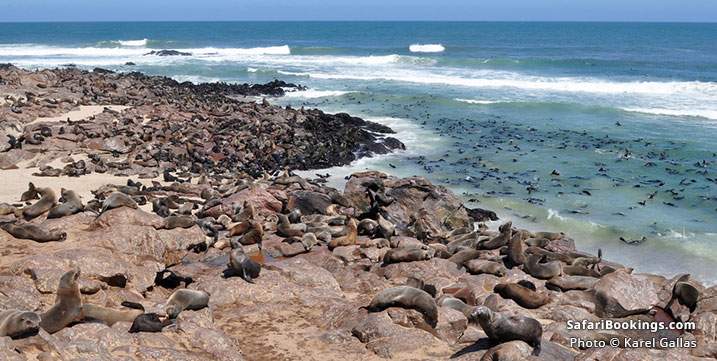 The breeding colony at Cape Cross is one of Namibia's main tourist attractions. It supports about 200,000 seals. Big bulls fight for territories, mothers reunite with their offspring after fishing expeditions and young ones constantly get into mischief. It's an overwhelming sight. A wooden walkway provides the opportunity to get in the midst of it all. With so much going on, you might want to stay for hours. If only you could block out the smell and the noise.
5. Going back in history at Twyfelfontein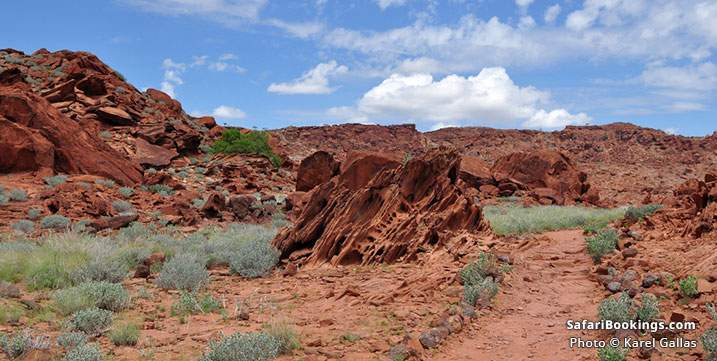 Another of Namibia's points of interest is the Unesco World Heritage Site of Twyfelfontein. It protects one of the best-preserved rock-art sites in Africa. Several trails snake between more than 2000 ancient rock engravings and paintings, some dating back as far as 3300BC.
6. Photographing the quiver tree forest at sunset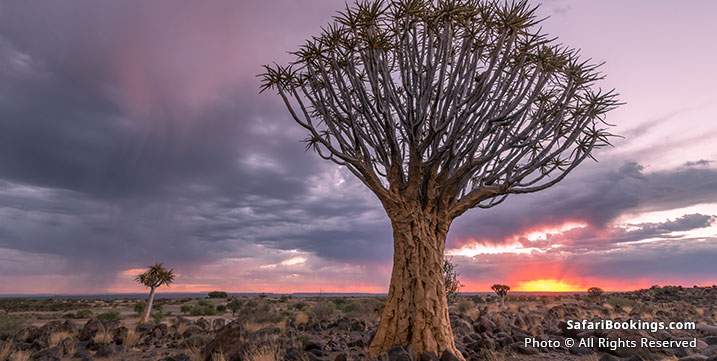 Something between a flower and a tree, the quiver tree derives its name from its branches, traditionally used by bushmen to carry arrows. The quiver tree forest in southern Namibia doesn't look like much in the middle of the day, but it transforms into an idyllic Namib scene in the warm hues of the setting sun. Stay around until dusk for a perfect silhouette picture.
7. Searching for desert elephants in Damaraland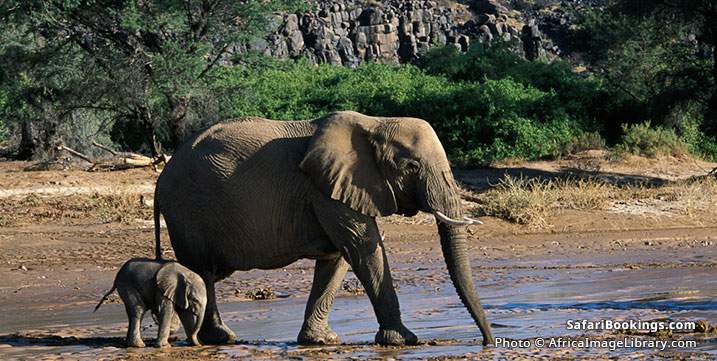 Damaraland is worth visiting for its desolate mountain landscapes alone. You wouldn't expect to see any wildlife here…let alone elephants. Yet, a unique population of desert-adapted elephants roams this vast unfenced area. Seeing these giant desert nomads walking with purpose in breath-taking scenery is a sight to behold.
8. Visiting a Himba village in Kaokoland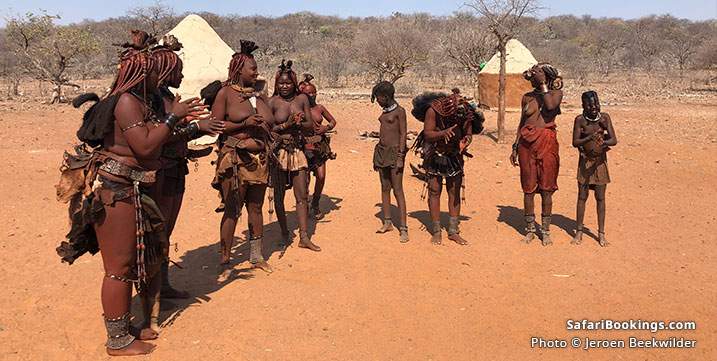 The inhospitable north of Namibia, reaching up to the Kunene River on the Angolan border, is remote and beautiful. The human footprint here is minimal. The Himba people live a traditional semi-nomadic lifestyle that is very much unchanged from when they settled in the area more than 300 years ago. For the adventurous traveler, a journey into Kaokoland with an opportunity to visit a Himba homestead is one of the best things to do in Namibia.
9. Walking around the quaint harbor town of Lüderitz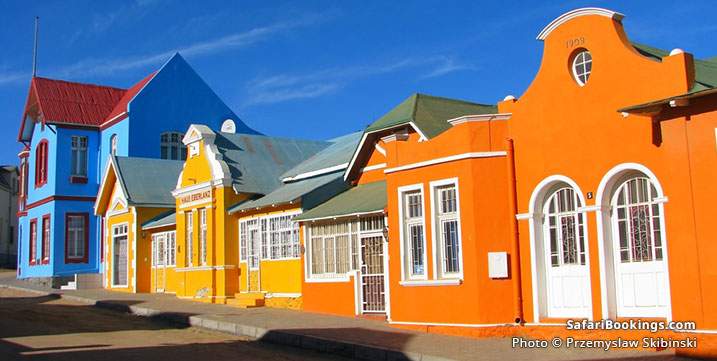 Although once a booming mining town, Lüderitz is now a sleepy backwater and popular stopover for travelers. The brightly painted Art Nouveau houses bring a splash of color to the otherwise bleak stretch of Atlantic coast. Several museums and historical monuments offer an insight into its German colonial past.
10. Birding in Walvis Bay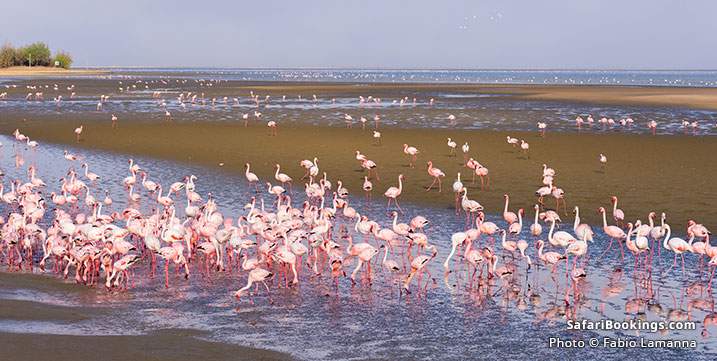 Walvis Bay's lagoon and salt pans are considered one of the most important wetland areas in southern Africa. It is a major sanctuary for migrating birds and although there is no shortage of sought-after species, it's the sheer number of birds that makes the wetland so special. Of particular interest are the flocks of flamingos; when thousands of them are feeding in the shallows, their pink hues are in sharp contrast to the blue waters.