Where to See Elephants in Africa - The Top 5 Best Safari Destinations to See Elephants
Where to see Elephants in Africa? Elephants are perhaps the most fascinating African mammals to watch on safari. They are so intelligent, sociable, dextrous and communicative – you can watch them all day, and never get bored.  In general the best time to travel to Africa to see elephants is the dry season, which tends to be June to September.
Here are my recommendations of where to see elephants in Africa:
1. Chobe National Park, Botswana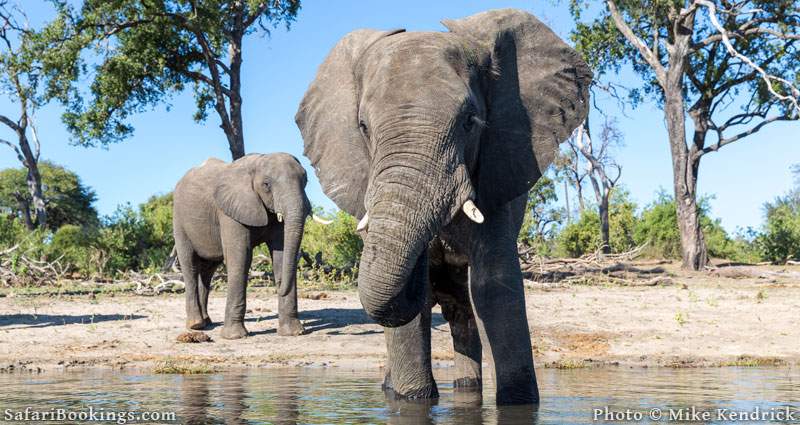 Chobe National Park is synonymous with elephants – you cannot go to Chobe and fail to see elephants! Chobe has huge numbers of elephants – possibly the largest elephant population in Africa. This is arguably one of the best places in Africa for wild elephant watching. Chobe can be accessed by boat or by vehicle. Boat trips along the riverfront give you a unique perspective, as you can watch the elephants at the water's edge – playing, drinking and swimming across the islands, using their trunks as snorkels.
Best time to see elephants in Chobe National Park
During the dry season, from May/June to the end of October huge numbers of elephants congregate along the riverfront.
2. Amboseli National Park, Kenya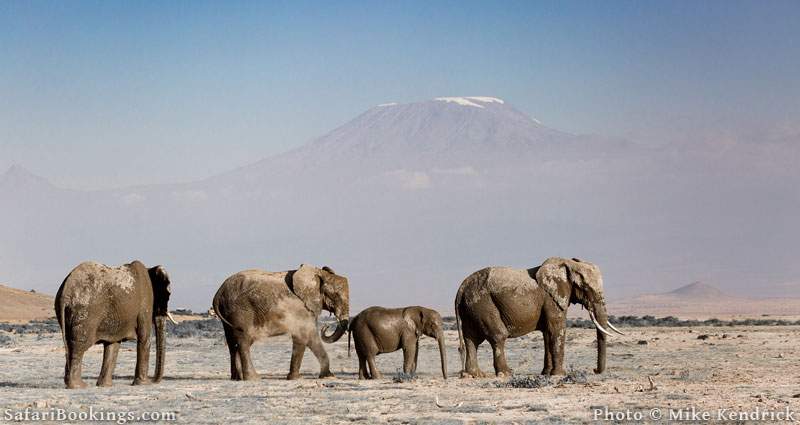 Amboseli National Park is the place to come for those iconic images of elephants in front of the majestic Mount Kilimanjaro. Although it proves to be trickier than it looks to get a clear view of the mountain top and the elephants lined up all at the same time! The elephants of Amboseli have been studied since 1972, and many of the elephants are individually known. Some of Amboseli's lodges and camps can arrange for special elephant-focused game drives. These wild elephant watching trips will introduce you to a single herd, individual by individual. The game drive is then spent watching the interactions between the herd members – a fantastic way to learn more about these highly intelligent and social gentle giants.
Best time to see elephants in Amboseli National Park
The dry seasons from June to October and from January to February are the best times to see elephants. There are short rains in November and long rains in April and May.
3. Mana Pools National Park, Zimbabwe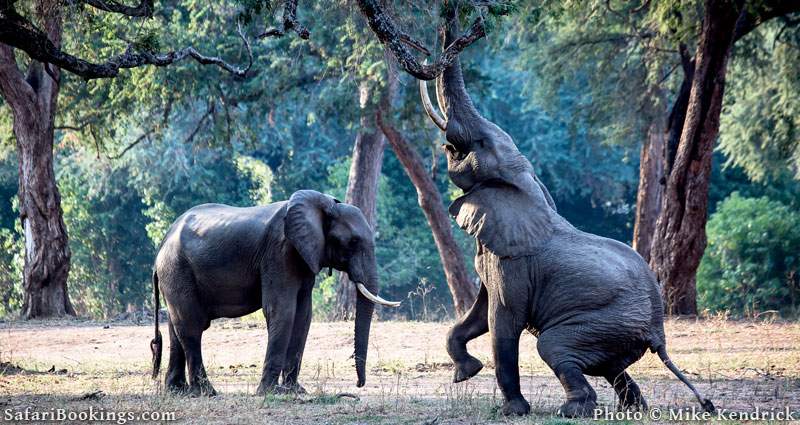 Mana Pools National Park has to be included in the list of where to see elephants in Africa. Firstly Mana Pools is one of Africa's most scenic parks, with the mighty Zambezi river frontage, the eponymous pools and the hauntingly photogenic glades of large riverine trees. Now add to this beautiful scene groups of elephant moving through the sunlit forest. If you're really lucky, you might also see one of the old bulls standing on his hind legs to reach the branches of the trees to eat. It is thought there are just a handful of bulls who have learnt this trick – and this has to be one of the highlights of wild elephant watching.
Best time to see elephants in Mana Pools National Park
The best time to visit Mana Pools is the dry season, June to October. Many lodges are closed January to March, when it can be very hot, humid and wet.
4. Mashatu Game Reserve, Botswana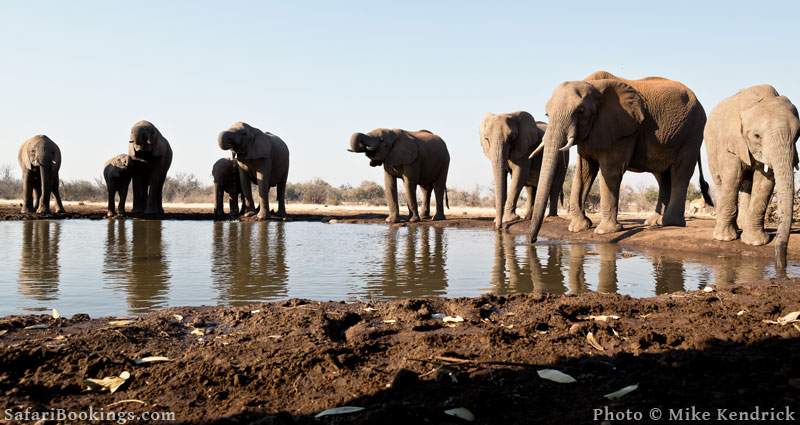 When drawing up a list of where to go in Africa to see elephants, Mashatu private game reserve is one of my personal favourites. Mashatu is called "the Land of Giants"- after its Mashatu trees, huge baobabs….and its elephants. The elephants here are very relaxed around vehicles and the guides know their movements well. What makes Mashatu so special in terms of wild elephant watching is their exclusive underground viewing hides. There are two hides sunk at eye level at water holes and if you're lucky you can see herds of elephants coming to drink and play here. You are just metres away from their feet and trunks – so you hear every splash and gurgle and this unique eye-level perspective makes for the most amazing photography.
Best time to see elephants in Mashatu private game reserve
The best time to visit Mashatu is the dry season – from May to September. You also stand more chance of having close-up elephant encounters at the underground viewing hides during the dry season.
5. South Luangwa National Park, Zambia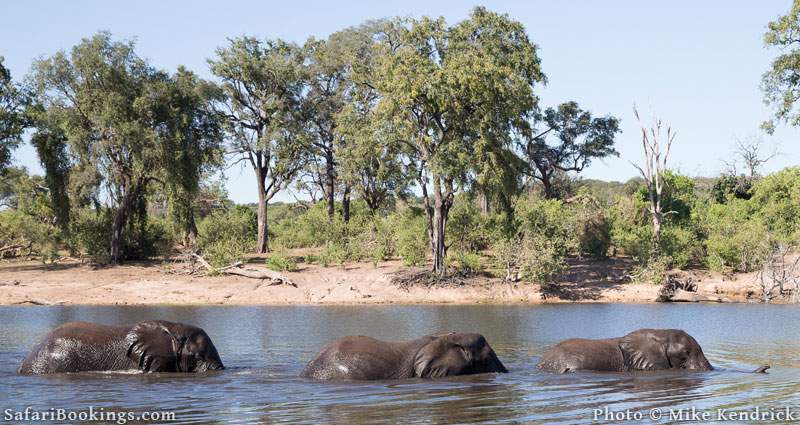 Last but not least, South Luangwa National Park in Zambia is also on my list of where to see elephants in Africa. South Luangwa is the jewel in Zambia's crown – scenically beautiful, full of wildlife, and with walking safaris and night drives as optional activities. There are abundant herds of elephant and there is much elephant activity at the oxbox lakes and river frontage. Best of all, the elephants often swim across the river. You can watch a whole procession of them, using their trunks as snorkels, the babies bobbing along close behind their mothers.
Best time to see elephants in South Luangwa National Park
The best time to visit South Luangwa is the dry season, July to November, when elephants congregate at the dwindling lakes and pools and along the river. South Luangwa also has an emerald season, from January to March. At this time, there is always the risk of a storm and downpour, but the lakes are full, everywhere is a verdant green, many lodges offer reduced rates and there are far fewer tourists