​Weather & Climate – Kenya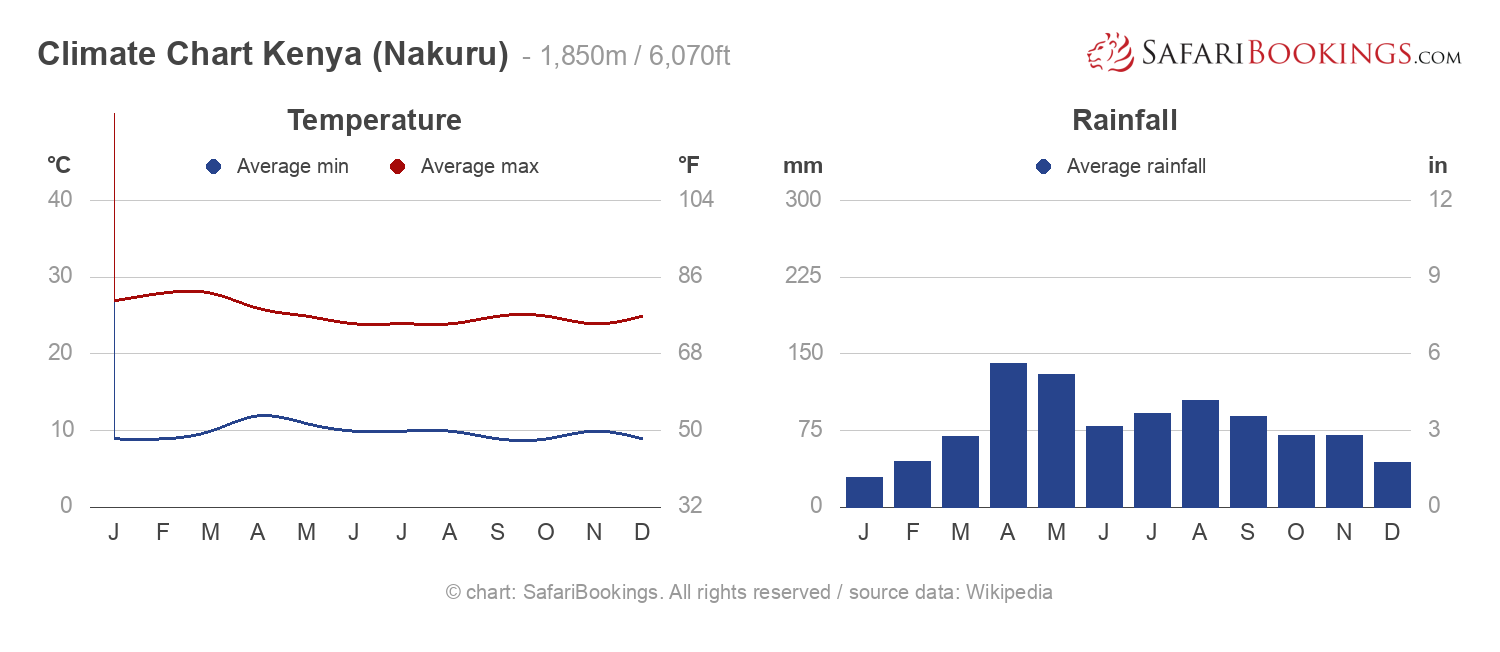 Climate Chart Nakuru
– 1,850m / 6,070ft
Kenya lies on the equator and has a pleasant, tropical climate, but there are large regional climatic variations influenced by several factors, including altitude. Kenya's daytime temperatures average between 20°C/68°F and 28°C/82°F, but it is warmer on the coast. Kenya is too close to the equator to experience a real winter and summer. There is, however, both a Dry and Wet season.
Nakuru's climate compared to Kenya's parks
Nakuru town lies right next to Nakuru NP in the Rift Valley, one of Kenya's most popular parks. Many of Kenya's parks have a climate comparable to this, including the Masai Mara. Amboseli, Meru, Samburu and Tsavo are at a lower altitude and, therefore, warmer. The Aberdares and Laikipia Plateau are in the highlands, and a bit colder. The highlands receive a great deal of rain and are very cold in the evening and morning.
Dry season

–

June to October

During the Dry season daytime temperatures are usually around 23°C/73°F at higher altitudes, such as the Masai Mara, and 28°C/82°F at lower altitudes, such as the coastal areas. The sky is clear and days are sunny.
June, July, August, September & October – These are the coldest months. Early morning temperatures at higher altitude are typically 10°C/50°F. It is advisable to pack warm clothing, as morning game drives in open vehicles will be cold. There is very little rain in most of the country.
Dry Season Photos
+23 Photos
Wet season

–

November to May

During the Wet season daytime temperatures are between 24°C/75°F and 27°C/81°F at higher altitudes. At lower altitudes daytime temperatures are more consistent and hover around 30°C/86°F. Mornings stay cool at higher altitudes, and it is advisable to pack warm clothes for early morning game drives.
November & December – 'Short rains': A period of unpredictable, short rains between November and December that lasts about a month. The rain is sometimes heavy, but mostly falls in the late afternoon or evening, and will seldom have a negative impact on your safari.
January & Februay – During these months, a dry spell in the rainy season occurs with less rainfall. How long the spell lasts and when it takes place exactly is unpredictable.
March, April & May – 'Long rains': These months get the most rain. It's very cloudy, especially in the highlands, including Aberdare NP and Laikipia Plateau. Humidity is higher and will be particularly noticeable in the coastal regions.
Wet Season Photos
+23 Photos
Want To Visit Kenya?