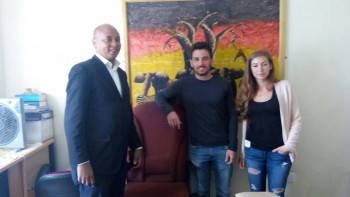 Meru Slopes Tours & Safaris
5.0/5 – 222 Reviews
Office In:

Size:

5-10 employees (Founded in

2013

)

Tour Types:

Small & medium group tours (Budget & mid-range)

Destinations:

Price Range:

$50 to $480

pp

per person

per day

(USD, excl. int'l flights)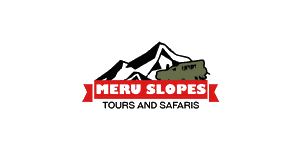 Request a Quote ›
Your request will be sent directly to the operator
If preferred, you can contact the operator directly
Nikoletta F-R
–
IE
Visited: January 2020
Reviewed: Mar 31, 2020
Email Nikoletta F-R | 20-35 years of age | Experience level: first safari
Honeymoon of our dreams!
My husband and I have spent 2 amazing weeks in Tanzania. A romantic week in Zanzibar and 6 wonderful days in the mainland, exploring the beauty of many national parks such as Tarangire National Park, The Serengety, Ngorongoro National Park/Crater and Lake Manyara. We couldn't have wished for a better safari experience than what Meru Slopes has given us.
Ben was our driver and tour guide, who is so knowledgeable and kind, he was so prepared for everything on the road and has given us all the time we needed to take a look at those magnificient animals and landscapes. He was very informative and helpful and was willing to answer every question what popped in our mind. He has explained a lot about African cultures and the Tanzanian tribes (he also took us to visit an interesting maasai village and showed us around a local market) and we were always among the first ones to spot animals, thanks to his great knowledge about the parks. He has kept us well informed, safe and moreoever entertained for the whole week! Thank you Ben!
Godi was our private chef for those days and we can only recommend him, just like Ben! On the first day we met him, he asked us about our food preferences/allergies and keeping all those information in mind he served us plentiful and delicious hot meals every day, sometimes once but most of the times twice a day. For those few times when we didn't get the chance to drive back to our campsite he has packed a nice box of cold and healthy lunch keeping us all energized for the whole day. The meals were fresh and very tasty. He has used lots of vegetables and some fresh meat and we would have often been served Europen meals too. Thank you too, Godi!
Camping 3 nights in tents in the middle of the Serengeti and in Ngorongoro National Park was an amazing experience, a bit challenging to be honest (haha), but not everyone gets sooo lucky to fall of sleep to the sound of wild animals. :) We would do it again, any time!!
Both Ben and Godi are lovely professionals with many years of experience on the field, literally. :) My husband and I are very pleased with my first (it was the second time for hubby) safari tour, Meru Slopes has done a brilliant job and we can really recommend them with a peaceful mind! Geoffrey, Ben, Godi and all the team, thank you so much guys from the bottom of our hearts for making our honeymoon as special as it could have been! Wishing you all the best and hope to be back one day for another crazy game drive in your beautiful country but maybe for 2 weeks that time... :) Your friends, Niki & Ivan from Ireland
Marcin
–
PL
Visited: January 2020
Reviewed: Mar 31, 2020
Email Marcin | 20-35 years of age | Experience level: first safari
Excellent quality for amazingly affordable price
Me and my wife went for a Safari in northern Tanzanian circuit as part of our honeymoon. We've never done it before, so we had a lot of questions and doubts regarding every single aspect of the trip. Eventually, we've chosen a 6 days shared budget Safari with Meru Slopes, and if I could do it again, I wouldn't change a thing.

We've contacted Meru few months before and they've made a good impression from the very beginning. Geofrey was responding very quickly and provided us with all the answers we needed. All the prices they gave us early on were exactly the same in the end. There was no additional fees or anything like that - one single price covered to and from airport transportation, accommodation before and after the trip and of course, the Safari itself. What is also important to add, is that no payment was required prior to arrival, so we felt really safe. Generally, when it comes to trustworthiness, Meru Slopes is a solid 10/10.

Now, for the trip. It was definitely one of the best things we've done in our life. Our guide left no questions unanswered, and he was able to predict the animals behavior and always catch the best spot for watching. He was also extremely dedicated to his job, so he was staying on the road as long as we wanted. When we were about to visit Ngorongoro, he suggested starting very early to see the rhinos before they hide from the people, and we were actually the first car to leave the camp.

Last but not least, food. We were not hungry for a single moment, each breakfast and dinner was a real feast. Lunchboxes that we received for the day were also decent and tasty. My wife, being a vegetarian, was handled professionally, not just with no-meat versions of regular stuff but with specially prepared dishes.

Overall, choosing Meru Slopes for our first Safari might've been one of the best choices we've ever made. I can recommend these guys wholeheartedly, without a single word of complain. And we will definitely use their services again in the future, next time in a different season.
Monika
–
PL
Visited: January 2020
Reviewed: Mar 4, 2020
Email Monika | 20-35 years of age | Experience level: over 5 safaris
Best experience ever!
It was the best choice that we could have for holiday.
Safari is the best experience that we ever had, and it was perfect only thanks to our tourist guides: Meru Slopes. From the beginning, making the reservation, we had great communication, they answered all our questions. They are very reliable and professional. They provided us with transport and the hotel before and after safari.
Our driver and guide: Edith was great and knew answer to every question.
Also, our cook: Action was the best that happened to us. Meals were simple but always delicious, and we didn't have any stomach problems.
And the most important: safari was wonderful, we saw so many animals, we managed to catch Big Five. And again: this happened only because of experience and skill of our guide.
We can highly recommend this tour and this company to everyone.
It's worth every penny.
Tanny Minnee
–
NL
Visited: March 2020
Reviewed: Mar 2, 2020
Email Tanny Minnee | 50-65 years of age | Experience level: first safari
On safari to Serengeti and Ngorongoro with Meru Slopes Tours was unforgettable beautiful!
I went for 3 days on Safari with Meru Slopes Tours to Serengeti and Ngorongoro and it was wunderfull. The night before I slept in the Arusha Tourist Inn hotel; also from the owner off Meru Slopes& Tours; a basic but clean hotel; just good! Too see the animals in there naturale habitat was realy moving for me. During this 3 days I received very much respect for our driver and guide Benson who tireless drove us around so we could see as much animals as possible. I think we saw all off them; the big five, zebra's, impala's, monkeys, gnoes, etc etc. The roads were sometimes fairly heavy because it rained some days before, but for Benson it was no problem at all. He also give us a lot of information about the animals. A realy nice guy!just as our happy cook Mathew who prepared lovely, nutritious meals for us 3 times a day. Both guys made this safari great! The tents on the campingsite were we spend 2 nights were also good! The toilets and douches were clean and...unbelieveble but also there Free Wifi! During the night a zebra grazed next to my tent and 2 elephants were just passing by the campsite, but it was never dangerous. It was an experience I never will forget.
Kees
–
NL
Visited: March 2020
Reviewed: Mar 2, 2020
Email Kees | 35-50 years of age | Experience level: over 5 safaris
Fantastic safari thanks to Geofrey, Benson and Matthew!
Where do I begin describing the amazing 3 day safari I had with Meru Slopes Tours & Safaris? I feel I lack the words to describe what a great time we had.

We where short on time and could only do the 3 day safari through Serengeti and Ngorongoro Crater, but thanks to guide Benson's knowledge of the parks, we where able to see all of the Big 5 in such a short time. It's amazing to see how Bensons takes you to all the wild sightings in the park, he seems to have a "wild animal magnet" to him :-) It's like the animals are coming to him instead of the other way around :-)

Cook Matthew provided very taste meals. He often amazed us with his fine cuisine skills, providing delicious soups, salads, quiches, home made fries and pizzas, cooked brown rice, succulent chicken and meat, plenty of healthy vegetables and sweet fruits. Matthew made sure everyone's stomachs where filled, ready for the next safari adventure.

Before booking, we had been in touch with Geofrey for months. Whatever crazy time of the day (or night) we sent Geofrey a question, Geofrey answered quickly and took away all our concerns.

To sum it all up, if you're looking to enjoy an Tanzanian safari on a budget, don't hesitate to book with Meru Slopes and ask for Benson and Matthew and you will definitely have a great time.
Jana
–
Visited: January 2020
Reviewed: Feb 28, 2020
Email Jana | 50-65 years of age | Experience level: over 5 safaris
Our travelling experience with Meru Slopes Tours and Safaris entirely exceeded all out expectations.
Our trip from Arusha over Tarangire NP into the Serengetti, the Ngoro Ngoro crater and back to Arusha was an unforgettable experience for us. Thank you to the organizers of the trip for reliable preparation and communication throughout, to the driver for safe driving and the cook for preparing excellent food throughout our whole stay. We will be sure to recommend you to our friends!
K.I
–
JP
Visited: January 2020
Reviewed: Feb 1, 2020
Email K.I | 20-35 years of age | Experience level: first safari
Amazing Experience
The manager and the all staffs are so kind and helpful. Since when we were in Japan, we could contact the manager very well and he responded so quickly. We went to Serengeti, Ngorongoro and Tarangire for 4 days. Our guide know well, so we saw a lot of animals and he gave us many information of the animals. The tour includes all of stuff and we can stay in their hotel before and after the safari tour. I think that the price of tour is reasonable. I never forget this special experience with the operator, Meru Slopes.
Keina Wakayama
–
JP
Visited: January 2020
Reviewed: Feb 1, 2020
Email Keina Wakayama | 20-35 years of age | Experience level: first safari
My best trip!
I went safari tour for 4 days. It was amazing!! We can see a lot of animals, including Lions, Rinos, Cheetahs because of our good driver. He taught us about animal's habitats and his safari experience. His English is easily for me ( I am not good at English;) The all staffs are amazing:) and the all meals was very delicious! Thank you very much for the best trip! Asante Sana:)
Matt.
–
Visited: December 2019
Reviewed: Jan 22, 2020
Email Matt. | 20-35 years of age | Experience level: first safari
An amazing holiday unlike anything I have ever experienced before!
We went with Meru Slopes in the recommendation of another friend who traveled with them in May.

Meru Slopes made everything very easy from start to finish. Everything from airport pickup to accommodation before and after our safari was covered which made things super easy.

On safari our guide Iddie went above and beyond to find us all the animals. We saw literally every African animal I wanted to see.Our cook Richard also prepared delicious food every day.

I can't recommend these guys enough. Overall it was a great experience and I'd love to go with them again. If I can make one recommendation, I suggest doing a four day safari of only Serengeti and Ngorongoro. Without the standard 4 day you only have a short time in Serengeti and it's not really enough.
Annika
–
DE
Visited: January 2020
Reviewed: Jan 14, 2020
Email Annika | 20-35 years of age | Experience level: first safari
Perfect organisation, awesome tour

We have booked for the start of our honeymoon on 01.01. the 3 day tour in the Serengeti and the Ngorongoro Crater. Everything was very well organized, the booking etc was made per email to Geofrey. We were picked up from the airport and taken to a hotel in Arusha, the next day the tour started early in the morning. During the 3 days we had a great driver / guide (Jay) and a cook (Odulla) who conjured up great food. It was a unique experience, thanks to Jay's experience we could all see "big five" and much, much more. He told us a lot about life in Tanzania, the people and the animals. After the tour we had another overnight stay in the hotel and were brought to the airport the next day. Meru Slopes is highly recommended! Everything was well organized and ran smoothly. We had an overwhelming three days!
Disclaimer
All corporate and/or tour info is provided by Meru Slopes Tours & Safaris, not SafariBookings