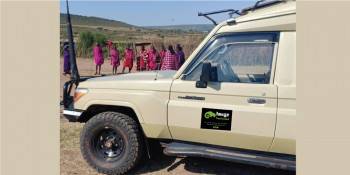 Image Travel
4.8/5 – 183 Reviews
Located In:

Size:

5-10 employees (Founded in

2011

)

Tour Types:

Customizable private tours and fixed group tours

Destinations:

Price Range:

$280 to $350

pp

per person

per day

(USD, excl. int'l flights)

Charlotte
–
Visited: September 2022
Reviewed: Oct 23, 2022
Email Charlotte | 20-35 years of age | Experience level: first safari
Big 5 stars
Fantastic trip with Image travel for our honeymoon. From start to finish, everything was organised for us and planned well based on what we were looking for (location/activity/price etc). We spent 8 days across various safari locations and 5 days in Mombasa at the end.
Mwanje helped us to plan and organise everything and was contactable at all times, helping to update or change plans.
Anthony met us at the airport and provided private transport for the whole trip, including all transfers and game drives. He was very knowledgable, always 'lucky' with finding the animals, and good fun.
We saw all of the big 5, most of them close up, and the different locations provided a very varied experience. We hot air ballooned at sunrise over the Masai Mara, had a picnic out 'in the bush', a great view from the room over watering holes in Tsavo and visited a Masai village in Amboseli.
Would definitely recommend - a great experience all round.
Sharad Rai
–
US
Visited: October 2022
Reviewed: Oct 23, 2022
Email Sharad Rai | 50-65 years of age | Experience level: 2-5 safaris
Incredible experience, Image Travel is the star company!!!
Look no further if you are looking for high-end safari experience in Mara or whole of Kenya, Image Travel is highly-highly recommended. We just got back from our one week vacation from Kenya that we booked via Image Travel and we couldn't be more happier. In the beginning I was skeptical about hiring a local company in Kenya, but after few correspondences and talking with Mwanje, I felt the company is genuine and pretty legit so I decided to go with them. We flew business class and were expecting the same level of comfort and service in Kenya. And we were so pleased with things moving so swiftly for us, never a glitch or a hitch along the way. I am compelled to write this review from the overwhelming experience we received while vacationing in Kenya. Mwanje (the owner of the Image Travel Ltd.), and David (our Nairobi guide) are the stars and I am sure others are too, but we didn't get a chance to work with them. We were flown from Nairobi to amazing FMKSC/Nanyuki for 2 nights and then flown to equally amazing AndBeyond Kichwa Tembo Tented Camp in Masai Mara wehre we were booked for next 2 nights. What an amazing place... great staff, great location (wildlife in abundance), and above all... GREAT SERVICE!!! Shout out to Sopia, Dennis, head chef, missing some names, and Stephen, our guide. We saw all big 5, and so up close. Stephen always positioned our vehicle in ways that gave us best viewing angle so up close, I was able to take some great yet memorable shots this time! Thank you Image Travel for making this a memorable vacation for us. This was my second safari but first for my wife and she thoroughly enjoyed the adventure, the animals, the people and the great service. We wish to go back again... We met Mwanje at the end of the journey and equally impressed by his humility, passion and drive to make this company a great company in the coming days. This company has a great future...
Jay
–
GH
Visited: September 2022
Reviewed: Oct 21, 2022
Email Jay | 35-50 years of age | Experience level: first safari
Quick , Efficient, value for money and a Super Premium service!
We travelled to Kenya for our first safari in the 3rd week of September '22 (21st to 25th). I was looking for an agency online for curating our trip since it was our first time and we were three families with a total of 5 kids ranging from age 5 to 11. Shortlisted about 3 agencies after doing a detailed online research and Image travel was one of them. Mr. Mwanje from Image travel got in touch with me within a couple of hours from when I sent the query. We got in touch over phone after that and I explained to him what all we were looking to cover as a part of our safari and it was smooth sailing then after. He quickly came back with a draft itinerary with some camp options and their tentative costs. We had a couple of rounds of discussions on the camp type, security there , them being kids friendly etc and we finalized upon the camp (Neptune Mara) and the itinerary. The cost he gave us was very competitive as I had also got two more quotes for a similar itinerary. A few days before we travelled one of the family had to drop out due to a medical emergency and Mr. Mwanje skillfully handled the cancellation part and ensured that we did not have to pay any cancellation charges being a sudden medical emergency.
Our itinerary was to land in Nairobi (early in the morning) , get transferred to the Wilson Airport and take the Safarilink flight to Masai Mara (stay 3 nights) and then back via road from Mara to Naivasha (stay 1 night) and then to the Nairobi Airport. Image travels booked the entire bit from pick up at the Nairobi airport to drop back. As soon as we stepped out of the Nairobi airport , we got picked up by David who smilingly welcomed us to Nairobi with a loud "Jambo". The safari link flight was on time and very efficient and we landed on the Mara Musiara airstrip where Jasan our guide and driver was there waiting to pick us up the 4*4 Landcruiser. Game was bountiful and we had spotted Zebra, Wild Buffalo , Giraffe , Thomson's Gazelle and Topi by the time we reached the camp.
Camp itself was amazing and will write a detailed review on the same. Jasan in the 4 days we were with him ensured that we saw the big 5 and we were lucky (with a lot of effort from Jasan to take us deep into the bush). His energy and commitment to ensure that we see the big game was just inexhaustible with long 7-8 hour game drives which he took us on with a big smile. He was extremely knowledgeable not only on the game animals but also a bird lover !!
We drove from Masai mara to Lake Naivasha while visiting Lake Nakuru where we spotted the famous Rhino up close. We stayed at the Naivasha Sopa lodge which was a dream resort with game freely roaming around inside the premises (Zebra , Giraffe and Hippos !).
Jasan dropped us back to the airport on the day of our flight. It was the most wonderful experience dealing with Mr Mwanje. He was extremely responsive, accommodating and absolutely clear in the dealings (he was sending me screen shots of the cancellation discussion with the camp till the day of or arrival in Nairobi!)
Karthik
–
Visited: September 2022
Reviewed: Oct 10, 2022
Email Karthik | 35-50 years of age | Experience level: first safari
Truly great safari!
What an amazing trip. Organised a 5 day safari only 5 weeks in advance. The communication was great throughout and lots of information provided. The guide David made the trip incredible with his knowledge, humour and helpfulness. The accommodation selected was perfect. Have already recommended to family and friends.
Debra
–
US
Visited: September 2022
Reviewed: Sep 30, 2022
Email Debra | 65+ years of age | Experience level: 2-5 safaris
Mwanje was attentive to our needs, and provided a tour that exceeded our expectations.
We booked Image Travel's 9 Day Kenya Classic Luxury Sky's Escape. The parks we visited, Meru NP. Loisaba Conservancy, and Masai Mara NR, were excellent choices to experience three different habitats and numerous mammals and birds. The lodging for this trip was beyond expectation! Mwanje was attentive to our wishes for this trip, and communication was prompt and detailed. The value for the price was excellent. The tour proceeded as stated in the itinerary. Thanks to Image Travel, we had a trip that will be remembered as one of our best,
Eissa
–
AE
Visited: September 2022
Reviewed: Sep 30, 2022
Email Eissa | 35-50 years of age | Experience level: 2-5 safaris
Amazing trip
Mwanje was the best , he arranged for us everything within one day only and it was amazing trip ever .


Inas Chehimi
–
AE
Visited: August 2022
Reviewed: Sep 30, 2022
Email Inas Chehimi | 35-50 years of age | Experience level: first safari
Very helpful
I wasn't sure which safari company to choose specifically I had narrow window of time to decide. I found this site very helpful and assuring to get good experience ( No bad surprises). Highly recommended and thank u again
Joran
–
CA
Visited: September 2022
Reviewed: Sep 29, 2022
Incredible safari
This safari exceeded our expectations. The accommodations were some of the best and most unique we have ever stayed in. Our guide Jasan was very knowledgeable about not just animals, but the cities we were visiting, the culture, and almost any question we asked. He was able to find time for us to stop at the Masai Mara village on the way back. Jasan was a fantastic driver. We saw a number of other vehicles that broke down or stuck in the mud, but Jasan always kept us safe and operational.

There wasn't a single animal that we didn't see on this trip. We saw the big 5 and some.

One of the best vacation experiences we have ever had. HIGHLY recommend.

Mariya
–
US
Visited: September 2022
Reviewed: Sep 28, 2022
Email Mariya | 20-35 years of age | Experience level: first safari
Excellent satisfactory service
Our Safari Excursion at Masai Mara was an experience of a life time. It certainly fulfilled a huge item on our bucket list. Image Travel made the experience extraordinarily special. Firstly, they booked us into Serena Lodge which is the only lodge in the Mara Triangle where the viewing of Mara animals was most concentrated and abundant. Secondly, we were able see everything one could expect in Mara.
 
What made this Safari different was the expertise of Tony, our super-guide extraordinaire. His persistent and uncanny "wilderness-sense" helped us to spot the mother and baby Rhinos hidden amongst hundreds of Buffalos at a distance of over 200 meter. A most incredulous feat. In addition, Tony is not only an expert guide he is also extremely knowledgeable: all the way from identifying the specific name of each animal as well his ability to teach us about their habitat and life-cycle in great details. In total we witnessed and captured on film 26 different kinds of animals, and 16 different kinds of birds. (See a detailed list at the end of this review).
 
The hot air balloon flight arranged by Image Travel was nothing short of super-amazing. Sailing over the savannah gazing at hundreds of giraffes, elephants, elands, hippos, etc from the air was utterly awe-inspiring.
 
Finally, between Tony and David, they made everything comfortable and facilitated everything. They anticipated our needs and made sure we are well cared during the 5-day safari. We could not be more satisfied and happier about our Safari excursion arranged by Image Travel. If you are looking for a first rate Safari, Image Travel is the place to book it. Asante Image Travel.
 
Masai Mara, Mara Triangle Animals and Birds captured on film. 
ANIMALS: Cheetah with 4 cubs; 3 Lionesses and 4 sub-adult cubs in a pride, two sets of mating lion couples, and three other prides;  Elephants, many packs, many times, also many "lonely" males; Zebras, thousands; White bearded western wildebeest, hundreds of thousands; Hyenas, several times; Eastern black rhino (mother and cubs), an amazing find among hundreds of buffaloes;  Hippos (hundreds of them); Nile Crocodiles, hundreds; Leopards, a mating couple on a tree, and one that caught a wildebeest-witnessed within 10 feet; Thompson's gazelle, numerous time, one time chased by the cheetah; Grant's gazelle, dozens of them; Greater Antelopes, dozens of them;  Topis, dozens of them;  Cokes Hartebeest, dozens of times; Elands, dozens; Waterbuck, dozens; Buffaloes, hundreds; Warthogs, about 10; Silver back Jackals, several times; Black back jackals, several times; Masai Giraffe, dozens;   Serval Cats, two times; Monitor Lizard; Mongoose and Baboons, dozens. A total of 26 different kinds of animals. BIRDS:  Augur Buzzard,  Leppet-face vultures,  Secretary bird, Marabou Stork, Black headed heron, Verreaus owl,  Lilac breasted roller, Ox packers, Cattle egret, Blacksmith plovers, Ostrich,  Laped trace vulture,  Ruppel's Griffon Vultures, White buck vultures, Long crested eagle, and Southern ground hornbill. A total of16 kinds of birds.

Valeria
–
IT
Visited: September 2022
Reviewed: Sep 21, 2022
Email Valeria | 20-35 years of age | Experience level: first safari
Unforgettable experience. Great service, driver, tour and organisation.
I love my trip to Masai Mara. We did everything with Image Travel Limited and we didn't have to worry about anything. Transportation, tour, car, guide, and the hotel they helped us choose, everything was excellent. Service, Super fast answer from our contact point, and super flexible in order to customise the trip as your needs. I will repeat it again soon.
Disclaimer
All corporate and/or tour info is provided by Image Travel , not SafariBookings
The tours offered by Image Travel are subject to their terms & conditions