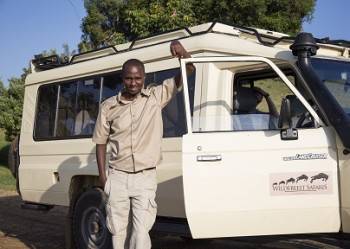 Wildebeest Safaris
4.8/5 – 458 Reviews
Located In:

China

Size:

10-20 employees (Founded in

1997

)

Member Of:

ETT

& TRA

Tour Types:

Custom mid-range tours that can start every day

Destinations:

Price Range:

$100 to $450

pp

per person

per day

(USD, excl. int'l flights)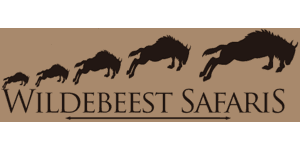 Janine
–
DE
Visited: July 2023
Reviewed: Aug 16, 2023
Email Janine | 20-35 years of age | Experience level: first safari
Fantastic Safari
This was our second booking with Wildebeest Safaris and we can absolutely recommend this company. They always responded very quickly via email and WhatsApp. We did a 3 day private tour and took a flight to Muslara Airstrip, where we were picked up from. Also our camp (Mara Crossing Camp) was amazing! Overall we had a great safari experience even though we did not see all of the big five, so we will have to come back for that.

weailo
–
CN
Visited: May 2023
Reviewed: Aug 15, 2023
Email weailo | 20-35 years of age | Experience level: first safari
Roaming with the wild
Wildebeest Safaris in Tanzania provided an exceptional and immersive wildlife experience. From the moment we set foot in the Serengeti, the professional guides ensured our safety and satisfaction. The sight of thousands of wildebeest and other animals during the Great Migration was awe-inspiring and truly a once-in-a-lifetime spectacle. The accommodations were comfortable, blending seamlessly with the natural surroundings, and the culinary offerings were a delightful surprise. The knowledgeable guides not only showcased their expertise in the local fauna but also shared insightful stories about the ecosystem and conservation efforts. Witnessing the predators in action and the harmonious coexistence of different species was both thrilling and humbling. Wildebeest Safaris in Tanzania delivered an unforgettable adventure that exceeded our expectations.
Naz
–
Visited: August 2023
Reviewed: Aug 14, 2023
Email Naz | 50-65 years of age | Experience level: over 5 safaris
The review below is the personal opinion of Naz and not that of SafariBookings.
Unreliable
After reading the majority of positive reviews about Wildebeest Safari's, I decided to book a three day safari to Masai Mara with them. Two years ago I went on a combined Kenya&Tanzania, and having had a very positive experience on the Tanzanian side and not a great one on the Kenyan side, decided to try again.

Warning bells sounded when noah tried to charge me extra for an airport pick up and drop off, when pointed out the ad on safari bookings stated it was included, he relented and said it would be complimentary.

I was aware of the group joining tour strategy, ie various tour operators book guests that get put in a pool and divided on the morning of travel to various vehicles. I was allocated to a vehicle driven by josh.Josh, although new at the job( 2 months ) was lovely, professional and very helpful in what was a difficult situation regarding accommodation. I had previously stayed at a budget camp and requested an upgrade to a mid range lodge ( Simba and Oryx) with an amount agreed on. At lunch, it was apparent this wasn't communicated. Josh called Noah, who I believed confirmed the booking.The first evening,I was dropped off there .Sadly it became apparent no booking arrangement was made. They could not make a last minute booking either as they had full occupancy. Josh had to drive back and pick me up at 8pm. He managed to make a last minute arrangement at a camp that hadn't even been discussed as a budget option.Josh attempted calling Noah repeatedly with no response(he later stated he was in Tanzania). Sadly a night without hot water after a long drive was not fun

The following night , the manager of Simba and Oryx, James, also got involved. He contacted Noah to pay the fee for the one remaining night( this was more than Noah had quoted and i believe why the booking hadn't been procured- i paid the amount quoted).

The vehicle unfortunately developed problem with the steering wheel ( rotated 180 degrees) which necessitated being transferred to a taxi in the CBD to take me to the airport.

This review is about Wildebeest safaris. Josh, James, Simba & Oryx and the Masai Mara were all wonderful.

Karl W
–
US
Visited: July 2023
Reviewed: Aug 9, 2023
Email Karl W | 65+ years of age | Experience level: over 5 safaris
Noah worked well with me to provide a wonderful experience for my group of 21 friends and family.
Our tour included the wildebeest migration in Kenya and Tanzania. The lodges were beyond our expectations in the Mara and Amboseli. In the Serengeti we had a tent camp that was closer to our concept of tenting. Their power is solar based so we lost power during our two nights there.

We visited Ngoragora Crater which was on my list to see. Fabulous experience.

Amboseli was our last park to visit. It was beautiful but the mountain did not show herself.

I would like to commend our drivers in Kenya and Tanzania. They carefully drive us over bouncy roads and safely deliveeed us to our destinations.

We spent two days tracking the wildebeest for their crossing. We got close once but the backed away. The next day we witnessed the crossing. It was several thousand wildebeest. Quite an experience.

From start to finish we had a great time. Everyone agrees it is a trip of a lifetime. I'm so glad we did it.
Thank you Noah for your hard work and attention to details.

I would highly recommend Wildebeest Safaris for your next trip in Kenya and Tanzania.
Anirudhan
–
SA
Visited: August 2023
Reviewed: Aug 8, 2023
Email Anirudhan | 35-50 years of age | Experience level: over 5 safaris
Excellent service
Excellent service provider, expert driver / guide and well organised. Immediate response for any queries and totally satisfied service provider. Mr. Dennis, he's an expertise in wildlife safaris.
Johanna
–
NL
Visited: July 2023
Reviewed: Aug 7, 2023
Email Johanna | 20-35 years of age | Experience level: 2-5 safaris
Fantastic tour operator that caters well to the wishes of the customer!
We did a 7-day safari with Wildebeest Safaris in Northern Tanzania exploring 4 different parks. Our booking was relatively last minute, however, the operator took time and effort to cater the safari to our needs and wishes - providing an excellent itinerary with wonderful lodges and tented camps. They were extremely reliable and communications were excellent. This is the third safari I have done with this operator (a different driver/ tour guide this time) - and I have always had a fantastic experience. The guides are extremely knowledgeable and friendly and ensure that the entire experience is very memorable. We cannot recommend Wildebeest Safaris enough and would do another safari with them any time in the future.
Michael
–
QA
Visited: June 2023
Reviewed: Jul 3, 2023
Email Michael | 35-50 years of age | Experience level: first safari
Amazing Experience
From just the 1st email contact with Mr Noah, everything was so organised and so professional. Was picked up at the airport by Dennis who was such a awesome tour guide. He seemed to be one step ahead of other operators and so we were always getting the best spots and timings, had great knowledge of the animals and their behaviours. Was able to see the big 5 in just 2 days.

Will definitely hit them up again if and when I decide to do another safari.
Adriana Rovira
–
MX
Visited: May 2023
Reviewed: Jun 3, 2023
Email Adriana Rovira | 35-50 years of age | Experience level: first safari
Wildebeest made our stay in Kenya really wonderful
Our experience in Kenya it was really wonderful, all of the hotels and camps were very very nice. The food was really spectacular, all the hosts very kind and our guide Jeff Savai an excellent person. Very flexible with our plans, very funny and kind, and always worried about our necessities.
The safaris game drive always awesome. An experience you must live at least once in your live.
I really recommend Wildebeest Safaris.
Natasa
–
SI
Visited: May 2023
Reviewed: May 29, 2023
Email Natasa | 50-65 years of age | Experience level: over 5 safaris
Best tour operator for Kenya - 10 days private Safari
We are enthusiast in nature and animals. Went last year in July on 7 days safari in Serengeti, Ngorongoro and Tarangire, decided to do it again this year and that we wanted to go to Kenya parks as well. I started to plan our trip quite late in March, but with the great help and suggestions of Noah from Wildebeest Safaris, who had always time for my endless questions we finally made a perfect plan, that we were able to see 5 of the Kenya's best NP. Since we were coming from Serengeti NP he arranged that our guide Denis picked us up on the border of Isebania and than we spent 2 days in Masai Mara, went to Nakuru NP which we loved it a lot. After this we went to Samburu national reserve for 2 days, where we were able to see all 5 endemic animals (Gerenuk, the Reticulated giraffe, the Somali ostrich, the Grevy's zebra, the Beisa oryx). On the way to OL Pajeta we saw Mt. Kenya. For the last two days we went to Amboselli. Our safari was in the begining of May which is low season and that was great, since in most camps and on Safari we were nearly the only guest and so got special treatment... had closer view to animals. The distances between parks are quite long, specially between OL Pajeta and Amboselli, but we really had good driver and guide named Denis, who was able to follow up with all our wishes to spend as much time as possible in the parks searching for animals. He was also a really good driver, since some roads were really not existing but he managed all of them. He also new a lot about animals and had many informations about different prides in some area of parks (how big is the pride, some history of each pride and some interesting stories about the animals). In Masai mara we saw two famous cheetah and were also able to see and follow leopard for nearly half an hour, we saw lions eating buffalo, we were in the middle of fight of 2 clans of nearly 50 hyenas and in Amboselli we could monitor how 7 lions were planing an attack on 2 warthogs. I must say, that it wasn't easy to please demanding clients as we are, but Noah and Denis managed everything. Noah is really patient and is trying to find the best solution for every our wish, he knows the bussines and was allways there for me, when I had some ideas or questions. He also suggested us to visit Nakuru NP (instead of Naiwasha) and Samburu instead of Tsawo, which we both really liked. And our guide and driver Denis did great job, since it was not easy to be fully concentrated on safe driving, surching for animals, answering on our questions and be out for the whole day from early morning till late evening. What to say at the end - I recomend this safari with Wildebeest Safaris to everyone. It's really nice to see the animals in their nature habitat and it's special experience.
Sebastian
–
MX
Visited: May 2023
Reviewed: May 25, 2023
Email Sebastian | 20-35 years of age | Experience level: first safari
This is the people you want to go on a safari with! No doubt.
Look no further, this is the company you want to make your safari dreams come true. We thoroughly researched all the options available and concluded Wildebeest safaris was the best for us. This decision proved to be the best we could have taken.
The arduous task of planning a trip to Africa was made easier once we got in contact with Noah. He created a tailored trip for us with the most practical itinerary and the best prices.
The accommodation selection was a pleasant surprise, may I recommend visiting Zebra Plains and Emabalakia Camp as this are a delightful memory to reminisce back to.

We encountered payment problems with our bank which prevented us from being able to liquidate the total of the safari, and in this aspect I MUST remark Noah was beyond comprehensive and helpful, he actively provided solutions and overall was patient while we figured out the way to make payment arrive. He never threatened to cut the safari short and the treatment we received was the same from start until payment was finalized.
This is something I really appreciate as speaks of his professionalism.

Another very important thing to remark is the quality of drivers he has taken under his wing. Dennis was a one-of-a kind safari guide. his extensive knowledge of the animals and their behavioral traits made an even more pleasant experience, he also many times went out of the way to get us as close to the animals as possible. We grew fond of Dennis and hope we can keep in touch with him!
Our other driver was Hamsa, a very experienced driver in Tanzania that was also beyond knowledgeable and furthermore had an amazing eye for photography, he understands lighting and position and this proved amazing as we are now seeing the photos we took.

Overall this experience was a 10/10
I would recommend all my friends to go with wildebeest without a doubt.
I encourage you to take on the safari challenges just make sure you have wildebeest by your side!
Disclaimer
All corporate and/or tour info is provided by Wildebeest Safaris , not SafariBookings
The tours offered by Wildebeest Safaris are subject to their terms & conditions