Weather & Climate – Zimbabwe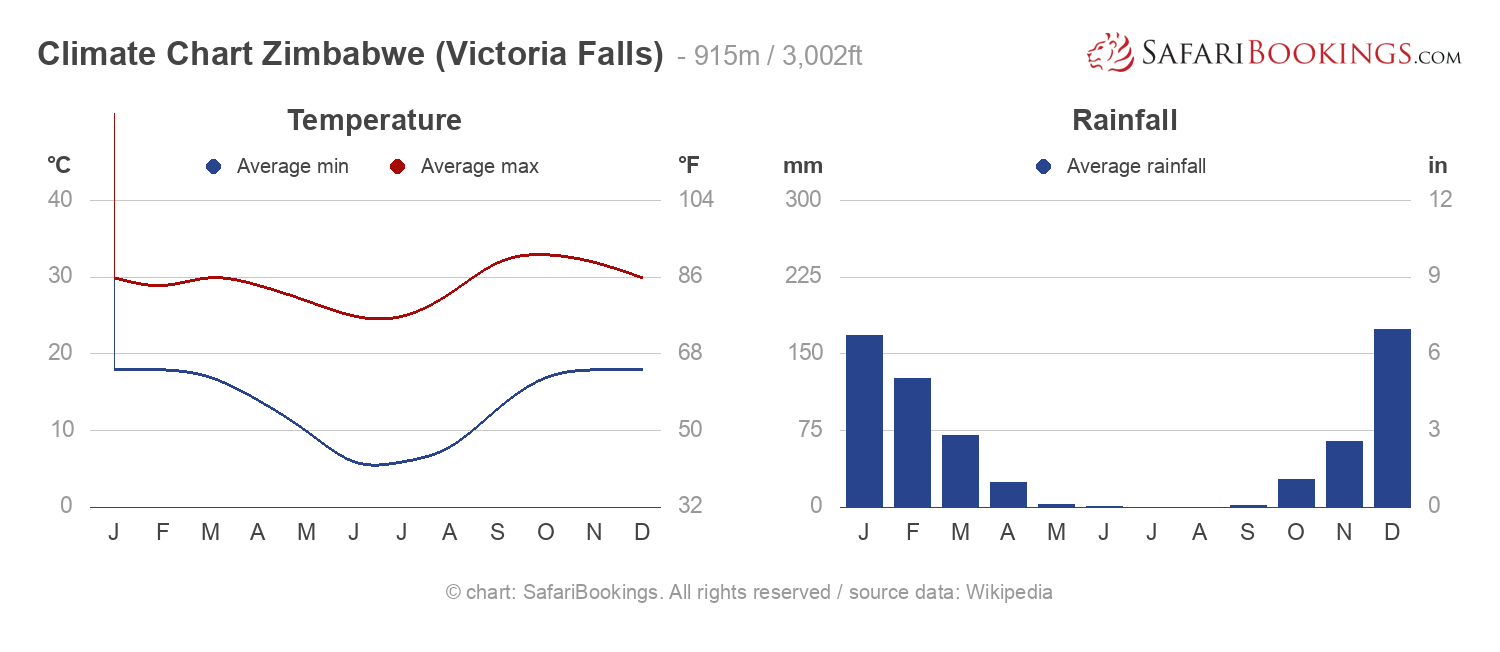 Climate Chart Victoria Falls
– 915m / 3,117ft
© chart: SafariBookings. All rights reserved / source data: Wikipedia
Zimbabwe enjoys a lovely, temperate climate. The central highveld plateau has temperatures coming up to 28°C/82°F. Lower-lying parks such as Hwange and Zambezi NP are warmer year-round and temperatures can reach 31°C/88°F. Mana Pools, Matusadona and Gonarezhou are even lower and get hot, with temperatures soaring to 35°C/95°. The Eastern highlands are much colder and receive significantly more rain.

During the Wet season, from November to March, rains usually fall in heavy afternoon showers, but they can sometimes be lighter and continuous for a couple of days. The Dry season, from April to October, is pretty much rain- free and colder. Nights and mornings can be as cold as 5°C/41°F to freezing, but daytime temperatures are still pleasant with a great deal of sunshine. Zimbabwe experiences winter and summer in opposite times as Europe and North America and they correspond to the Dry and Wet season.
Victoria Falls' climate compared to Zimbabwe's parks
Victoria Falls has a comparable climate to the popular parks Hwange and Zambezi. These areas enjoy warm to hot weather in the Wet season. In the Dry season, it is still very pleasant during the day, but nighttime and mornings will be cold. Mana Pools, Matusadona and Gonarezhou have lower altitudes and are hotter. Temperatures increase by about 6°C for every 1,000m you descend (or 3.5°F per 1,000ft). Parks on the central highveld plateau such as Matobo have a slightly cooler climate while Nyanga at the Eastern highlands is quite cold by comparison and has higher rainfall figures of up to 2,000mm per annum.
Dry season
–

April to October – Winter
During the Dry season, there is virtually no rainfall, and humidity is low. Wildlife will concentrate around waterholes and rivers when other water sources dry up.
April, May – This is the end of summer. Temperatures are relatively cool, typically around 10°C/50°F in the morning and 28°C/82°F in the afternoon. The nighttime temperatures start to drop. By May, the rain is almost gone.
June, July & August – Be sure to pack warm winter clothes because morning game drives in open vehicles will be cold. The average morning temperature is 6°C/43°F. Afternoons will be more pleasant with temperatures around 25°C/77°F. Parks at lower altitude will be warmer.
September, October – The heat gradually builds and reaches its annual peak in October. The first rains can fall by late October, bringing relief from very dry conditions. The lower lying areas get very hot in October with temperatures of 32°C/90°F and well above. The increasing humidity can make it feel uncomfortably hot.
Wet season
–

November to March – Summer
November – This month is unpredictable, and it might start raining some afternoons. Temperatures are between 18°C/64°F in the morning and 32°C/90°F in the afternoon. Parks in the central highveld plateau will be colder, and parks at lower altitude will be considerably warmer. In the low-lying parks, temperatures can frequently peak at 40°C/104°F or higher throughout the Wet season.
December, January, February & March – These are the wettest months, characterized by torrential downpours in the afternoon and sometimes continuous rains for a couple of days. Nights and mornings are warm at around 18°C/64°F. Afternoon temperatures are around 30°C/86°F and the humidity is high, making it feel hotter.
Want to Visit Zimbabwe?