​Weather & Climate – Zimbabwe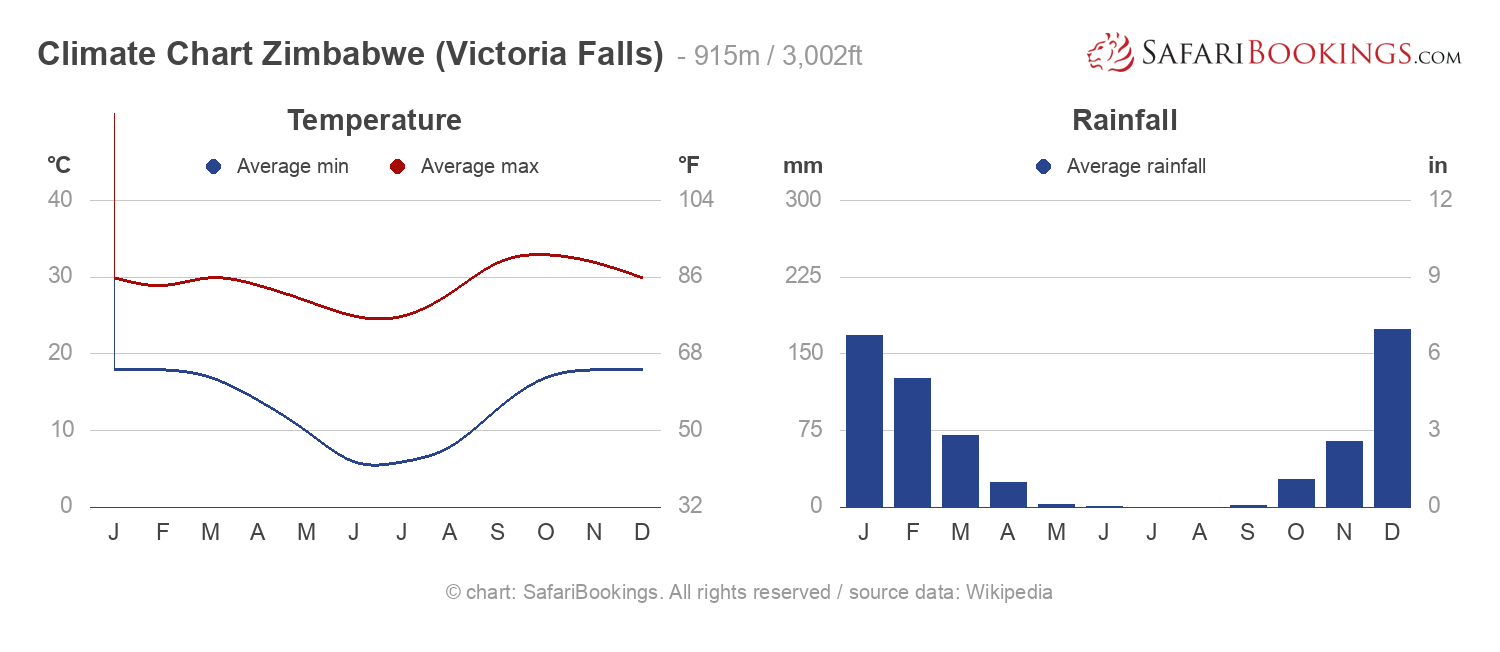 Climate Chart Victoria Falls
– 915m / 3,117ft
Zimbabwe enjoys a lovely, temperate climate. The central highveld plateau has temperatures up to 28°C/82°F. Lower-lying parks such as Hwange and Zambezi NP are warmer year-round. Mana Pools, Matusadona and Gonarezhou are even lower and get hot, with temperatures soaring to 35°C/95°.

During the Wet season, from November to March, rains usually fall in the afternoon. The Dry season, from April to October, is colder. Nights and mornings can be as cold as 5°C/41°F, but daytime temperatures are still pleasant and sunny.
Dry season

–

April to October – Winter
During the Dry season, there is virtually no rainfall, and humidity is low. Wildlife will concentrate around waterholes and rivers when other water sources dry up.
April & May – This is the end of summer. Temperatures are relatively cool, typically around 10°C/50°F in the morning and 28°C/82°F in the afternoon. The nighttime temperatures start to drop. By May, the rain is almost gone.
June, July & August – Be sure to pack warm winter clothes because morning game drives in open vehicles will be cold. The average morning temperature is 6°C/43°F. Afternoons will be more pleasant with temperatures around 25°C/77°F. Parks at lower altitude will be warmer.
September & October – The heat gradually builds and peaks in October. The first rains can fall by late October, bringing relief from very dry conditions. The lower lying areas get very hot with temperatures of 32°C/90°F and well above.
Wet season

–

November to March – Summer
November – This month is unpredictable, and it might start raining some afternoons. Temperatures are between 18°C/64°F in the morning and 32°C/90°F in the afternoon. Parks in the central highveld plateau will be colder, and parks at lower altitude will be considerably warmer.
December, January, February & March – These are the wettest months, characterized by torrential downpours in the afternoon. Nights and mornings are warm at around 18°C/64°F. Afternoon temperatures are around 30°C/86°F and the humidity is high, making it feel hotter.
Want to Visit Zimbabwe?