You don't need to travel far from Durban, KwaZulu-Natal's largest city and the country's busiest port, to get to the bush. The city, with its urban sprawl and idyllic coastline, is a good springboard to visit some of the province's many safari parks and game reserves.
Maybe you would like to self-drive to Hluhluwe-Imfolozi, the country's oldest game reserve, or indulge in the 5-star treatment offered in Phinda or marvel at Tembe's giant elephants. Here are some of our favorite safari parks and game reserves near Durban:
Hluhluwe-Imfolozi Game Reserve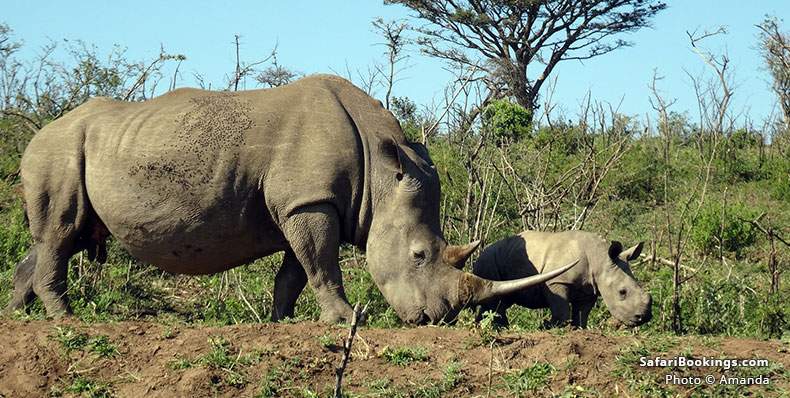 flickr.com/photos/amanderson/27777422482
Hluhluwe-Imfolozi, one of South Africa's most popular game reserves, is less than a 3-hour drive from the hustle and bustle of the Durban metropolis. It was established in the 1890s as a sanctuary for what was then the country's last remaining population of southern white rhino. The reserve has been overwhelmingly successful and this is now one of the top places in Africa to see this threatened member of the Big 5. Other animals you might spot here include elephant, buffalo, giraffe and a variety of antelope including the gracious nyala.
Distance from Durban: 2½ hours
Accommodation options: Inside the reserve, Hilltop and Mpila Camps offer a variety of options including self-catering chalets, family cottages, safari tents and budget rondavels with communal ablutions. There are several private lodges and hotels outside the reserve as well.
Activities: Game drives, game walks, overnight wilderness trails
21 Tours that include Hluhluwe-iMfolozi
Phinda Private Game Reserve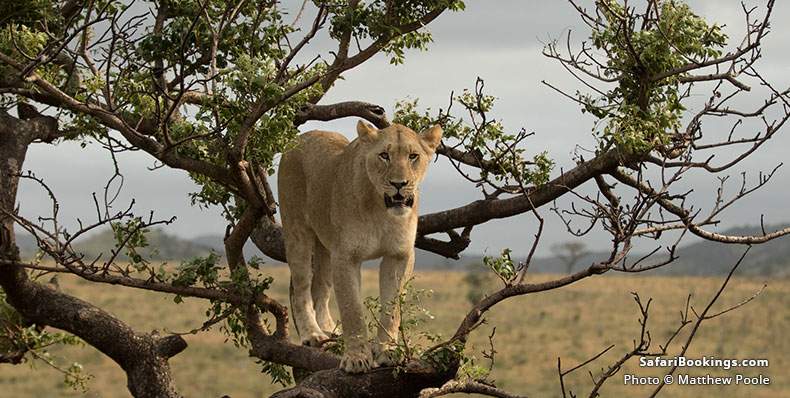 flickr.com/photos/rdbrwanda/18987105948
Phinda is the most well-known and prestigious private game reserve near Durban. Staying in one of the six luxury lodges is an experience in itself – understated elegance and fine dining is the game. Phinda prides itself on the quality of the guiding and a safari here is not only exciting but also hugely educational. Expect close-up encounters of many creatures, big and small, and quite likely some action too. Phinda's flagship animal is the cheetah and this is one of the best places to observe this gracious big cat's behaviour; whether it is grooming, nursing cubs or running at lightning speed to hunt.
Distance from Durban: 3 hours
Accommodation options: Phinda is home to six luxury lodges, each with its own individual charm and character: Mountain Lodge, Rock Lodge, Forest Lodge, Vlei Lodge, Zuka Lodge and Phinda Homestead
Activities: Game drives; game walks; bird watching; community experience; rhino, elephant or pangolin research experience; optional beach excursion
uMkhuze Game Reserve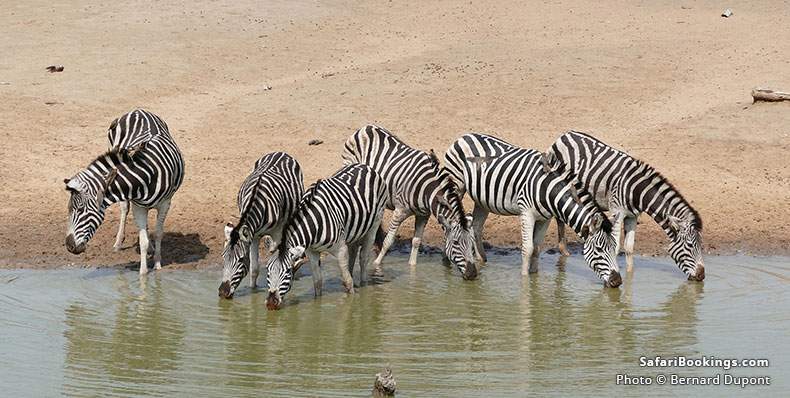 flickr.com/photos/berniedup/32032213392
uMkhuze Game Reserve is part of a mosaic of protected areas that comprise iSimangaliso Wetland Park, South Africa's first UNESCO World Heritage Site. There is a network of roads to explore, but the thick coastal vegetation doesn't make for easy wildlife viewing. Spending time in the reserve's photographic hides, on the other hand, is hugely rewarding. You're literally in the middle of a waterhole when sitting in the stilted kuMasinga hide. You don't need patience to spend a couple of hours here. You can expect a constant stream of animals coming to drink including zebras, wildebeest, warthogs, elephants and rhinos. With some luck you'll even witness a pack of wild dogs or a pride of lions disturbing the peace.
Distance from Durban: 3½ hours
Accommodation options: Mantuma Rest Camp has a variety of accommodation options, including safari tents and self-catering chalets. Ghost Mountain Inn, located about 30 minutes away, offers more luxurious hotel accommodation.
Activities: Game drives, game walks, photography from wildlife hides, fig forest walk, bird watching
Ithala Game Reserve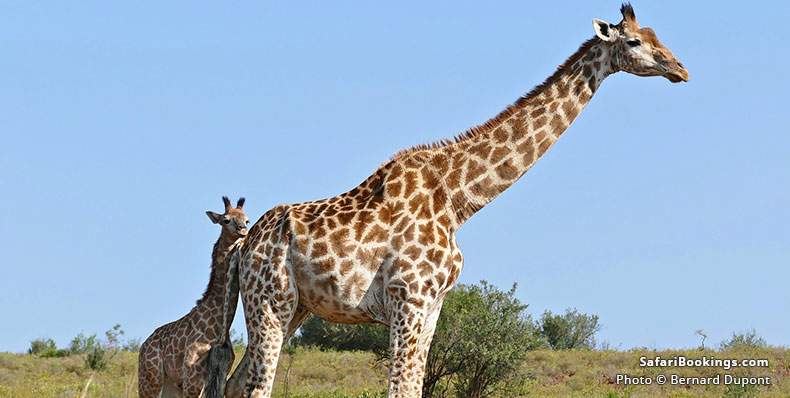 flickr.com/photos/berniedup/31643500553
Little-known Ithala is perhaps the most scenic of all the game reserves near Durban. Although not a Big 5 destination (lions are absent), there is a fair amount of wildlife around, including both black and white rhino. The mountainous terrain with associated cliff faces and rocky river beds is prime territory for leopards. Other predators to look out for are cheetah and brown hyena. There is a big variety of antelope including some unusual species such as eland, red hartebeest and tsessebe, the fastest antelope in Africa.
Distance from Durban: 4½ hours
Accommodation options: Inside the reserve, Ntshondwe Camp offers self-catering and non-self-catering chalets. There is no private lodging in or nearby the reserve.
Activities: Game drives, game walks, bird watching
Tembe Elephant Park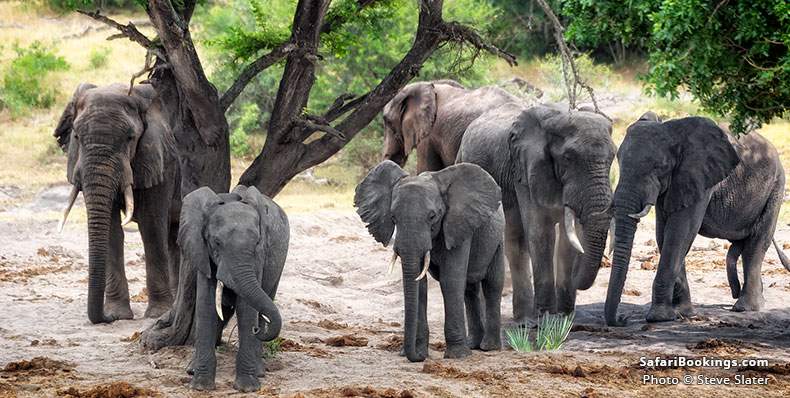 flickr.com/photos/leopardsteve/17057902988
Tembe Elephant Park is a Big 5 reserve, but it's really the elephants that steal the show here. Tembe was established in 1983 to protect what was then the last free-ranging population of elephants in South Africa. The remaining herd consisted of 150 individuals, many of which carried huge tusks. The gene has obviously survived, as Tembe is still known for its massive tuskers. Seeing one of these giants at close quarters is an unforgettable experience. The variety of habitats including the special sand forest is home to many Zululand specials such as the shy suni antelope and the cheeky samango monkey.
Distance from Durban: 5 hours
Accommodation options: The only accommodation in the park is the community-run Tembe Tented Camp which offers all-inclusive packages with meals and game drives
Activities: Game drives, game walks, photography from an elevated wildlife hide, cultural experiences
Zulu Nyala Private Game Reserve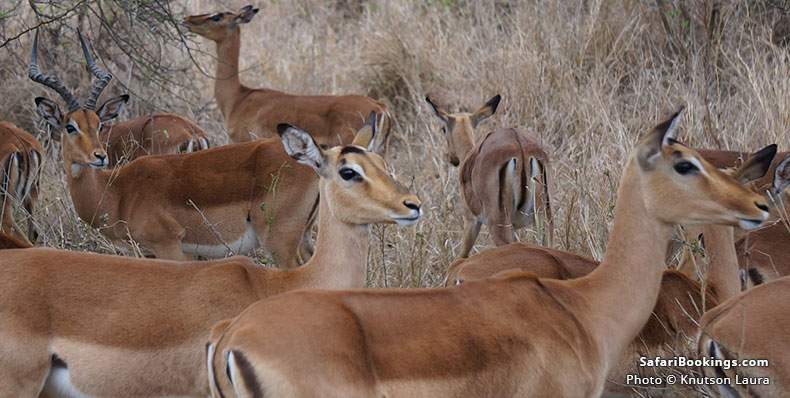 flickr.com/photos/104829375@N07/10177970376
Bordering the upmarket Phinda Game Reserve, Zulu Nyala is an altogether more affordable option. It mainly supports the same animals, although there are no lions in Zulu Nyala. Your guide will take you out twice daily on exciting game drives in an open safari vehicle. This is the best way to get close to animals, but mix it up with a walking safari for a different but equally thrilling experience. Zulu Nyala is also a good base to explore other natural and cultural attractions of the area. Several optional day trips including the popular St Lucia estuary boat tour are available.
Distance from Durban: 3½ hours
Accommodation options: Zulu Nyala Game Lodge is the only lodge in the reserve offering well-appointed air-conditioned rooms and safari tents
Activities: Game drives; game walks; Zulu cultural experience, optional day trips to iSimangaliso Wetland Park and other nearby reserves and attractions
Nambiti Private Game Reserve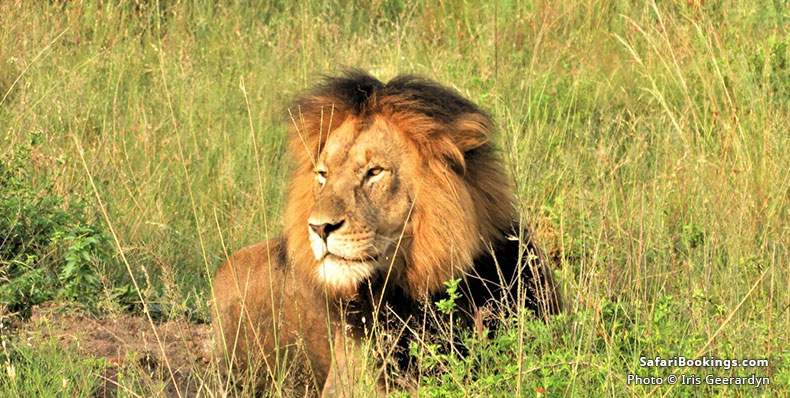 flickr.com/photos/152514912@N05/37395425582
Nambiti GR is a popular breakaway from Durban because of its relatively reasonable lodge prices. It is also perfectly located as a halfway stop between Durban and Johannesburg, and only a stone's throw away from the majestic Drakensberg Mountains. With its grassland habitat, typical of its highveld location, Nambiti has quite a different feel compared to the other KwaZulu Natal reserves with their lush coastal vegetation. There is a good selection of private lodges within the reserve all offering game drives in open safari vehicles and informative bush walks. Aside from the Big 5, more than 40 other mammal species are present. One of the more interesting inhabitants is the serval, a medium-sized cat rarely seen in other South African reserves.
Distance from Durban: 3 hours
Accommodation options: There are nine independent lodges inside Nambiti GR, including six 5-star game lodges and two tented camps. Facilities range from luxury to self-catering.
Activities: Game drives and game walks