Victoria Falls vies with Kilimanjaro as Africa's most awesome natural landmark. It is the world's largest sheet of falling water. It is formed by the mile-wide Zambezi as it crashes into a 105m/345ft-deep precipice on the Zambia–Zimbabwe border. Flowing at up to 500,000 cubic metres/110 million gallons per minute, it kicks up a 500m/1,640ft-high rainbow-tinted spray alluded to in its local name Mosi-oa-Tunya (Smoke that Thunders).
Victoria Falls is a stunning spectacle however you view it. Whether it's from the bottom of the gorge, from spray-doused Knife Edge Bridge, or from the comfort of a plane or chopper. But when it comes to a breathtaking immersive experience, nothing is quite so full-on as a dip in Devil's Pool. This oddly becalmed 3m/10ft-deep natural pool stands right on the edge if the abyss, separated from the raging white water by the narrowest of rock lips.
Where is Devil's Pool located?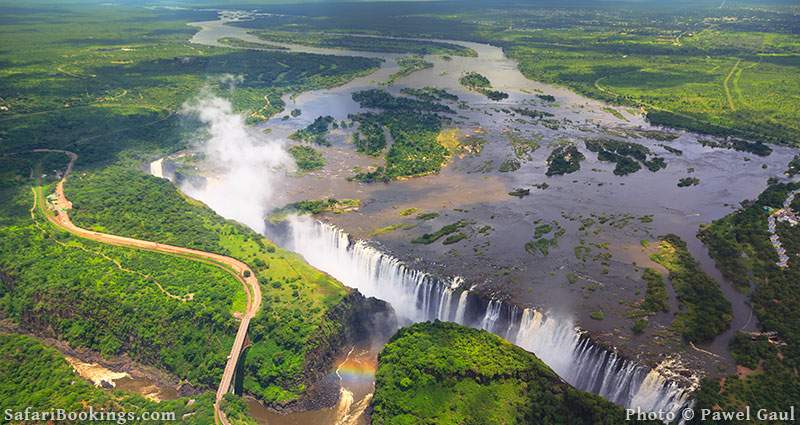 Devil's Pool is on the Zambian side of Victoria Falls. It stands almost midway across the mile-wide waterfall, close to Livingstone Island. It is accessible only on guided boat tours operated by Tongabezi Safaris. These leave from a launch on the Zambian bank of the Zambezi upstream of the falls.
Do you need to be fit to reach Devil's Pool?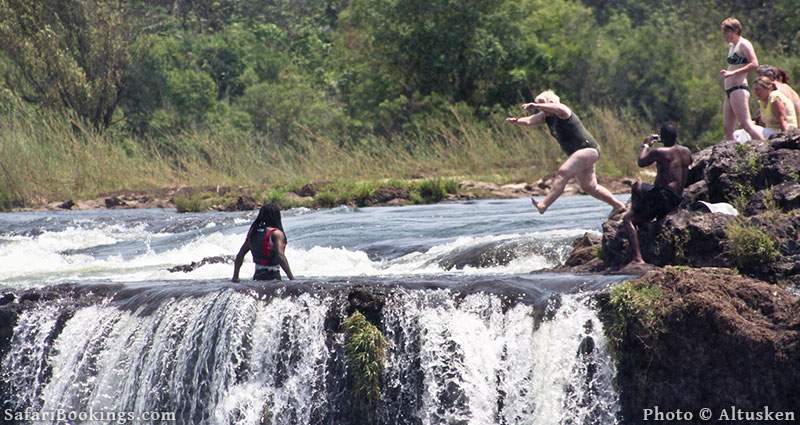 No. But you should ideally be able to swim. Medium to strong swimmers head to the Devil's Pool from Livingstone Island, swimming upstream for a short distance then back downstream into the pool itself. Weak swimmers can wade from the island to the pool, provided they don't mind being submerged waist-deep. In both instances, experienced guides are there to instruct and, if necessary, assist. There's nothing preventing non-swimmers from wading across either, but they are at slightly greater risk.
What are the best months to visit Devil's Pool?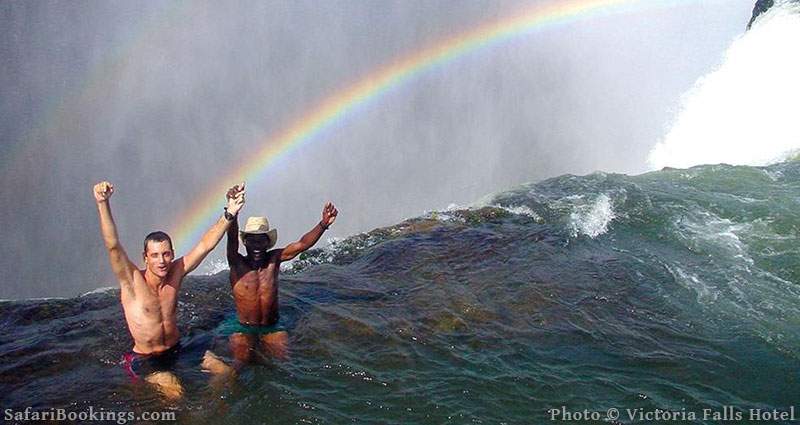 The only way to access Devil's Pool is seasonal boat tours to Livingstone Island. These operate for seven months of the year, i.e. June to December. They include an optional dip in the pool, but only when the Zambezi is low enough to swim there safely. This is usually from mid-August to end December, with access being most reliable in October and November, when the flow is weakest. Be aware, however, that seasonal levels vary from one year to the next, depending on how much and when it rained further upstream. The pool is closed to tourists when the flow is dangerously high, usually from 1 January to sometime in August.
Is Devil's Pool safe to visit?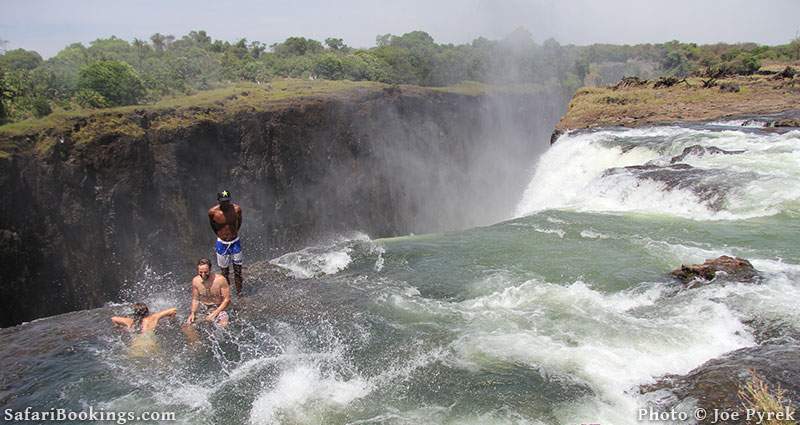 Essentially, yes. Minor accidents have occurred on the slippery rocks, but so far as we're aware there have been no fatalities on any organised tour. Assuming you don't actively court disaster, there is no significant risk of being swept over Victoria Falls. The short swim or wade across is also safe, provided you obey the guide's instructions. A less obvious cause for concern is the hippos and crocs that lurk in the Zambezi upriver of the waterfall. On the whole, however, these creatures are too sensible to come close to the waterfall, and the guides will scan the water carefully before allowing guests in.
Has anyone died going over Victoria Falls at Devil's Pool?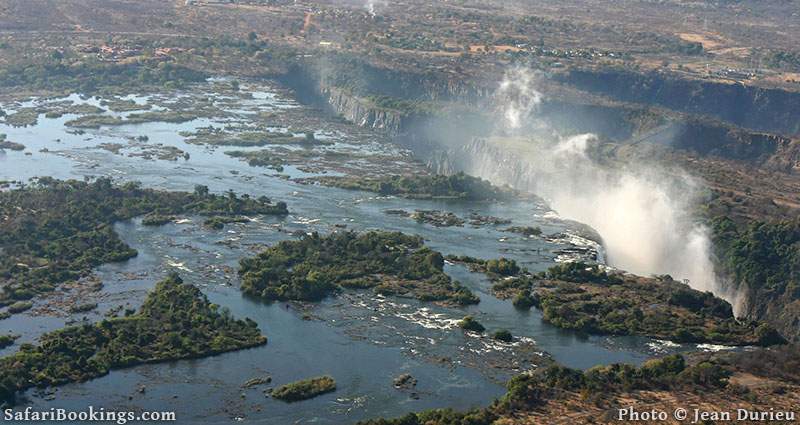 To the best of our knowledge, nobody has ever died going over Victoria Falls at Devil's Pool. In 2009, a South African tour guide fell to his death whilst rescuing a client who slipped in a channel above Victoria Falls. However, this did not happen at Devil's Pool, as initial reports suggested, but closer to the Zambian riverbank. No such incident has occurred since access to Devil's Pool was restricted to Tongabezi Safaris' guided tours. Indeed, as far as we know nobody has ever died for any reason at Devil's Pool (unlike its namesake in Queensland, Australia, which has claimed several lives).
What else is there to see at Devil's Pool?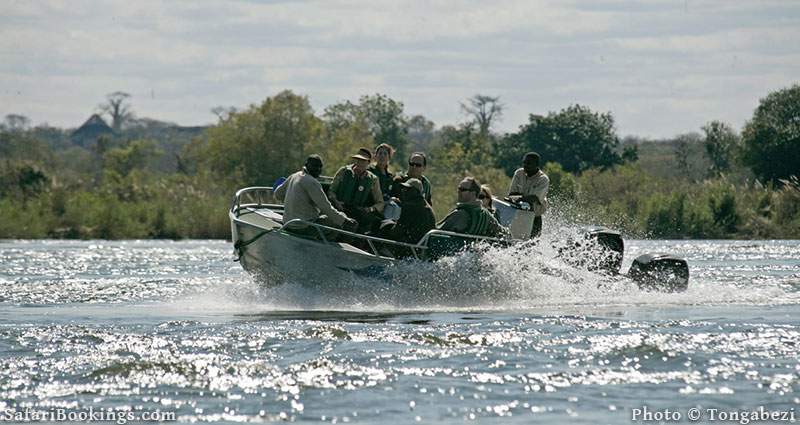 The boat ride to Livingstone Island traverses a wild stretch of the Zambezi hemmed in by lush tropical forests. There is some wildlife around, most conspicuously hippos and crocodiles, but you might also see elephants or buffaloes come to drink. The river supports a rich birdlife including the charismatic African fish eagle and a variety of herons, egrets, waders and waterfowl. Livingstone Island, as its name suggests, is where the Scottish explorer David Livingstone became the first European to reach Victoria Falls. A plaque marks the exact spot where Livingstone stood in 1855, noting in his diary that 'Scenes so lovely must have been gazed upon by angels in their flight'.
When's the best time of day to visit Devil's Pool?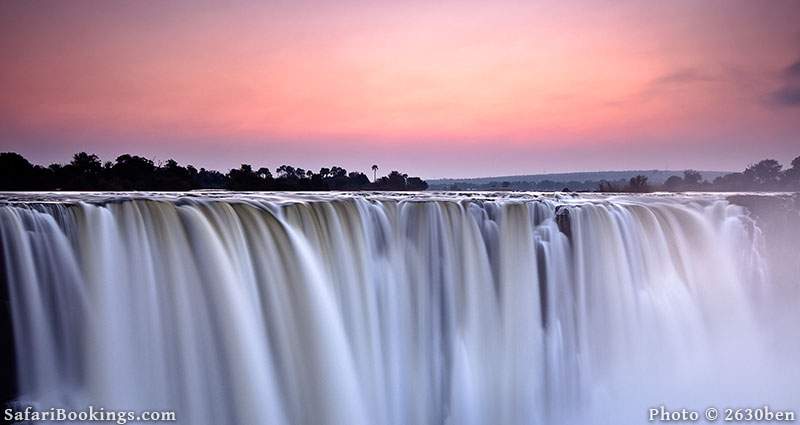 Visits to Devil's Pool are restricted to boat tours to Livingstone Island operated by Tongabezi Safaris. These leave five times daily in season (June to December). The 1.5-hour 'Livingstone Breezer' tours leave at 7:30 AM, 9 AM and 10:30 AM. There is also a 2.5-hour Lunch Tour that departs at 12:30 PM and a 2-hour High Tea tour at 3:30 PM. The riverine scenery is most photogenic in the early morning or late afternoon, which ties in with the 7:30 AM and 3:30 PM departures. Swimming is perhaps more pleasant in the heat of the day, which links with tours departing at 9 AM, 10:30 AM and 12:30 PM.
How much does Devil's Pool, Victoria Falls cost?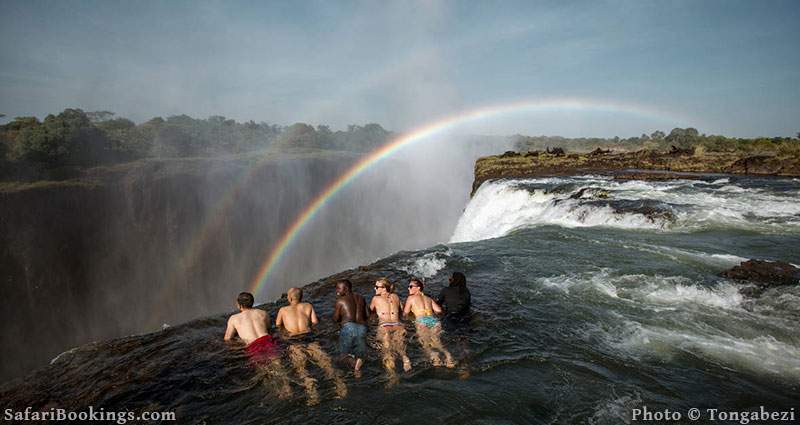 The 1.5-hour 'Livingstone Breezer' tours cost US$110 per person. Lunch Tours costs US$175 per person, and High Tea tours US$150 per person.
Can you visit Devil's Pool from the Zimbabwe side of Victoria Falls?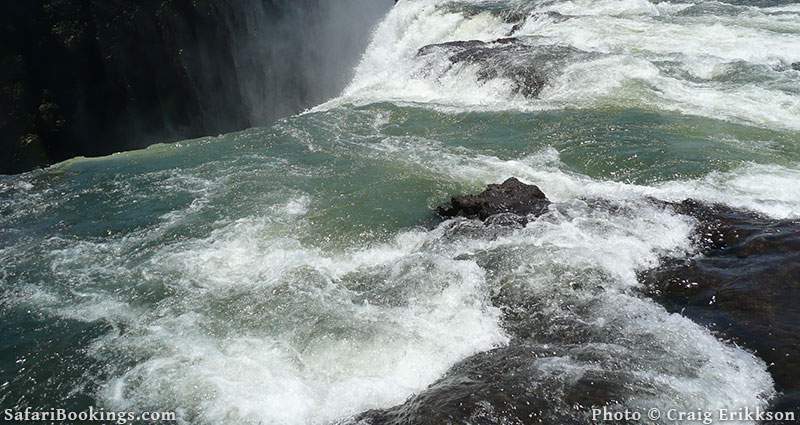 No problem! Any tour operator or hotel on the Zimbabwe Side of Victoria Falls can book you onto a day tour to Livingstone Island and Devil's Pool. It is also advisable to arrange transport to the Zambian launch point. Most visitors to Zambia require a visa, which can be obtained on arrival at the border. Don't forget your passport and leave in plenty of time to complete border formalities.
What should you bring and wear when visiting Devil's Pool?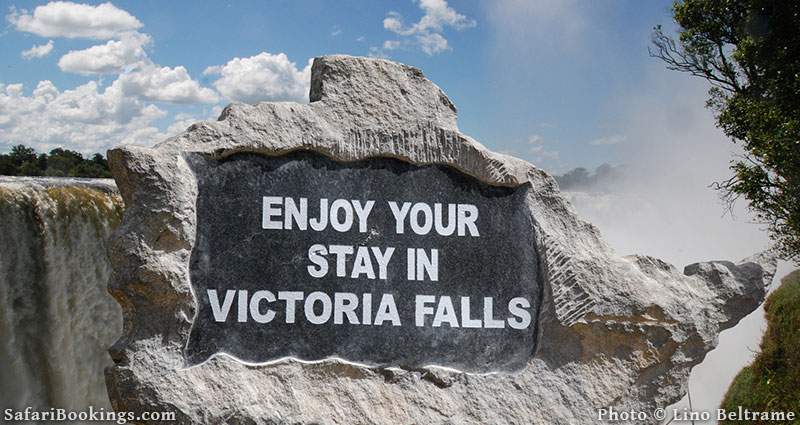 Tours to Livingstone Island and Devil's Pool include drinks, a meal, guides and a towel. Guests should bring their own cloths (shorts, T-shirt and flip-flops are fine) as well as swimming gear. Other essentials, especially for later departures, include sunblock, sunglasses and a sunhat. Bird-watchers might want to carry binoculars to get a close up view of the prolific riverine birdlife (as well as the occasional crocodile or hippo).
Is there an age limit to visiting Devil's Pool?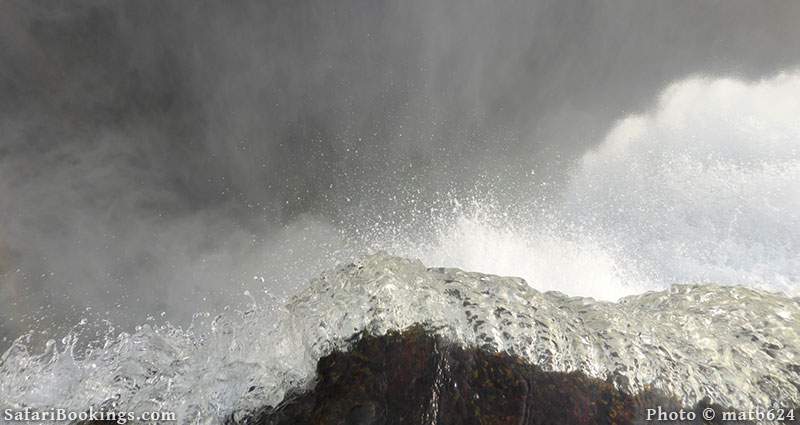 The tour to Livingstone Island is limited to adults of all ages and to children of eight years and older. Children must be at least 12 years old to swim in Devil's Pool.