South Africa has a varied collection of state-run parks and reserves, but the country's list of private reserves is even more impressive. While national parks cater to everyone, including self-drive and day visitors, private game reserves in South Africa are more exclusive and therefore less crowded.
Packages usually include luxury accommodation, all meals and safari activities. Game drives are conducted in open vehicles, and off-road driving makes for excellent close-up encounters of the Big Five and other safari favourites. In need of some inspiration? Here are some of the best private game reserves in South Africa.
1. Sabi Sand Game Reserve (650km²)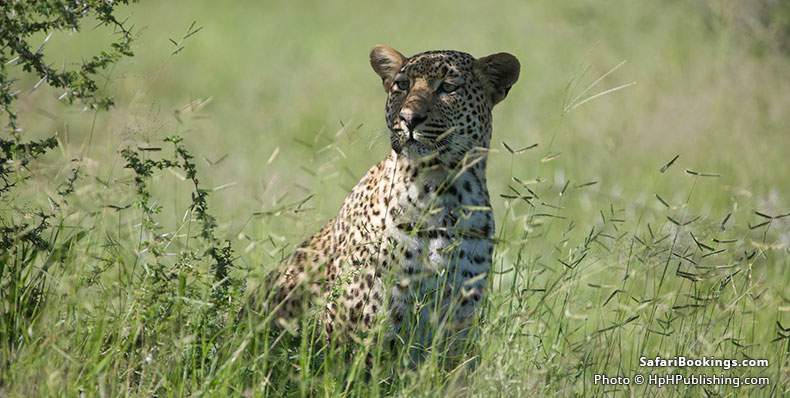 Leopard at Sabi Sand Game Reserve
Sabi Sand GR, South Africa's most popular private game reserve, shares an unfenced border with the much larger Kruger National Park. This makes the reserve part of a vast self-sustainable ecosystem. There are lots of different lodges to choose from, most of which are small and luxurious. This is Big Five territory at its best, and habituated leopards are the top attraction.
2. Phinda Game Reserve (230km²)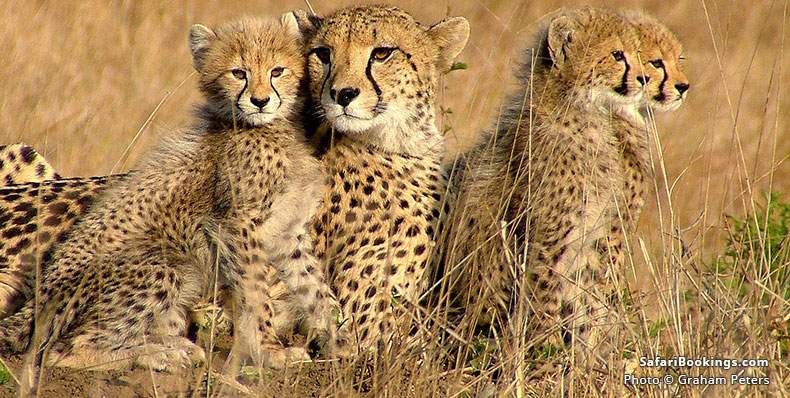 flickr.com/photos/51329384@N06/5128135172
Phinda GR is on a par with the better-known Sabi Sand GR in terms of wildlife viewing. All the usual suspects are present, and you're likely to enjoy some close-up encounters with the world's fastest land animal, the cheetah. Seeing this gracious big cat at full speed on a hunt is a phenomenal sight. Phinda prides itself on the quality of the guiding. Your safari experience will be about a lot more than chasing the Big Five.
3. MalaMala Game Reserve (133km²)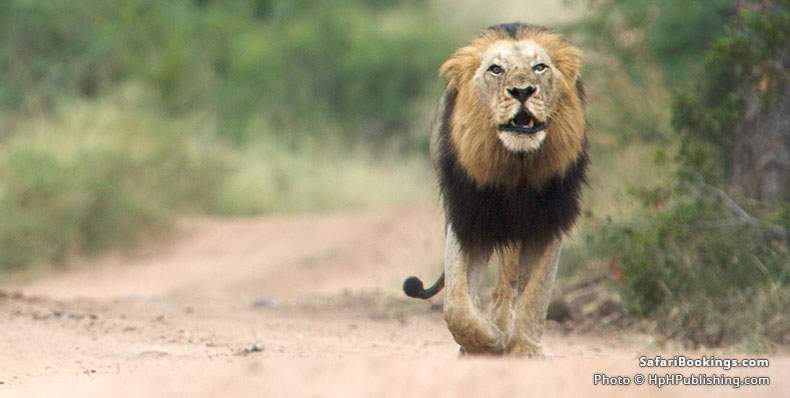 Male lion on the move
Sandwiched with open borders between Kruger NP and Sabi Sand GR, MalaMala GR is part of a massive ecosystem with animals roaming around freely. With very few properties on a large tract of wilderness, here you'll experience first-rate wildlife viewing away from the crowds. Exclusivity is key and you'll appreciate it when spending quality time with one of the reserve's habituated leopards. This is where you can really witness the behaviour of these normally skittish big cats. You might see a mother with cubs, a lone male patrolling its territory or perhaps a pair performing their mating rituals.
4. Manyeleti Game Reserve (230km²)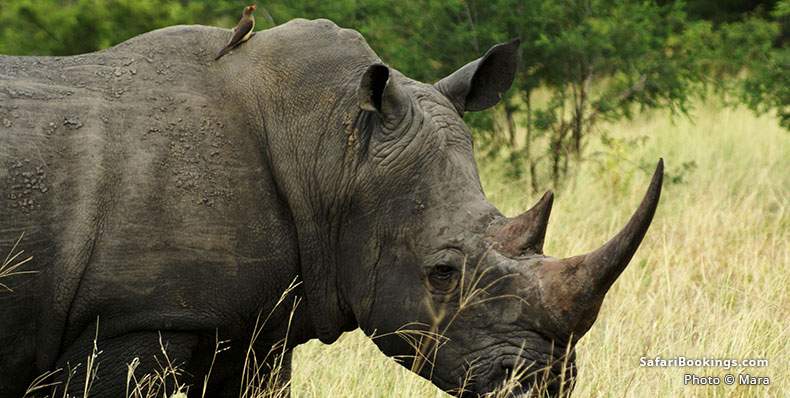 White Rhino
Manyeleti GR is the only game reserve in the area owned and managed by a local community. The reserve shares open borders with Kruger NP and Timbavati NR, but due to lack of permanent water, wildlife densities are lower here. Visitor numbers are lower too. Come to Manyeleti for a truly off-the-beaten-track wilderness experience with a chance to spot any of the Big Five and much more.
5. Timbavati Nature Reserve (534km²)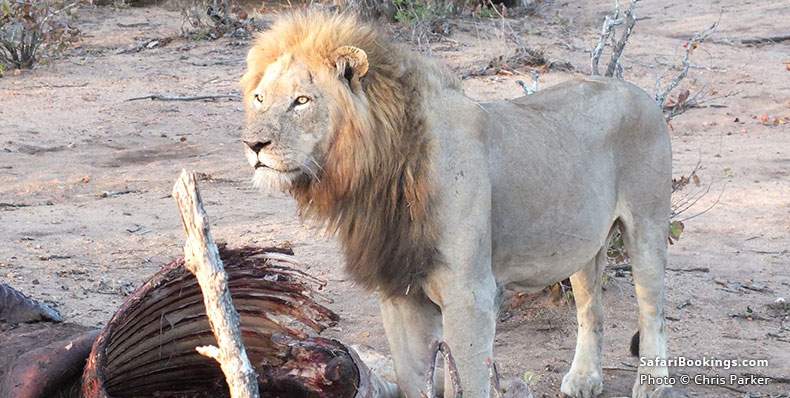 flickr.com/photos/chrisparker2012/7482755972
With open borders to neighbouring Kruger NP, Timbavati NR is the closest competitor to Sabi Sand GR. Although superficially similar, the safari experience feels wilder in Timbavati. The lodges are spread out in the rugged landscape and vehicle traffic is minimal. Aside from 18 all-inclusive luxury lodges, there are four self-catering camps. Keep an eye out for white lions, the reserve's claim to fame. Although they haven't been seen in a long time, the gene is still around so you never know your luck.
6. Kwandwe Game Reserve (220km²)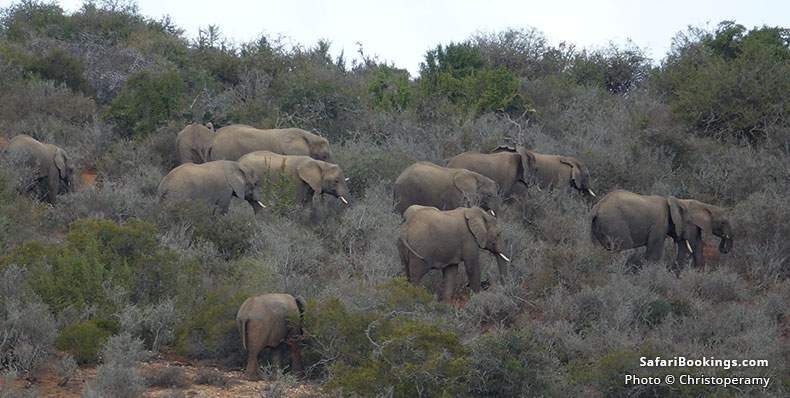 flickr.com/photos/christopheramy/36899825985
A safari doesn't get more exclusive than this. Imagine just two small lodges in a 220km² wilderness area. You might not see another vehicle on your game drive. Kwandwe GR is one of the Eastern Cape's top wildlife destinations. You can see all of the Big Five, but rhino sightings are particularly rewarding here. And not just the placid white rhino. The usually timid black rhino is very conspicuous too. Don't skip the night drive in Kwandwe; you've got a real chance of spotting one of the truly elusive nocturnal creatures, such as aardvark or porcupine.
7. Madikwe Game Reserve (750km²)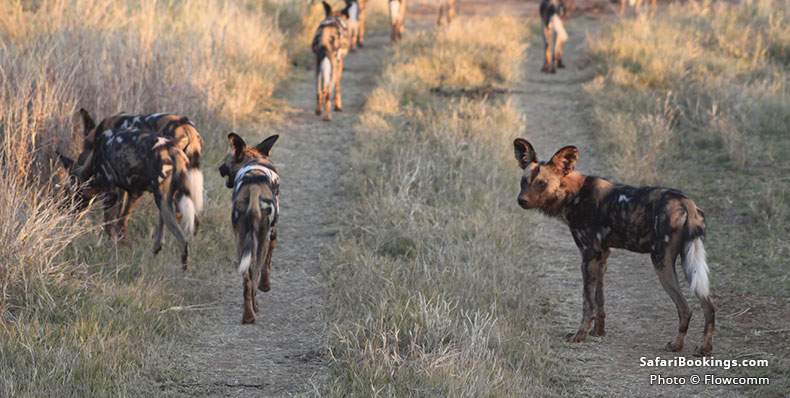 flickr.com/photos/flowcomm/8951813497/in/album-72157624627020240
Perhaps the best alternative to the excellent private reserves in the Greater Kruger area is the malaria-free Madikwe GR. Nestled against the Botswana border, Madikwe protects a vast untamed wilderness area. Although state-owned, it operates exactly like the private reserves further south. The lodges are privately owned and they conduct all game drives. Aside from the Big Five and other safari heavyweights, you might be lucky to see a pack of wild dogs. Their social interactions make for special sightings.
8. Shamwari Game Reserve (250km²)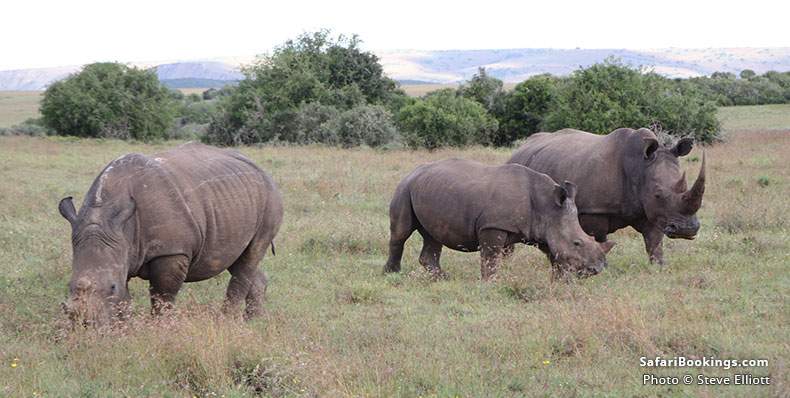 flickr.com/photos/jabberwock/8262704970
Shamwari GR is the most popular of the Eastern Cape's private reserves. Wildlife viewing is almost on a level of what you can expect in the Greater Kruger area, except for leopard sightings, which are hit-and-miss here. You won't miss out on seeing rhino in Shamwari; white rhino is common in the grassy areas and you've got a good chance of spotting the more elusive black rhino when travelling to the remote north of the reserve. As part of a family holiday, book into one of the child-friendly lodges with a special 'Kids on Safari' program.
9. Balule Nature Reserve (350km²)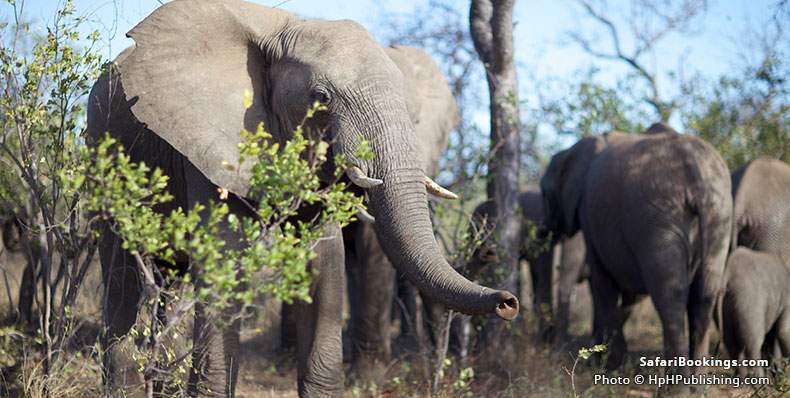 Herd of Elephants
Balule NR, a large protected area with open borders to Kruger NP, is made up of lots of smaller properties. The area can feel a bit cluttered and busy, but the quality of the wildlife viewing is as good as you would expect anywhere in Greater Kruger. The dominant feature is the magnificent Olifants (Elephant) River; a magnet for thirsty animals, especially big herds of elephants and buffalo in the Dry season.
10. Amakhala Game Reserve (72km²)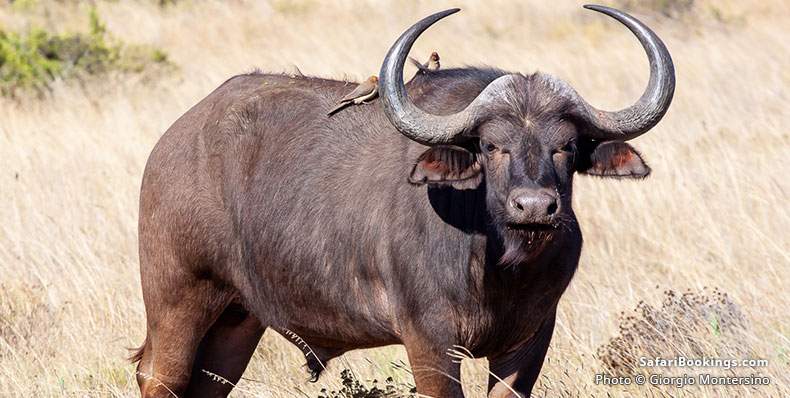 flickr.com/photos/novecentino/31945764567
Although not the wildest destination, Amakhala GR has a lot going for it. It is reasonably affordable and easily combined with a Cape holiday. Wildlife viewing is great and four of the Big Five are frequently spotted. The exception is leopard; you might find tracks, but these shy animals don't easily let themselves be seen here. There is a wide variety of accommodation catering to different budgets. Some are perfect for a romantic holiday, while others would be an ideal choice for a family safari.