Weather & Climate – Hwange NP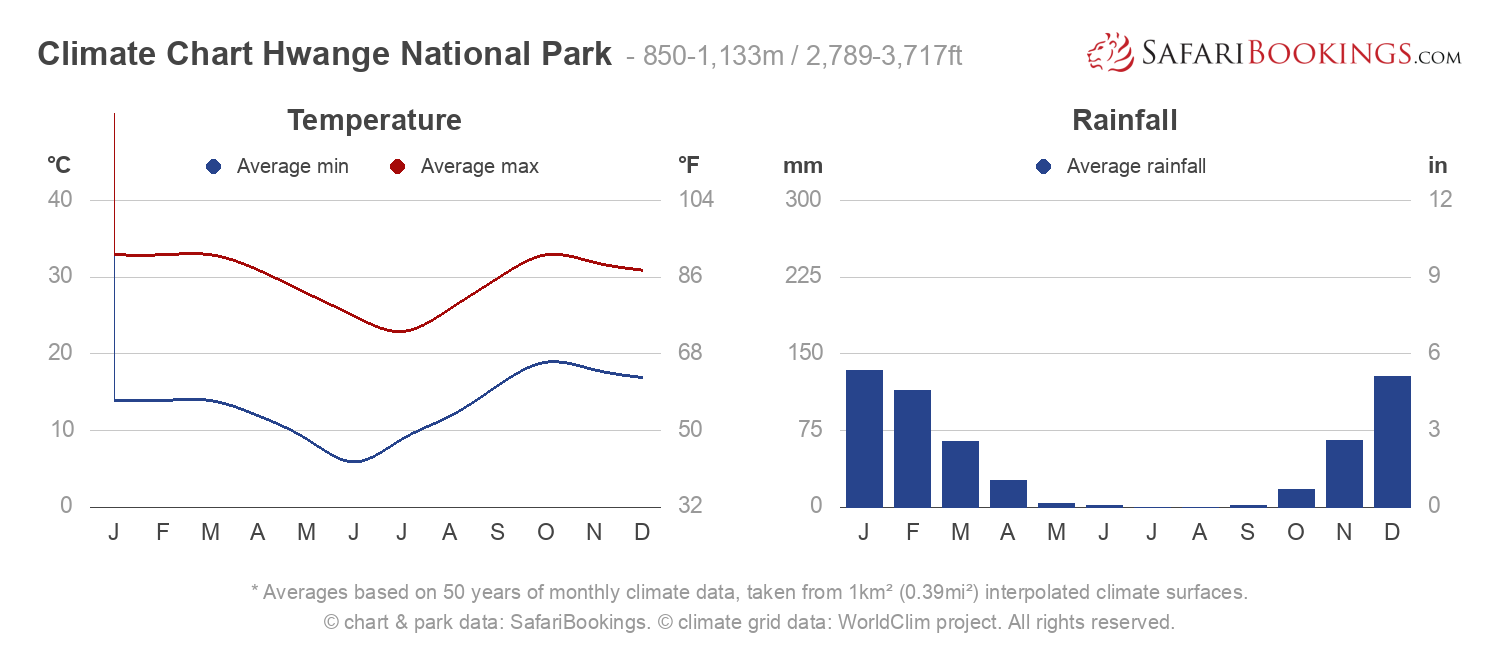 Climate Chart Hwange National Park
– 850-1,133m / 2,789-3,717ft
* Averages based on 50 years of monthly climate data, taken from 1km² (0.39mi²) interpolated climate surfaces.
© chart & park data: SafariBookings. © climate grid data: WorldClim project. All rights reserved.
Hwange experiences a mild to warm climate. The warmest months are September to March, while May to August are the coolest. The Dry season occurs in April through October and brings fine, fair weather. The Wet season happens from November to March, and consists of showers in the afternoon followed by clear, sunny skies. It can sometimes lightly shower for days at a time. Winter corresponds to the Dry season and summer to the Wet. They are at opposite times to those seasons in Europe and North America.
Dry season
–

April to October – Winter
April – This month brings an end to the Wet season with rains becoming increasingly less. The nights are cool. Prepare for early morning games drives in open vehicles to be cold.
May, June, July & August – The coldest months of winter (although it starts to warm up a bit in August). It is a very dry time. Daytime temperatures are around 26°C/79°F, but it gets very cold at night with average temperatures of around 7°C/40°F.
September & October – The dry weather continues but is broken up by the first rains in late October. This settles the dust and brings new vegetation. Daytime temperatures are over 32°C/90°F. October is the hottest month, and temperatures frequently peak over 40°C/104°F.
Wet season
–

November to March – Summer
November – This month brings a start to the rainy season, although it is rare for rain to fall every day. It is still hot, and daytime temperatures average around 32°C/90°F.
December, January & February – The wettest months bring rain most days, but rarely lasting the whole day. Rains are usually afternoon showers, followed by hours of sunshine – although it can also drizzle continuously for a couple of days. Daytime temperatures average 29°C/84°F, while night and early mornings average 18°C/64°F.
March – Temperatures average between 30°C/86°F and 16°C/61°F, and the Wet season slowly comes to an end.
Want to Visit Hwange NP?
Hwange National Park
Hwange NP Photos
View Photos
(55)