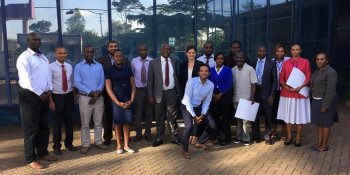 Karibu Safaris In Kenya
4.8/5 – 1074 Reviews
Office In:

Size:

10-20 employees (Founded in

1986

)

Member Of:

KATO

, Tourism Regulatory Authority & Eco Toursm Kenya

Tour Types:

Small & medium group tours (Mid-range & luxury)

Destinations:

Price Range:

$80 to $280

pp

per person

per day

(USD, excl. int'l flights)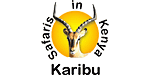 Ellie
–
Visited: January 2023
Reviewed: Jan 3, 2023
Email Ellie | 20-35 years of age | Experience level: 2-5 safaris
Best guide!
Our guide / driver was incredible, had no complaints about accommodation and seems to be a very good price. We saw the big 5 in one day and have no complaints. Honest and efficient!
Ban
–
US
Visited: November 2022
Reviewed: Dec 26, 2022
Email Ban | 20-35 years of age | Experience level: first safari
Great value safari!
We did the 6-day safari through Masai Mara, Lake Nakuru, and Amboseli. Overall the itinerary was good but a little too long. It involves a lot of driving to get to and back from Amboseli. I'd recommend a shorter tour and prioritize Masai Mara. Although getting to see Mt Kilimanjaro from Amboseli was worth the long drive. We didn't see as many animals in Lake Nukuru. You couldn't get as close to the animals as in Masai Mara. I was hoping to see more flamingos but it may not have been the season.

Karibu is a solid tour operator. They offered their home stay apartments for our one night in Nairobi before the safari started. They covered the driving from the airport and to/from the start of the safari. Their communication was fine... I found I had to probe and ask a lot for details. It would have been better if they had an itinerary or set expectations the day before the trip. The planning at times felt rushed or last minute with the camp managers.

The safari driver, Edward, was good as well. He showed us a lot in Masai Mara but I think he got tired as the tour went on.

Since we picked the budget option, the accommodations were as expected. Simple tented camps but unreliable hot water. If you want better accommodations I'd sprint for the pricier tours.

For the money, I think the safari was great value! We saw a lot of animals and felt we got the full safari experience from the trip.
Muhammad Junaid
–
PK
Visited: December 2022
Reviewed: Dec 22, 2022
It was near to perfect , from owner to driver
They were in number one in tripadvisor so I got the number and the owner was in communication with me throughout, I think owner name was Richard we decided to shorten the tour from 7 to 6 day when we were in your but owner offered us refund he even helped us to book taxis for our tea farm tours , Raymond the driver was really nice guy , camps were budget but William in ambosili was very welcoming , talkative and hospitable , me and my friend had great time
Jana
–
LV
Visited: December 2022
Reviewed: Dec 21, 2022
Email Jana | 35-50 years of age | Experience level: first safari
Everything was perfectly organized, our guide Castro was great at sporting animals on safari.
Communication was accessible by email, great value for money, and extra suggestions of the way back, without additional cost. Guide took care of and adjusted to our family with three kids.

Souheila
–
DK
Visited: December 2022
Reviewed: Dec 20, 2022
Email Souheila | 20-35 years of age | Experience level: first safari
Good operator and great lodge we was bookes to stay at.
We was in Safari for 3 days with the guide Harun. He was very good guide who always took his time to answer or questions and he also did looked out for us the whole trip. We really recommend to book a Safari a stay at the Sarova Game Camp. Most polite staff.
Everything was amazing and we loved iy all.

Dania
–
DK
Visited: December 2022
Reviewed: Dec 20, 2022
Email Dania | 20-35 years of age | Experience level: 2-5 safaris
Harun was the best.
We booked our safari tour and everything went after the plan. We loved everything about the trip and saw all the amazing and beautiful animals.
The trip got even better with our amazing guide Harun, he answered all our questions and was good to tell us about all the animals.
I recomend this trip to all, ansigtsmaske make sure to ask about Harun as your guide.
Rioghain
–
AE
Visited: December 2022
Reviewed: Dec 20, 2022
Email Rioghain | 20-35 years of age | Experience level: first safari
Amazing tour
This tour was simply amazing. One of the best trips that we have ever done. Kenya is an absolutely stunning country and it was made even better with Castro and Maurice. The care and detail put into our itinerary was phenomenal. They went above and beyond to make it special even when things out of their control happened e.g. our flight was delayed and we had torrential rain and they straight away made alternative plans for us. The accomodation was exactly what we wanted and the location beside the Masai Mara and right in the park was incredible. We had so much fun, learned so much and had experiences we will never forget. Thank you Castro and Maurice for making this tour so special, from the different parks, to memorable picnics to answering our thousands of questions. We definitely recommend them and would use them again if we get to go back!
Vaclav & Adel
–
CZ
Visited: December 2022
Reviewed: Dec 17, 2022
Email Vaclav & Adel | 20-35 years of age | Experience level: first safari
We have seem them all!
Raymond and Kevin were our guides on our 6 day safari through Mara, Nakuru and Amboseli. Thanks to them we have seen the "big five" and much more. Highlight of the trip was definitely leopard feeding on his prey on the tree. We really appriciated an extra effort to get us as close and to as many animals as possible. Thank you guys!
Ramon and Pere
–
ES
Visited: December 2022
Reviewed: Dec 15, 2022
9 days safari
We booked last minute a 9 days safari tour. Communications with Sandra were fine and we could find an agreement on pricing. Unfortunately there weren't any groups interested in the same itinerary and we needed a private one.
Itinerary was the one we propoused but maybe we missed some suggestions and more clarity.
Regarding the driver-guide, Freddy did a good job in general: he always drived in a secure way during transfers. On the other hand, he was often in the telephone and we missed some briefing before the safaris and some further informations.
Overall it was a nice experience and we reccomend Karibu safaris in Kenia!
Michael Halberstam
–
US
Visited: November 2022
Reviewed: Dec 14, 2022
Email Michael Halberstam | 50-65 years of age | Experience level: first safari
Excellent Safari!
Guides: Kevin and Raymond were terrific. They both have a wonderful and frequently uncanny knack for locating and finding significant animal sightings. They were diligent, friendly, professional, responsive to questions and concerns and they looked after us beautifully. Furthermore, they both went out of their way to make sure that we had an A+++ experience. Raymond was our driver for most of the Safari and he clearly has a gift for sensing when the major animals are going to be out in the park and where to find them. For instance, we got a spectacularly close up and rare view of two black Rhino's in Lake Nakuru because of his virtuosic tracking and driving skills. Kevin was so agreeable, particularly on our last morning in Amboseli, to take one final game drive and try and catch a sight of Mount Kilimanjaro which had decided to come out from behind the clouds that morning. Morris was splendidly supportive too!

Transportation: We visited four parks, Masai Mara, Lake Nakuru, Lake Naivasha and Amboseli. The first van we were in had clearly been run into the ground by its driver. The seats were uncomfortable and the suspension was shot. I was worried that this was going to be our transport for the whole Safari. However, when we reached Masai Mara, we traded that van for a better vehicle and the difference was night and day. We spent the rest of the Safari in much more comfort. It's important to have a vehicle with good suspension when traversing some of the bumpier roads and some of the driving distances are quite far - comfortable seats are very important.

Hotels: The first hotel JAMBO MARA SAFARI LODGE was quite beautiful, the grounds were gorgeously landscaped and the room was comfortable, clean, fresh and modern looking. The staff were all lovely - particularly the dining room staff who were superb. I wish I could say the same about the food. It was, alas, no where near as good as the rest of the hotel. I think it would be worth their investing in an upgrade. I didn't go on a Safari for the food but this was truly poor. This is a shame given how attractive and well looked after everything else was in the hotel. Even the lunch was terrible. The WATERBUCK HOTEL was one of the better places to stay in Lake Nakuru but I did have to pay a little bit more to upgrade to a more comfortable room with a window and a little more space. It is definitely a venue that has seen better days but overall it was fine for the one night. The unexpected and wonderful surprise was the food which was just superb. I had some of the best food I have eaten in Kenya at the WATERBUCK, both at dinner and breakfast. It was beautifully prepared and nicely presented and very authentic. As with my entire stay in Kenya, the people working at the hotel were amazing. My last hotel, AA AMBOSELI LODGE, was somewhere between the two hotels. My rooms was basically a spacious, clean and comfortable tent with a more permanent attachment on one end for the bathroom. Food was good and the grounds were lovely although bizarrely, the most important sight in the camp, Mount Kilimanjaro, is largely obscured from almost every location. Eventually I found a little seating area by the main meeting room with an uncluttered view. (The grumpy and inexplicably annoyed receptionist was very unhelpful in this area - literally the only unpleasant employee I met on my entire two week trip to Kenya.)

I have rated the Safari highly because I think I got truly incrediblea value for my money. I paid for a midrange Safari and joined a group tour which kept the price affordable. This covered 6 days and five nights, all drives, all transportation, all accommodation and all meals. I saw all of the big five along with many other wonderful animal sightings. I experienced the trip of a lifetime, enjoyed the company of the people I met on the Safari who were lovely, had a 100% good experience with the staff. I am filled now with memories that will last a lifetime and am completely in love with Kenya as a country. It was the perfect balance the week I spent in Nairobi working before the Safari. I would do it again in a heartbeat.

A couple of notes if you are planning a safari: Amboseli is worth visiting for the elephants and the possible sightings of Mount Kilimanjaro. The mountain however does not always come out to play, and as with most volcanoes of this scale, is not always visible. We were very lucky however and Kevin was very accommodating in ensuring that I was able to get some good sightings early in the morning and in the evening. It is worth nothing however that the park has recently been ravaged by drought. Although there are still many elephants there, a quarter of them have died and most of the wildebeest have also died. This is due to climate change. I would go to the park again in a heartbeat but you should be prepared. Lake Nakuru was a long drive and one of the great pleasures of the park is seeing the millions of flamingos. Unfortunately, most of them had migrated by the time we got there and although Raymond salvaged the trip with a rare black rhino sighting, the rest of the park didn't have much to offer and it was a long drive to get there. Lake Nakuru was lovely and we took an excellent boat ride and had a close encounter with a family of hippos which was wonderful but I'm not sure it was with the time it took to get there. (It should also be noted that both lakes are heavily polluted and experiencing significant environmental damage as a result.) Unless you are able to see the flamingos - which are amazing, I would skip it.
Disclaimer
All corporate and/or tour info is provided by Karibu Safaris In Kenya, not SafariBookings