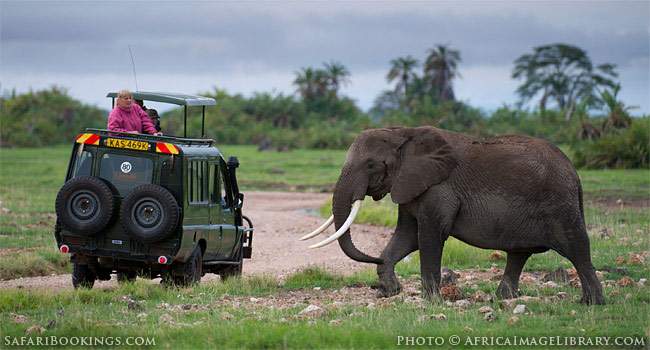 The Unfortunate Impact of the Ebola Outbreak on the Safari Industry

By
Jeroen Beekwilder
Jeroen is co-owner of SafariBookings.com. His desire to feel connected powers his love of travel. He has traveled all over the world with his wife and two children.
THE NETHERLANDS – SafariBookings.com conducted a survey among 500 safari tour operators and concluded that about half are receiving 20 to 70% less bookings due to the Ebola outbreak in West Africa
The initiative for the survey was taken after SafariBookings.com received disturbing amounts of feedback from safari operators reporting bookings had declined significantly due to the Ebola Outbreak. The survey showed about half of operators experienced a staggering 20 to 70% decrease in bookings. About a third reported no decrease and has been doing business as usual. The impact is more noticeable in East than in southern Africa. It is a heavy blow for the industry and the numerous wildlife reserves that rely on its revenue.
Tour operators reported that many tourists view Africa as a single country when it comes to risk assessment. They don't realize that East and southern Africa, where most safaris are conducted, are just as far from the outbreak area as Europe or South America. The Ebola virus is not airborne and only spreads if people come in contact with the bodily fluids —such as blood, sweat or saliva— of an infected person. As there are no confirmed Ebola cases in any major safari countries, the current risk of exposure is very low. All have strict precautionary measures in place, comparable to those of countries in Europe and Northern America. This makes the negative impact on the industry quite unnecessary and unfortunate.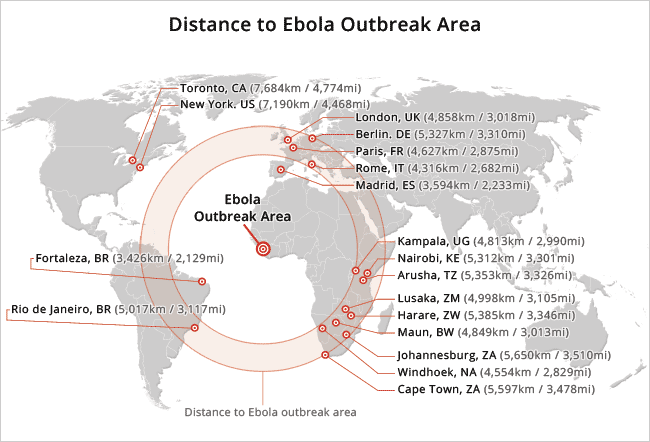 Detailed survey results
What precautionary measures have been enacted?
This info is accurate as of September 22nd 2014. For recent developments please contact the Embassy of the country in question.
Botswana
Entry has been suspended for travelers who have visited Liberia, Guinea, Nigeria and Sierra Leone in the last 30 days.
Kenya
With the exception of Kenyan citizens and doctors or health care professionals supporting the containment of the outbreak, entry has been suspended for people traveling through or from the countries of Liberia, Guinea and Sierra Leone.
Namibia
Entry has been suspended for all of those travelling from countries affected by the Ebola virus, with the exception of Namibian citizens.
Rwanda
Entry is not allowed to any travelers who have visited Guinea, Liberia and Sierra Leone within 22 days. Health screening is in place at all border posts. Non-residents registering a fever will not be allowed entry to Rwanda.
South Africa
South Africa will not allow admittance to any foreign citizens arriving from Ebola affected countries in west Africa. South African citizens will be allowed to re-enter, but only after being subject to strict screening.
Tanzania
All major border posts have mandatory health screening in place, including all international airports. Emergency isolation centers have been set aside for suspected cases.
Uganda
People traveling from affected west African countries and the DR Congo must undergo health screening at Entebbe Airport. An isolation center has been established at the airport for any suspected Ebola cases.
Zambia
Zambia has banned entrance to all travelers from affected west African countries.
Zimbabwe
Travelers from affected countries must undergo mandated 21-day health surveillance for Ebola symptoms.
What do safari experts have to say about the impact?
Alan Murphy AU – Alan is a travel writer and author of over 20 Lonely Planet guidebooks, including the guides to Southern Africa and Zambia & Malawi.

"It is a shame to see the safari industry suffer in Africa due to concerns about the Ebola virus outbreak. The current risks outside of West Africa appear to be very low. I am looking forward to my trip to Southern Africa in October 2014."

Neil Ratcliffe ZA – Managing director of African Safari Consultants, one of South Africa's leading tour operators

"The Ebola outbreak has a major impact on our overall revenue. Very concerning."

Colin Bell ZA – Colin is an avid conservationist and former CEO and founder of Wilderness Safaris, one of the largest safari companies in Africa.

"I am surprised about how Ebola is affecting safari bookings to Africa. One only has to look at a map and see that the distances from West Africa to East Africa and Southern Africa are enormous. London is actually closer to Liberia than either Nairobi or Johannesburg is to Liberia. I guess some people think of Africa as a country and not a vast continent. Its time for that perception to change!"

Philip Briggs ZA – Author of 7 Bradt guidebooks to Africa, incl. Tanzania.

"Any concerns about contracting Ebola on safari reflect the widespread misconception that Africa is one homogenous country. In fact, it is the world's second-largest continent, comprised of 50 different countries. At the time of writing, not one single case of Ebola has been reported from the majority of these countries. The current outbreak is largely confined to a region that is closer to Europe than it is to most of the popular safari destinations. Furthermore, the disease can be contracted only through direct contact with the blood or bodily fluids. Statistically, this means that the chance of contacting Ebola on safari is effectively zero - you are significantly more likely to be killed by a direct lightning strike or a falling coconut!"

Joao Oliveira TZ – Executive Director at It Started in Africa, Tanzania

"August was projected to be our best month ever, but it became the worst of the last two years."

Brian Jackman GB – Brian is an award winning travel writer, author of numerous safari books and regular contributor to The Telegraph (UK) and BBC Wildlife Magazine.

"I understand people are concerned, but if somebody sneezes in Sierra Leone you don't catch a cold in Kenya. So put aside your worries about Ebola. Just get on the plane and enjoy the safari holiday of a lifetime."

Sue Watt GB – Sue is co-author of Footprint's guidebook to Tanzania and regular contributor to The Telegraph (UK).

"Africa is often unfairly perceived as one country rather than as a huge continent of over fifty individual nations. Whilst the Ebola crisis is a tragedy, the affected countries are vast distances from the popular safari destinations of eastern and southern Africa and it would be even more of a tragedy if unaffected countries were to suffer through a decline in tourism which is so vital to many economies and livelihoods."

Daniel Njamwea KE – Owner of Lilac Adventures, Kenya

"As of today, we have had 6 cancellations because clients felt they didn't want to take the risk. The impact on our business is significant."

Lizzie Williams ZA – Lizzie is a reputed guidebook writer and author of the Footprint guides to South Africa, Namibia, Kenya, Tanzania, Uganda and Zimbabwe.

"It's a real shame that the media coverage of Ebola has scared potential safari-goers to East and southern Africa, when in reality the outbreak is contained to Guinea, Liberia, Nigeria and Sierra Leone. This is not the first time panic over a health scare has been overinflated and unnecessarily exaggerated in terms of the extent and area of the risk – the foot and mouth outbreak in the UK in 2001 resulted in tourists avoiding the whole of Europe, and the SARS epidemic in China in 2002 resulted in tourists avoiding the whole of Asia; both costing billions of dollars in tourism revenues. Like Europe or Asia, Africa is NOT one huge country where all its issues cross vast distances and its hundreds of borders. Additionally the African tourism economy is more vulnerable than most other places – local jobs and wildlife conservation is almost immediately affected without much-needed tourism revenue."

By
Jeroen Beekwilder
NL
Jeroen is co-owner of SafariBookings.com. His desire to feel connected powers his love of travel. He has traveled all over the world with his wife and two children.