The Okavango Delta is one of the best places to watch wildlife anywhere in Africa: big cats, the Big Five, and so many other wildlife prizes are all possible on a safari here. As well as the astonishing wildlife experiences, many Okavango Delta safari lodges and camps are destinations in their own right. They combine remote and exclusive locations with high levels of luxury and service. To help you decide where to stay, here are 10 of the best Okavango Delta Luxury lodges and camps, listed in alphabetical order.
1. &Beyond Nxabega Okavango Tented Camp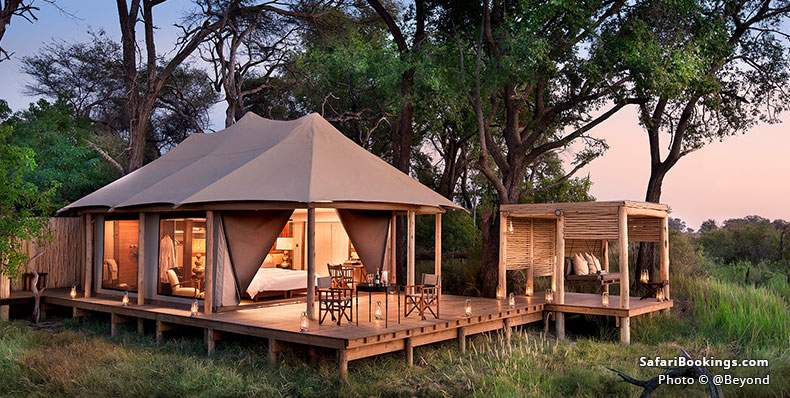 Nxabega Okavango Tented Camp
As you'd expect from the sublime &Beyond portfolio of Okavango Delta Safari lodges and camps, Nxabega is a special place to stay deep in the watery world of the Delta. They get all of the important things right, with outstanding luxury, fantastic views, great wildlife viewing and exceptional service.
Tours that include Nxabega Okavango Tented Camp
2. Camp Moremi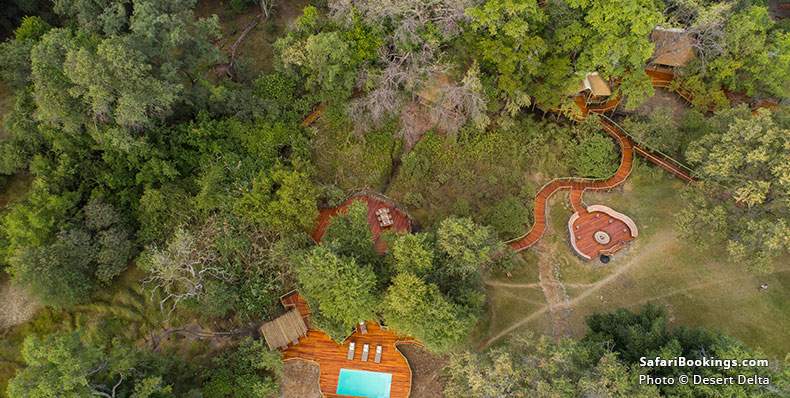 Camp Moremi Main Aerial
Given a complete overhaul in 2018, Camp Moremi occupies an island of trees surrounded by grassy plains and seasonal river channels. Wildlife roams everywhere here amid the classic Okavango scenery of Moremi Game Reserve. The 12 stylish, spacious tents combine wood and thatch with soothing color schemes. Everything about this place is luxurious. There's also a swimming pool.
Tours that include Camp Moremi
3. Camp Okavango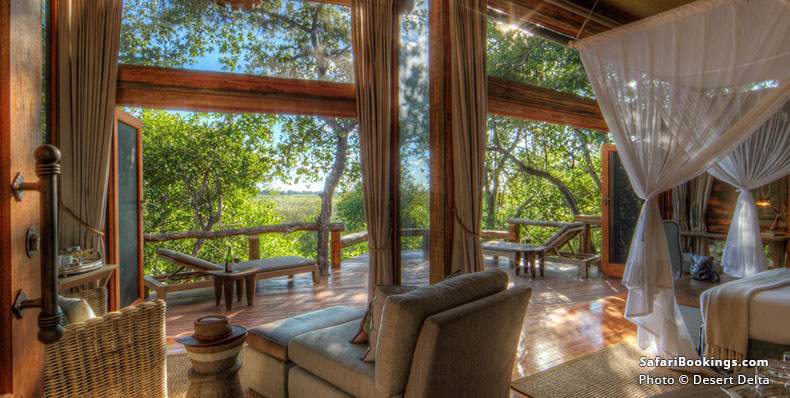 Camp Okavango
With beautifully designed accommodation built from wood and canvas, Camp Okavango is one of the best Okavango Delta safari camps. It has all the necessary ingredients for a memorable stay in the Delta, with overflowing luxury. The camp has a swimming pool and stunning public areas, all connected by elevated wooden walkways among the trees.
Tours that include Camp Okavango
4. Camp Xakanaxa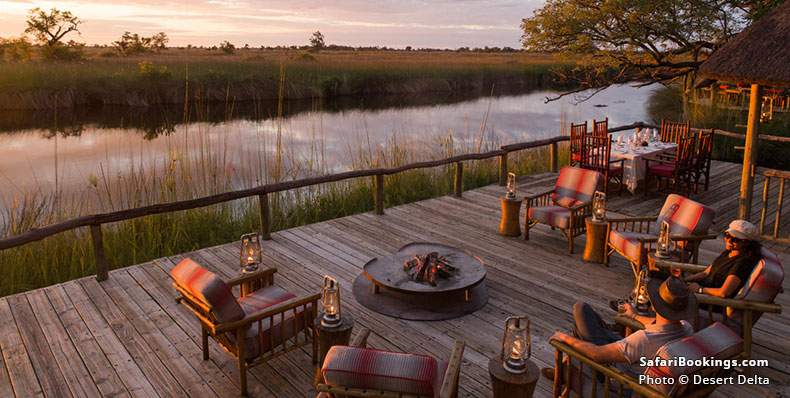 Camp Xakanaxa
Overlooking the bird-rich Xakanaxa Lagoon, Camp Xakanaxa is a sophisticated tented camp that's one of the best of the Okavango Delta safari camps. Staying here means being in the heart of some of the most famous wildlife areas anywhere in Botswana. The accommodation has a real touch of class with wood-floored tents that are very much a part of their surroundings.
Tours that include Camp Xakanaxa
5. Eagle Island Lodge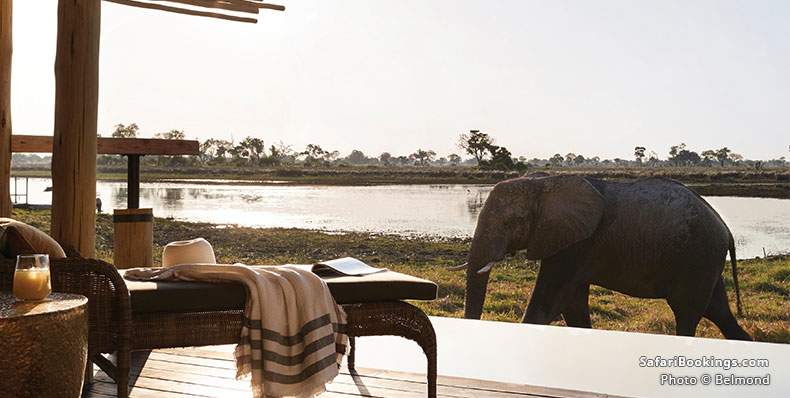 Eagle Island Lodge
One of the most distinctive and design-conscious of all of the Okavango Delta safari lodges, Eagle Island Lodge has dark color schemes and luxury safari tents that flood with natural light. Staff take care of your every need, and the big Delta views are interrupted only by the occasional passing elephant.
Tours that include Eagle Island Lodge
6. Kadizora Camp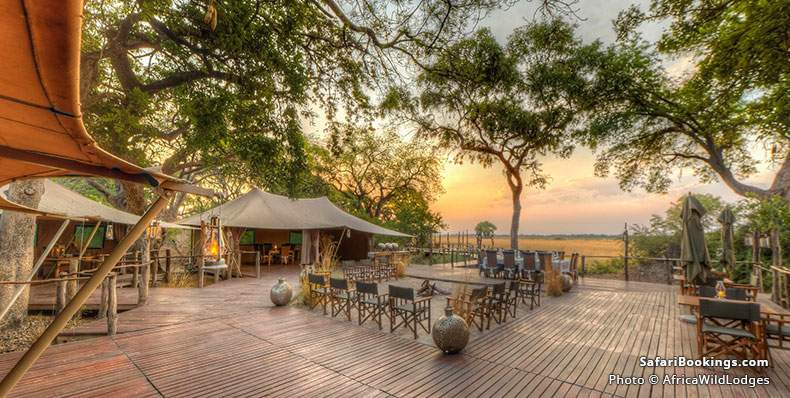 Kadizora Camp
In a blissfully isolated corner of the Delta's northern reaches, Kadizora Camp has large safari tents with big wooden decks and wood-themed safari décor. Each tent feels like its own little sanctuary in the African wilderness. The big-sky views from most places in camp capture the essence of the Delta's appeal. There's plenty of wildlife in the area around camp as well.
Tours that include Kadizora Camp
7. Moremi Crossing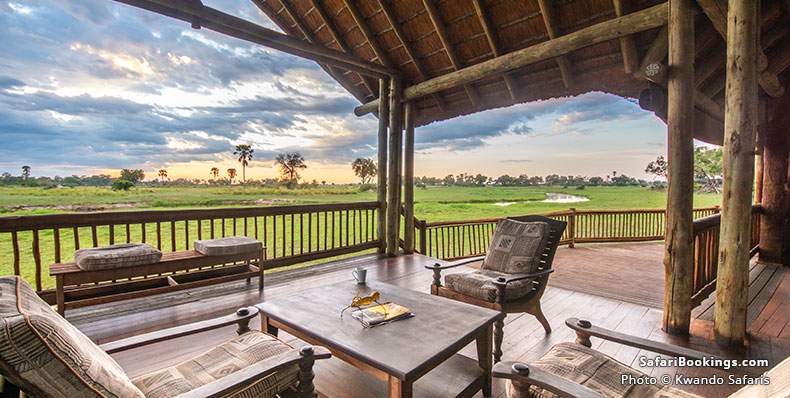 Moremi Crossing
You'll feel like you've washed up on your very own Okavango Delta island when you arrive at Moremi Crossing. Abundant birdlife animates life around camp, and the safari tents here combine plenty of comfort with a soothing simplicity in the décor. You can watch wildlife from right in camp, but there's so much to explore on the surrounding waterways as well.
Tours that include Moremi Crossing
8. Oddballs' Enclave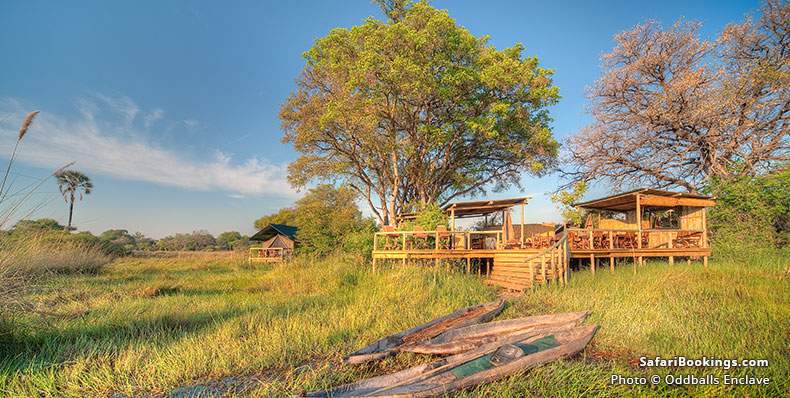 Oddballs Enclave
Every corner of Oddballs' Enclave seems designed to maximize the view out over the waters of the Delta. Keep an eye out for crocs and hippos, listen for lions roaring in the night, and scan the horizon for elephant families, all before you even leave camp. Some of the safari tents sit out over the water on stilts, and the atmosphere in camp is relaxed and warmly welcoming.
Tours that include Oddballs' Enclave
9. Pom Pom Camp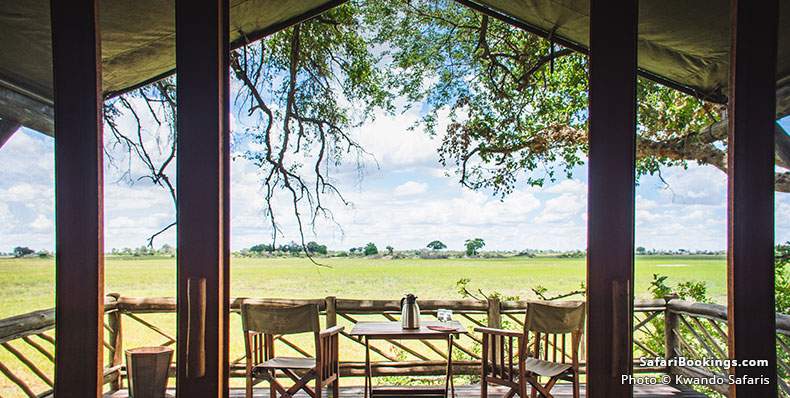 Pom Pom Camp
Close to some of the richest waters for wildlife anywhere in the area, Pom Pom Camp is among the most popular of the Okavango Delta safari lodges. The wildlife watching right alongside camp, the food, the friendly guides, the appealing safari tents with their wood floors and shaded surrounds: there's so much to enjoy here.
Tours that include Pom Pom Camp
10. Xugana Island Lodge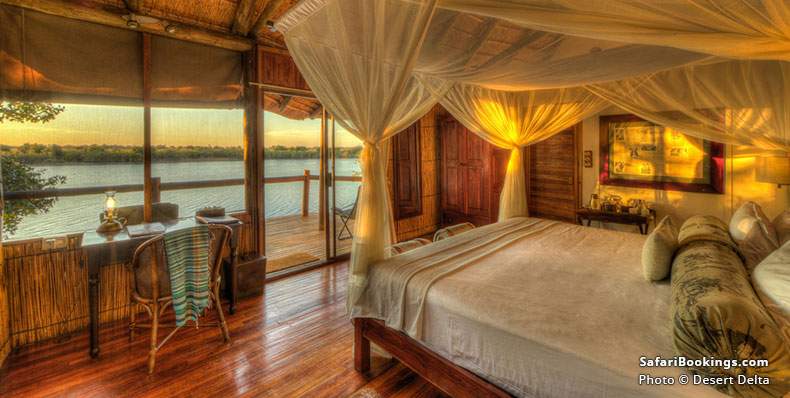 Xugana Island Lodge
There's a real sense of being deep in your own corner of wild Africa here at Xugana Island Lodge. Gorgeous tents with polished wood and linen at every turn sit right by the water. There's so much wildlife to see and hear even without leaving camp. A warm welcome, a swimming pool and more stars in the sky than you ever imagined possible are all highlights here.