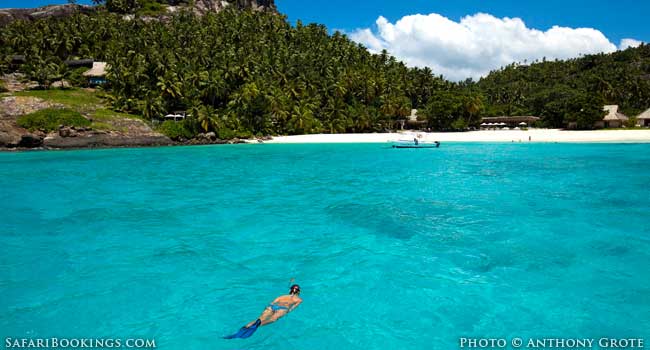 An Indigenous Transformation Turned North Island and Rech-Carstens Lodge Into A Conservation Masterpiece
The magnificent and carefully constructed Rech-Carstens Lodge and the North Island restoration project in the Seychelles are an environmental success story of note.
Inheriting a degraded island overrun with cows, pigs, chickens, cats, rats, Indian mynah birds and all manner invasive alien plants, Wilderness Safaris set about resurrecting this degraded island and converting it into an indigenous haven for some of the world's most critically endangered species. Turtles returned to nest, Aldabra giant tortoises were reintroduced and birdlife proliferated. Visitors love this place.
The hand-crafted lodge itself has an extensive environmental code of conduct that governs everything from solid waste and water management to eco-building practices and sustainable sea harvesting. An upgrade to full solar-power is currently underway and this will be the final feather in the cap for what is undoubtedly one of Africa's finest environmental rehabilitation success stories.
Extensive environmental restoration work and continuing comprehensive conservation efforts have culminated in North Island and its architecturally unique Rech-Carstens Lodge being chosen amongst the top 50 sustainable safari operations in Africa, as selected by David Bristow and Colin Bell for inclusion in their exquisite coffee table book: Africa's Finest. If you'd like to get your hands on a copy of this environmentally important book, then you can order it here.