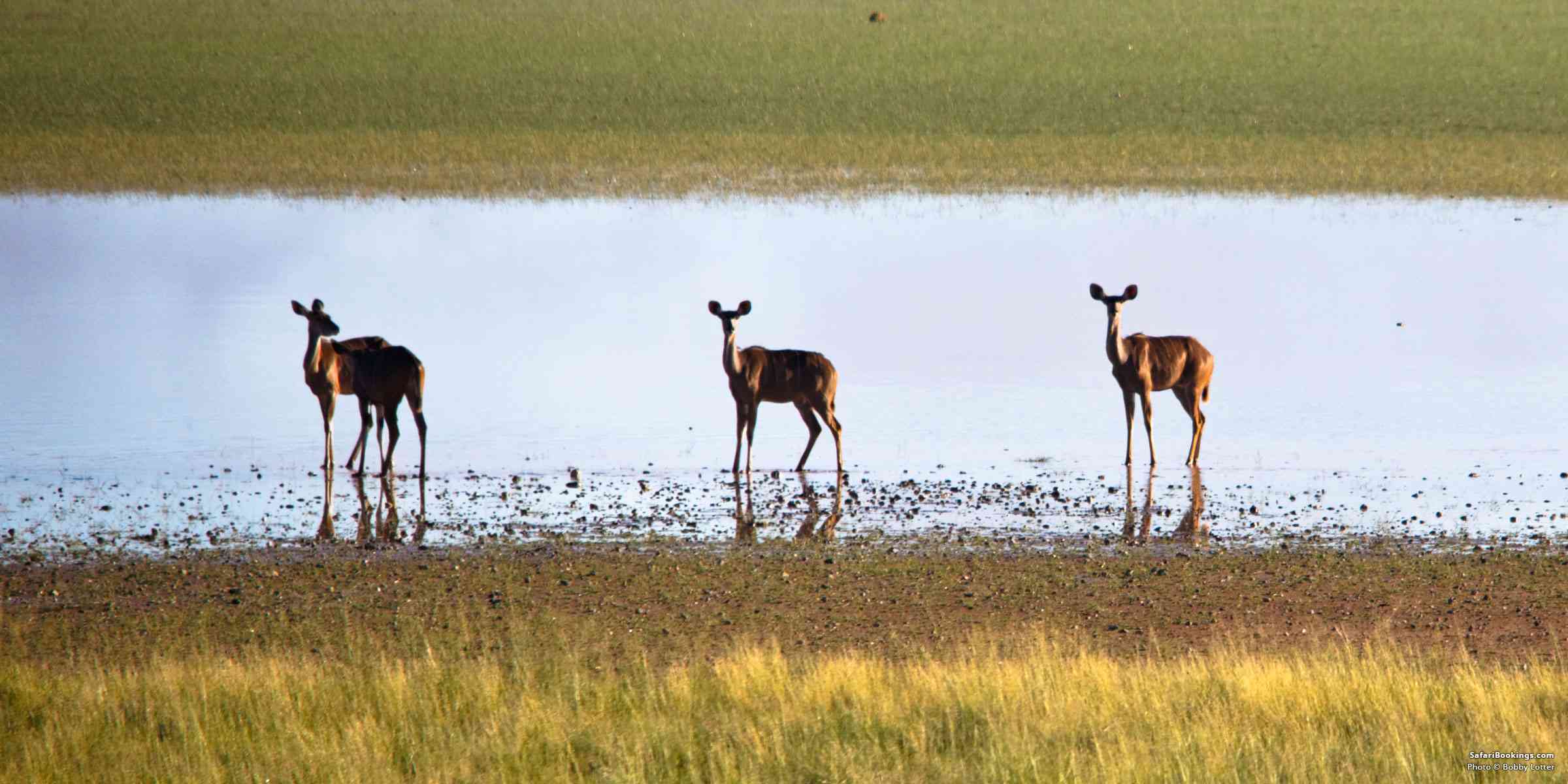 10 Lesser Known Safari Destinations

By
Patrick Brakspear
Patrick has been an Africa travel specialist, based in Australia, for over 10 years and prior to that was a safari operator in Mana Pools in Zimbabwe.
There are many safari destinations to choose from. In making the choices below I was conscious to choose safari destinations which, whilst less well known, are still accessible for the overseas visitor and have suitable accommodation options available.
Each of the safari destinations has, for one reason or another, not yet 'made it' onto to the regular tourist routes. Listed in no particular order:
1. Hluhluwe-IMfolozi Park, South Africa
Hluhluwe–iMfolozi Park, formerly Hluhluwe–Umfolozi Game Reserve, is the oldest nature reserve in Africa *. In 1895, the Natal Colonial Government created the Imfolozi Junction Reserve, together with the Hluhluwe Valley Reserve. The corridor area between the Umfolozi and the Hluhluwe was finally incorporated in 1989. This allowed for the natural movement of game between the two areas. The reserve hosts over 1200 plant species, 84 mammal and 350 bird species. The big 5 roam freely, along with cheetah and wild dogs. It is also here that the much-lauded Save the Rhino Campaign was started, with only 100 remaining Rhinos, and become the sole source of rhino reintroductions across the continent. This game capture and re-location team is still in operation to this day.
Check out the new Rhino Ridge Safari Lodge that only opened in 2014.
* In fact, the Zulu King, Shaka (1787 to 1828), set aside the Imfolozi area for his exclusive use in pre-colonial times. He designated specific hunting seasons, where certain animals (i.e. white and black rhino) were not allowed to be hunted.
2. Western Etosha, Namibia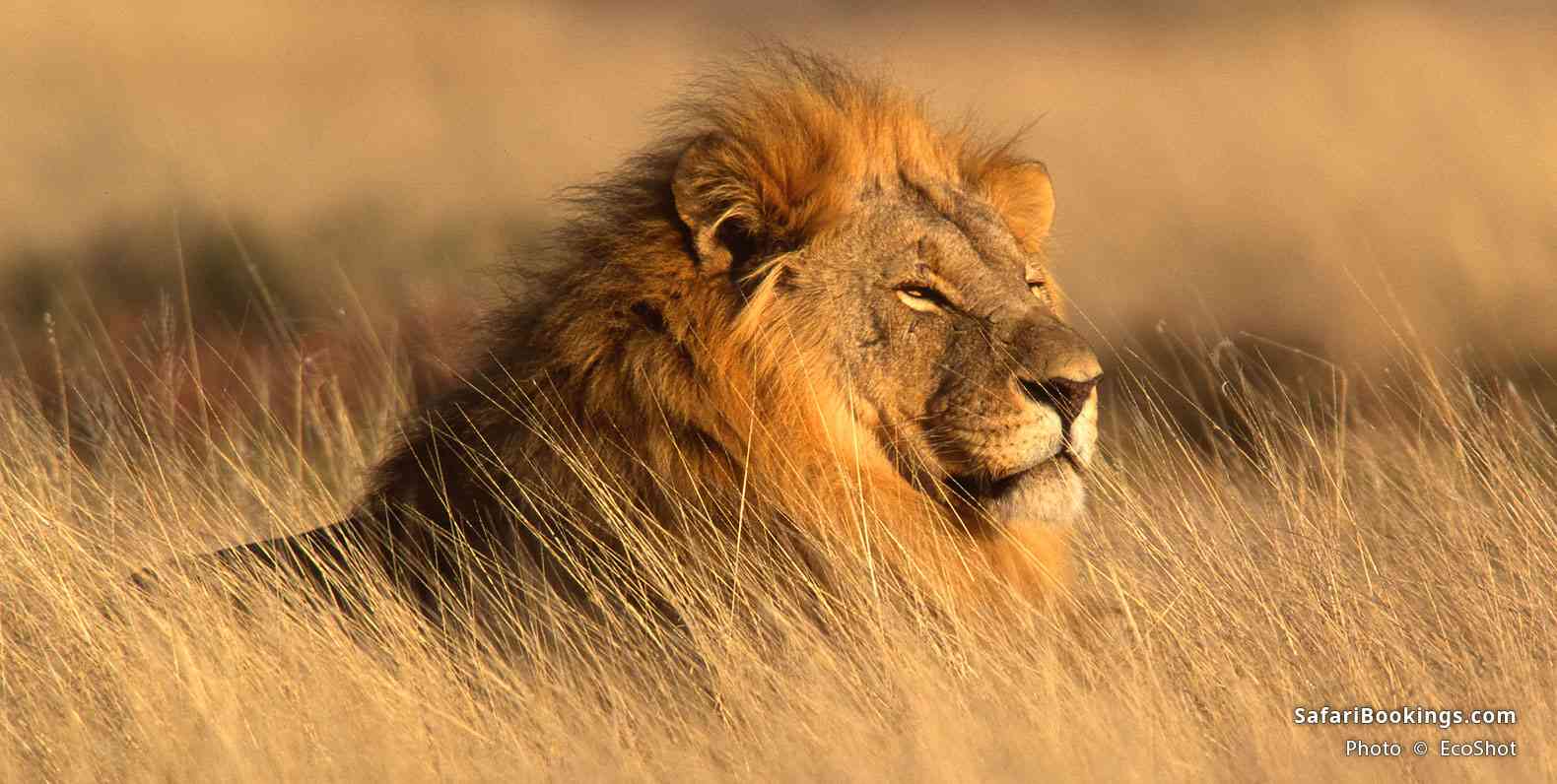 For many years, access for visitors was restricted to the eastern and southern sections of Etosha National Park. Only researchers and Parks staff were allowed to venture into the vast western areas. But more recently a new camp opened in this restricted area of the Park. Named Dolomite Camp, guests are able to access the lodge via the Galton Gate in the southwest. The lodge is perched on the top of a small hill, with sublime views over the surrounding veldt.
There's a viewing deck that overlooks a prolific waterhole. The camp is without a fence, allowing animals to roam freely. The wildlife includes some rare species – such as black rhino and black-faced impala. The area is rich in waterholes that attract elephant, rhino, leopard, lion, springbok, gemsbok and red hartebeest. The birdlife is prolific and the seasonal flowers of Dolomite Hill are a highlight for botanists. But the biggest attraction is that it is not as well-known and lightly trafficked.
3. Kidepo NP, Uganda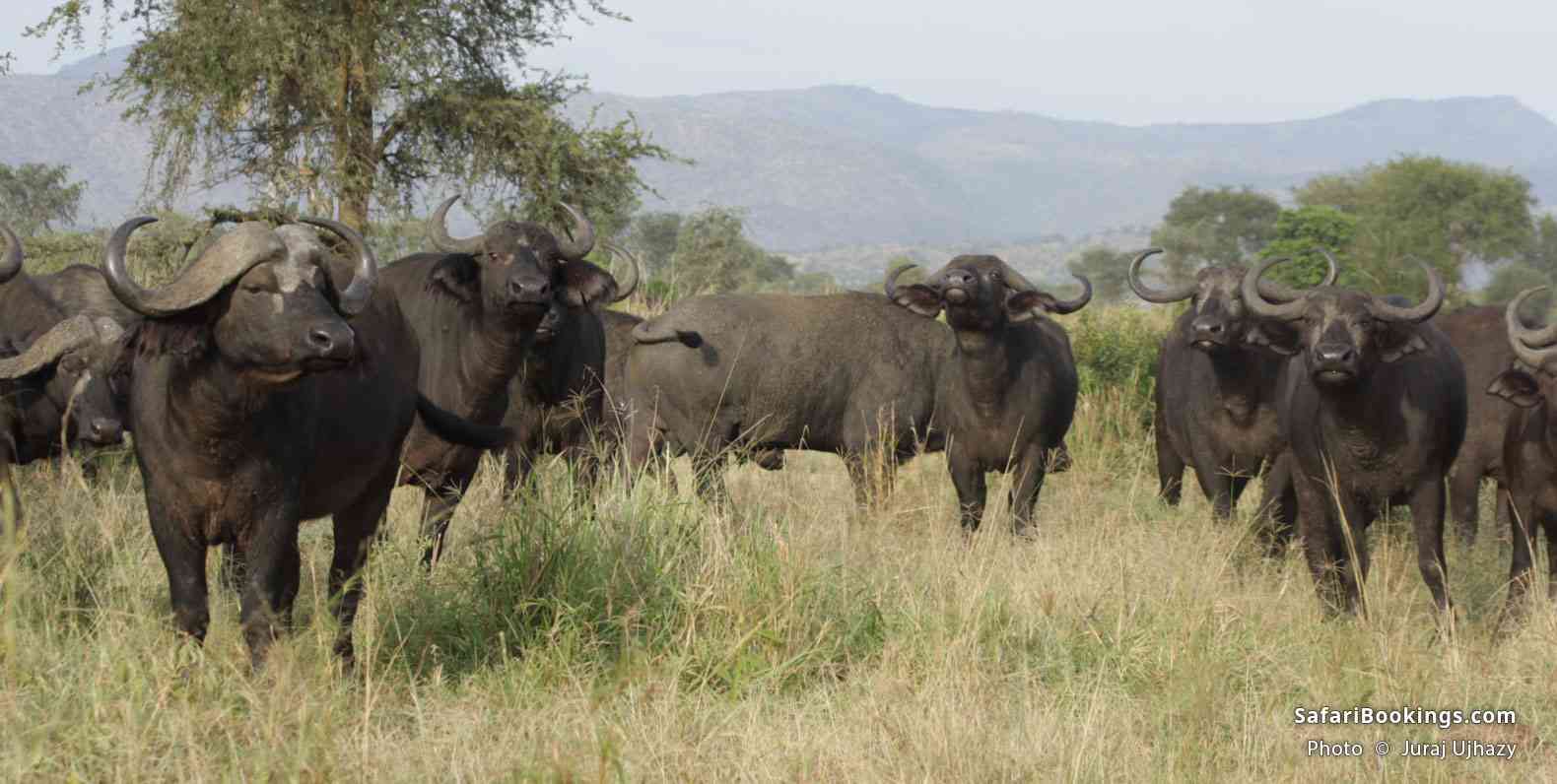 This is Uganda's most remote park, far from the capital and the normal tourist route. Characterized by vast golden green plains punctuated with craggy, rocky outcrops, the Park has a certain distinctive quality that shouts 'Africa'. Stunning vistas and great wildlife – home to elephant, lion, Rothchild's giraffe, zebra, buffalo, hartebeest, waterbuck, patas monkeys…and absolute serenity.
Apoka Safari Lodge – highly recommended.
4. Kasanka NP & Bangweulu Wetlands, Zambia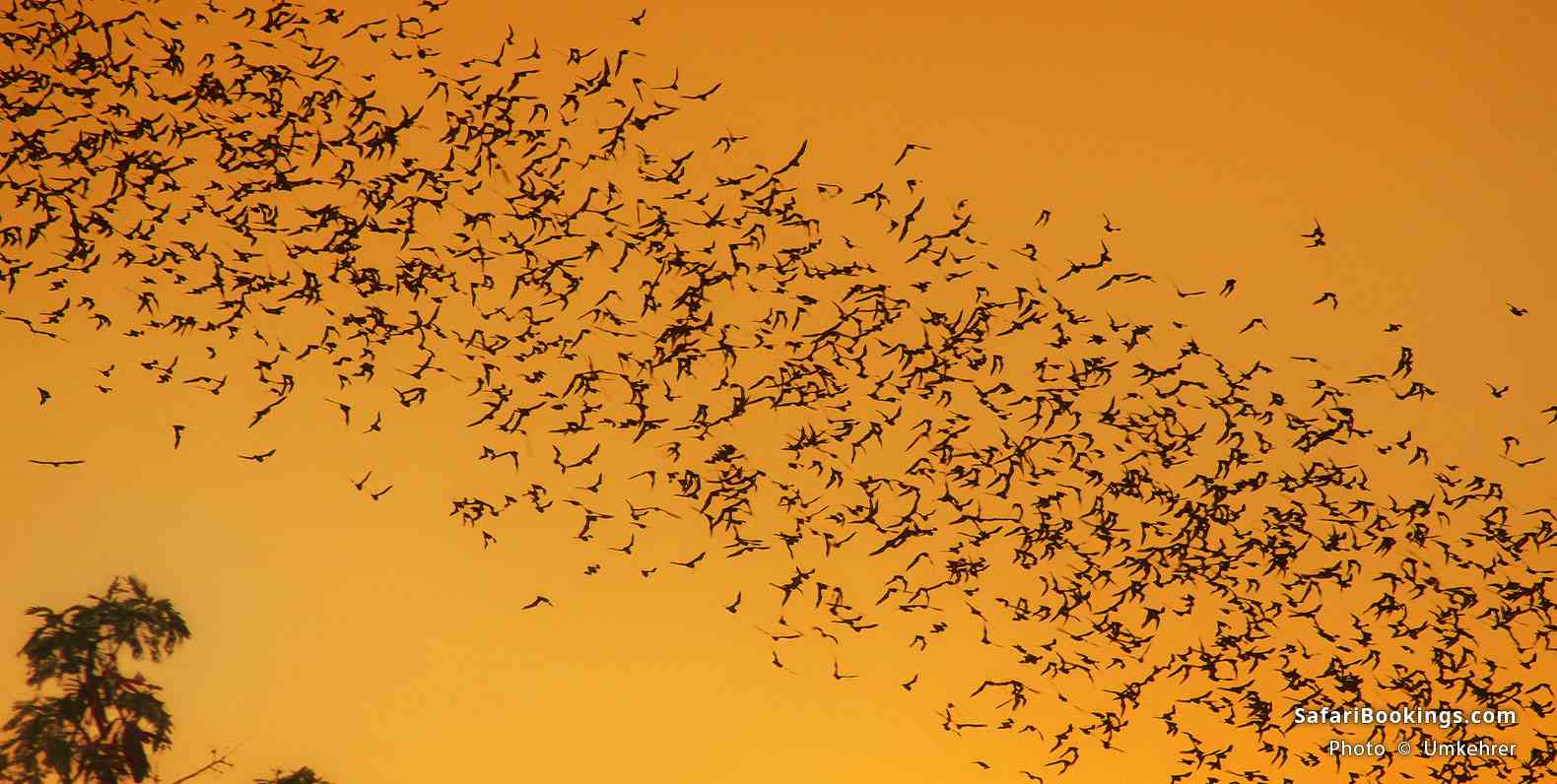 Kasanka NP is a valuable conservation area with diverse flora and fauna including many endangered species (sitatunga, wattled crane and blue monkey). There is exceptional birdlife – together with an annual fruit bat migration reputed to be the largest congregation of mammals in Africa and possibly the world. But it is the Bangweulu Wetlands, just north of Kasanka, which may be one of Africa's most spectacular wildlife secrets. With over 100,000 black lechwe and the world's most visible shoebill stork population, this is a real gem. Both Kasanka NP and the adjacent Bangweulu Wetlands make very rewarding destinations for visitors seeking to delve deeper into Africa's hidden corners. You can also visit David Livingstone's Memorial en route at  Chitambo Village where he died in May 1873.
There are two permanent lodges in Kasanka NP, Wasa and Luwombwa, from where you can visit Bangweulu Swamps.
5. Northern Tuli Game Reserve, Botswana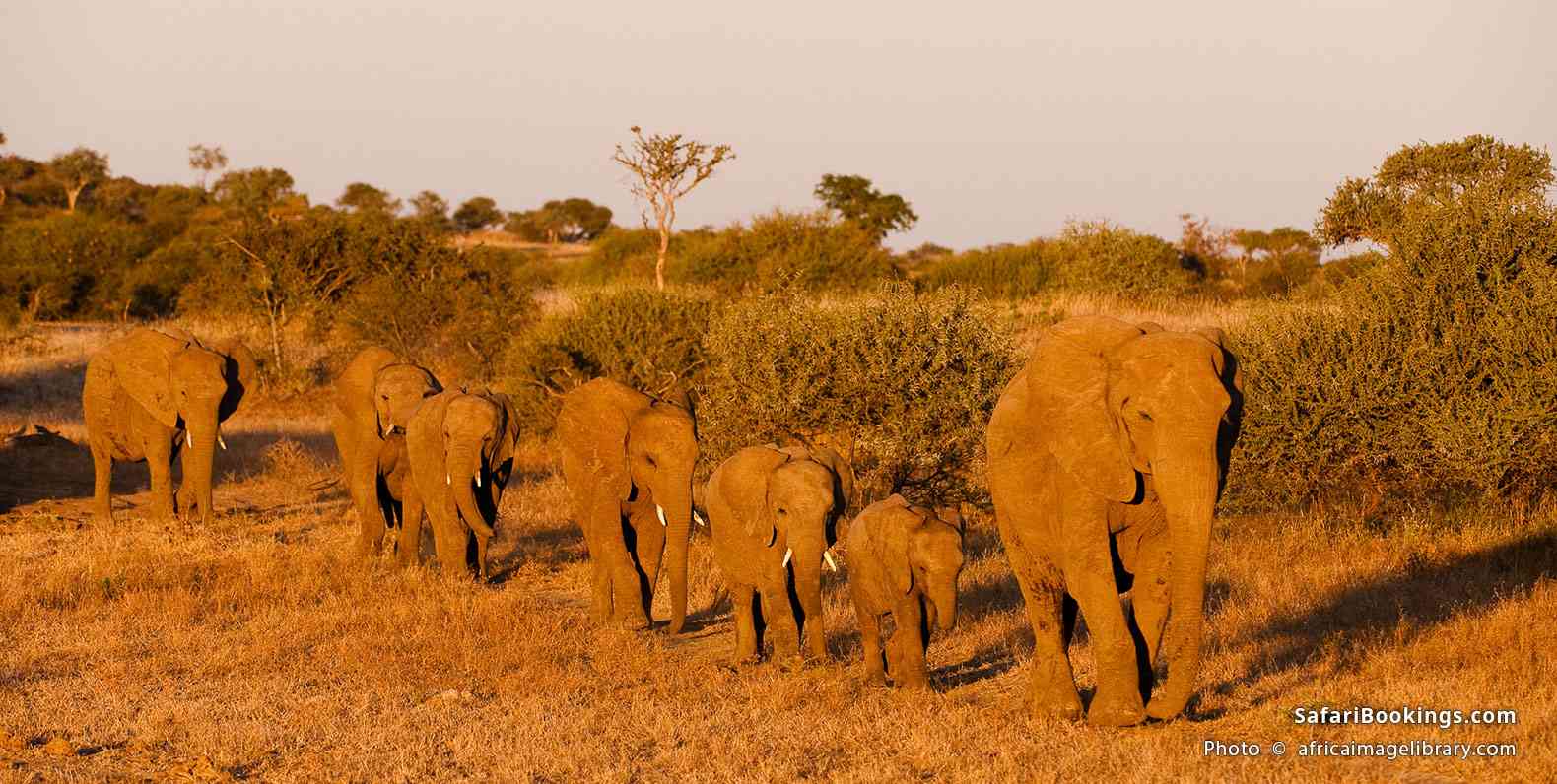 If you are looking for an authentically wild safari destinations and experience, then the Tuli GR in far northeastern Botswana is it. At the confluence of the Limpopo and Shashe rivers, this region offers ruggedly beautiful wilderness. It is renowned for its large elephant herds, great cat sightings, walking, night game drives, mountain biking and horse riding. There are a number of excellent safari camps and lodges to choose from – ask your Africa travel specialist.
6. Shaba & Mathews Range, Kenya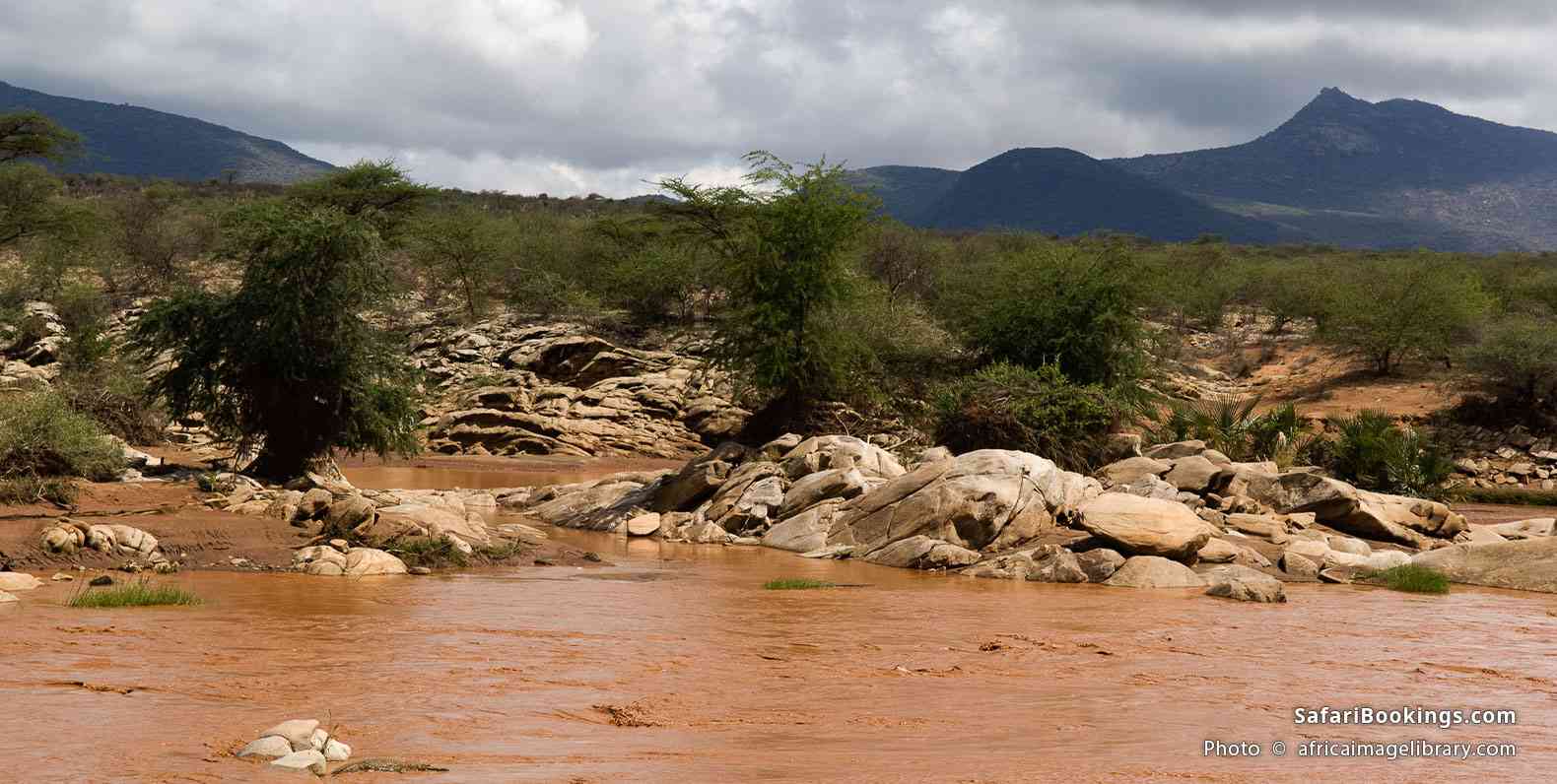 Although Shaba National Reserve is fairly close to its better known neighbors, Samburu and Buffalo Springs, it receives far fewer visitors. This is a stunning reserve offering broad landscapes, the meandering Ewaso Nyiro River, lovely Doum palms and seemingly surrounded by mountains.  There is with only one permanent safari camp here – Joy's Camp (named after Joy Adamson of Born Free fame).
Further north lies the Mathews Mountain Range. Rising up over 2000m above the surrounding sea of arid lowlands, this ancient mountain is covered in dense indigenous forest and offers genuine remoteness, striking beauty, and the opportunity to explore the forest on foot in complete privacy. You can also experience unique social interactions with the local Samburu and Ndorobo people as yet untouched by tourism. Try Kitich Camp.
7. Nyungwe Forest National Park, Rwanda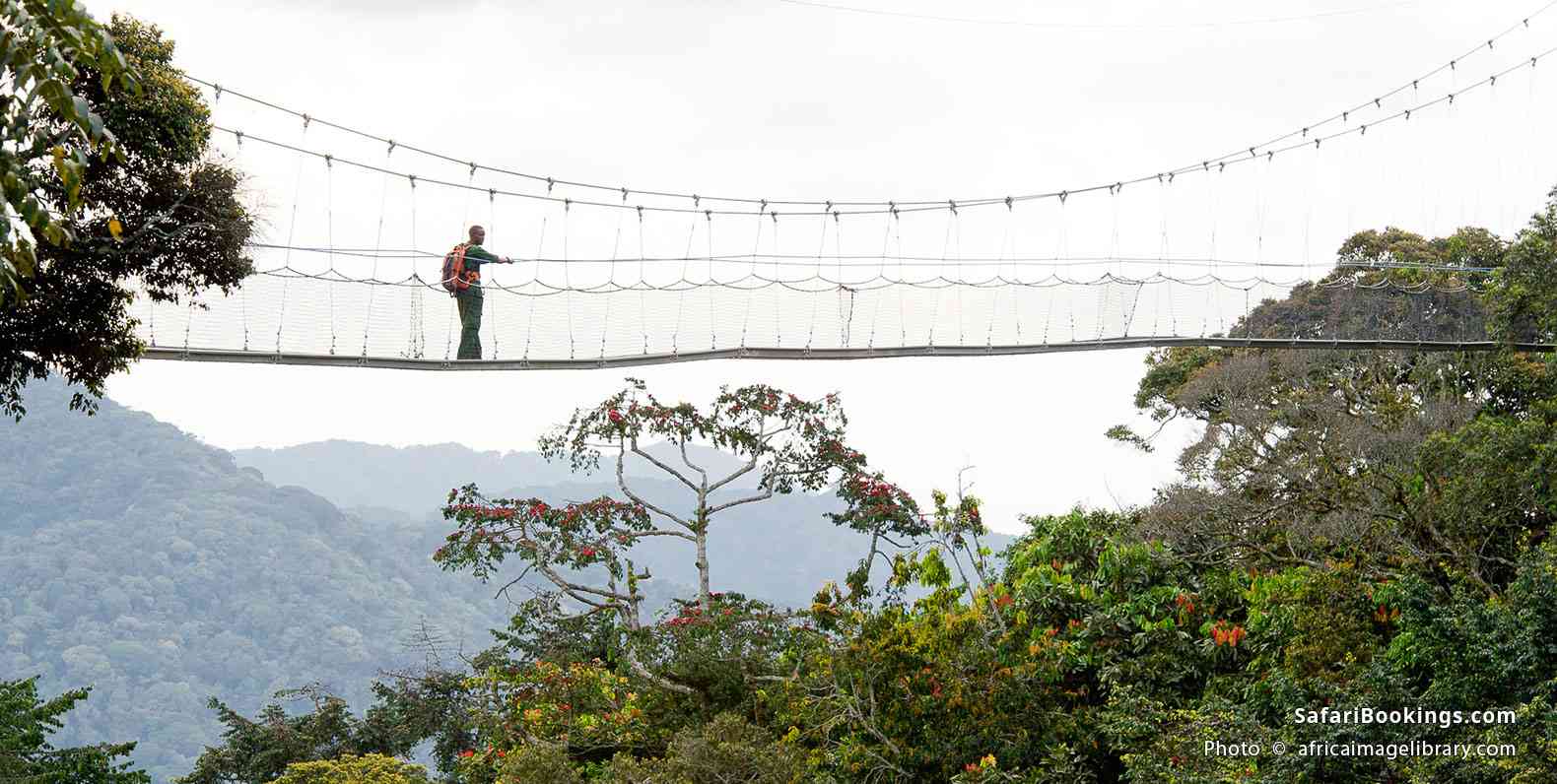 Located 225 kms (140 miles) south-east of the Rwandan capital, Kigali, Nyungwe is one of Africa's last intact montane rain forests. Here you will find chimpanzees, the world's largest community of colobus monkeys, and 11 other primate species. They represent a staggering 25% of all Africa's primates. Additionally, there are nearly 300 bird species (26 endemic), 200 species of trees, 140 species of orchid, and hundreds of butterfly species. There are also more flowering plants than you can shake a stick at!
Expert guides take visitors on hikes through the forest and to meet the locals in Banda Village near the park entrance. And you can enjoy East Africa's only canopy walkway constructed above a forested canyon. There is a luxury lodge or nearby hotel to base yourself for your stay, all surrounded by tea plantations. A worthy side trip.
8. Mountain Zebra & Mokala National Parks, South Africa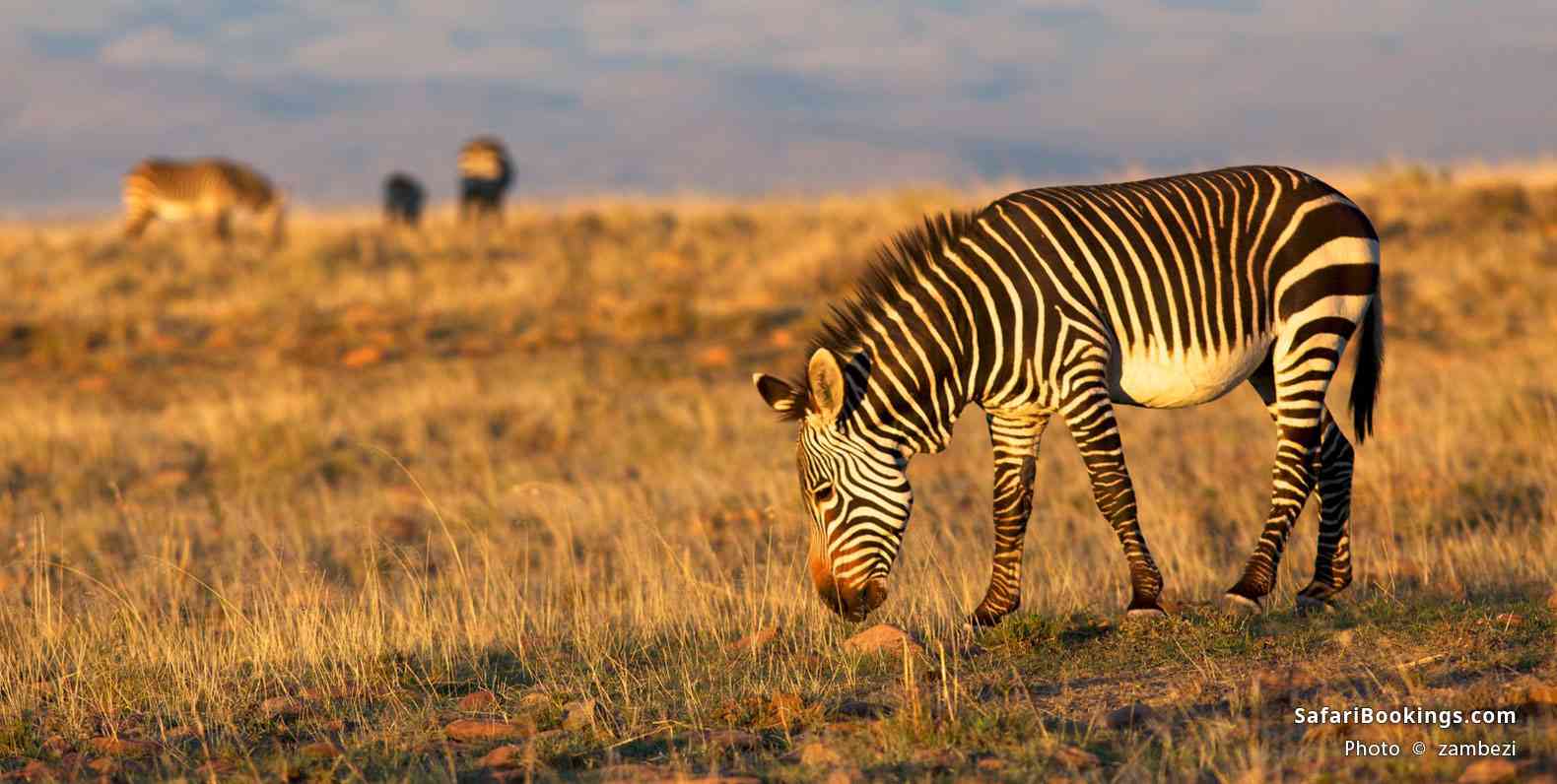 Situated near Cradock in the malaria-free Eastern Cape, Mountain Zebra NP was originally proclaimed in 1937 to save the dwindling Cape mountain zebra. Now, at over 28 000 hectares, the park protects over 700 zebra, and wildlife like the endangered black rhino and cheetah. Not to mention gemsbok, blesbok, springbok, eland, aardwolf, blue crane, and Denham's bustard. Parks accommodation is available.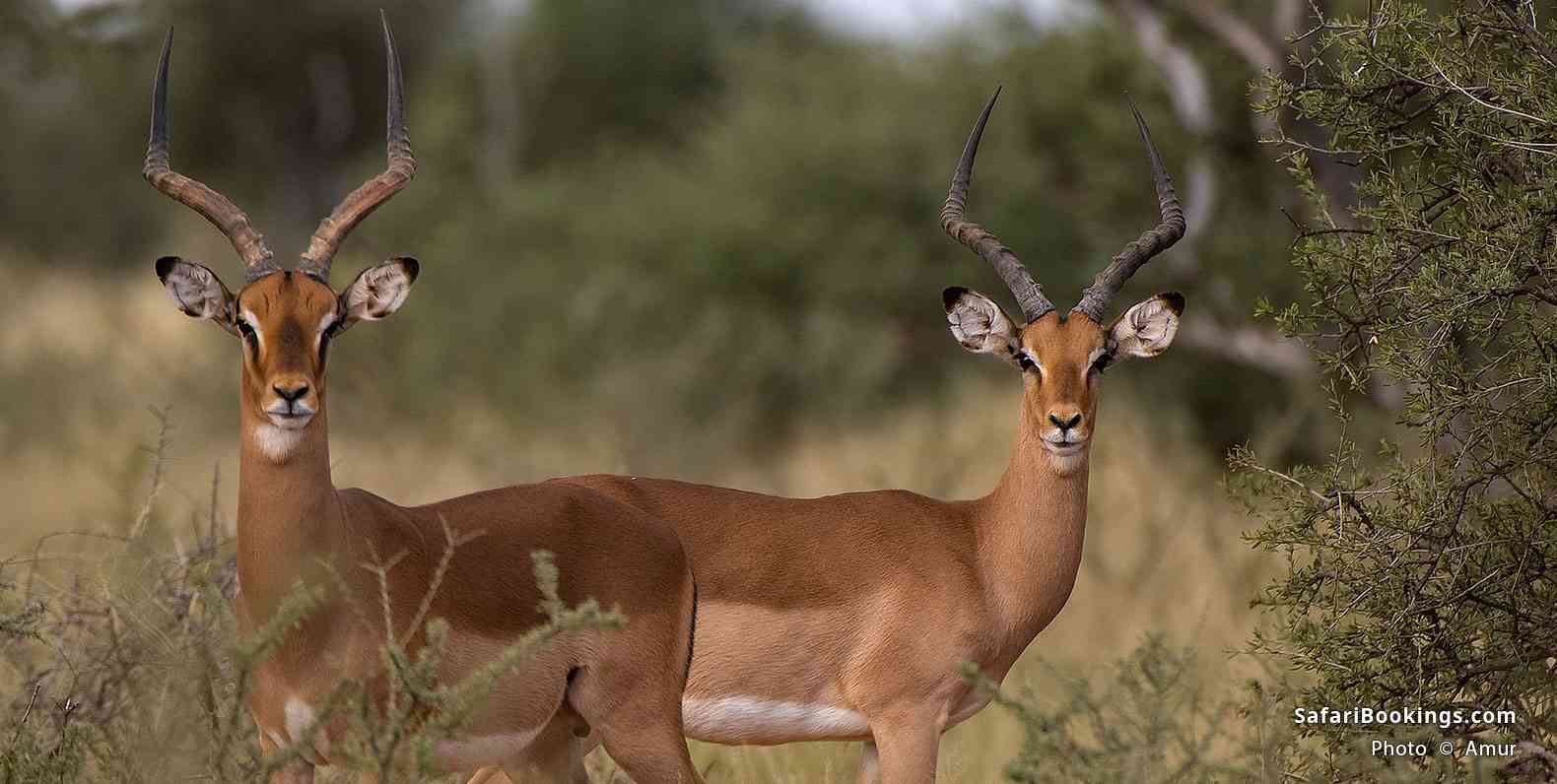 Another oft-forgotten national park, situated only 70km south-southwest of Kimberley – just off the freeway to Cape Town, is Mokala NP. Its landscape boasts a variety of dolerite kopje's (hills) and large open plains. It also has buffalo, black and white rhino, tsessebe, kudu, roan, sable and black wildebeest. There are no big cats, although brown hyena and caracal are present. Mokala is the Setswana name for the Camel Thorn tree. These trees are dominant in the Park (and many of the semi-desert regions of southern Africa).  Boats a campsite, two Rest Camps and a luxury lodge (Mosu Lodge).
9. Kgalagadi Transfrontier Park, South Africa & Botswana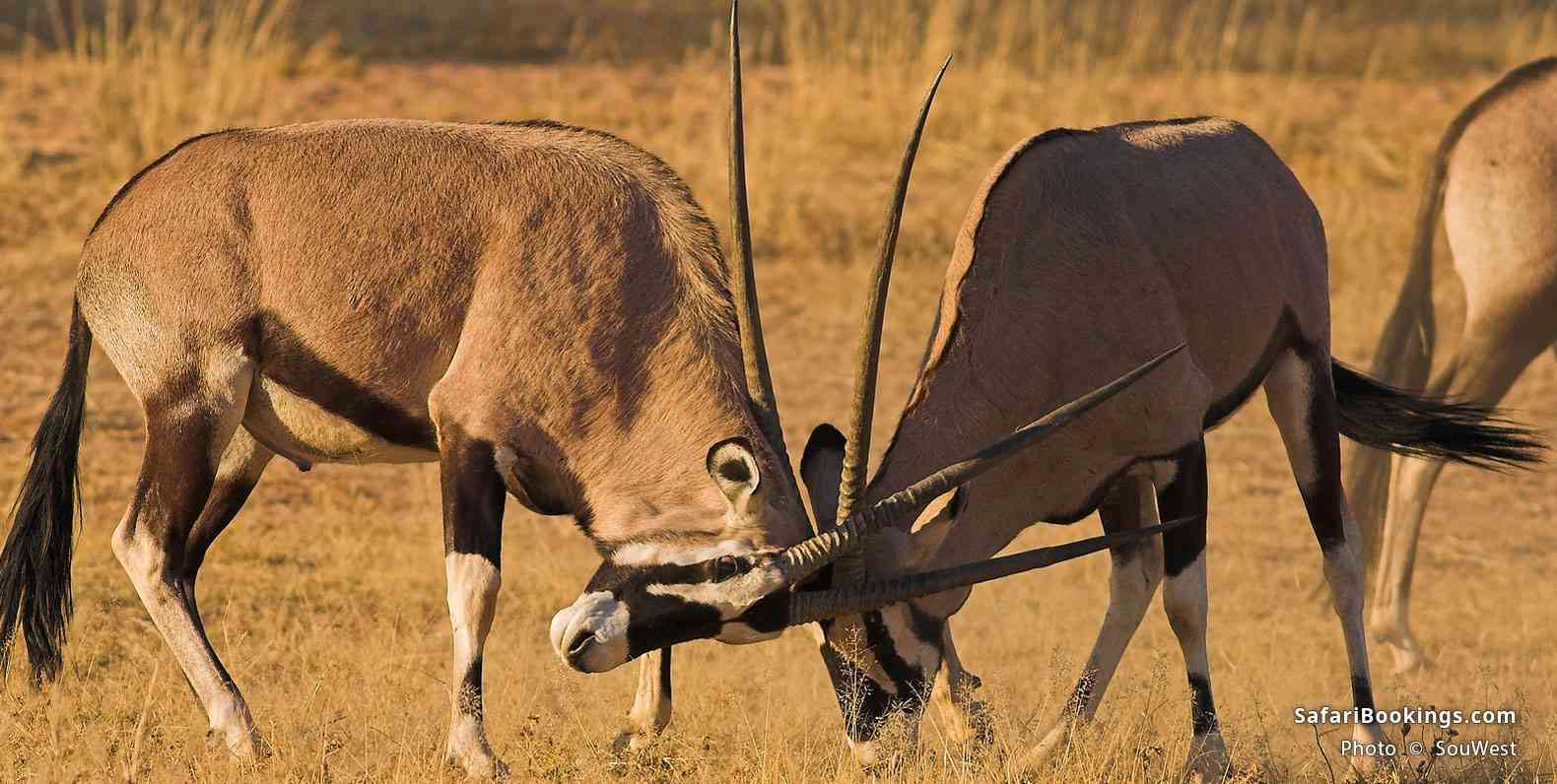 Although well known in wildlife circles in southern Africa due to its remote location many kilometers from the major centers, the Kgalagadi is one of the safari destinations that sees relatively few international visitors. One of the first of its kind, the Kgalagadi Transfrontier Park is a cross-border reserve first established in 1948. Whilst access from South Africa has seen the slow development of tourist campsites and lodges, very little was available on the Botswana side until more recently.
Featuring red sand dunes, sparse vegetation and the dry riverbeds of the Nossob and Auob, the Kgalagadi is popular but perhaps a little out of the way for most. Situated 250 kms from the nearest town of Upington, the Kgalagadi is not on any tourist route. In the past, accommodation options have mostly centered on the South African side of the Transfrontier Park (Rest Camps and Wilderness Camps). There are now two new up-market lodges on the Botswana side, as well as a community-owned and run lodge on a private reserve. Ask your Africa travel specialist for further details.
Species to look out for include springbok, wildebeest, gemsbok (the Park emblem), and the ever-amusing meerkat. you'll also see the legendary black-maned Kalahari lions, enormous communal sociable weaver nests, cheetah, and the pygmy falcon. That's the smallest falcon in Africa and only one of many birds of prey species for which the Park is famous.
10. Saadani NP, Tanzania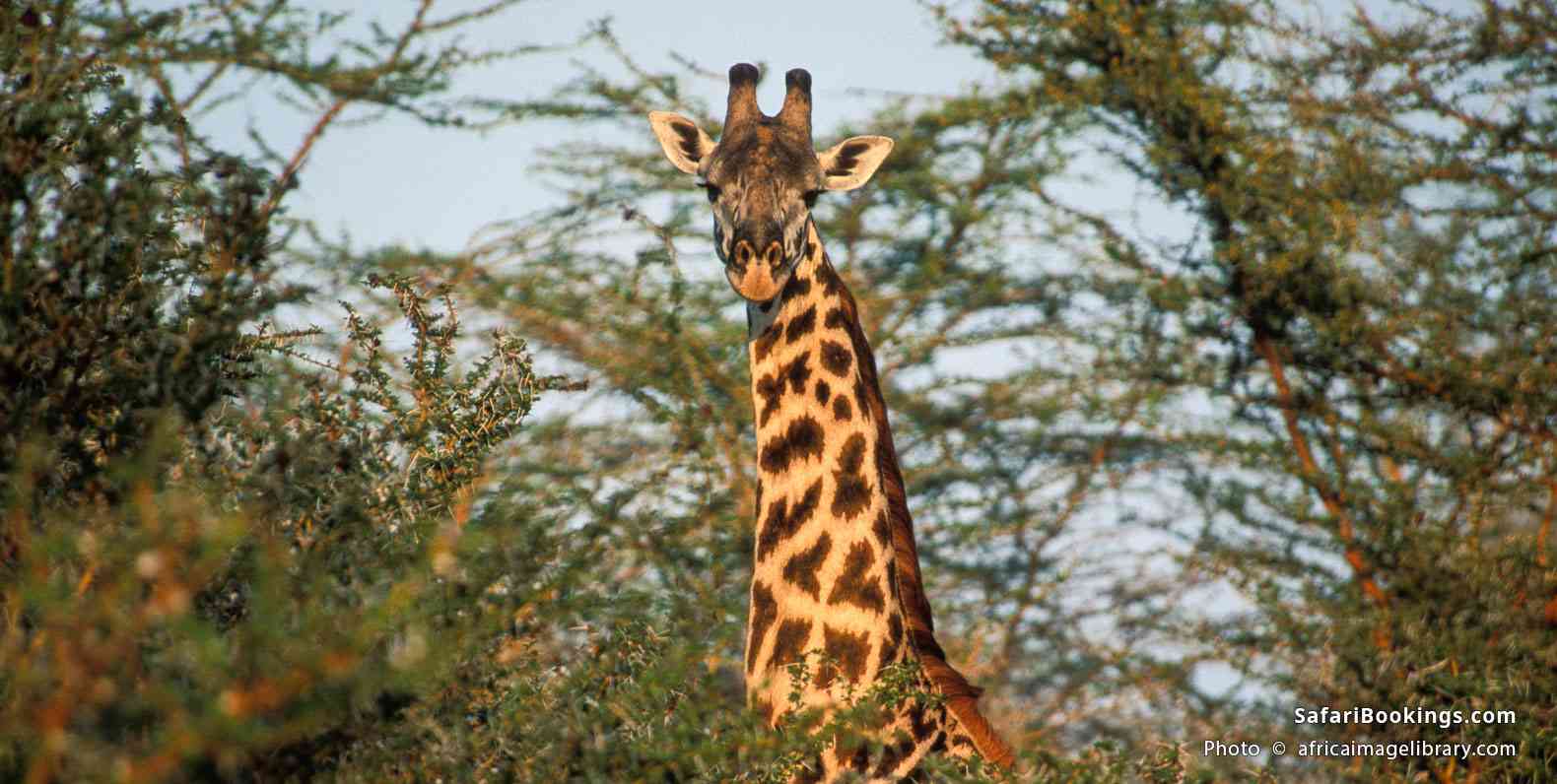 Situated near the town of Bagamoyo, north of Dar es Salaam in southern Tanzania, Saadani National Park is the only wildlife sanctuary in Tanzania bordering the sea. It thus offers a unique combination of both marine and mainland flora and fauna in a historically and culturally fascinating setting. The rumour is that elephants bathe in the Indian Ocean off the Reserve's coast. Green turtles come to its beaches to breed. And the black and white colobus monkeys frolic in the canopy of the evergreen Zaraninge Forest. Roosevelt sable antelope have their home here as well - together with giraffe, waterbuck, zebra and bushbuck.
Besides game drives visitors can relax on the beach, partake in walking safaris, or venture up the Wami River by boat. There they brave waves and hippopotami, while moving past crocodiles and flamingos (and look out for humpback whales and dolphins too).
Preservation
Gazetted in 2005, it encompasses a preserved ecosystem including the former Saadani game reserve. And the former Mkwaja ranch area, the Wami River as well as the Zaraninge Forest. Many villages exist around the boundaries of the Park. In 1969, with the official creation of the Saadani Game Reserve, village elders were consulted and the loss of cultivated land was compensated for. Before being included in the national park, the Zaraninge Forest was managed by the World Wide Fund for Nature (WWF). Their goal was to preserve the extremely high botanical diversity of one of the last coastal rain forests remaining in Tanzania. The Mkwaja area is the reminder of a large cattle ranch which had been in existence from 1952 to 2000.
Currently there are two up-market camps on the beach and alongside Wami River – Saadani Safari Lodge and Saadani River Lodge. Sanctuary Retreats own both camps. This national park is one of the must-see safari destinations.
Discover Lesser-Known Safari Destinations
If you want to discover safari destinations that are off the beaten track, contact us at SafariBookings. We'll show you some of the wonderful options.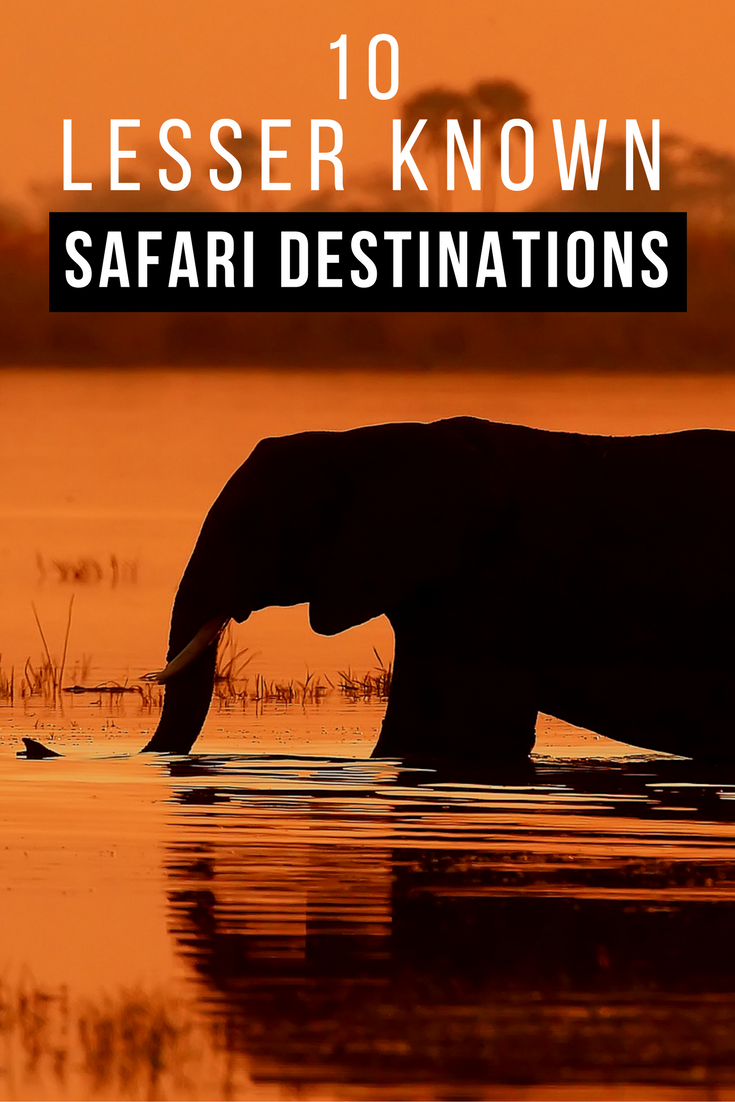 By
Patrick Brakspear
Patrick has been an Africa travel specialist, based in Australia, for over 10 years and prior to that was a safari operator in Mana Pools in Zimbabwe.