Dar es Salaam is the largest city in Tanzania and where many people will start their trip. The coastal city is often a jumping-off point for those traveling to nearby Zanzibar and the popular northern circuit, which includes the Serengeti, Ngorongoro Crater and Tarangire National Park.
However, the game reserves near Dar es Salaam are generally less expensive and less crowded, but they still have stunning scenery and great wildlife-viewing opportunities. The southern parks are ideal for those who like to get off the beaten track. Take 'near' with a pinch of salt. Tanzania is a massive country, but these parks and reserves are all within a day's driving distance of Dar es Salaam.
1. Mikumi National Park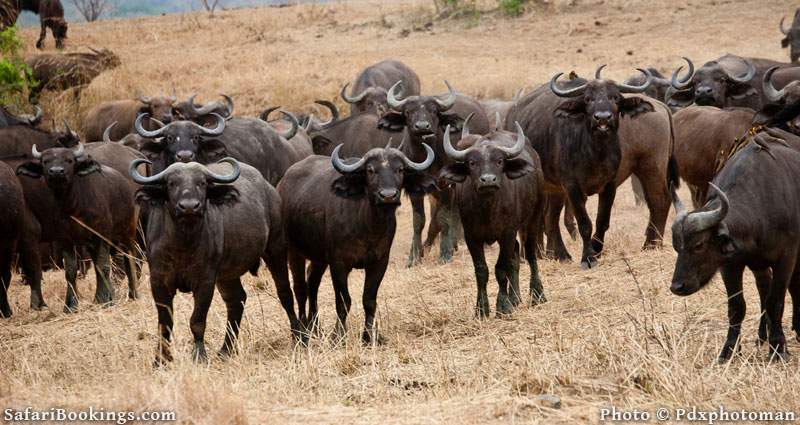 Mikumi National Park is the closest park to Dar es Salaam, five to six hours away, and connected by a tarmac road that runs through the park. It's the fourth largest national park in the country, connected to Selous Game Reserve, which lies to the south. As one of the lesser known wildlife reserves, it's rarely busy.
On grassy savannah plains dotted with baobab trees, you might spot huge herds of elephant, buffalo, zebra, wildebeest, eland, kudu and impala, alongside giraffe and troops of yellow baboon or vervet monkey. Lions are in the park, but not as populous or easy to spot as in Tanzania's more well-known parks such as the Serengeti. If you're lucky, there's a chance of seeing leopard or wild dog.
As a game reserve close to Dar es Salaam, Mikumi is a popular weekend destination for residents. For those on a longer trip, it is often used as stopover between other southern parks. The best time to visit is from June to October, when it's driest and animals are attracted to permanent waterholes, such as those on the Mkata floodplain.
Driving distance from Dar es Salaam: 6 hours
Accommodation options: Four campsites, plus mid-range cottages (some close during the March to May rains)
Activities: Game drives, walking safaris
255 Mikumi National Park Tours
2. Udzungwa Mountains National Park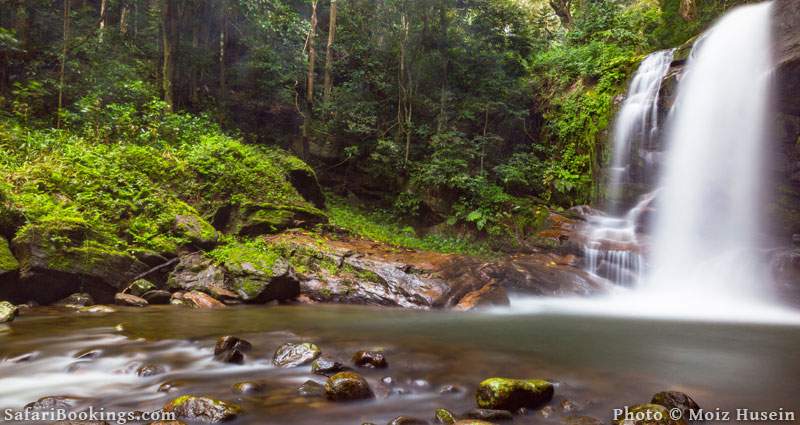 Udzungwa Mountains National Park makes a convenient day trip from Mikumi, which is around 90 minutes away. You can also catch the Tazara train from Dar es Salaam to Zambia. It stops at the park headquarters and takes around six to seven hours, which is the same amount of time as driving.
Rather than wildlife, Udzungwa is known for its various hiking trails that cut through the tropical rainforest. You can take a half-day hike to Sanje waterfall, a popular swimming spot. Or spend a few nights in the park on routes such as the tough five-day Lumemo trail.
Keep an eye out for the Iringa red colobus and the Sanje crested mangabey. Both primates are endemic to the area. In fact, Udzungwa Mountains has the second highest biodiversity rate of any African national park. There are over 400 bird species and 10 primates. There are also buffalo, elephant, leopard, hippo and croc, though these animals are rarely seen by visitors.
Driving distance from Dar es Salaam: 6–7 hours
Accommodation options: There are campsites, but it's also close enough to stay in Mikumi National Park
Activities: Hiking, swimming
71 Udzungwa Mountains National Park Tours
3. Ruaha National Park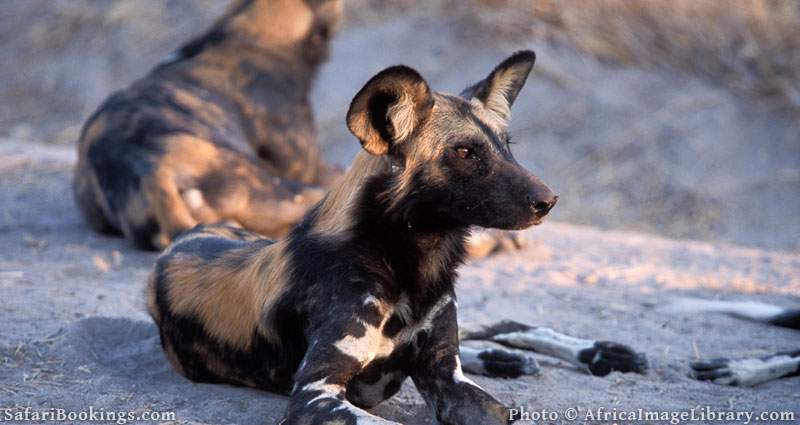 Many people stop off at Mikumi or Udzungwa en route to Ruaha National Park, which is about 10 hours from Dar es Salaam. There are also flights into the park, though this option is much more expensive.
Ruaha is arguably the best safari park near Dar es Salaam. It is one of the biggest national parks in Africa and the largest in Tanzania but receives barely a fraction of the northern parks' visitors. A landscape of old baobabs and rocky outcrops, Ruaha is named after the Great Ruaha River that runs through it. The park is the size of New Jersey and there's an incredible array of wildlife to see: over 570 species of bird (best seen over the migratory period from November to April), cheetah, lion, leopard, hyena, giraffe, hippo, buffalo and wild dog.
Go in the dry season from June to October. Even at this peak time of the year, you'll find the park relatively free of crowds.
Driving distance from Dar es Salaam: 10 hours
Accommodation options: Lodges and tented camps for various budgets, including some high-end options
Activities: Game drives, walking safaris
4. Selous Game Reserve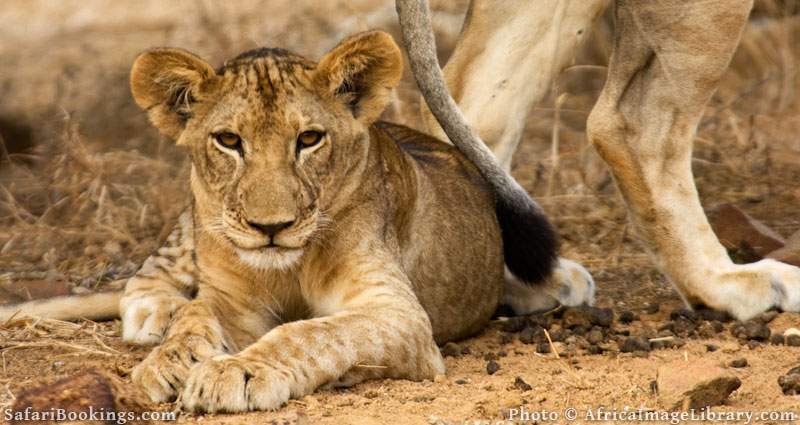 Probably the most famous safari park near Dar es Salaam, Selous Game Reserve is a 5- to 6-hour drive from the city, depending on where in the reserve you're staying. It's one of the biggest game reserves in Africa, though most of the accommodation is in the north. Most people travel via Mikumi, driving through the town of Morogoro. The Tazara train also goes through Selous, taking about 4 or 5 hours, and daily flights are available, too.
This massive reserve is a Unesco World Heritage Site, with a range of landscapes including miombo woodlands, savannah and swamps. The Rufiji River provides a water source for the many animals who inhabit the reserve: lion, leopard, black rhino, hippo and one of Africa's largest wild dog populations. There are over 400 birds that can be checked off your birding list, too. The migratory species arrive between November and April.
Driving distance from Dar es Salaam: 5–6 hours
Accommodation options: Camps and lodges for various budgets
Activities: Game drives, walking, boat safaris, fishing
5. Saadani National Park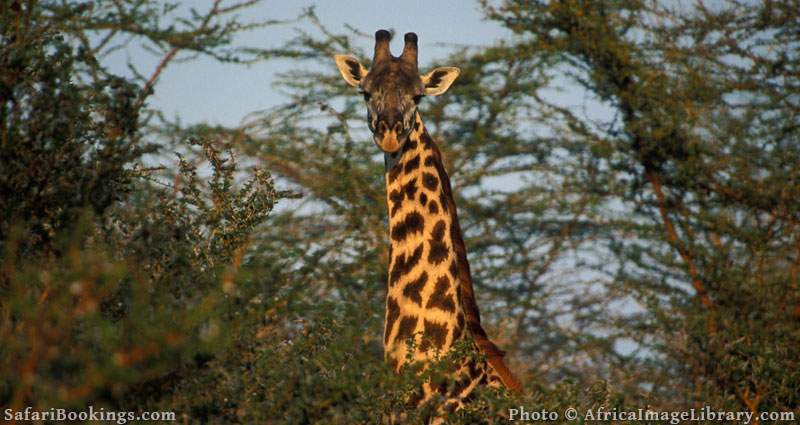 Another game reserve near Dar es Salaam, but this time to the north, Saadani National Park is about 6 or 7 hours away by car. Set along the Indian Ocean, the park is the only seaside wildlife reserve in mainland Tanzania.
The main appeal of Saadani is its beach, around which there are mangrove swamps and woodlands. The shores are breeding grounds for green turtles. The park is home to four of the Big Five: lion, elephant, buffalo and leopard. There are also Maasai giraffe, Lichtenstein's hartebeest, yellow baboon, sable antelope and hippo. It should be noted that animals are not as easily spotted here as they are in the more popular Tanzanian parks.
Avoid the long rains from March to May and aim to travel to Saadani in January and February or June to August.
Driving distance from Dar es Salaam: 6–7 hours
Accommodation options: Budget and mid-range lodges and camps
Activities: Game drives, walking safaris, boat trips
21 Saadani National Park Tours
6. Mafia Island Marine Park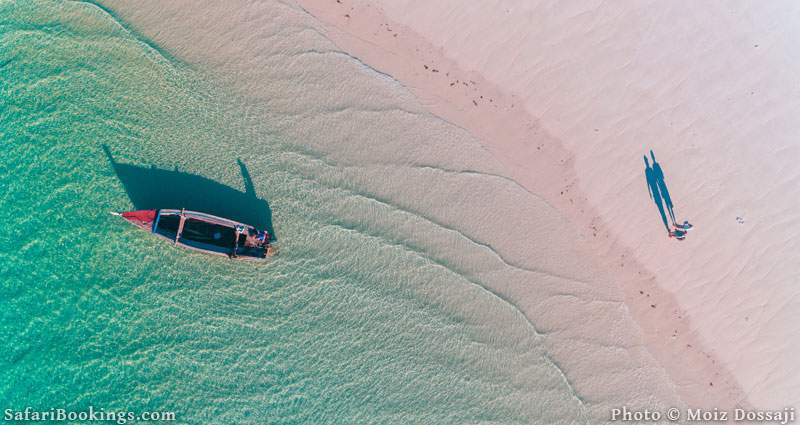 Something a bit different from a typical Tanzanian wildlife experience, Mafia Island Marine Park is the largest MPA (marine protected area) in the Indian Ocean. There are flights here from Dar es Salaam. Another option is the 4-hour ferry that departs in the early hours of the morning (3 AM to 4 AM) from Nyamisati, a 4-hour drive or bus ride south from Dar es Salaam.
Mafia Island is a dream for snorkeling or diving, with over 400 fish species, turtle and dugong dwelling around the reefs and mangrove forests. It's also a great place to just chill out and relax after a hectic safari itinerary around southern Tanzania.
August, September and October are great months in which to travel, with dry, hot weather. June is cooler and July can be windy. There are showers and increasing humidity from November to March, which is the hottest period.
Driving distance from Dar es Salaam: 4 hours, followed by a 4-hour ferry
Accommodation options: Budget and mid-range beach huts and lodges
Activities: Snorkeling, diving, boat trips