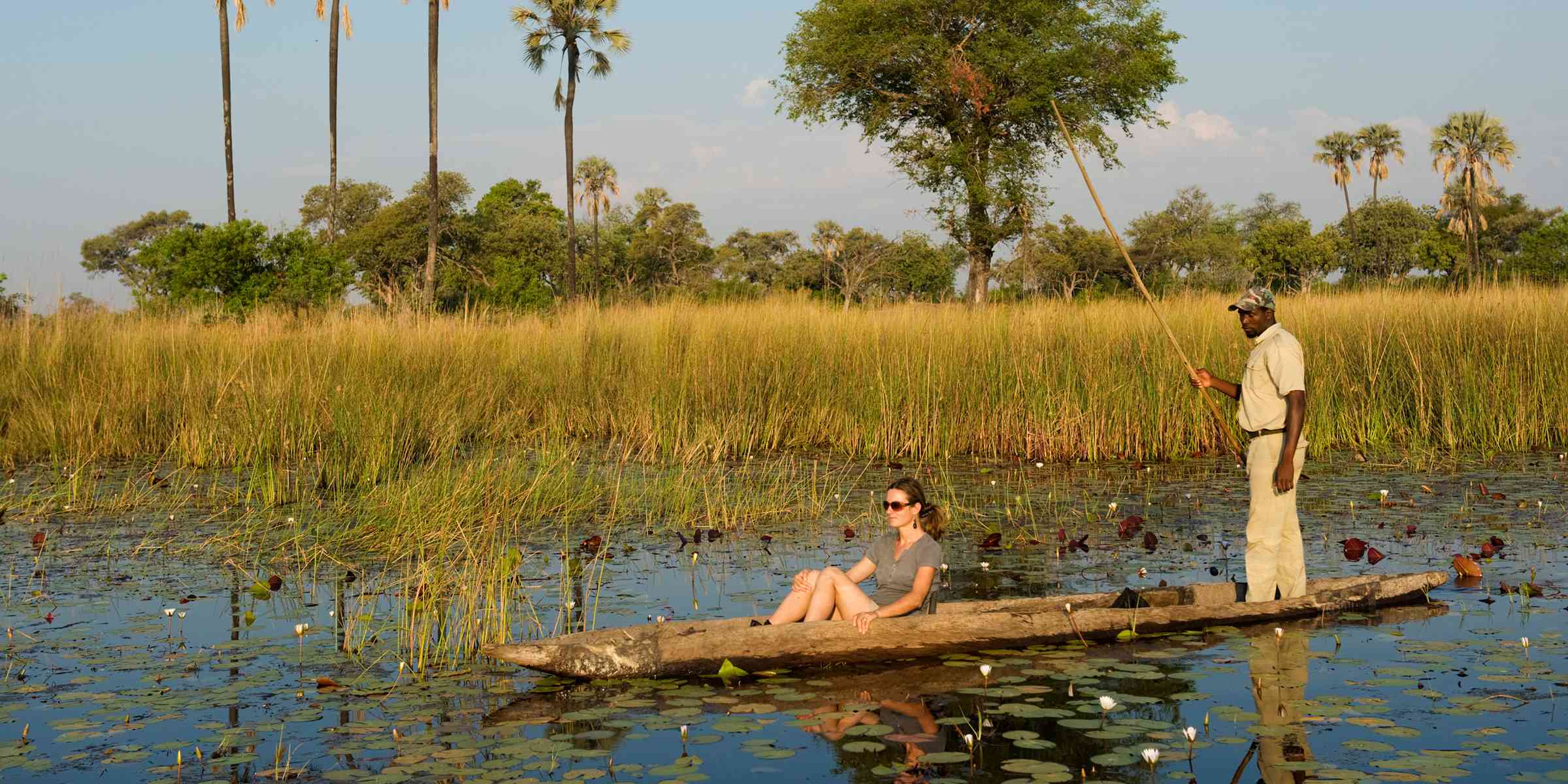 Africa's Best Safari Country of 2023

By
Jeroen Beekwilder
Jeroen is co-owner of SafariBookings.com. His desire to feel connected powers his love of travel. He has traveled all over the world with his wife and two children.
Safari travelers are at the heart of everything we do at SafariBookings.com, and every year their reviews help us to decide which country should wear the crown as Africa's best safari country. We are passionate about highlighting excellence in the safari industry, and the race is always tight, with a number of countries in the running to take the title.
The results for 2023 are in! And the winner as the continent's number one country for safaris is... A country that comes close to safari paradise, from its parched and ancient deserts to its vast, water-drenched landscapes. It is, of course, Botswana! Congratulations Botswana!
Safari-goers and experts from all over the planet were at the heart of these results. More than 4,000 of their reviews were analyzed in this detailed and comprehensive study. The analysis included reviews from expert travel journalists who have extensive safari experience across all of the countries covered by this survey. These experts are mainly guidebook writers who contribute regularly to Lonely Planet, Rough Guides, Frommer's, Bradt and Footprint. These industry professionals also populate the SafariBookings expert panel.
Botswana Rated the Best Safari Country
If you were to design the perfect safari country, it would look something like Botswana. Home to vast tracts of wilderness, Botswana is a world of deserts and delta, of elemental earth colors of the deepest red and blue. Botswana is where you find the sand-drowned Kalahari Desert and its black-maned lions, but also the water-drowned landscapes of the Okavango Delta with its big cats, very big elephants and superb mix of islands, woodlands, channels and rivers.
Coming in second, not far behind, was Tanzania, followed by Zambia and Kenya. And a close analysis of the results reveals some fascinating surprises: industry experts rated Botswana the best overall safari country, but safari-goers voted for Uganda as the best, while Tanzania just pipped Botswana among experts and travelers when the survey was restricted to wildlife alone.
Ratings for the Major African Safari Countries
Botswana Retains the Number One Title
Tanzania was the winner in 2013 when SafariBookings conducted the first study to determine the best safari country in Africa. It held onto first place in our second study in 2017. But that changed in 2018 when Botswana narrowly defeated Tanzania. Botswana again took first place in 2019.
In this first survey since travelers returned to the safari trails following the pandemic, Botswana reasserted its position in the number one spot, although Tanzania remains very close behind. Both are incredible safari countries.
But who could argue with Botswana's astonishing breadth of landscapes and wildlife, home as it is to iconic wilderness and wildlife destinations such as the Kalahari, Okavango and Chobe National Park?
Or Botswana's commitment to low-density tourism and opportunities for wild and exclusive safaris? It should come as little surprise, therefore, that Botswana's legend as a destination for safari excellence just keeps getting stronger, a fact reinforced by this year's results.
It's why going on safari in Botswana remains an utterly unforgettable experience.


What the experts say about Botswana
Anthony Ham AU - Anthony is the author of the Lonely Planet guide to Botswana.

Rating:

5/5 stars

"Botswana is the sort of place where even your average safari feels like stepping into a documentary by National Geographic, one where so many of the great dramas of the African wild are played out on a daily basis."

Full review

Emma Gregg UK - Emma is an award-winning travel writer and editor.

Rating:

5/5 stars

"No other African country has such a rich mosaic of pristine habitats, from russet-coloured dunes to glittering seasonal wetlands."

Full review
Want to do a safari in Botswana?
Beautiful & Wildlife-rich, Tanzania Is Best for Wildlife & Scenic Value
It may have come in second place overall, but Tanzania came in first on a number of key indicators. The combined tally from both our experts and safari-goers ranked Tanzania as the best safari country for both wildlife and scenic beauty. In this case, it was our experts who tipped the balance: based on their vast experience, they narrowly voted Tanzania as the best safari country for wildlife. And it's not difficult to understand why.
Tanzania is home to the great migration, as well as the scenic wonders that are Ngorongoro Crater and the savannah grasslands and kopjes of Serengeti National Park. Spanning Indian Ocean coastline, the classic savannah grasslands of the north, the continent's highest mountains, and dense rainforests out west, Tanzania is one beautiful country. And when it comes to safaris, these soul-stirring landscapes provide habitat for wildlife on an epic and incredibly diverse scale.


What the experts say about Tanzania
Sue Watt UK - Sue is an award-winning travel writer specializing in Africa.

Rating:

5/5 stars

"Tanzania is justifiably regarded as Africa's premier safari destination. It's one of my favourite countries, not just for the bush, beaches and big peaks, but also for the genuine warmth and friendliness of its people."

Full review

Christopher Clark UK - Christopher has contributed to various Fodor's guidebooks.

Rating:

5/5 stars

"For me, the striking variety of landscapes and the staggering density of big game are in a different league to anything else I have seen in Africa so far."

Full review
Want to do a safari in Tanzania?
Zambia Wins Hearts & Minds for Wildlife & Birding
Having come third in 2019, Zambia cemented its place among the safari elite in this year's survey. Zambia has always flown a little under the radar, getting less publicity than better-known safari countries, but safari travelers and our experts know better.
South Luangwa and Lower Zambezi National Parks are world-class wildlife destinations, while Kafue and Liuwa Plain National Parks add a touch of wilderness to their impressive wildlife portfolios. Liuwa Plain, for example, hosts Africa's second-largest wildebeest migration, while South Luangwa and Kafue are two of the best places in Africa to see lions and leopards.
It should come as no surprise that Zambia is the strongest possible contender for any people's choice award, based on two of the most important reasons why travelers go on safari: safari-goers voted Zambia as number one for both wildlife and birding. There can be no higher recognition among our knowledgeable audience.


What the experts say about Zambia
Philip Briggs ZA - Philip is an acclaimed author who has traveled widely in Zambia.

Rating:

5/5 stars

"One of my top five experiences in more than 30 years of African travel was a canoe safari in Zambia's Lower Zambezi National Park. This is a total wilderness experience."

Full review

Brian Jackman UK - Brian is a regular contributor to 'BBC Wildlife' and 'Travel Africa'.

Rating:

5/5 stars

"With neighbouring Zimbabwe it shares the rich wildlife of the Zambezi Valley and the awesome spectacle of the Victoria Falls, which Zambians call by a more colourful name: Mosi oa Tunya - the Smoke that Thunders."

Full review
Want to do a safari in Zambia?
Uganda Voted as Best Safari Country by Travelers
Uganda may not have come in first overall, but look a little closer and it takes first place, just ahead of Botswana, in one of the most important criteria: the best safari country as voted by safari travelers.
This remarkable performance takes into account a whole range of categories, from wildlife and scenic beauty to birding and bush credentials. Uganda was also the clear winner when it comes to Africa's best birding-safari country, as voted by the experts.
And when you take a closer look at Uganda's parks, from Bwindi Impenetrable National Park and its gorillas to Kibale, Murchison Falls and Queen Elizabeth National Parks, Uganda clearly has reason to be optimistic about future surveys, as they're hot on the heels of the current top three.
Watch this space...


What the experts say about Uganda
Mark Eveleigh UK - Mark has written widely for 'Travel Africa', 'Esquire' and 'BBC Wildlife'.

Rating:

5/5 stars

"Uganda was a revelation! I had not expected such a richness of wildlife or such great concentration. Uganda has everything that her more famous neighbour Kenya has...plus such once-in-a-lifetime sightings as gorillas and chimpanzees."

Full review

Stuart Butler UK - Stuart is a travel writer and author of numerous Lonely Planet guidebooks.

Rating:

5/5 stars

"Uganda is one of the most beautiful countries in the world and I don't just mean it's physically beautiful. The people themselves, who seem permanently to smile, are as beautiful and welcoming as the landscape."

Full review
Want to do a safari in Uganda?
Demographics of the Reviewers (Interactive Charts)
User reviews: 2,898
Expert reviews: 1,266
Nationalities: 110
Percentage of reviews by country
All user reviews. Move your cursor over a country to get the number
Age and gender (percentage)
All people who wrote user reviews. Move your cursor over the chart for more details
Safari experience level (percentage)
All people who wrote user reviews. Move your cursor over the chart for more details
Have a question about this article?

By
Jeroen Beekwilder
NL
Jeroen is co-owner of SafariBookings.com. His desire to feel connected powers his love of travel. He has traveled all over the world with his wife and two children.