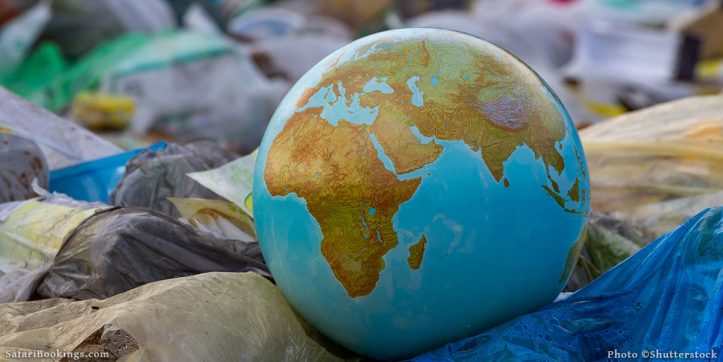 Ban on Plastics in Africa – a Story of Smuggling and Success

By
Jack Nicholls
Jack Nicholls is an award-winning author of plausible science fiction and implausible but true stories of the environment. He studied history and climate change, giving him a good grasp of the past and the future.
An anonymous tipoff leads to an unmarked door. The police burst in, there is shouting and a struggle. The suspects are led away in handcuffs while the authorities display their seized contraband to the media. It's a familiar scene that we associate with drug smugglers and gunrunners. But for the last year in Kenya, the raids are being overseen by the National Environment Management Agency, and they are targeting a different enemy: plastic bags.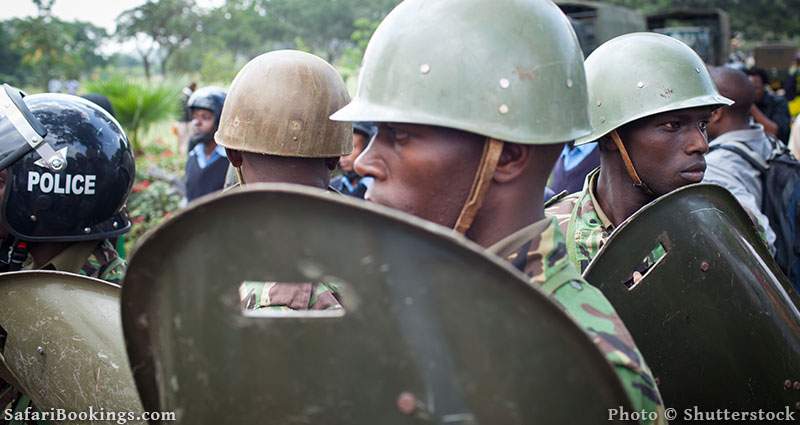 Kenya's ban on plastics was legislated in August last year, and it is the strictest in the world. The penalties, which allow for up to four years in prison for producing or even using plastic bags, may seem an over-reaction. But environmentalists are hailing the policy as a long overdue and much-needed step forward for the country. Until recently, Kenya hosted most of Africa's plastic bag manufacturers.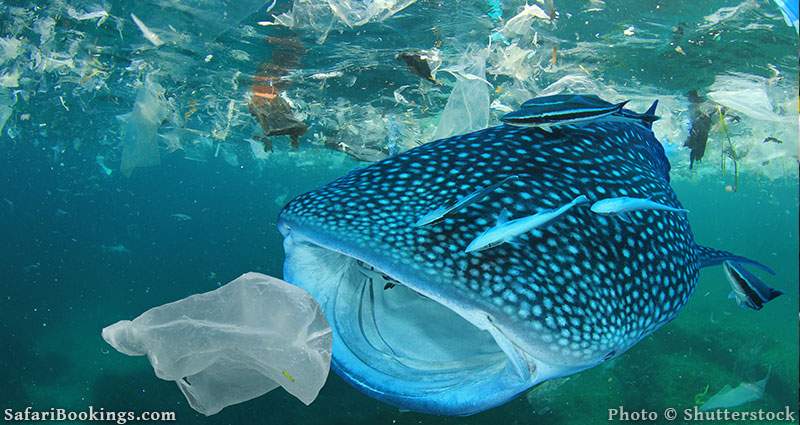 Disposable plastic is a growing global threat. Although plastic takes thousands of years to decompose, humanity produces equal to our own weight in plastic products every year, half of which are thrown away after a single use. So much ends up in the world's oceans that a recent report conducted by the Ellen MacArthur Foundation calculated that by 2050, plastic marine waste will outweigh all of Earth's fish put together. Already there is nowhere on the planet untouched by plastic litter, and it is killing birds, livestock and fish by the millions.
It is no surprise, then, that plastic is in our sights. 2018's Earth Day was themed around 'Ending Plastic Pollution', and bills to do just that have recently been proposed in Australia, Europe, Montreal, India and the UK.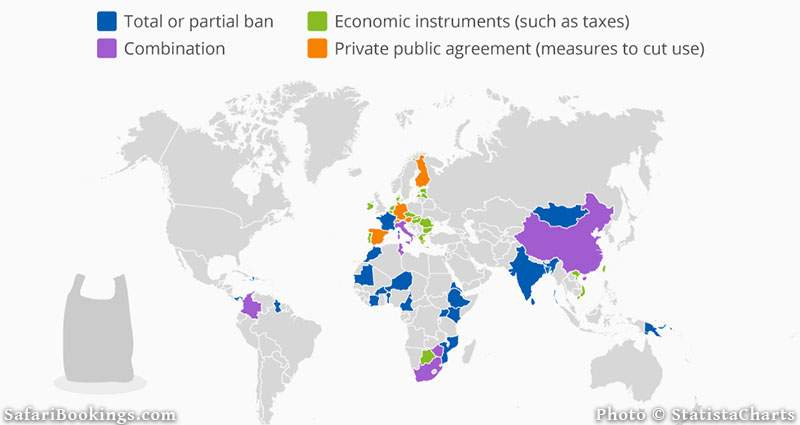 But on this matter the West is playing catch-up to Africa, where the first ban on plastics law was brought in over ten years ago. South Africa introduced a levy on plastic bags in 2004, Eritrea banned them entirely in 2005, and Rwanda did the same in 2008. Today, sixteen African countries have taxed or banned disposable plastic bags, including Tanzania, Botswana, Uganda, Mauritania and Morocco.
African governments have long understood the threat of plastic, because it is visible every day. With limited access to safe freshwater, millions of Africans rely on plastic bottles or sachets of drinking water provided by companies like Nestlé and Coca-Cola.
While the UK's plastic is whisked away to be recycled or buried in a foreign field, 90% of African plastics are abandoned at their point of use. As a result, torn and discarded plastic bags are so ubiquitous in Africa that they have been jokingly referred to as the continent's 'national flower'. Lions are filmed playing with bags in national parks and slaughtered livestock are routinely found to have plastic clogging their digestive systems. But plastic does not just harm animals. Beaches and parks are littered with bottles, impacting tourism, while plastic-clogged drains form stagnant pools that provide a breeding ground for disease-carrying mosquitoes. In 2015 in Ghana, blocked drains triggered flash-floods that killed over 200 people.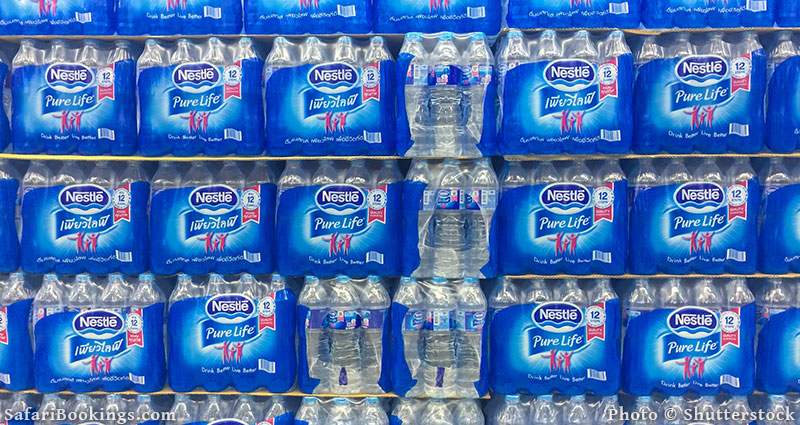 Given this, bans on plastic bags sound like unmitigated good news for Africa, but there are reasons to be cynical. This is the fourth time Kenya has announced legislation against plastic, after 2005, 2007 and 2011 laws were ignored. Similarly, Tanzania announced bans on thin plastic bags in 2006 and again in 2013, but they remain in use. The truth is that after the flurry of positive headlines dies away, plastic bans face an uphill struggle when it comes to implementation.
Just like their Western counterparts, African governments are fighting a tug-of-war between environment and jobs. Anti-plastic legislation is struggling against strong push back from a polyethylene industry worth many millions. Added to that is the cost of actually enforcing the regulations. Authorities in Botswana imposed a levy on bags but were forced to recently admit they had been collecting it but did not know if it was being enforced by retailers.
Where the law is enforced, it is undermined by smuggling. Plastic flows like water, from places where it is plentiful to places where it is not. From the Democratic Republic of the Congo to Rwanda, or Uganda to Kenya, entrepreneurial types routinely rustle their way across borders, hundreds of bags taped beneath their clothes.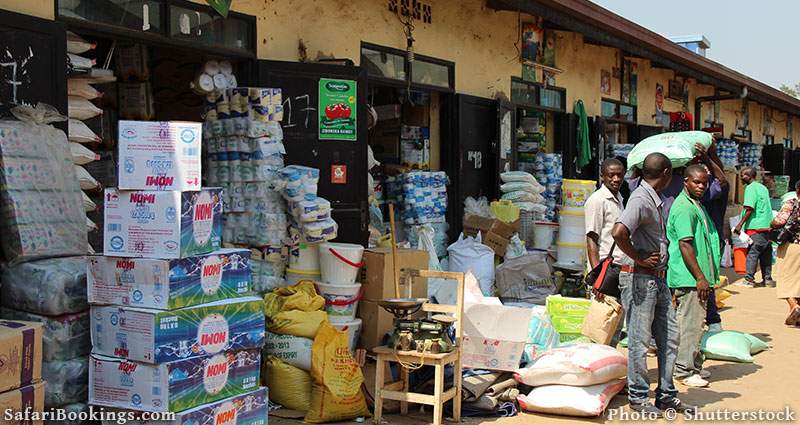 If the bans are being undermined, it is because market traders fear their livelihoods will be at risk without easy packaging, and because governments did not successfully bring public sentiment onside. In Zimbabwe, most locals interviewed after a failed 2010 bag ban decried the law as ludicrous, said it had been brought on without warning, and was a sign of the government offloading its waste management responsibilities onto consumers. On a continent with growing internal trade and porous borders, as long as there is demand for plastic bags it will be met on the black market. Against this reality, frustrated officials have swung between tolerating the plastic trade and draconian crackdowns on poor vendors.
Plastic bans to date have been ineffective for three reasons: lack of enforcement, cultural resistance, and the hotchpotch application that differs across borders. However, all three are changing, and fast.
As the stories of police raids in Kenya show, this time the government is serious about enforcing the law. More important than Kenya's zealous policing is the under-reported response from the East African Community of states – a group representing Uganda, Kenya, Burundi, Rwanda, South Sudan and Tanzania. In February this year, the organisation "agreed that cooperation is needed if we are to eliminate the menace [of plastic]." By linking up the patchwork of national environmental laws, East Africa's newfound unity could squeeze out easy opportunities for plastic smuggling.
That the East African Community has spoken out against plastic, only a few years after siding with bag manufacturers, is both a reflection and a driver of a cultural shift that can be seen on the neighbourhood scale as well. Across the continent, citizens are taking matters into their own hands; from EcoPost, the Kenyan company recycling plastic into building materials, to South African artist Mbongeni Buthelezi, who uses predominantly recycled plastics heated onto plastics as a medium for vibrant contemporary artworks.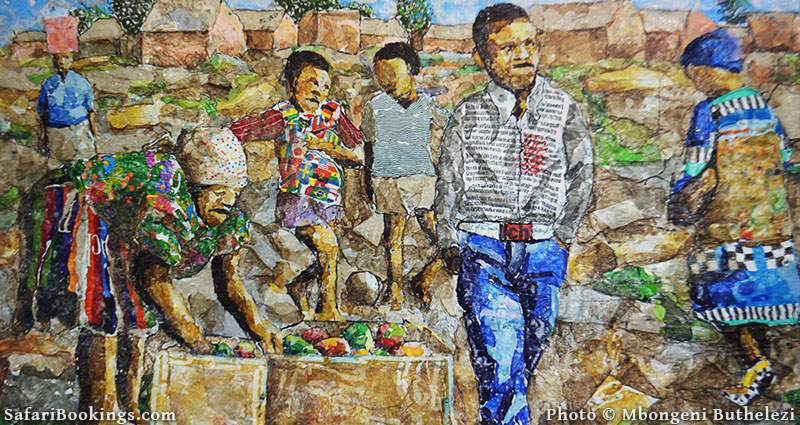 This growing spirit of cooperation is best illustrated in Rwanda. The Rwandan plastic ban was initially subverted, but as Dr Rose Mukankomje, the Director General of the Rwanda Environmental Authority and a central driver of the 2008 ban, explained: "you need a policy to get rid of plastic bags, but it must be wanted to be successful." He points to the Rwandan concept of umuganda, meaning 'coming together to do a job'. This cultural tradition was explicitly linked to the fight against plastic waste, and Rwanda now runs monthly umuganda work-days that bring the entire population together to clean up their country. Plastic is still smuggled in from the Congo, but tiny Rwanda now has a reputation as the cleanest country in Africa. Looking to the near future, the country is ambitiously aiming to become the world's first plastic-free nation.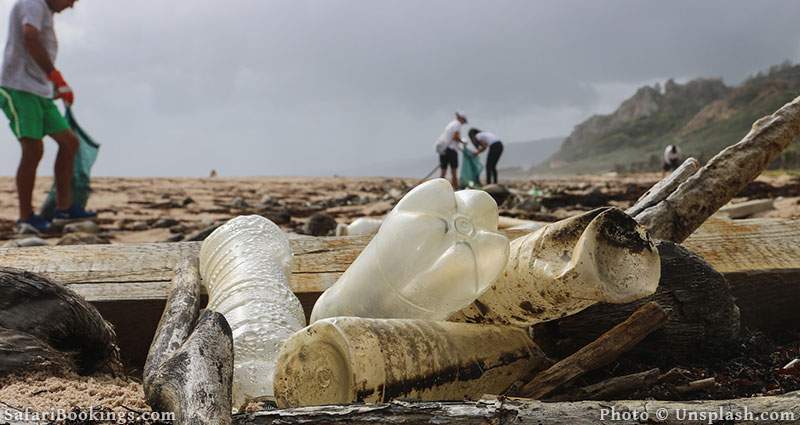 Kenya, too, has recognised the need to harness the goodwill of its citizens. Alongside the new ban, the National Environment Management Agency has urged Kenyans to, "embrace a positive mindset to minimise waste by embracing principles such as recycling and re-using of products". And it seems to be having an effect, with general reports out of Kenya of cleaner rivers and streets, especially in the capital Nairobi. In recent months, Kenya's government has started debating a new ban to cover plastic bottles.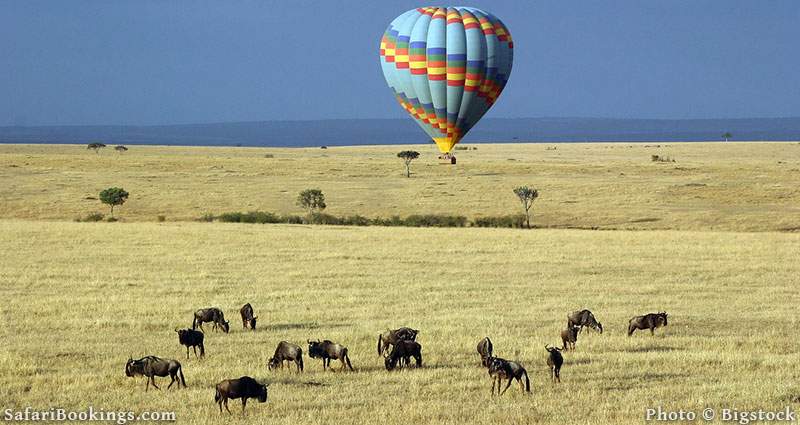 We humans have been trading without plastic bags for ten thousand years, and African countries are proving to the world that we can go back to sustainable alternatives without bringing down capitalism. Their environmental progress is more stop-start than glowing headlines would sometimes suggest, but few people really want to risk their livelihood for the cause of plastic, and perhaps all that is needed is a little time for people to get used to sustainable alternatives. In the meantime, Africa's national parks and stunning natural landscapes are cleaner. As it grapples with its own environmental crises, the West should take note.
Sustainable African Safari Parks

By
Jack Nicholls
Jack Nicholls is an award-winning author of plausible science fiction and implausible but true stories of the environment. He studied history and climate change, giving him a good grasp of the past and the future.