David Livingstone
Everyone knows the name David Livingstone. There's a town named after him in Zambia, a museum dedicated to him in Scotland. His house in Zanzibar is a tourist site, as is his grave in Westminster Abbey. And the place where his heart is buried under a tree at Ilala in Zambia.
A legendary explorer
"I am prepared to go anywhere, provided it be forward."
– David Livingstone
In post-colonial Africa, the symbols of imperial oppression have tumbled and the names of other explorers have been wiped from the map. Yet Livingstone town in Zambia has resolutely remained Livingstone and the explorer's statue still gazes bronze-faced out across the Victoria Falls that he 'discovered' for the Empire. But just why is David Livingstone quite so famous? Why is his memory treated so differently (to  the others) by Africa and the African people?  And what does he have to do with safaris?
From mill to mission
The answer to all three questions is, quite simply, that Dr David Livingstone was the greatest explorer ever to set foot on the African continent. And quite possibly, one of the best ambassadors ever to make first contact with new people. Without him, Africa would have developed in a very different way.
Born in Blantyre, near Glasgow, Scotland on 19 March, 1813, Livingstone came from humble origins. He was the second of seven children born to a teetotal door-to-door tea salesman and Sunday school teacher. At only 10 years old, he went to work at the cotton mill. He did twelve-hour shifts as a piecer (tying broken cotton threads on the spinning machines) before going on to classes at the Blantyre Village School. His childhood made him tough, hard-working and resilient. He also grew up with a thirst for knowledge, a love of learning, of religion and science. This led him both to medical school, studying at the Charing Cross Hospital Medical School from 1838-40, and to the church, joining the London Missionary Society.
The Moffats
On meeting Robert Moffat, he headed out to Africa to Moffat's mission at Kuruman, on the edge of the Kalahari Desert. He eventually married Moffat's daughter, Mary, in 1845. Together, they headed further into the interior to set up a new mission at Kolobeng.  Dr Livingstone set about learning the local languages and customs (successfully), curing people's ailments (with some success) and converting his new flock to Christianity (with a distinct lack of success).
The problem was that all the qualities that made David Livingstone such a good explorer.  And because he was so in tune with the African people, he was not good at converting people to Christianity (although he believed passionately in his mission). He only ever made one convert – his good friend, Sechele, chief of the Kwena people of Botswana. And even he adapted Christianity to include polygamy and rainmaking that were essential to his rank of chief!
Civilization, commerce and Christianity
David Livingstone was fascinated by local custom. He was too reasonable, rational and flexible in his approach. He also believed that you could do more through the power of practical help, such as medicine and trade, than you could through prayer alone. And ultimately, as he began to travel into unknown lands, he developed a serious taste for exploration. He justified it by saying that his true calling was to open new routes which would allow those all-important civilizing influences of commerce and Christianity to reach the heart of Africa.
The net result was that he roamed freely across the continent to his heart's content. He reported back in a series of lectures and bestselling books. This turned him from a humble missionary into a global superstar from the moment his first (Missionary Travels and Researches in South Africa) was published in 1857.
Victoria Falls
His list of firsts is impressive – opening up Lake Ngami in Botswana, crossing southern Africa from Angola to Mozambique. And, most famously, 'discovering' and naming the Victoria Falls en route before disappearing into the heart of Africa in search of the source of the Nile. His writing is graphic and exciting. It's easy to see how the imagination of the public was gripped by the humble Scot and his stories of extraordinary places. Most people only ever hear one phrase of his lengthy description of the Victoria Falls but it is poetic:
"In looking down into the fissure on the right of the island, one sees nothing but a dense white cloud, which, at the time we visited the spot, had two bright rainbows on it. From this cloud rushed up a great jet of vapor exactly like steam, and it mounted 200 or 300 feet high; there condensing, it changed its hue to that of dark smoke, and came back in a constant shower, which soon wetted us to the skin…
On the left of the island we see the water at the bottom, a white rolling mass moving away to the prolongation of the fissure, which branches off near the left bank of the river… The walls of this gigantic crack are perpendicular, and composed of one homogeneous mass of rock. The edge of that side over which the water falls is worn off two or three feet, and pieces have fallen away, so as to give it some- what of a serrated appearance. That over which the water does not fall is quite straight, except at the left corner, where a rent appears, and a piece seems inclined to fall off Upon the whole, it is nearly in the state in which it was left at the period of its formation…On the left side of the island we have a good view of the mass of water which causes one of the columns of vapor to ascend, as it leaps quite clear of the rock, and forms a thick unbroken fleece all the way to the bottom. Its whiteness gave the idea of snow, a sight I had not seen for many a day. As it broke into (if I may use the term) pieces of water, all rushing on in the same direction, each gave off several rays of foam, exactly as bits of steel, when burned in oxygen gas, give off rays of sparks. The snow-white sheet seemed like myriads of small comets rushing on in one direction, each of which left behind its nucleus rays of foam."
Abolitionist
Recognizing that the sedentary life was not for him and believing that he could serve God best by opening up new areas to civilization, he resigned his mission. And, funded by the British government, David Livingstone became an official explorer. He found it difficult to work with big expeditions where he'd been so successful on his own. After five years, he gave up and went back to working alone. In 1862, on the Mozambique coast, Mary Livingstone died of malaria.
It was also on these later expeditions, in what is now Malawi and Tanzania, that he met the slave caravans. He became an outspoken opponent of slavery. His writings and speeches were a key factor in the eventual abolition of the slave trade and the blockade of the eastern slave routes.
It is for this, more than anything else, that he is remembered with such fondness by the African people. A doctor who learned their ways, their languages and helped to save their lives.
Henry Morton Stanley
In the mid-1860s, David Livingstone disappeared completely for four years. He started a global hue and cry that resulted in American newspaperman, Henry Morton Stanley, setting off to find him, sponsored by the New York Herald. It took two years but Stanley eventually him tracked down near Ujiji in Tanzania in 1871, describing the meeting:
"I would have run to him, only I was a coward in the presence of such a mob, - would have embraced him, only, he being an Englishman, I did not know how he would receive me; so I did what cowardice and false pride suggested was the best thing, - walked deliberately to him, took off my hat, and said, 'Dr. Livingstone, I presume?'
'Yes,' said he, with a kind smile, lifting his cap slightly.
I replace my hat on my head and he puts on his cap, and we both grasp hands, and I then say aloud, 'I thank God, Doctor, I have been permitted to see you.'
He answered, 'I feel thankful that I am here to welcome you.'

After years of wandering the bush, both men were happy to have some company and traveled together for several months. During this time, they formed a deep friendship. However, Livingstone, who'd been quite content to be lost, eventually continued on his way, happy to have fresh supplies. Stanley was left to head home to make his own fame and fortune from the story of his discovery.
Death
Two years later, on 1st May, 1873, David Livingstone died at Ilala – near Lake Bangweulu (now Zambia). He likely died from the malaria and dysentery that had plagued him for years.
It is said that he died kneeling in prayer beside his bed. Next day, two of his friends and followers, Susi and Chuma, removed his heart and buried it under a tree in the village. Then they prepared his body for the 1,000 mile journey to Bagamoyo on the coast and to be shipped back to England. Once there, he was taken to the headquarters of the Royal Geographical Society at No 1 Savile Row. He was buried in Westminster Abbey in London in April 1874.
More safari history
For more interesting articles on African safari history and famous explorers like David Livingstone, follow the SafariBookings blog. And perhaps consider visiting the beautiful (and exotic) country of Zambia.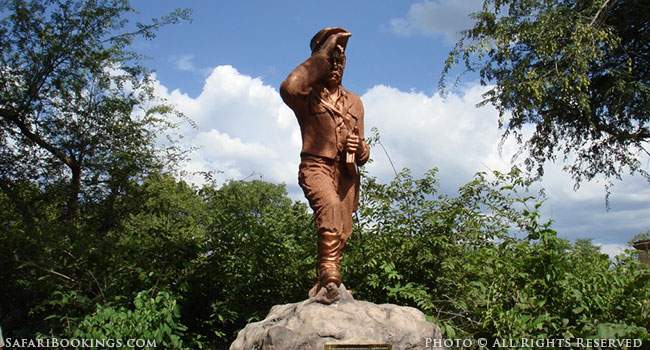 Today, as I stand beside his statue at Victoria Falls, looking out at the rainbows dancing in the spray or walk past his house in Zanzibar, it is hard to imagine the extraordinary courage, tenacity and faith of this self-educated man with a heart big enough to encompass a continent.